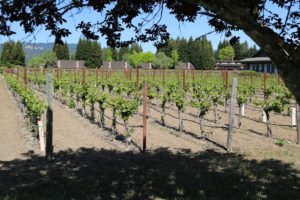 Leo Joseph Estate Cellars certainly manages one of the smaller vineyards in Napa (comprising their entire production). Their 8/10th of an acre vineyard is planted to a number of Cabernet Sauvignon clones as well as Cabernet Franc. This is a "micro vineyard" where vines are not counted by acres but by individual numbers.
Their St. Helena vineyard entirely surrounds their home and is in turn mostly surrounded by Whitehall Lane Winery's own vineyard. This is proven terroir. Spearheading this wine is Carolyn Harrison Lawrence a long time resident of the Napa Valley and a former school teacher in the Yountville District. She is in partnership with her 101 year old mother Lillian Harrison (soon to be 102 at the time of this review!) and their first vintage (2007) was released on her mother's 100th birthday. Actually four generations are involved as Carolyn's daughter and grand daughter also help out. The wine is a tribute to Carolyn's father who was born and raised in St. Helena and is named after him by using his first and middle names. Wine is not new to her family – her grandfather used to make home wine and she remembers growing up with wine always on the table for meals.
Carolyn purchased the property in 1985 but never planted vineyards. Over the years people would approach her about putting in a vineyard and finally the timing was right in 2002 and the property was planted to vine. Paul Garvey is her vineyard manager (this has to be one of the smaller vineyards he manages) and long time family friend and veteran Napa winemaker George Vierra makes the wine at Bell Wine Cellars in Yountville. George spent a number of years overseeing the wine production at Charles Krug and Robert Mondavi wineries.
A balance of new and used oak is used during the aging. In addition to the ubiquitous French Oak, Leo Joseph also uses about 1/2 Hungarian Oak in which the cooper used seems to have a softening effect on the wines. The Cabernet Sauvignon clones are fermented and aged separately and are blended together based on how each one tastes when they are making their final blending decisions.
At George's urging Carolyn enrolled in the UC Davis extension program taking classes in enology and viticulture and learning how to care for and manage a vineyard. The vineyard is trellised in the Double Guyot system which is widely used in Bordeaux France but less so in the Napa Valley. This type of trellising is very labor intensive and more complicated than conventional trellising but is certainly more manageable when a vineyard is small like this one.
We first discovered their wine at the Family Winemakers tasting in San Francisco. Carolyn quickly noticed who was enjoying the wine at this tasting – women seem to particularly love their wine and commented more than once on its elegance.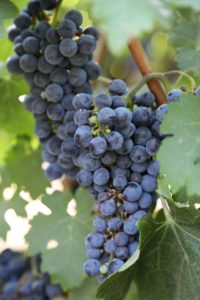 Their style of wines are more European than what you often find in the Napa Valley, are generally lower in alcohol (usually in the mid 13's) and are not vegetative at all despite being picked earlier than their neighbors' vineyards. Their wines are true to the varietal – by this we mean are focused on showing their vineyards fruit characteristics and are more restrained; without the "over the top ripe fruit", huge structure and or mouth drying tannins. The vintages we tried are elegant wines that are just as easily consumed by themselves or with food. They are looking to build both quality and consistency into each vintage so that you know you are tasting wine from their specific vineyard with the variations being more from the vintage rather than the winemaking or super high alcohols.
The 2006 shows an elegant bouquet which reveals very aromatic fruit including red and black cherry and as well as subtle notes of graphite. This bouquet also has a nice floral component including dried rose petal. These are very well integrated aromas which show even better after the wine has had some time to breath or after decanting. The mouth feel is pleasing with rounded flavors of red cherry, plum and cassis. The finish is soft and gentle with lingering notes of plum and just a hint of toasted oak.
The 2005 displays subtle aromas of baking spices as well as white pepper, lots of black fruit, a bit of graphite and dustiness; this bouquet becomes even more elegant as the wine breathes. This wine like the 2006 has a soft rounded mouth feel but with lively acidity which helps make it ideal for pairing with food. Again the finish is soft displaying fine grained delicate tannins.
A second label also from the same vineyard will be released in December 2009. This wine is called Lillian's. The best way to purchase the wine is via their website. The wine is well priced by Napa standards. As a new producer with limited production they are not yet distributed – their total production each year is usually around 250 cases. For more information visit: www.leojosephwines.com
NOTE: most likely no longer producing wine commercially. We will keep a close eye on this producer and will archive this review as necessary in the next year or two.