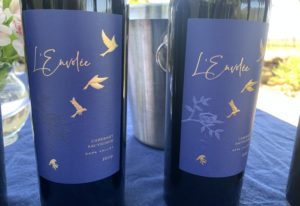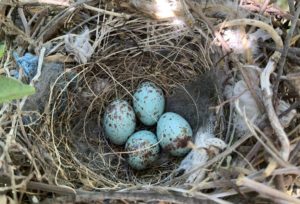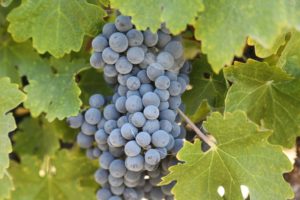 L'Envolée Wines was founded by winemaker Caitlin Lhommeau; her first vintage was bottled under the brand Resolution but transitioned to L'Envolée in 2019. The word L'Envolée is pronounced, LON-vo-lay and in French means "to take flight" or "to soar" and features an image on the label of small birds leaving their nest for the first time. This name also ties into Caitlin's early career learning about winemaking (she did not go to school to become a winemaker, more about that shortly). And her husband Quentin, who is also involved in the brand is from the Loire Valley in France.
Caitlin grew up in Visalia (California's Central Valley) and for as long as she can remember, wanted to become a doctor. She went to the University of California Davis with the intent of eventually going to medical school. At UC Davis she double majored in Cell Biology and Cultural Anthropology. UC Davis is certainly world-renown for their winemaking programs, but she never took a single winemaking class. After graduating, she applied to a number of medical schools and during the year waiting period she decided to "have some fun", as she puts it.
She remembers watching the 1998 version of The Parent Trap when she was a child and was intrigued by the story. One house in particular stood out, the Steckter House located on the grounds of Staglin Winery in Rutherford. On a whim after graduating from UC Davis she called up Staglin Winery asking if she could stop by and see the house, even referencing the movie in her phone call. This was certainly not the first such request the Staglin's received to see the house; Caitlin was told she could come for a tasting but unfortunately a visit to this house was not part of the tasting or tour of the property.
Caitlin took a job helping with accounting at her friend's business, Double Barrel eXpress, located by the airport south of Napa whose business focuses on delivering barrels to wineries and also barrel storage. As a result of her time here she often talked to winemakers and had knowledge about some of Napa Valley's top producers. She also occasionally helped unload barrels; one of the unloading jobs was at Staglin Winery. While helping take the barrels off the truck she met Staglin's Assistant Winemaker. She recalls being intrigued by what little she saw of their cave and remembered thinking how cool it would be to be paid to do his work. She must have asked a number of questions because she remembers him commenting, "you seem very interested in the business". This was in July of 2016 and harvest was coming up very quickly. He offered to take her phone number and call, in case he found any harvest openings. Within a week he had helped arrange two interviews including at one of Napa Valley's best 'think tank' sites, Brasswood Cellars.
Her first winemaking job was in the cellar at Brasswood. During her one harvest there she met a number of top winemakers including Russell Bevan who was making the Tench Vineyard wines here at the time, prior to Tench Vineyards opening their own winery at their property in Oakville. Caitlin's next winemaking job was in the cellar at Tench Vineyards; she has since become their Director of Winemaking.
One day Bevan invited her out to dinner at Rutherford Grill. His intentions were soon clear as he offered to source some grapes so she could start her own wine brand. She told him she was not ready to do this. He replied, "you will never be ready" and then continued, "you are surrounded by people who can really help you". She relented after he offered to arrange a single ton of grapes.
Winemaking/Select Wines

The initial focus is on a single very limited production Cabernet Sauvignon from vineyards in Oakville each year. Caitlin produces up to only 2 barrels of this wine every year; eventually she would like to produce a white wine, perhaps a Chenin Blanc. When a production is so small, the winemaking becomes highly personal and intimate. One small change in barrel aging, tannin management techniques or any of a number of decisions will be easily seen in the final product.
She ferments all her lots in open top plastic bins, punch downs the cap by hand as needed and also forces small amounts of oxygen into the cap (helping break it up among other benefits) using Pulsair technology. In regard to tannin management, she presses the wine into barrel while there is still a little residual sugar letting fermentation finish in barrel. This equates to less extraction, and one would think lighter color in the wine; but extracting color has never been a problem in the L'Envolee wines. Time in barrel varies depending on vintage but usually ranges between 18 and 22 months. She does not rack the wine during its aging, so it sits on the gross lees until racking right before bottling.
Her go to coopers are Taransaud and Sylvain, although in 2020 only, she used a Darnajou barrel.
The 2018 Resolution Cabernet Sauvignon (inaugural vintage) is 95% Cabernet Sauvignon and 5% Merlot; this wine is dark ruby in color and almost opaque. The bouquet shows layered fruit forward aromatics including a sweetness of black licorice, black cherry, boysenberry, dried berries and some sweeter secondary aromas including hints of vanilla. It offers flavors of black cherry and black currant; it is seamless across the palate with very finely woven chalk-like tannins. This wine has absolutely no harsh edges. A crowd pleaser.
Stylistically, the wine changed between the 2018 Resolution bottling compared to subsequent vintages, with less focus on fruit forward ripeness. The 2019 L'Envolée Wines Cabernet Sauvignon is 95% Cabernet Sauvignon and 5% Merlot. This wine is dark ruby in the glass with initial aromas of dark plum, blackberry, boysenberry, forest floor and a hint of wood spice. The bouquet is subtly savory. This wine shows lovely complexity without being heavy on the palate. And it is superbly balanced. It offers flavors of dark cherry and plum along with a density of tannins. Yet they are seamless in their textural feel showcasing a long supple finish.
2020 is a year that will be remembered for all the wrong reasons; Napa Valley experienced some of the worst fires in recorded history which by our own count, destroyed or significantly damaged approximately 30 physical wineries focused on the northern part of the valley. It might be a year that one is quick to write off in regard to wines from the valley and in most cases for good reason, and many did so soon after the Glass Fire if they had not yet harvested. But blanket vintage statements are never entirely 100% accurate. Just look at the 2011 vintage for example which was a much cooler year with rain coming at inopportune times yet was a vintage depending on location and timing produced some beautiful wines stylistically that were different from the Napa warmer norm.
There were two major fires in 2020 that affected Napa Valley; initially the Henessey LNU Complex burned completely east of the valley proper, scorching nearly 200,000 acres as a single source fire but ultimately merging with other fires and burning more than 360,000 acres. One only has to drive anywhere near Lake Berryessa to see the expansive burn footprint and destruction in all directions. This fire caused plenty of smoke but with the worst of the haze drifting east away from the main part of Napa Valley.
Then later that year the Glass Fire started in the hills of the Vaca mountains near North Fork Crystal Springs Road. This fire was significantly worse as far as smoke produced in the main part of Napa Valley; it also caused significant infrastructure damage and destruction because it burned in parts of the valley housing numerous wineries and vineyards. Caitlin picked the grapes for her 2020 bottling the day the Glass Fire started in late September, before the smoke became so bad that during certain days in the middle of the afternoon it was so dark it looked like the sun had already gone down. We thought the smoke from the 2017 fires in Napa and Sonoma counties were bad, but the smoke from the 2020 Glass Fire took things to another level. It is very important to note that this was a scheduled pick date, rather than an 'oh shxx' last minute decision.
The 2020 L'Envolée Wines Cabernet Sauvignon is 100% varietal (tasted about a month post bottling) and is dark ruby and opaque; the aromatics initially offer some notes of dried herbs, a hint of wood spice, white pepper, black olive and dark plum. Give this wine time to evolve in the glass, in its youth it needs that time, and will continue to open and become more expressive of its fruit aromatics. The tannins show some grip on the finish and still need more time to fully resolve; they are dense but rounded and persist for quite some time. The wine also lingers with a slight dusty note and hint of dried tobacco leaf. This is one of the first 2020 Napa Valley Cabernet Sauvignon wines we have tried; at the time of our tasting, it shows extremely well.
Despite the the significant challenges of the vintage, we look forward to tasting the limited number of Napa Valley wines from 2020 over the next decade + to follow their maturation and to see if smoke taint develops and or to what extent it shows.
Probably the most important question for this vintage to ask is: when were the grapes harvested?
Caitlin calls the 2021 vintage the most even vintage she has worked with to date and certainly a much-needed vintage following the challenges of 2020. The 2021 L'Envolée barrel sample we tried (less than a year post vintage date), already shows plenty of complexity, tannin density and texture.
—
With such a limited distribution, the wines are mostly sold direct to consumer via the website but are available at a few select locations locally including ACME Wines in St. Helena and V Wine Cellars in Yountville. For more information, visit: www.lenvoleewines.com