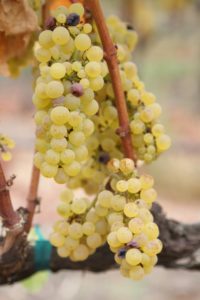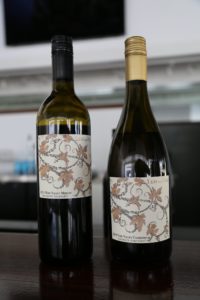 Leaf & Vine was founded in 2010 by father son, Tim and Rick Keith. The family grew up in Salem Oregon but for many years had a family connection to the Napa Valley; Tim's grandfather, Edward Keith owned the Bar 49 Ranch in Chiles Valley and ran a children's camp from the 1950s through the 1970s (a property that is now owned by Maxville Lake Winery). Tim and his siblings would often visit the ranch during the summer.
When thinking about a career Tim pondered going to the University of Oregon and pursuing a business degree. But then he had moment of "clarity or insanity" as he recalls based on a conversation with his grandfather who convinced him to move to the Napa Valley. Tim did so in 2000, living on his grandfather's ranch. Eventually he went to UC Davis and graduated with a degree in Viticulture and Enology. Through his familiarity with Chiles Valley he took a job at Green & Red – helping make their Zinfandel followed by several years as a winemaker at Quixote Winery.
His early career in the Napa Valley helped shape his winemaking philosophy. The focus of Leaf and Vine is on single vineyard, single varietal wines. In the winery, his style is fairly minimalist – fermenting with non inoculated yeasts (indigenous) and bottling the wines unfined and unfiltered. He tends to age his wines up to 30 months in barrel and then another year in bottle before releasing.
Tim says, "I make wines that the grapes give me" – he does not try to manipulate the fruit or 'go backwards' once the grapes are in the winery.
Tim has made the wines in a variety of locations including at Paradise Ridge Winery in neighboring Sonoma County (burned down in the October fires of 2017) and Treasure Island (San Francisco). Looking to move closer to Napa he reconnected with vintner Vic Borassa who has made wine in an industrial park in south Napa for many years. Through the grapevine he discovered a warehouse next to Vic's winery was for sale. Tim purchased the warehouse in 2014 and made his first vintage there in 2015. Tim also runs a small wine making consulting business – and uses the space to make wine for several small clients as well as leases the space to select clients who make their own wines here.
Leaf & Vine produces one of the most interesting and unique Chardonnays in all of the Napa Valley. Tim sources this variety from the 4 generation family owned Thomson Vineyard in Napa's Carneros district (a family that began farming here in 1938). Post primary fermentation this wine is aged in a variety of ways including in neutral French oak (with infrequent battonage) and in stainless steel drums.
And several barrels are aged 'vin jaune' like with the Savagnin grape in the Jura region in eastern France – in that the ullage or head space is not topped off while the wine ages. As a result, the wine ages under a film of yeast called voile in French (helping protect the wine from oxygen as the ullage grows larger due to evaporation. Starting with 60 gallons in a typical barrel, by the time the aging is complete this barrel will have lost approximately 20 gallons. The evaporation is great. The amount of wine going through malolactic fermentation varies depending on the vessel.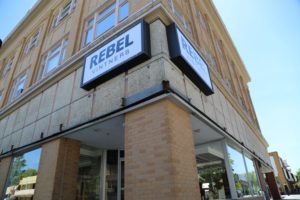 The 2014 Leaf & Vine Carneros Chardonnay is golden yellow in the glass. From the bouquet, one quickly recognizes this is a unique for Napa chardonnay. Distinctive, presumably one could quickly pick this out of a lineup of traditionally made Napa Chardonnays. Shows aromas of hazelnut, browned sugar, cooked pear, kumquat/orange peel, dessert spices and tropical fruit. A pleasing roundness is immediately noticeable on the palate. Shows intense flavor and character complemented nicely with acidity – especially noticeable on the finish. The intensity and flavor of the fruit may trick you into thinking this wine has some residual sugar, but in reality there was none left after fermentation. This is a highly unique Chardonnay worth seeking out.
The 2013 Leaf & Vine Napa Valley Merlot is from Napa's least known appellation and one we rarely see wines from – Wild Horse Valley. Along with Carneros, it is one of Napa's only two sub appellations to encompass part of two counties, Carneros in both Napa and Sonoma and Wild Horse Valley in both Napa and Solano County. This wine is highly aromatic showing bright fruit – with notes of red cherry, dust and mocha. Very approachable, shows a red core of fruit across the palate. Well integrated tannins anchor a long finish.
One of their more popular wines is the Quartz Block Zinfandel from Amador County – one of the vineyards that Tim has been working with almost from the very beginning of Leaf & Vine. These vines are dry farmed and historically are harvested around the same time each year. After several years of drought and a very hot vintage, the grapes were ready and harvested earlier then normal in 2013 – in early September. Tim enjoys the brambly characteristics this variety often shows.
The 2013 Leaf & Vine Zinfandel offers sweet aromas of raspberry and cherry liqueur with a kiss of toasted oak influence including notes of mocha. It is ripe yet retains noticeable acidity. Somewhat tight tannins linger for quite some time.
Based on vineyard sources, Leaf & Vine also produces other wines from the Napa Valley including an Atlas Peak Cabernet Sauvignon. Sometimes when special vineyard soures become available for whatever reason (located through Tim's stong Napa winemaking network of friends), he will make one off wines such as an Oakville Cabernet and a sparkling wine, also from an Oakville.
In May 2018, Leaf and Vine partnered with two of Tim's winemaker friends, Jason Holman of Holman Cellars and Kevin Cadle of Cadle Wines to open Rebel Vintners – a spacious and inviting tasting room located on the corner of Coombs and 1st Street in downtown Napa. Visitors can stop by without needing an appointment and taste at the bar or choose one of the sit down options (tables). With a commercial kitchen on site and a strategic partnership with locally based Monday Bakery – they offer guests the options to taste with small bites, charcuterie and cheese plates and various baked goods.
And for those looking to imbibe in something other than wine, they also offer ciders on tap.
The tasting room changes its vibe somewhat after 5pm and becomes more like a wine bar and a lounge space – serving wines by the glass with games showing on the big screen opposite the wine bar. An old school gaming machine is available for anyone old enough who wants to relive their past gaming prowess with games such as Pac-Man, Frogger and Galaga. And for those looking to just hang out for a while, especially in the evening, order a bottle of wine and play one of the board games on site.
The annual production varies somewhat and has ranged between 800 and 2000 cases a year. The wines are selectively distributed in Oregon and Washington and are available through their website. For more information, visit: www.leafandvine.com