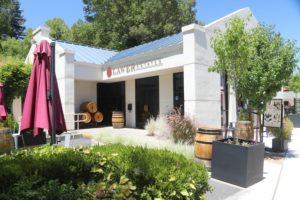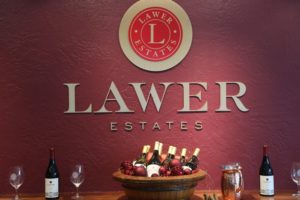 Lawer Estates is a small family run producer operated by Betsy and David Lawer (he died in 2021); they are Duke alumni, which is where they first met and both have strong ties to Alaska. The First National Bank of Anchorage was founded in 1922 in Anchorage; Betsy's grandfather Warren N. Cuddy began purchasing stock in this bank in the 1930s and in 1941 purchased a controlling interest. Her father Dan Cuddy became president of the bank at age 30 and served in a leadership role for more than 60 years. He was a float plane pilot, certainly a useful skill when conducting banking business in Alaska's vast landscape. In 1960 the bank opened Alaska's first drive through banking service and in 2001 the bank's name changed to First National Bank Alaska.
Today this bank continues to be family run; Betsy is the Board Chair and Chief Executive Officer and oversees 30+ banks within the state. In 2019 she was inducted into the Alaska Women's Hall of Fame. David was a lawyer, and also worked for First National Bank Alaska as their Senior Vice President and General Counsel; in 2020 he was honored with an Alaska Business Hall of Fame award.
Their first introduction to owning a 'piece' of Napa Valley was as investors in 1995 in Folie à Deux Winery (along with other investors). It was there they met winemaker, Scott Harvey who at the time was also associated with Folie à Deux Winery. Ultimately, they hired Scott to craft the first vintages of Lawer Estates.
Betsy owns two estate vineyard properties, one mere minutes from their tasting room, located in the hills above Calistoga not far from the intersection of Petrified Forest Road and Franz Valley School Road (5 acres of vines are planted here) and in neighboring Sonoma County – further down Franz Valley School Road into Knights Valley where she owns over 100 acres of which about 15 are planted to vines (Betsy's Vineyard).
Unfortunately, the fires in October 2017 chewed through their Knights Valley property burning several homes on site – but their vineyards acted as a fire break and there was minimal damage to the actual vines. Their Knights Valley property features a diversity of microclimates allowing them to grow both Chardonnay, Pinot Noir, Viognier and Syrah. Grapes for their wines come from both of their estate vineyards however they also purchase some Cabernet Sauvignon from select sites in Oakville and Atlas Peak.
The first vintage of Lawer Estates was 2003.
Tasting Room
The Lawer Estates tasting room coincidentally is a building that used to house First Counties Bank and dates from 1958. We first visited this space many years ago when Mary Sue Frediani ran the tasting room for OnTheEdge Winery. At one point, a number of live bees were on display inside the tasting room – a colony that was part of the interior decor. The only remnant of that intriguing display is a still-existing hole in the wall. The most recent occupant was Dick Vermeil's Vermeil Tasting Room. Several Syrah vines damaged in the October 2017 fires have been re-purposed and are displayed inside. The tasting room had a soft opening in late November 2019.
Noted Calistoga based artist Carlo Marchiori maintains the Ca' Toga Galleria D' Arte (art gallery) in the building directly next to the tasting room (both buildings share the same parking lot). Carlo is a well-known muralist who has created murals around the world primarily in North America, Europe and Asia – in select hotels, wineries and casinos. He lives in his self-titled Villa CA'TOGA in the northern part of Calistoga and opens his impressive house to visitors for tours by appointment during select times in the summer. But relevant to this tasting room is the mural Carlo painted on the outside east and south facing walls. It is worth taking a quick look if walking by.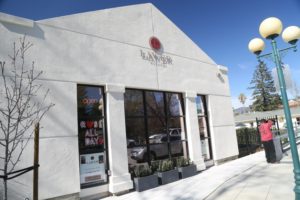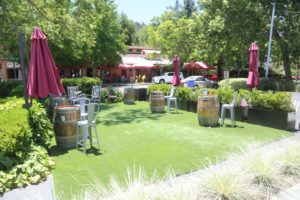 This tasting room has plenty of space with both sit down and standing room at either of the two wine bars. The staff is very hospitable, and tastings are highly personalized. Calistoga is a small town; during our visit one of the staff waived to the mayor who was walking by and pointed out a restaurant owner driving by in an antique truck.
Betsy also owns a two-address empty lot about a block away from the current tasting room (to the west on Lincoln Ave) where they are planning on building a small tasting room and hospitality space with the design overseen by the architectural firm, Backen, Gillam & Kroeger. Three magnolia trees are planted right on the Lincoln side of this sizable lot – in researching their history, Betsy discovered that these three trees were planted in honor of three Calistoga servicemen killed in World War II, one of which actually lived in Alaska for a time.
Select Wines
The 2014 Lawer Estates Viognier. We tasted this 5+ years after vintage date; this wine still shows a freshness and liveliness that perhaps one would associate with a younger wine. Straw yellow color offers bright fruit aromatics including citrus blossom, lime, honeysuckle and ripe pear. Easy drinking and very balanced across the palate. Citrus notes, orange peel zest and a brightness linger on the finish – great acidity has carried this wine for 5 years and will continue to do so for several more years.
One will be hard pressed to find as unique of a story relating to the name of a wine as their Cannon Block Chardonnay. Betsy and David's daughter Sarah used to play with "potato cannons" in their vineyard – a potato slinger if you will. She and her friends used to shoot potatoes out in the vineyard and one day the family noticed potatoes growing among the vines. The name of this wine is in homage to this but also to one's carefree days of youth.
The 2018 Lawer Estates Cannon Block Knights Valley Vineyard Chardonnay underwent 40% malolactic fermentation. Not an oaky or buttery offering, that much is clearly evident as soon as one smells this wine. Offers tropical aromas along with stone fruit – very bright aromatics along with citrus blossom. Rounded with a pleasing texture – slightly creamy. A sweetness of fruit shows – with a noticeable intensity of flavor across the palate.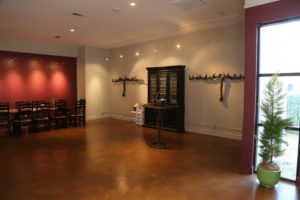 The 2014 Lawer Knights Valley, Betsy's Vineyard Syrah is noticeable dark red in the glass – meaty with aromas of blackberry, black currant, spiced plum and dark chocolate. Also, dessert spices. Noticeable is this wine's pleasing texture, certainly helped by a few years of age. Concentrated but remarkably well balanced everything is harmoniously integrated – fruit, acidity and structure. Features a suppleness from start to finish with finer grained tannins, darker fruit and some darker spices showing on the finish. A pleasure to drink.
The 2016 Lawer Vineyard Select Oakville Cabernet Sauvignon shows a bouquet with some character – offers aromas of cigar smoke, tobacco leaf with hints of crushed black pepper. On the palate, a hint of jalapeno, albeit subtle, is complemented nicely by mouthwatering and juicy red fruit tones. Flavors of red cherry and raspberry linger on the finish. Nicely integrated tannins here. Not harsh.
The 2014 Lawer Knights Valley Late Harvest Chardonnay is 75% Chardonnay and 25% Viognier. Offers sweet aromatics of ripe apricot, honeycomb, marmalade and other stone fruits including nectarine and peach. Creamy and rounded with a slight oily texture – this wine's residual sugar is tempered nicely with its bright acidity. Still to a non-dessert wine drinker not used to wines of this style, it will taste very sweet. Noticeable weight mid palate. Finishes with flavors of orange, mandarin and an orange peel zest.
—
Other brands under Lawer ownership not available at the tasting room include Three Coins, Hooker, Voodoo and Duckshack. The identity of all three brands are highly personal. Three Coins is named after a tradition Betsy's father maintained when sluicing on the family's gold mining claim located several hours north of Anchorage. He would place three coins into the sluice to gauge the pressure of the water running through the riffles. Too much pressure, the coins would wash away and so would any gold – to little pressure, then to much sediment would build up, also not ideal when trying to trap the gold in the riffles of the sluice.
Hooker is not named after some of Alaska's sordid history surrounding its gold mining days but rather refers to the hooker position in Rugby. And David was a hooker on the Duke Rugby team and so was Betsy's father (while he attended Stanford).
The label for the Lawer Estate wines mimics the look of a bond or stock certificate – a nod to Betsy's family history in the banking industry.
While there are four Napa Valley based wineries that focus on sparkling wines (Domain Carneros, Domain Chandon, Mumm Napa Valley and Schramsberg), in the last few years, we have noticed more Napa Valley producers offering sparkling wines in their portfolio. Lawer also offers several California appellations sparkling wines.
The tasting room features an impressive collection of various medals and awards the wines have won over the years. Their total production is around 3,000 cases per year with plans to grow this over time to potentially around 10,000 cases. For more information or to join their mailing list or one of several wine clubs, visit: www.lawerestates.com
Three magnolia trees, Calistoga lot owned by the Lawers