Lava Vine opened their tasting room in December of 2008 on the northern Silverado Trail just north of the Solage Resort and next door to the old Calistoga Beverage Company. They are located in the Calistoga city limits – in the southeast part of town. There are a proliferation of tasting rooms in downtown Napa and Yountville and when this opened there were very few open to the public by walk in tasting rooms in and around Calistoga (today there are approximately 10 in Calistoga).
Lava Vine Winery was founded by the husband wife team of Joseph and Jill Cabral. Joe worked in construction for a number of years in the valley and in 2000 he and Jill purchased 5 vineyard acres north of the Napa Valley just over the Sonoma County line. The tallest mountain in the Napa Valley, Mt. St. Helena dominates in the near distance. This vineyard produced fruit for several of their wines and in addition, they sourced fruit from various vineyards in the area as well as from Calistoga in the Napa Valley. Joe was the grape grower and handled all the vineyard management on their property while his business partner Nile was the winemaker.
The original Lava Vine vineyard is situated on steep rocky slopes; the geology of this vineyard is the reason for the name Lava Vine. The slopes are up to 45 degrees and the soils are mainly composed of volcanic ash, rock and petrified wood – the soils are volcanic in nature in part from ancient lava flows. The vines are planted very close to one another and along with the steepness of the property dictates that all farming is done by hand. This vineyard is farmed organically with two sheep providing the weed control and a dose of fertilizer as well!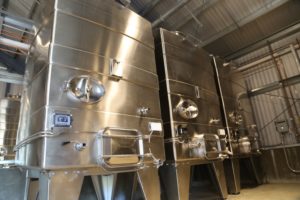 The early beginnings of Lava Vine began when Joseph started making home wine from the Portuguese varieties that were already growing on his vineyard property; he initially produced a port styled wine. Enjoying this wine so much and in talking to his friend, winemaker Nile Zacherle – they decided to start a label and bottle the wine commercially. The first commercial release of Lava Vine was from 2007.
In late 2015, Rudy von Strasser of Von Strasser Wines purchased their one acre property in Calistoga including the winery, tasting room and the Lava Vine brand. He has since built a state of the art new barrel storage facility, updated the winemaking equipment including some very modern tanks, installed a full hookup system for electric and water for mobile bottling trucks and remodeled the old tasting room into an appealing contemporary space. During the remodel and rebuild of their parking lot – they created more parking spaces then were in the original parking lot. One side of their parking lot is for smaller vehicles – the other side is for larger vehicles.
All wines moving forward produced under the Lava Vine label will be varieties other then Cabernet Sauvignon. And some of these wines will be fairly obscure (by Napa standards) – including Gruner Veltliner. This variety is so rare, that von Strasser was the first California winery to bottle a wine from this variety. Other somewhat unique for a Napa producer include Verdelho, Grenache and Tempranillo.
This is also the home to Rudy's original brand, Von Strasser – and all wines under the Von Strasser label will be Cabernet Sauvignon centric. Because both labels are now housed under the same roof – this really helps differentiate the types of wines – and keeps both labels separate from each other.
Their well appointed tasting room is located in a small metal building which was in the past was used by Calistoga Roastery, a local coffee company with a store in downtown Calistoga. Drive around the two story red building in the front to either of the two parking lots. This red building houses their office and also serves for some wine storage in it's basement.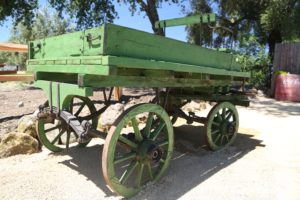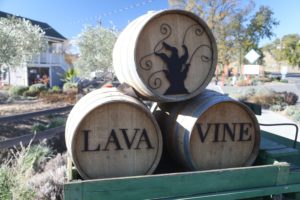 The property is located right next to the "greenway" which contains a bike path that connects to the town of Calistoga and the Solage Resort – which is ideal as Solage includes free use of bicycles with each room. Their property also backs right up to the Sunburst Hotel.
Lava Vine maintains has a side room next to their tasting counter which is for private wine and food pairings as well as can handle larger crowds. The tasting room closes at 5pm each day but can be reserved for after hour special appointments on a case by case basis.
The first Lava Vine vintage is from 2006. This is artisan wine at its best – family owned, and each wine is produced in quantities of several hundred cases at the most. Several of their wines are produced in quantities of under 100 cases; as a result the best way to acquire these is in person at the tasting room. In addition, their prices are not going to make you suffer for weeks! This is a rare situation in Napa where you have an artisan winery with very limited productions with an open to the public by walk-in tasting room. Many of the artisan wineries in Napa Valley do not have a public presence within the valley, instead selling their wine through select mailing lists or through distributors.
We tried the 2007 Chardonnay which is from a vineyard on the eastern side of the Silverado Trail just south from their tasting room. This wine saw neutral oak during the aging and only 50% malolactic fermentation. This wine has a nice golden yellow hue in the glass with a nose that shows aromas of baking spices, nutmeg and pear. It is certainly not over oaked and creamy/buttery – but nuances of oak and creaminess show through in just the right balance. The palate is rich and concentrated with layers of fruit flavor completed by a finish that is decidedly tropical in nature.
The 2006 "dry" Viognier is a winner – the nose is extremely fruit driven and the mouth feel is rounded and slightly viscous. Along with their Chardonnay this wine is built to be consumed now but can also be aged for several years.
The 2006 Cabernet Sauvignon is also from the same vineyard in Calistoga as the Chardonnay. The color is ruby red in the glass with a nose that contains notes of earth and crushed rocks as well as a floral characteristics. The palate follows with red fruit, red cherry and red currant with a spicy crushed black pepper finish. This is a wine that begs for food.
They are a "kid and dog friendly tasting room". Picnic tables are located immediately outside the tasting room – this makes for a nice spot to enjoy a relaxing lunch while under the shade of the nearby trees. Since the winery is located right next to the tasting room – during harvest you can often see the operations in action.
Note the old green wagon that sits next to the parking lot. This was an original piece of equipment used in the nearby Oat Hill Mine (the mine was built in 1876 and ran off and on until the mine finally closed in the 1980's). This was a mine of cinnabar (mercury). Today the Oat Hill Mine Trailhead is about a five minute walk from their tasting room.
And while no longer performing at Lava Vine Winery after the transition in ownership, the Lava Vine Boys used to perform on site, usually two, three or more songs. We used to love hearing their unique acoustic tasting room sound, and if the mood was right with the music and wine, people would clap when another group walked into the bar. They would look at you strangely, or they would bow, but whatever the motion they were bound to join in for a good time.
NOTE: Lava Vine no longer maintains their own website – and has merged with Von Strasser – as a result this is no longer a stand alone brand but now a label within the Von Strasser portfolio of wines.
Property Photos

Pre Remodel Photos

The LAVA VINE BOYS: raw, unfiltered & acoustic- was one of the highlights of a visit here: