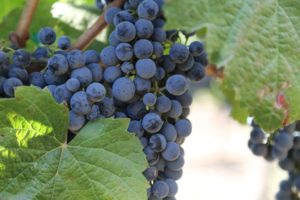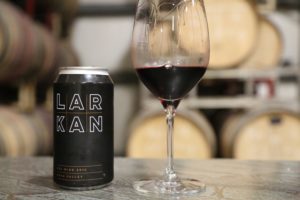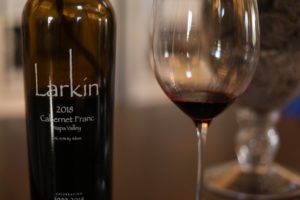 Larkin Wines. From a small town in Scotland to the world-famous Napa Valley, Sean's path from his homeland to making wine is anything but a normal story. Born and raised in Inverkeithing (about a 30-minute drive from Edinburgh, a town perhaps most well-known for The Battle of Inverkeithing in 1651), Sean emigrated to the United States on his own at age 19. He settled in New Jersey and became a sheet metal worker. Eventually he opened his own successful sheet metal business – but recollecting on all the hard work needed in a trade such as this, now he seems quite relieved he chose another career path – albeit much later in life.
While still working with sheet metal he began to explore his love of wine while living in New Jersey. He worked at several premium New Jersey based restaurants while simultaneously training to be a sommelier.
He recalls his first trip to Napa Valley was in 1991; seven years later he left the world of cold winters and sheet metal and moved to Yountville. His first job in the region was with a San Francisco based wine distributor – he spent three years commuting from the Napa Valley to San Francisco – but it was during his time here that he discovered his love for Cabernet Franc through several wines he was repping at the time including Pride Mountain Vineyards and Titus Vineyards. Based on his experience at this distributor – Sean also founded a small wine brokerage firm in the late 1990s (which he no longer runs).
Looking to make a small amount of wine on his own, in 1999 he purchased merely 1/2 ton of Cabernet Franc grapes from Titus Vineyards and made 48 cases of wine (Robert Foley was his early winemaker); Sean is now the winemaker. While the vineyard sources have changed over the years he has made Cabernet Franc every year since including from Monticello Vineyards and continuing with Titus Vineyards. Today he also purchases fruit from the historic Pocai Vineyard (under ownership by Ballentine Winery) and this is now the primary wine made under the Larkin label.
Not only does he enjoy Cabernet Franc but he realized early on that Napa Valley was becoming very Cabernet Sauvignon centric and decided to produce a wine that perhaps would stand out a bit from the 'Napa norm'. It did stand out – he received good press and excellent wine scores from those who matter in the wine writing world (like a 91 score for one of his early vintages from Robert Parker, back when a low 90s score garnered more attention then perhaps it does so today).
While certainly producing more then 48 cases now, his overall production remains modest – typically around 1000 cases per year among all his labels. Sean does not own vineyards – rather he sources fruit for his wines – his vineyard sources tend to change over time and often are at the mercy of economics. At the time of our meeting he had recently lost a beautiful Chardonnay vineyard which was being replanted to Cabernet Sauvignon (unfortunately in the past few decades, not an uncommon occurrence in Napa).
In 2004 he introduced the Jack Larkin lineup of wines to honor his newborn son at the time. And in a very tiny production, he produces the house wine for Bistro Don Giovanni Restaurant – located in the northern part of the city of Napa where it is poured by the glass. This wine is produced in honor of Dona Scala who along with her husband Giovanni, founded Bistro Don Giovanni in 1993 and who unfortunately passed away in 2014 from brain cancer far to young at age 60.
And in 2018 Sean took a totally new direction with some of his wines and introduced premium wines bottled in cans bottled as LAR KAN. His production has been very limited to date (sold out the first vintage rather quickly) but will be increasing production over the subsequent years. These are not cheap wines from maximum yield producing vineyards in the central valley, but rather they are from premium vineyard sources that Sean locates through a variety of connections in Napa Valley including from some of his winemaker friends.
Select Wines
The 2016 Jack Larkin Chardonnay was barrel fermented in about 50% new oak and 50% used; Sean said this wine went through full malolactic fermentation and was kept on the lees and stirred every month until just before bottling. It is golden in the glass and shows appealing dessert like spices on the bouquet complemented nicely by aromas of honeysuckle and hints of oak. A sweetness of fruit initially shows on the entry with a texture that feels rounded and almost oily in nature (certainly enhanced by the battonage). Also noticeable is the intensity of flavor, generous and opulent with flavors of melon and citrus. The wine features a rich long lasting finish with oak spices.
Sean has been working with the Pocai Vineyard for several years for his Cabernet Franc. This is the oldest Ballentine Winery owned vineyard in the family's portfolio of local vineyards – current owner Betty Ballentine's grandfather purchased this vineyard in in 1906 in exchange for gold coins. The site is in a premium vineyard neighborhood; it is located next to one of Napa's iconic vineyards, the Three Palms Vineyard (originally owned by Lillie Hitchock Coit – the namesake of San Francisco's Coit Tower).
The 2016 Larkin Pocai Vineyard Cabernet Franc was blended with approximately 10% Cabernet Sauvignon and the remainder Merlot and Petit Verdot. Sean likes blending back a bit of Cabernet Sauvignon to give his Franc a little "stuffing" as he puts it. This wine is noticeably dark crimson in the glass featuring a bouquet that offers plenty of depth. Dark fruit, black licorice, dusty notes, hints of mushroom and darker spices show. Fairly rounded on the entry, the wine quickly gains in complexity across the rest of the palate. The darker spices on the bouquet also show on the palate – with hints of cedar, especially towards the finish. Features grippy young (and still a bit tight tannins) due to its youth at the time of our tasting.
The 2018 Larkin Cabernet Franc is dark ruby in color; the bouquet is ripe featuring aromas of black licorice and blackberry along with some secondary notes including mocha, cocoa powder and chocolate. The palate offers flavors of plum, spicy plum skin, red cherry and a darker pepper note. Also shows some hints of old cedar box. The tannins are rounded with no harsh or coarse edges, but they are densely aggregated; their moderate earthy grip continues to lingers after the fruit has dropped off on the finish. This is wine has some octane to it and showcases the riper and plusher characteristics of this variety.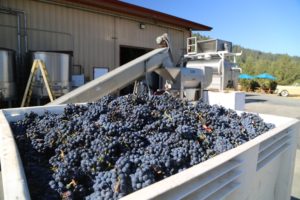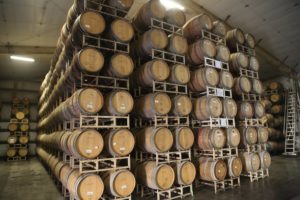 It is extremely rare when we taste Napa wines from a can – although we first started noticing a few creeping out into the marketplace in early 2018. And Sean works with several other winemakers who have also recently bottled some of their wine in cans. Perhaps associated with cheaper wine – that is certainly not the case here. Jonathan Cristaldi of Food & Wine Magazine & website had this to say about Sean's first release of LARKAN, "At exactly $12 per can, "Larkan" is my greatest find, and possibly the best wine in a can I've ever tried."
The 2016 LARKAN Red Wine is actually 100% Merlot, but these days, perhaps a can labeled red wine will sell better then a can labeled Merlot. Shows mostly black fruit aromas on the bouquet with plenty of spice characteristics to complement including black pepper, cigar smoke, dry dust and a hint of cedar. Both red and darker fruits on the palate – this wine has a noticeable density across the palate but especially so on the finish. The tannins have good grip, but not overly so and linger for quite some time along with darker spices, an earthy dusty nuance and a hint of mocha.
—
Sean also produces the Tin Knocker wine brand (white wines) – named after the slang term for sheet metal worker. While production still remains modest (approximately 1000 cases between, Larkin and Jack Larkin) the wines are very selectively distributed across the United States in specific restaurants and premium wine shops. Sean oversees the distribution of his wines in the Napa Valley – and select vintages are found at many of the premium restaurants in the region including at the French Laundry. Also available at the K. Laz tasting room in Yountville and at Gary's Wine in St. Helena.
For more information and or to join his mailing list, visit: www.larkinwines.com