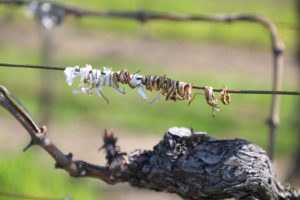 Lanthanide Wines was founded by Diane Wu and Philippe Venghiattis with their inaugural vintage in 2018. While the focus of their production is on Napa Valley grown Riesling and Cabernet Sauvignon, they do produce several other bottlings including of Marsanne, Viognier, Tempranillo and Aglianico.
Diane is the winemaker for Lanthanide; it is clear that she is passionate about the details of her craft, primarily in the sites they choose and the varieties they work with. She was born in China, and later worked in Germany where she fell in love with Riesling; the wine she fell in love with was an off-dry Riesling with some age. While in Germany she worked a harvest at Weingut Rebholz in Pfalz, known for producing some of the best dry Riesling in the country. And she became fascinated with dry Rieslings including how well they can age (20+ years) and the subsequent complexities that develop over time.
Philippe has truly embraced the diversity of the wine business and all its various facets from being an auctioneer of wines in New York, to farming and winemaking, to wine sales and most recently working with drone technology to collect and access data relating to a variety of measured inputs focused on grape growing.
Lanthanides represent atomic numbers 57–71 on the periodic table ranging from lanthanum through lutetium. They were first discovered at a mine in Ytterby, Sweden (about 25 minutes north of Gothenburg) in 1787 in a mineral eventually named Gadolinite. This mineral contains numerous rare earth elements and several of the elements are named in honor of Ytterby. While these elements are referred to as 'rare earth' in actuality, they are not particular rare at all but are difficult to identify and extract from their parent minerals. And like in California which has numerous sites for growing grapes, the challenge is in identifying which terroir is best suited for certain varieties.
A part of the Napa Carneros District we simply refer to as the Deep end of Carneros, is a section far removed from traffic, where the pavement ends, and the only roads are dirt providing access through vineyards. This narrow strip of the Carneros District is located at the end of Henry Road north of Artesa. Lanthanide sources their quadrilateral cane pruned Riesling from 8 to 14 rows planted in the early 2000s within the gorgeous 528-acre Hibbard Ranch Vineyard. This site was a formerly a cattle and dairy operation; it spans both the Carneros District and also Mt. Veeder and is planted to a diversity of varieties including Cabernet Sauvignon, Grenache, Albariño, Riesling and Sémillon. There is not a lot of Riesling in Napa Valley; according to the 2022 California State Grape Acreage Report in 2021 there were 75 bearing acres of Riesling growing in Napa Valley.
The Riesling vines grow on hillsides in primarily weathered sandstone soils. And these soils are extremely well drained; we can personally testify to this after biking through this vineyard very soon after heavy rains during a particularly rainy winter and noticing much of the surface soils were already fairly dry and firm.
The vines are trellised higher to take advantage of the cooling Carneros breezes from the nearby San Pablo Bay, which often become more prevalent later in the day. They have not had issues with botrytis. And there is another factor contributing to keeping the site cool; its hillside location is below hills to the west which block some of the late afternoon/evening sunshine.
The vines maintain a balanced canopy and are never hedged later in the year. Limiting exposure to sunlight and warm temperatures and careful water management during ripening also limits the development of carotenoids, a type of pigment. The compound 1,1,6-trimethyl-1,2-dihydronaphthalene (TDN) in its free form results in a perceived "kerosene" or "diesel" note in some young Rieslings but becomes more pronounced in aged Rieslings due to eventually developing in higher concentrations. TDN precursors are bound (the most aromatic compounds in grapes) and are primarily found just underneath the skin. Although Diane did mention that in the cellar, "Skin contact may increase the expression of TDN." Riesling contains more carotenoids than other grapes which is what eventually contributes to TDN development.
From strictly an aroma and flavor perspective, we don't mind a bit of this in Riesling, especially considering it is inherently part of the characteristics of the variety.
Riesling can grow in a variety of locations. Diane told us, "Contrary to common beliefs, they also tolerate a range of terroirs and climates and styles. For example, Clare Valley (south Australia) is quite hot, but on the hillsides with some cooling influence, Riesling can do well there".
She describes her part in the cellar as the following: "the human factor is very small in my winemaking". Her role is to show the characteristics of not only the variety, but also the vineyard site. She describes Riesling as an open book, a transparent variety with shows a strong sense of place; it will not hide soil or climate or winemaking styles. It even picks up nuances from well-used oak barrels during aging.
And as Diane says in regard to all the details that she and Philippe oversee from vineyard to cellar, with Riesling in particular and her affinity for the variety, "my goal is to make people fall in love with Riesling".
Select Wines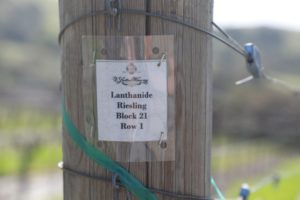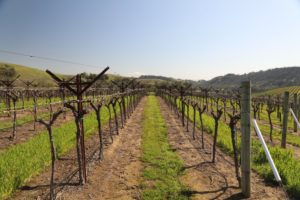 Sonnenfrost in German refers to sun and frost and represents their goal of producing a wine that straddles the line between ripeness achieved in California with the more structured German produced Rieslings. The stylized and very attractive image on the label of their Riesling bottles is based on a winter photograph that Philippe took in Cambridge Massachusetts of a tree branch covered in snow framed by a brilliant and dark blue sky.
The 2018 Lanthanide Sonnenfrost Riesling is deep gold in color; the attractive aromatics initially offer honeyed notes including of honeycomb, stone fruits including apricot and ripe yellow peach along with pineapple guava and lanolin. As it evolves in the glass it opens to some floral notes (citrus blossom). The palate is richly flavored and accompanied by a creamy, rounded and saline/briny like texture (the most texturally driven of the four Sonnenfrost Rieslings we tried). This bottling offers flavors of citrus including tangerine, nectarine and red and green apples and lingers with bright and refreshing but balanced acidity. The wine was aged in both stainless steel and neutral oak barrels for 10 months on the lees. And it was racked just one time right before bottling. Only 50 cases were produced.
The 2019 Lanthanide Sonnefrost Riesling is medium yellow in color: this wine smells like spring, a rejuvenation after a long winter. It offers aromas of lemon pith or as Phillipe noted, also a pomelo pith, oyster shells, white flowers, green apple, a hint of lemongrass and a barely perceptible note of diesel. With a little imagination, one can almost smell the salty breezes on a warm summer day blowing in off of San Pablo Bay in the lower Carneros. Balanced across the palate its mouth feel is rounded and supple and is complemented nicely with an energetic acidity. This wine shows flavors of green apple, pomelo, grapefruit and a very subtle note of pineapple. It finishes with a citrusy liveliness and immediately invites another sip. Bright. Beautiful.
The 2020 Lanthanide Sonnenfrost is dark golden in color; the aromas are diverse and include a note of apple cider, citrus blossom, a flinty almost steely note, mineralities and oyster shells. Simply put, this wine smells fresh. While each year the time of skin contact varies but is usually fairly lengthy, this year there was no skin contact. Yet, the briny or saline like texture present on their first few vintages also shows on this wine. The palate is a pretty union of flavors including of stone fruits, citrus, pear and bruised apple. A noticeable brightness continues to linger.
The 2021 Lanthanide Sonnenfrost Riesling is medium gold in color; the aromatics immediately show notes of pear and apple and reminded us of coring Golden Delicious apples from our parents giant apple tree and the resulting juice pooling underneath the apple corer on a wooden bench. Like the previous bottlings of Sonnenfrost, this bouquet also offers a wide diversity of aromatics including pungent scents of citrus blossom, saran wrap, apricot, pineapple, honeycomb, ginger, lemongrass and lemon juice. Younger than the previous vintages we tried, this wine shows a bit more fruit on the bouquet. The palate is crisp and outshines it's light creamy texture. It is richly flavored and offers notes of freshly squeezed lemon juice, green apple and a lingering note of under ripe pineapple. The finish is driven by its bright and long lasting acidity. This wine is built to age.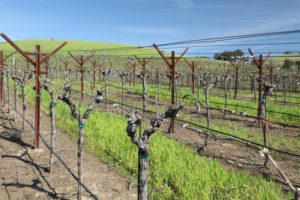 The 2018 Lanthanide Birch & Cane Riesling was a one-off bottling due to the fact the vines were subsequently grafted over to another variety. This wine is medium gold in color; it offers sweetly fruited aromatics including of stone fruits and pineapple. The mouth feel is creamy and rounded with flavors of pear and apple. There are also some citrus notes here including of grapefruit. The finish is energetic and refreshing. The grapes were left on the skins a short period before fermenting in neutral French oak barrels. This wine spent 10 months aging on the lees. Its name is in reference to birch trees and the idea there is a fruit character of both nature and wood. Birch trees produce a birch sap (yes there is such a drink) collected at the end of winter and into spring in the northern hemisphere and also parts of northern China when the sap flow is the greatest. And it exhibits some general similarities in aromas and flavor to the Birch & Cane Riesling.
And from personal experience, the Lanthanide Rieslings will continue to show well at least several days after being opened.
Several Lanthanide wines are bottled under the name Nedori, meaning 'born of gold' including the 2020 Lanthanide Marsanne Stagecoach Vineyard. While this vineyard is primarily known for its red wines, it also is planted to several white varieties including Marsanne and Sauvignon Blanc. This highly aromatic white is worth pursuing.
Ad Coeulum refers to a legal doctrine indicating the owner of the soil owns everything below to the core of the earthy as well as up to the heavens. In Latin it is a reference "to heaven", highlighting the connectedness of nature; in this case how grapevines are connected to both the soil and the sky. And the image on the label represents these connections; it was drawn by one of Diane's friends, a Chinese artist who also created the Dr. Crane Beckstoffer Vineyard label for Realm Cellars. The artistic script characters in the upper right hand corner mean "the Rhyme of the Liana" 藤韵. Lanthanide produces two red wines under Ad Coeulum, Hill and Peak.
The 2018 Lanthanide Ad Coelum Hill Napa Valley is 100% varietal Cabernet Sauvignon from Stagecoach Vineyard on Atlas Peak. This wine is deep ruby in color; the bouquet offers sweet dark-fruited aromatics including of blackberry, boysenberry and mulberry. But there is more here including dark chocolate, coffee, clove, dried herbs, forest floor and old cedar box. Its mouth feel is defined by a textural suppleness supported by fine-grained chalky tannins. The wine shows flavors of red plum, red cherry, and cranberry. It lingers savory with some dark spice notes, red fruits, bright acidity, a light lingering dryness, cedar, and dried tobacco leaf. Diane ferments this wine fairly cool (in the low 70s Fahrenheit); it then spent 28 months in French oak barrels of which 50% were new. This wine was awarded a Double Gold Medal from 5,800 entries at the prestigious SF Chronicle Wine Competition in 2022.
The 2018 Lanthanide Ad Coelum Peak Napa Valley is 100% varietal Cabernet Sauvignon. This wine is deep ruby in color; the aromatics are meaty and savory with notes of forest floor, sweaty baseball mitt, dried herbs, bacon fat, mushroom and a while one in their right mind would never dip cedar wood in chocolate, this wine also shows a cedar-like aroma that almost transitions into dark chocolate. For mountain fruit, the tannins already show a supple textural feel, flowing seamlessly over the palate. This wine offers flavors of dark plum, blackberry and cracked peppercorn. It finishes dark and savory. This bottling is also from Stagecoach Vineyard, of which 70% of the grapes were from Atlas Peak and 30% from Pritchard Hill.
—
Total production has been around 300 to 500 cases per year but is increasing. In Napa Valley the wines can be found at Compline in Napa, Goose & Gander and Sunshine Market in St. Helena. For more information, to purchase wines or to join their mailing list, visit: www.lwgwines.com