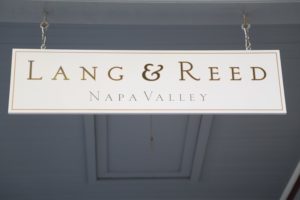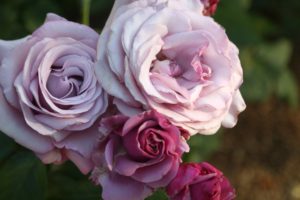 Lang & Reed Wine Company was founded by husband and wife John and Tracey Skupny with their first vintage in 1996 and is named after their two sons, Reed and Jerzy Lang reflecting family names; Reed from John's maternal side of the family and Lang from Tracey's maternal side of her family. John (who we originally met with for this review years ago) has a long history of working with well-known Napa Valley wineries including Caymus (Marketing and Sales Director, their first non-production employee), Clos du Val (Vice President of the winery) and Niebaum Coppola (Inglenook Vineyards) (General Manager) and more recently with Long Meadow Ranch (Board Member and Adviser).
Before wine, John graduated with a degree in painting and print making from the University of Kansas. He was introduced to wine while working as a waiter in Kansas City and later worked as a wine buyer and as a sommelier. Master of Wine, Doug Frost (known in part for his work with United Airlines) credits John with introducing him to wine while they were both working at the Plaza 3 Restaurant on the outskirts of Kansas City (this restaurant has since closed). John and Tracey's introduction to Napa Valley was through a wine related trip in 1979, sponsored by the restaurant John was working at the time in Kansas City. Later, John & Tracey moved to San Francisco; they have lived in Napa Valley since 1984.
In 1983 John founded Vineyards Avenue Marketing, a Napa Valley based winery consulting firm offering a variety of wine related services including marketing, distribution, public relations and consultation for the wine industry. And he has been very active in a number of prominent wine organizations including as a past president of both Napa Valley Vintners Association and Napa Valley Wine Library Association.
Over the years Tracey has been very active with various charitable events in Napa Valley including the former annual Auction Napa Valley. She also spent more than 10 years in several positions including as Marketing Director and Director of Sales at Spottswoode Winery.
Kansas City, MO

And more recently their son Reed and his wife Megan have joined the Lang & Reed team. Reed handles winemaking for their Chenin Blanc program and Megan oversees sales and marketing. Both Reed & Megan also run their own small wine brand, Rockhound Wine which includes wines bottled under the name, Hawkbox .
In 1993 John purchased a small number of grapes from Doug Stanton (from Stanton Vineyard in Oakville) which he released in 1997. What was a novel idea back then, still is in contemporary Napa Valley – a winery that focuses all of its red wine efforts on Cabernet Franc. There are a number of reasons why John decided to focus on Cabernet Franc. He and Tracey fell in love with this variety while visiting France. While Tracey was working at Spottswoode Winery and John at Niebaum Coppola, they both noticed their respective employers produced beautiful Cabernet Franc, but it was used as a blending variety.
John has had several mentors over the years including Dan Duckhorn who encouraged him to focus on producing wines from a variety that one has a passion for (similar to Duckhorn's initial focus on Merlot). And another mentor, Dick Ward (co-founder of Saintsbury Winery) used to tell him that you have a right to do something different than what people are expecting.
One who has spent some time in Napa Valley will note that Cabernet Franc is most often used as a blending varietal – typically as a small percentage in Cabernet Sauvignon or other Bordeaux type blends. The reason for this is Cabernet Franc tends to take on similar qualities of the varietals it is blended with, brings very nice aromatics to the wine and can enhance structure – a backbone if you will. Although in recent years Cabernet Franc has become more popular as a standalone wine.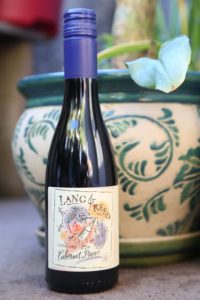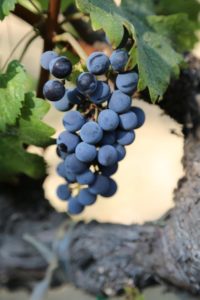 Cabernet Franc by itself sometimes has a reputation for "greenness" or bell pepper aromas and flavors (resulting from organic compounds referred to as pyrazines) along with tight tannins. Lang & Reed avoids this by carefully choosing their vineyard sources, picking at the right times, and also using mostly neutral oak barrels. The result is in the bottle – flavorful, balanced wines that display well-managed tannins. John strives to produce as he says, "wines that are balanced, elegant and have length".
Select Wines
Sometimes it seems like there is a great deal of sameness in contemporary Napa Valley wine styles. The Lang & Reed wines are not like this. What is refreshing about their wines is each bottling stands on its own; these are wines defined by their individual differentiating character and personalities.
Reed and Megan discovered and enjoyed Chenin Blanc when they were both working in the Loire Valley, and it is through their enthusiasm for this variety that Lang & Reed now produces Chenin Blanc wines. Chenin Blanc is highly challenging to find in Napa Valley – only 7 planted acres of this varietal were listed in the 2017 Napa County Crop Report. We have heard statistics that over 3,000 acres of Chenin Blanc used to be planted in the Napa Valley as recently as 1980. Lang & Reed produced their first Chenin Blanc in 2013. Today they produce two distinctive bottlings from this variety, one from Mendocino County and one from Napa Valley.
The 2019 Lang & Reed Chenin Blanc (Mendocino County) is made from vines more than 40 years old, remarkably still growing on AXR1 rootstock. The vineyard produces very low yields. This wine is medium straw in color; offers aromatics which initially are slightly steely or mineral driven and as it opens reveals some citrus brightness including notes of lemon and lime along with green apple. As the wine fully opens shows an aromatic sweetness including of vanilla. Offers flavors of red apple on the palate with an accompanying light rounded texture. This wine is balanced, clean and refreshing.
The 2018 Lang & Reed Napa Valley Chenin Blanc is pale to medium gold in color; initially offers a waxiness (honeycomb) on the bouquet and evolves to floral aromas including a beautiful jasmine like quality. It continues to open and shows notes of citrus blossom along with a light lemon/lime note. This wine shows an intensity of flavor from start to finish and lingers with a noticeable brightness and liveliness. Its texture is somewhat silky. This was the last vintage from this block in Oak Knoll as the owner replanted. However, a grower about 1/4 mile away from this vineyard notified the Skupny's he had planted two acres of Chenin Blanc in 2021; moving forward the Lang & Reed Napa Valley Chenin Blanc will be sourced from this site.
For each vintage about 1/2 of the Chenin Blanc is typically fermented by inoculating yeast and the other half ferments using indigenous yeast. John usually notices the yeast that was inoculated ferments the wine to dryness quicker than the indigenous yeast.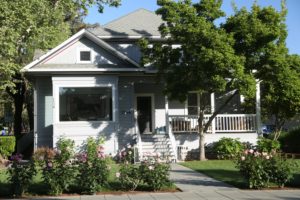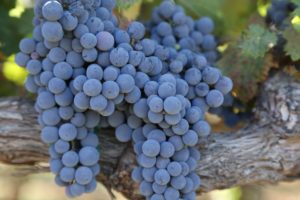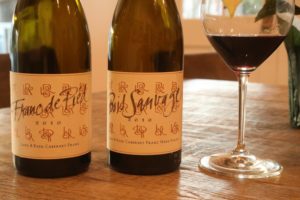 The 2014 Lang & Reed North Coast Cabernet Franc immediately shows plenty of fruit on the bouquet; it offers elegant yet riper aromatics including notes of dried rose petal, red cherry and darker spices along with toasted cedar. Shows mostly darker fruit on the plate with darker spices. Finishes with both grape and oak tannins and is dusty with lingering notes of toasted oak and darker fruit. The finish is somewhat savory, also showing flavors of crushed black pepper. Features slightly chewy but not overly robust tannins. 13.5% alcohol.
The 2017 Two-Fourteen Cabernet Franc is named for clone 214 of Cabernet Franc. This wine was sourced from block 9 (4.5 acres) in the sizable Sugarloaf Vineyard in the hills of southern Napa Valley. Along with aromas of plum and blackberry one immediately notices the spices on this bouquet. These aromatics include five-star spice, hints of sweet anise, sandalwood and old cedar box. The tannins are earthy, dusty and rounded in texture. Lingers with both fruit and some darker spice notes including light pepper. Shows beautifully in its youth but certainly has plenty of life ahead of it.
The 2006 Lang & Reed North Coast "early release" 100% Cabernet Franc. The inspiration for this wine was in part based on similar wines from the Loire Valley in France. John told us he would often visit his cellar for an everyday drinking wine but would find the wines either too young or too valuable for drinking. This wine has an appealing bouquet, with delicate flavors including plum and just a touch of herbaceous characteristics. It will pair nicely with a variety of fish dishes. It is by far their most produced wine; most of the other Lang & Reed wines are typically in the several hundred case range per year.
The 2003 Lang & Reed Premier Etage is a superb "food wine" and is again modeled after some of the Loire Valley wines. Two Napa Valley vineyards used for this wine are grown in somewhat similar soils including old river deposits containing plenty of gravel and cobble; both sites are generally very well drained. This wine features generous layers on the bouquet and on the palate including chocolate, cherries, herbs and a touch of vanilla before the long finish featuring some dark spice notes.
The 2004 Lang & Reed Right Bank features Cabernet Franc as the dominant variety but is blended with Merlot, Petit Verdot and Cabernet Sauvignon. Despite Cabernet Franc being the dominant variety, one cannot necessarily tell, rather it blends harmoniously with the other associated varieties creating a smooth, silky and rounded mouth feel (not always the case with blends containing Cabernet Sauvignon and Petit Verdot). As this wine opens, the aromas showcase dried fruits and herbs with flavors of red cherry and currant.
Extremely limited release wines bottled under the Monograph Collection are released for the first-time years after their vintage date. These are typically one- or two-barrel production one-off Cabernet Franc wines which are unique for a variety of reasons.
John first was introduced to the High Chaparral Vineyard at an elevation of about 2,200 feet in the hills above Clear Lake, in 1982. He was supposed to meet with a certain winemaker to walk the vineyard, but rather André Tchelistcheff showed up; John remembered that Andre wore bright white Adidas shoes that day – certainly standing out in stark contrast to the red soils of this particular site. More than two decades later in 2005, John revisited the vineyard looking to purchase grapes, but had forgotten his first visit until he saw a sign indicating, "Cabernet Frank" next to one of the end vines which was the same sign he saw back in 1983.
The 2010 Lang & Reed Franc de Pied, Lake County (High Chaparral Vineyard) literally translates to free of foot) and refers to these Cabernet Franc vines being own rooted. This wine has aged extremely well (we tried 11 years post vintage date). Offers a savory nose or as John calls it, a rustic character along with notes of Santa Rosa plum. The tannins are dry, surprisingly youthful, long lasting and packed tightly together. We wrote down the word dense to describe their presence on the palate. But their textural feel is fairly rounded, certainly softened by age. Juicy and mouthwatering. There is stil plenty of life ahead of this wine.
The Lang & Reed Bois Savage Cabernet Franc, Napa Valley was sourced from block 9 in the Sugarloaf Vineyard in the southern part of Napa Valley in the hills slightly southeast of downtown Napa. The name translates to 'wild wood', named in reference to the single barrel used for aging this wine; it was harvested from a 'wild' unmanaged forest in France. This wine is medium to dark ruby in color; the aromatics are distinctly different from the 2010 Lang & Reed Franc de Pied. Shows some bottle bouquet with both sweet fruit and dessert spice aromatics including mocha, chocolate brownie and red licorice. Also, some hints of dried herbs. And petrichor, the smell of the year's first rains hitting dry and dusty soils. The tannins are extremely well integrated and rounded in texture with flavors of black raspberry and Graham cracker lingering. Despite the descriptive nature of the proprietary name, John describes this wine as wearing a tuxedo, being a bit more refined and polished.
—
Tasting Salon, St. Helena
In March 2020, Lane & Reed began offering tastings in the historic Spring House in St. Helena, located directly across from Goose and Gander restaurant. This family home has rich history; it dates from the late 1880s and was built by Battista Salmina, brother-in-law of one-time owners of Larkmead Vineyards, Felix Salmina and his family. Incidentally, Felix Salmina was one of the seven founding members of the Napa Valley Vintners in 1944.
And along with Felix Salmina, Battista also helped build and operate the old wooden William Tell Hotel just down the street from the Lang & Reed tasting room in 1878. Remarkably this building is still standing and is located at 1228 Spring Street.
As of our latest update to this review, The Debate and a non Napa Valley based producer, Newfound Wines also share space within the home and offers tastings by appointment. Several spaces are available for hosting tastings including a dedicated Lang & Reed room. Two other spaces for hosting guests include a larger shared room and a porch overlooking Spring Street.
One can sometimes find the Lang & Reed wines locally at Backroom Wines in the city of Napa. Several of their wines are also carried at the Napa Valley Winery Exchange, a wine shop in San Francisco (originally owned by another Napa winery family, the Leonardinis of Whitehall Lane – but have since sold). Total annual production is around 3,000 cases.
Lang & Reed offers three wine club selections; each referred to as a coterie (referring to a small group of people sharing a common interest). John's Coterie provides access to all current release wines, Tracey's Coterie provides access to red wines only and Megan & Reed's Coterie provides access exclusively to their Chenin Blanc. For more information, or to schedule a tasting (always hosted by a family member or sometimes two), visit: www.langandreed.com