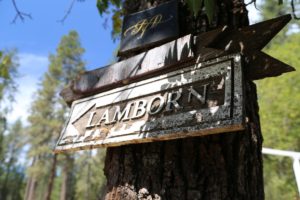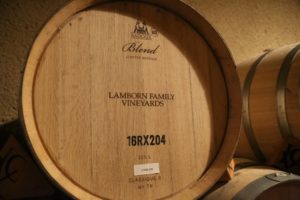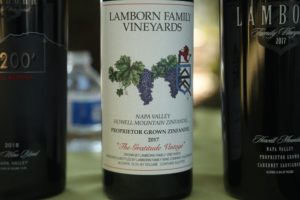 Lamborn Family Vineyards are located high on Howell Mountain on a "ridge peninsula" which overlooks Pope Valley to the east and on an extremely clear winter's day one can even see parts of the Sierra Nevada mountains far in the distance (one of several locations on Howell Mountain and on Atlas Peak where one has such views).
The Lamborn Vineyards story begins in 1969 when Bob Lamborn purchased an acre of land from one of his friends who owned a weekend property on Howell Mountain. Two years later Bob and his son Mike purchased two separate plots of land for a total of 40 acres (14 of which were able to be planted). Neither one had any experience in the wine industry, but Bob was looking for a change of pace from his job as a Private Investigator in the San Francisco Bay Area. And the wine industry would certainly be quite a change from Bob's previous career; through his PI work, he worked with the FBI and the CIA. The most notorious case he worked on was when he was hired by Patty Hearst's mother after her daughter was abducted by the Symbionese Liberation Army.
Existing vines had been planted on Bob's property in the late 1800s by Italian immigrants and were still growing at the time of their purchase. Bob nursed these vines back to health as they had not been cared for since the beginning of prohibition.
Howell Mountain was Napa's first sub appellation – gaining its status in 1983 (same year as Carneros). Along with Bill Smith, Randy Dunn, Mike Beatty and Bob Brakesman, Bob Lamborn was one of the founding vintners who laid the groundwork in creating the Howell Mountain AVA. Bob's original land is now home to Outpost Winery – located a short drive-up Summit Lake Drive from Lamborn Vineyards. Mike and his wife Terry purchased the property for what is now Lamborn Vineyards in 1973. They have been farming this piece of land ever since they acquired the property – initially on weekends since Mike had a full-time tme at the time.
This very scenic location is reminiscent of some of the foothills in California's Sierra Nevada, including the red soils, similar vegetation and even some of the same smells. The vineyard sits at 2,200 feet; this location is unique in that there is a 50-degree drop-off on three surrounding sides falling off dramatically over 1000 feet down to Pope Valley.
Their property had never been planted to vines before; the Lamborn family spent several years clearing and planting the land (the first Zinfandel vines were planted in 1979) and released their first commercial vintage in 1982 with the help of renowned Howell Mountain wine doyen, Randy Dunn. Only 100 cases were produced this first year. Unfortunately, disaster struck in the fall of 1991 when a massive firestorm destroyed Bob's house in the Oakland hills and some 2,800+ other homes (the precursor event to what unfortunately has become more common in the state of California in recent years).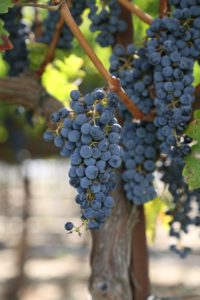 As a result of this, in 1991 Lamborn released an appropriately titled wine called the "Phoenix Vintage". This vintage led to a trend among Lamborn's wines – every vintage from that year on is now assigned a name, often relating to a memorable event during the growing season. These names are told in their "back label" stories; for general interest, every one of their vintage stories are also available on their website.
Production in the early years was minuscule and although it has grown a bit since – today Zinfandel is still their primary production (about 800 cases) along with 500 cases of Cabernet Sauvignon and a Cabernet Sauvignon blend and a small amount of Zinfandel rosè. The fruit is all estate grown – predominately Zinfandel and Cabernet Sauvignon. The 10-acre vineyard is farmed organically (using only certified organic products).
They have made their wines at several wineries over the years including at Napa Wine Co – as of our latest update to this review, they currently make their wine at a small winery just south of Calistoga on Highway 128.
Note: The Lamborn estate property including the structures and vineyard went up for sale in 2021; the property sold by mid 2022 and the new owners (from Asia) will continue to produce grapes from the Lamborn Vineyard. We have not yet verified this, but the new owners will call their brand Mars, named after the owner. Their first vintage was in 2022.

The Lamborns continue to produce wine from grapes purchased from Howell Mountain. We will significantly update this review once we have more details.
When the Lamborn family owned the property, their vineyards were managed by Mike and Terry Lamborn (some of the most hospitable and gracious people in Napa Valley); they were farmers and spent hundreds of hours in the vineyards each year carefully managing the vines and grapes. We had the opportunity to walk the vineyards with Mike; his attention to detail was remarkable – fueled by his passion for farming. Each vine was handled on a case-by-case basis in regard to crop thinning, dropping of fruit, pruning and suckering.
With the exception of their well-known winemaker Heidi Barrett, this was an entirely family run operation (although over the years Heidi became like family to the Lamborns). Mike and Terry's sons Matt and Brian (the third generation) were also actively involved into the day-to-day operations. Matt has a master's degree in landscape architecture and helped manage the vineyards as well as operating his own mapping and data analysis company, Pacific GeoData. Brian was involved for many years with the Lamborn marketing and sales.
Heidi has been making the Lamborn wines since 1997 (formerly at Screaming Eagle, Grace Family among many other premium wineries). Their particular site, the details and micromanagement that go into the farming and caring for these grapes, plus Heidi's considerable wine-making skills produce exceptional wines.
Select Wines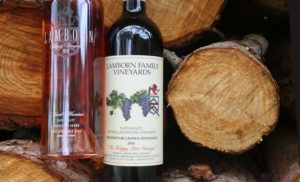 The 2019 Lamborn Family Vineyards "Mary-Hāna" Rosé is 100% varietal Zinfandel, fermented completely dry. This wine is the pinkish orange color of salmon – immediately offers attractive aromatics including notes of strawberry, tangerine and hints of jolly rancher watermelon. Also, somewhat floral with hints of dried rose petals. It smells vibrant and fresh. Refreshing and superbly balanced across the palate. Also pleasant is a slight textural creamy note. Lingers with flavors of citrus, raspberry and a minerality nuance; shows very clean on the finish. This thoughtfully made rosé is one of the nicer rosés from Zinfandel that we have tried from the Napa Valley. Named after Mike and Terry's granddaughters, Mary & Hāna.
The 2016 Lamborn Family Vineyards Zinfandel (this Happy Dirt Vintage is a tribute to the utmost importance of farming with healthy soils). Medium ruby in color, the aromatics are opulent showcasing ripe fruit but are not overripe. There are no noticeable jammy notes in the bouquet that often higher alcohol wines from this varietal exhibit. Dark cherry, cassis, blackberries, toasted cedar plank, meaty, gamy and white pepper. As the wine breathes further, shows notes of espresso and mocha. The aromatics make one want to reach for some BBQ ribs. And be hanging out next to a pool in the late afternoon catching the lingering warmth from a hot summer day. This wine is very flavorful across the palate and nicely balanced; it lingers softly with surprisingly gentle fruit and oak tannins along with both darker fruit and spice notes. Good acidity.
The Lamborn Vineyards Cabernet Sauvignon is what you would expect of a premium hill-side hand crafted Napa Valley wine. It has power yet also grace. During our first visit with Mike and Terry we tried the 2005 Lamborn Vineyards Cabernet Sauvignon (this Vintage Vintage year is a testament to growing old). Offers layer upon layer of fruit showing a slight dustiness towards the long finish. Remarkably smooth across the palate.
2020 Carnation Vintage
And what was a common story line regarding the 2020 vintage, due to a never seen before scope of wildfires that burned up and down the state of California, and again in both Napa Valley and neighboring Sonoma County, Lamborn Vineyards elected not to make any wine commercially from this particular vintage from Napa Valley. However, what will most likely be just one time only, Lamborn Vineyards sourced 10 tons of Cabernet Sauvignon from the Happy Canyon, Santa Ynez Valley in Santa Barbara County; this was their only wine produced this year.
The 2020 Lamborn Family Vineyards Cabernet Sauvignon is named Carnation in honor of a Lamborn relative, Dr. Levi Leslie Lamborn (1829-1910), the developer of the Scarlet Carnation flower (Dianthus caryophyllus) in 1866 in Alliance, Ohio. The carnation was first cross-fertilized in 1844 in Lyon, France. Zeiler, Card and Dalidouse, a flower shop on Long Island imported some carnation seeds from Lyon. Horticulturist Peter Henderson purchased small carnation plants from Zeiler, Cardand Dalidouse. Dr. Lamborn then purchased six of these potted plants (from cuttings) from Henderson. Lamborn's plants were the first generation of carnations from the first seeds brought into the U.S.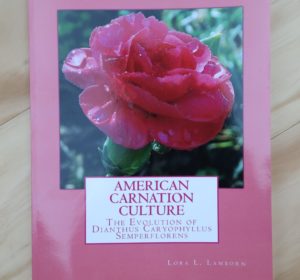 Dr. Lamborn founded the first newspaper in Alliance and turned part of his home into a hospital during the Civil War. He was a physician and also a politician who in 1876 ran and narrowly lost to William McKinley for the 17th Congressional District. Lamborn was wearing one of his carnations while waiting to debate McKinley who asked about the pedigree of the flower. Later at a campaign rally Lamborn gifted McKinley one of his flowers and told him it was called the Lamborn Red. McKinley developed an appreciation for the flower over the course of the rest of his political career including while as Governor of Ohio and President of the U.S.
In fact, McKinley was wearing one of Lamborn's Scarlet Carnations on September 6, 1901 at the Pan American Exposition held in Buffalo New York while greeting people. One girl asked for a gift to show her friend; McKinley gifted her the carnation he was wearing. The second person waiting in line behind the girl shot the president; McKinley died 8 days later.
Dr. Lamborn published the first edition book, American Carnation Culture in 1885 (three more subsequent editions were published into the early 1900s). In early 1904 a resolution was passed to make Dr. Lamborn's carnation the state flower of Ohio. And in 1959, the Ohio Legislature recognized Alliance as the Carnation City; an every August town hosts the annual Carnation Festival. The Dr. Levi Lamborn mural is located on the side of the Area Chamber of Commerce building in Alliance.
Dr. Lamborn founded a company called Lamborn Floral which was in business until at least the late 1960s, operated by one of Dr. Lamborn's great grandsons, Leroy Lamborn Zang. One of Dr. Lamborn's grandsons Leroy Lamborn followed his grandfather's interest in horticulture and served as the president of the Akron Men's Garden Club.
National Carnation day is January 29th.
—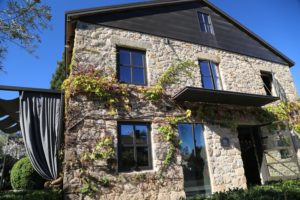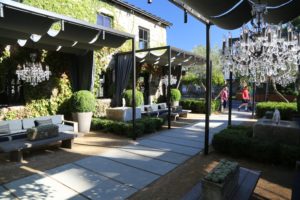 Lamborn Family Vineyards does not see visitors for tastings. For several years select wines from Lamborn Family Vineyards were available at Ma(i)sonry in Yountville (now the RH Wine Vault), a premium collection of boutique mostly Napa wines representing producers who typically do not have their own wineries or tasting rooms. Since the transition to RH Wine Vault a number of changes have been made including eliminating a number of wine producers that used to be represented here; as of our latest update, several Lamborn wines may still be available, served by the bottle. RH Wine Vault creates a curated tasting for guests – opening up several wines and possibly an older vintage (if available). Tastings are either held indoors (a wine tasting space + art gallery) or outdoors in their garden space behind the old stone building.
For more information or to join their members list or one of the wine clubs, visit: www.lamborn.com