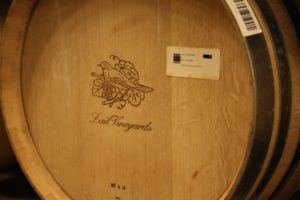 Lail Vineyards was founded by long time Napa Valley vintner Robin (Daniel) Lail and her family. Robin's history in the Napa Valley is significant and deeply rooted. Her great-grand uncle was Gustave Niebaum the founder of Napa's iconic Inglenook Winery. Her father was John Daniel Jr. who inherited the great Inglenook winery from his father (and was instrumental in helping put Napa Valley on the wine map in many ways). Robin co-founded Dominus in 1982 with her sister Marky and famed winemaker Christian Moueix (General Manager of Château Pétrus in Pomerol) built around Napanook Vineyard near Yountville, co-founded Merryvale Vineyards with Bill Harlan – where she was President of the winery for 12 years, was general manager at the prestigious Meadowood Resort and was Robert Mondavi's personal assistant for a number of years, in 1981 helped form the inaugural Napa Valley Wine Auction (now one of the country's largest)… the list goes on.
Robin graduated from Stanford University in 1962 and married Jon Lail in 1966. Jon is a prominent architect in the Napa Valley whose company is Lail Design Group. Robin was also instrumental in Auction Napa Valley having helped launch this annual charity wine auction in 1981.
In the early 1990s Robin began thinking of creating an outstanding wine to honor her ancestors' history in the Napa Valley; the first vintage of Lail wines was in 1995.
Well regarded Philippe Melka has been their winemaker since the beginning; in fact, Lail Vineyards was his first wine consulting job in the Napa Valley. Robin first met Philippe at Dominus at the beginning of his career. Today Philippe is the winemaker for a number of small premium producers mostly based in Napa. In the past he has been voted American Winemaker of the year by Robert Parker in Food & Wine Magazine. Philippe has a geology degree as well as a degree in enology and agronomy (he knows his Napa terroir very well) and especially enjoys working with Napa hillside vineyards. For someone with such recognition, he is one of the most down to earth winemakers we have met on this project.
It is always a fine line to craft wines with that special elegance and softness ready to be consumed now, while at the same time ensuring the wine has the acidity, fruit and structure to be aged and not be flat in say 10 years. This is a line that Philippe walks well – the hallmark of Lail's wines are clearly their elegance and balance upon release.
Lail owns and uses fruit from two estate vineyards; the tiny 2.5-acre Totem Vineyard in Yountville was part of the original Inglenook vineyard estate (part of the Napanook Vineyard despite its location on the other side of the highway from the main Napanook site). This vineyard is named after a totem pole that the founder of Inglenook Winery, Gustav Niebaum (Robin's great-grand uncle) gave the de Young Museum in San Francisco (see below for description and photographs of this totem pole).
And the Mole Hill vineyard is located high on the slopes of Howell Mountain at about 1600 feet. The name of this vineyard has interesting origins. When Napa pioneer Louis Martini first made red wine locally, John Daniels decided to make some home red wine and included an image of a mole on his label with a cute saying on the back "Mole Hill Red, A Wine You Will Gopher!" Today this small vineyard is planted entirely to Cabernet Sauvignon and is farmed organically.
According to Robin there are generally two things that define a winemaker who works for a small producer – they represent the terroir and site location as authoritatively as possible, and they also make a style of wine representing the owner's taste. Lail's palate favors a wine that is integrated and seamless in its presentation; it is a wine that goes so well with food.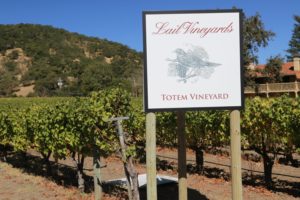 Many small area producers usually only produce one white wine: a Chardonnay or Sauvignon Blanc. With that said, it is always nice to discover a winery that showcases the same varietal but makes the wine in different styles. It is most interesting to taste and notice the differences when these two wines are placed side by side. Blueprint is the name of their newest produced Sauvignon Blanc. It is named to honor Robin's husband Jon who is an architect in the valley. Jon runs Lail Design Group, a company that has designed some of the most innovative wineries and or winery components in the valley including the Vineyard 29 caves and the impressive Cade Winery. Incidentally it was Jon who brought Robin back into the wine business many years after Inglenook was sold.
Select Wines
The 2008 Lail Vineyards Blueprint Sauvignon Blanc is made in a Sancerre style. As a result, this wine was aged in stainless steel and is a focused representation of the varietal. This is a lively clean crisp wine that is pale in the glass. It shows nice aromatic characteristics with a floral bouquet and notes of green apple and lime which also lead to the palate. This wine has excellent acidity and notes of mineralities. Intense fruit flavors linger deliciously on the smooth long finish.
In contrast is the 2007 Lail Vineyards Georgia Sauvignon Blanc made in the Graves style. This is named after the first member of their 6th generation. Very few winemaking families in the Napa Valley go back that far! The aging on this wine is of course completely different than their Blue Print Sauvignon Blanc. Here the wine is aged in all new French oak and stirred on the lees for 18-20 months. The difference is pronounced in aromas, mouth feel and structure. This wine is noticeably darker than the Blueprint. The bouquet is very aromatic with notes of lemon and melon. The palate is creamy but not overly so. At the time of our tasting, this wine had not yet been released yet and was still showing some notes of oak. As the wine integrates in the bottle this will dissipate as everything comes into balance. And this is a wine that has some nice structure; you can keep it around for a few years…or not!
The Lail Vineyards Blueprint Red, 2006 vintage is balanced and seamless on the palate from start to finish. This vintage has 85% Cabernet Sauvignon and 15% Merlot and is the first year that this wine has not been a proprietary red. The bouquet displays notes of tobacco smoke, spices and the smooth palate shows a rich core of ripe red fruit including red cherry. The finish is anchored by firm broad tannins. This wine is priced quite reasonably.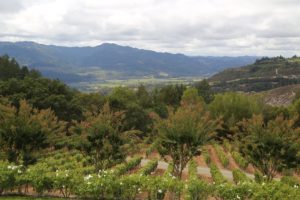 The J. Daniel cuvee is Lail's flagship wine and in order to understand the significance of this wine, you have to understand the legacy of who it is named after. It is a tribute to Robin's father John Daniels who has a storied history in the Napa Valley. Not only was he at the helm of the famed Inglenook Winery but he was a founding member of the Napa Valley Vintners association, 3x Chairman of the Wine Institute and is one of the core group of vintners to really promote and "put" Napa Valley on the wine map. Not many vintners land their photo on the cover of a major wine publication such as the Wine Spectator, 30 years after they have died. John Daniels certainly is one of the pioneers to have left his mark on this great wine region.
The J Daniel Cuvee is a Bordeaux style blend. We tried the 2005 vintage. This is a dark inky wine with a bouquet that first has a dusty component but as it opens up, it reveals rich dark fruit aromas. The entry is initially soft and contains layers of flavor including blackberry, blueberry, and black licorice. A long finish awaits containing tannins that are well structured and balanced.
Robin noted that it is easy to become inspired about their new vintages; each year they strive to learn how to better take care of the land and their vineyards and produce wines that continue to excite their customers. With the quality we tasted during our visit, we can certainly vouch that this will keep happening! Look for the four diamonds on the foil on top of their wine bottles. This pays tribute to the Inglenook brand as well as to the four members of the Lail family currently involved in Lail Vineyards.
And we always learn something after meeting with anyone in the Napa Valley – oftentimes it's just gossip but from the older vintners, we always take away something of more value. From Robin, it is her overall wisdom based on her family's heritage and formidable contributions to the valley. And also from her, even something as basic as tasting red wines before white wines which nearly all the wineries in the valley order their tastings in the opposite direction. The thinking being that white wines are higher acid and clean and refresh the palate after the heavier reds.
The Totem Pole, De Young Museum, San Francisco

This impressive carving by a Tsimshian artist, dates from the late 1800s and is from western coastal Canada. Most likely this carving was made to be sold rather then used by the native peoples. This totem pole was donated in 1900 by Gustave Niebaum through the Alaska Commercial Company. It is currently located in the de Young Museum (originally opened in 1895) in San Francisco's Golden Gate Park (about a 90-to-2-hour drive from Napa Valley, depending on traffic) – next to one of the walls in gallery number 4 in the Native Artists of Western North America exhibition. From the main entrance to the museum, this gallery is all the way to the left once inside the building.
Long on display before the current de Young Museum opened in 2005, this piece was originally mounted above a doorway in the North American Indian Hall of the original Memorial Museum building. The pole depicts a bald eagle, a grizzly bear holding an upside-down human, a whale and a fish.
—
You can most easily taste Lail's wines at the posh RH Wine Vault tasting room located in Yountville. This is one of the nicer collectives in the valley and only features wines from several select premium producers. Lail Vineyards was a founding vintner partner in this tasting space (previously known as Ma(i)sonry – it is a "living gallery" that features rotating works of art and furnishings in an elegant setting. You can sometimes find their wine locally at ACME, a premium wine shop in the town of St. Helena, at Kelly's Filling Station in Yountville and the Oakville Grocery. For more information or to join their mailing list, visit: www.lailvineyards.com