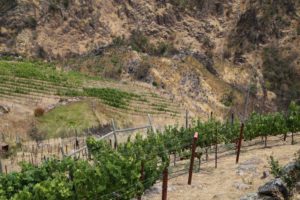 Lagniappe Peak Vineyards (pronounced 'lan yap') was founded by proprietors Debb & Bob Almeida. Tragically Bob passed away in late 2017 and Debb and her daughter Erika have taken over the operations of the vineyard and brand. Bob went to school in New Orleans (where he met Debb) – spent 20+ years living in New York, part of that time on Wall Street. For two years his career took them to Sydney Australia where they would often make the several hour drive north to the Hunter Valley wine region. It was on these trips that they began to fall in love with wine – especially Syrah.
Upon moving to California they began to search for property, initially in Sonoma County. Not finding exactly what they wanted and being attracted to the arts scene in the city of Napa they ultimately found and purchased land on Atlas Peak (none of it had been ever planted to grapevines).
This is certainly one of Napa Valley's more intriguing and perhaps challenging sites to grow grapes on. The property is 10 acres of rugged rocky chaparral lined slopes perched on the southern slopes of the Atlas Peak appellation. When Bob became interested in planting grapes he sought out the advice of several winemakers who told him this terrain was not suitable for grapes. Not one to give up – he persisted and planted the first vines here in 2009 and in several subsequent years. One will quickly see the challenges of growing grapes here with just a quick glance at the site.
The vines are planted on extremely rocky volcanic soil – when planting the vineyard iron stakes and end posts had to be rammed into the thick rock including drilling down about 18 inches through a combination of mostly rock and soil from weathered volcanic rocks. As Bob recalls, "if we find 5 inches of topsoil here it is a cause for celebration" referring to the utter lack of soil on the property.
While neighbors often found water in fairly shallow soils, this was not the case here. The well on site goes down nearly 700 feet.
Two acres of vines are planted to Cabernet Sauvignon, Malbec, Merlot and Syrah. And these are the only two acres that will be planted on site – as the rest of the property is to steep and or rocky. Despite only two acres the vineyard is sub divided into 11 separate micro blocks. Many of the vines are planted next to stakes in the ground and are not trellised (head pruned). It is very rare to find recent hillside (or valley floor for that matter) head pruned vines. The yields are expectedly low – remarkably minuscule especially when you factor in the two prominent natural pests of the grapes – birds and yellow jackets. In a typical year the 2 acres of vines produce about 4 barrels of wine (slightly less then 100 cases).
All the vines have to be netted – the head pruned vines are netted one vine at a time. This stops the birds but not necessarily the yellow jackets. They tend to eat the Malbec first. It is obvious to see fruit that has been attacked by yellow jackets – what is left of the cluster is merely stems, reminiscent of the look after a machine harvests a vineyard. Yellow jacket traps spread through the Malbec vines help but ultimately are not the final solution.
The site has it's own micro climates even compared to their nearby vineyard neighbors. One neighbor tends to pick his Cabernet Sauvignon up to a month before Bob picks his. The site is perched on the edge of steep hillsides which drop dramatically down to the Milliken Creek Canyon (with Milliken Creek at the bottom). There are no immediate vineyards to the south of the property – only chaparral covered slopes. And Bob's own vineyard site used to be covered in chaparral before it was planted – and even now, various chaparral continue to grow in and among some of the head pruned vine blocks.
And there are the challenges of living "at the edge" of a mountain range with an elevated direct line of site overlooking the San Pablo and San Francisco Bays – including on a clear day, easily seeing the skyline of San Francisco and one of the towers of the Golden Gate Bridge. During some winters they have almost gale force winds buffet their home and property – and have since had to install hurricane type shutters over their most exposed glass doors.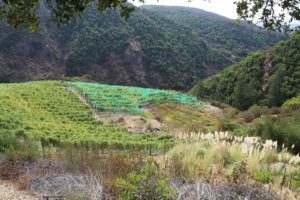 Vineyard manager, Gerardo Cruz has the challenge of overseeing this vineyard. He was one of two vineyard crew chiefs who originally planted the vineyards for Peter Michael Winery (a well regarded winery located to the north in Sonoma County's Knights Valley).
Bob discovered Crushpad (a custom crush operation that used to serve numerous both private and commercial wine brands). It was through Crushpad that he met winemaker Kian Tavakoli (Kian has made every vintage of Lagniappe Peak Vineyards). When Crushpad closed, they found another winery home. Initially Kian made several private labels for Bob and Debbie; their inaugural vintage was only 75 cases in 2012 from their Atlas Peak Vineyard.
Bob retired from the world of finance and accounting in 2007 – but in reality this is not a retirement project. Since 2012 their production has grown to now over 2,000 cases. Lagniappe Peak sources from a number of vineyards, mostly in Napa but also from Sonoma and Mendocino County. However, the focus remains on showcasing Atlas Peak – their own vineyard plus other area vineyards they source fruit from.
Lagniappe is a word the refers to something given as a bonus or extra gift. Interestingly it's roots are in Quechua, a language still used in the Andes of South America (but adapted by the French in Louisiana brought to New Orleans by the Spanish Creole). And it is a word that Bob uses to describe a number of events in his life. One was receiving a full academic scholarship to attend Loyola University in New Orleans, meeting his wife at Loyola and the time they spent in Australia (including discovering their love of wine). And in appreciation for the scholarship Bob received long ago, he creates a "pay it forward wine" every year. The wine is called Wolfpack in tribute to the Loyola University mascot and a portion of the proceeds of sales of this wine are directed to fund the merit scholarship program at Loyola University.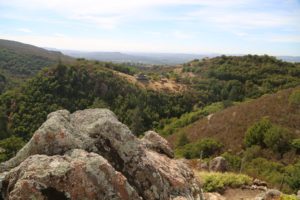 Kian and Bob's wine making philosophy is to avoid making what Bob calls, "me wines". Rather they tend to focus on producing more restrained wines – wines that often shine with food. Several of the red wines are in the mid 13 % alcohol range. Bob also enjoys telling stories about each of his wines – and as a result each wine has a name that relates to a specific story or is named in honor of a family member (including dogs).
Bebê means 'baby' in Portuguese (part of Bob's heritage) and this 100% varietal rosé of Syrah is produced in honor of their only child, Erika. Erika is an accomplished chef in her own right having studied under noted chef Jaques Pepin at the French Culinary Institute in Manhattan. She later went on to work with chefs Bobby Flay and Mario Batali. The 2016 Bebê is noticeably dark in the glass, 'pretty pink' if you will (produced whole lot rather then by saignée). Offers a highly appealing bouquet including cranberry, raspberry and candied watermelon aromas. Cranberry and red cherry continue onto the palate which is fairly rounded and smooth texturally. Long finish with a certain higher toned fruit tartness that lingers. Drinks well by itself.
The Small Fry Malbec is named after a bar and grill Bob's grandparents operated in the 1940's in Long Island. Bob says it was the "cheers bar" of Oceanside Long Island at the time. The 2014 Mabec is 92% varietal and 8% Syrah. Immediately shows a savory note on the bouquet with darker spices. Somewhat meaty with notes of black pepper. Becomes more perfume driven as the wine breathes including notes of violets. Shows dark and red cherry on the palate with a red cherry tartness that lingers on the finish. Bob recommends this wine with a variety of spicy creole dishes including grilled meats.
The 2014 Pugsley Syrah Atlas Peak Syrah is 100% varietal – all from their home vineyard. Named in honor of their rescue pug, Malbec whose puckish behavior at times has earned her the title of Chief Mischief Maker. Reveals an elegant bouquet with sweeter notes of fruit as it opens along with dried rose petal – also cedar box aromas and notes of mocha at the aromatic fringes. Big flavor and big structure – somewhat meaty on the palate with flavors of blackberry. Shows good acidity. Robust and earthy tannins anchor a remarkably long finish. A steak wine.
From 2014 moving forward fruit from their home vineyard will go into a red blend. Cleverly titled DBA (using their own initials), this wine is 38% Cabernet Sauvignon, 29% Syrah, 18% Malbec and 15% Merlot. The 2014 DBA shows bright lively aromatics – sweet at times with dessert spices and hints of chocolate. Shows higher toned fruit on the palate – more restrained in style with flavors of red cherry and plum. Very flavorful. Anchored by somewhat chalky chewy tannins.
The Pere (French for father) is named after Debbie's grandfather – the patriarch of her large New Orleans based family. Who at only 5 feet 4 was as Bob describes "someone you stopped to listen to when he walked into a room of people". His drink of choice was Scotch so they photo shopped an image of a wine glass in his hand on the image on the back of the label. The 2013 Pere shows notes of brown chocolate, blackberry and toasted cedar. On the palate flavors of dark cherry and blackberry show with a hint of spicy tobacco on the finish. Chewy muscular tannins. This wine has a lot of life ahead of it.
The wines have good placement in Louisiana – especially in New Orleans where Bob personally placed some of the wine in select restaurants. They now have a distributor in New Orleans; the wines can also be found in select states including Arizona, Texas, and Iowa. And for visitors to the Napa Valley, the wines can be tasted at Vintner's Collective in the city of Napa (a shared tasting room housed in one of Napa's oldest stone buildings, dating from 1875).
Note: possibly no longer producing, last vintages seem to be from 2014. We will keep an eye on this producer and will update or archive this review once we have more information.