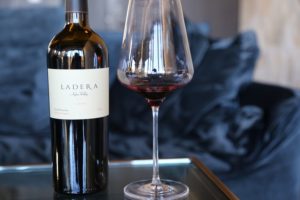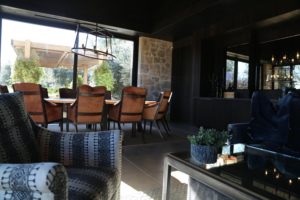 Ladera Vineyards was originally founded in 1998 by Anne & Pat Stotesbery although their first commercial release was from the 1999 vintage. Both met while attending college in the San Francisco Bay Area (Anne at the University of San Francisco and Pat at Stanford University). They would visit Napa Valley during various trips (Anne's grandmother lived in Calistoga) helping nurture their newfound interest in wine at the time.
Anne and Pat have been involved in various agricultural pursuits over the years including having raised Black Angus Cattle on a ranch in Montana for about 20 years. What was supposed to have been a small vacation ranch soon turned into a fairly large commercial operation. Part of the filming for the movie "The Horse Whisperer" starring Robert Redford was conducted on their ranch property and the movie company ended up renting their house for the summer. Left with nowhere to stay they decided to take a summer vacation to Napa Valley. Ultimately the experiences, wines and people they met in the Napa Valley on that trip is what inspired them to start their own Napa winery. Their first vintage was produced at Napa Wine Co (a number of now well-known wineries have made their first wines at Napa Wine Co).
Their first and second property acquisitions in Napa Valley were on Mt. Veeder in 1996 and 1997 (which they no longer own); soon they acquired a 'ghost winery' founded in 1886 on Howell Mountain – this was the old Brun & Chaix property, later called Chateau Woltner. At the time of their purchase a significant portion of the vineyard was planted to Chardonnay. They set about replanting the vineyard to red varietals and updating the wine making facilities in the old stone winery.
This winery has plenty of history – at one point those working in the winery used a large mirror on nearby "signal hill" to communicate to Napa Wine Co far down in the valley when it was time to pick the grapes so they would have advance notice of when they would need to prepare the crush pad. This is ironic considering that years later, Ladera's first wines were actually made at Napa Wine Co.
During the Stotesbery's ownership a 16,000 square foot cave was tunneled into the hillside next to the winery.
Wanting to downsize and spend less time overseeing their sizable property, in 2016 the Stotesbery's sold their Howell Mountain property including the actual winery and accompanying vineyards to The PlumpJack Group. In 2017 their son Dan and his wife Kacey joined the team for a short while, overseeing national sales, but are no longer involved.
During the height of Ladera's production, they were producing around 25,000 cases annually. With the sale of the property, they have reduced their production significantly and are now in the 5,000 to 7,000 cases produced per year range. Their wines continue to be selectively distributed across the country (they are currently in distribution in nearly all 50 states).
Ladera also makes a number of very limited production wines (usual in the several hundred cases/year) including but not limited to a Chardonnay and a Malbec. These wines are typically only available to club members or at their tastings. Since the sale of their Howell Mountain property, they conduct tastings by appointment at Brasswood Estate in St. Helena or at their property on the Silverado Trail. These tastings are private and highly personalized and usually last about 90 minutes.
At one point the Stotesbery's also owned nearly 500 acres on the slopes of Mt. Veeder. This land has also been sold – leaving them with ownership of one vineyard, the appropriately named, Pillow Road Vineyard near Sebastopol in neighboring Sonoma County. This property was planted to Gravenstein apple trees and older Pinot Noir vines when the Stotesbery's purchased the property in 2006. They have since replanted and today the vineyard is planted to 2 acres of Chardonnay and 7 acres of Pinot Noir.
After the sale of their Howell Mountain property, they continue to focus on producing premium wines from well-regarded hillside vineyards located throughout the Napa Valley. After-all, the name Ladera is a term in Spanish that translates to 'mountain hillside or slope'. They also selectively source from valley floor vineyards but these tend to be smaller vineyard locations.
Wines/winemaking
Winemaker Karen Culler made their wines for a number of years – her assistant winemaker Jade Barrett (no relation to Bo Barrett) previously spent time at Jericho Canyon Vineyards and began working with Karen at Ladera in 2011. In 2012 he became their full-time winemaker and continues to make the Ladera wines. Jade works closely with all their vineyard sources. His style of wines is in line with the types of wines the Stotesbery's prefer to drink. These are hand crafted wines that are balanced, retain good acidity, not overly extracted and are built to be enjoyed upon release but also will age very well – and they have a 20+ year track record to show this.
A number of hillside wineries will employ extended maceration in which they leave the seeds and skins soaking in the wine for sometimes prolonged periods of time. Ladera rarely chooses this technique preferring to rely on taste and a style of wine that is not overly extracted.
Ladera picks grapes when they are at the peak of ripeness but not over ripe. They harvest individual blocks and then ferment and age them separately before any blending takes place. In addition, even parts of blocks are sometimes picked separately depending on the ripeness of the grapes. And Ladera works with vineyards that are organically farmed.
Ladera used to produce a Howell Mountain Sauvignon Blanc; very few producers on Howell Mountain growing and craft a wine from this variety. Sauvignon Blanc is often noted as being crisp on the palate – but perhaps is a description not always used for the bouquet. The 2019 Ladera Sauvignon Blanc was sourced from the very-well managed Ryan's Vineyard in the Oak Knoll District. This wine offers an aromatic crispness and cleanness with notes of lime, pineapple, citrus blossom and lemon grass. Aromas of honeysuckle as the wine breathes further. Balanced across the palate – its rounded texture is complemented nicely by the bright acidity.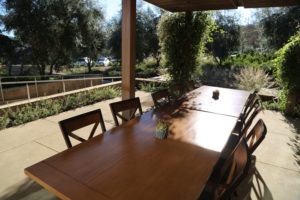 Cabernet Sauvignon from the Mt. Veeder area tends to produce rich concentrated dark wines while their Howell Mountain Cabernet's while still very dark in color, are more refined and elegant but still show well-structured tannins. They nicknamed their Cabernet from the Mt. Veeder vineyard the "cowboy"! It takes some time to tame down in the bottle and is generally held back longer before being released (compared to the Howell Mountain Cabernet). We tried the 2004 vintage – this wine is 100% Cabernet Sauvignon; it has a certain briary and brambly nose with nuances of dustiness and other earth tones. This wine is very full bodied with a palate brimming with dark fruit flavors, blackberry, black currant and black cherry. The tannins are well structured and provide the backbone for a finish of great length.
Also of note is their Pinot Noir – the first commercial release was 2006 from the Pillow Road Vineyard in Sonoma County. There is a reason cooler parts of Sonoma County grown Pinot Noir has such a good reputation – this vintage sets a high standard as their inaugural Pinot Noir. This vineyard is located just outside of Sebastopol and along with their Silverado Trail property is the only other vineyard site under Stoetesbury ownership. Named after the dead-end Pillow Road – the vineyard is on site of a former Gravenstein apple orchard. And when vines were planted, they left a border of these apple trees (still bearing fruit). The 2014 Pillow Road Pinot Noir shows pretty aromatics of strawberry and raspberry and subtle spices. This leads to the perfect Pinot Noir palate – balanced between elegance, acidity and spice notes. The mouth feel is soft initially but shows good acidity on the finish with a lingering red fruit tartness. Very balanced and in our opinion, a good food wine.
And the 8 acres of Pinot Noir is not the only variety growing at the Pillow Road Vineyard. Two acres of Chardonnay are also planted here. The 2017 Ladera Chardonnay went through full malolactic fermentation. Appealing aromatics include toffee, Crème brûlée, almond and warm butter. Rounded across the palate, somewhat oily in its textural feel. This weight is balanced by the wine's bright acidity – especially lingering on the finish. Flavors of red apple, hints of popcorn butter along with a citrus note on the finish.
The 2014 Ladera Howell Mountain Malbec is their 2nd to last vintage from this particular vineyard (although they continue to produce Malbec from a different source in the Napa Valley). This wine is darker purple in the glass; it shows some floral qualities on the bouquet including dried rose petal, blackberry and toasted oak spice. Darker fruit shows on the palate including blackberry, it is somewhat savory with good acidity. Rounded on the entry with fairly fine-grained tannins, the wine is seamlessly integrated on the finish.
The 2014 Ladera Estate Cabernet Sauvignon is 97% Cabernet Sauvignon and 3% Petit Verdot. Shows darker fruit on the bouquet including black cherry with hints of olive, an herbal component, toasted cedar and a touch of mocha. Somewhat restrained and elegant on the palate, shows beautiful balance and good acidity – this is a vibrant wine. Flavors of red cherry and currant show with a finish that is somewhat dusty, showing fine grained tannins and slightly chalky. A lingering tartness is complemented by notes of vanilla.
The 2013 Ladera Reserve Howell Mountain Cabernet Sauvignon is 100% varietal – the grapes are entirely from Howell Mountain. This was the first wine that Ladera made, and they consider it their flagship wine. Shows darker fruit aromas on the bouquet – a fairly powerful aromatic presentation perhaps mostly representative of this particular vintage (known for being a warmer, riper vintage resulting in 'bigger' wines). Blackberry, chocolate and toasted oak show on the nose. Big but still balanced on the palate this wine carries a sizable grip on the finish – with long lasting dusty somewhat chewy tannins.
While most Napa wineries who make a reserve Cabernet Sauvignon – consider their reserve wine the most premium in their portfolio, Ladera is the rare winery that produces another wine even higher end then their reserve. This is the S Cabernet Sauvignon which is made by hand selecting what the wine making team feels are the best 4 barrels each vintage and then blending these together. This wine always sees a minimum of 2 years in bottle before being released.
This barrel selection wine sees longer time in oak then their other Cabernet Sauvignon wines – up to 33 months. The 2014 Ladera S Cabernet Sauvignon offers a captivating bouquet of ripe blackberry, chocolate, black licorice and some saddle leather notes. Mouthwatering with a richness of fruit – but with excellent acidity. Dusty, chalky firm and chewy tannins persist along with notes of cedar. One can almost 'taste' the soil in this wine. A rare wine indeed.
—
For more information, to join their wine club (Proprietor or Patriarch) or to schedule a tasting, visit their primary website: www.laderavineyards.com
Silverado Trail Property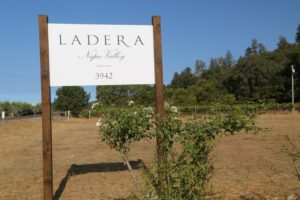 NOTE: In 2019 Ladera purchased the 7.4-acre former Wermuth, Rancho de las Flores Winery & property off of Silverado Trail south of Calistoga. They currently offer limited tastings on site at Ralph & Smitty Wermuth's old house including both outdoor and indoor tastings. The inside of the house has been completely redone with a clean, contemporary and comforting indoor décor – all designed by Anne Stotesbery.
Eventually an almost 9,000 square foot cave winery will be drilled (perhaps by 2025 or 2026) and a hospitality center (on site of Ralph's old tasting room and rustic cellar building). The existing gravel driveway will be moved to accommodate the new winery. And the previous vineyard bordering the Silverado Trail has already been removed – mostly likely to at least partly be replanted to Malbec.
Anytime we walk onto this property in the future, we will always picture the bearded bespectacled Ralph (died in 2018) walking down from his house to the tasting room after we had honked the car to alert him of our arrival (per his signed instructions). They don't make characters in Napa Valley quite like Ralph anymore – entertaining, eccentric, witty and oddly charming. It seemed like he had always lived here and was a timeless part of the scenery.
Note: we will continue to update this review over the next few years – and will be sure to visit again, once the new winery and hospitality center are completed.
Ladera Silverado Trail

Ladera Howell Mountain (this property sold in 2016, we keep these photographs here for historical reference)

Wermuth Property (prior to Ladera purchase, we keep these photographs here for historical reference)

Offices