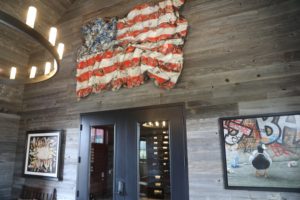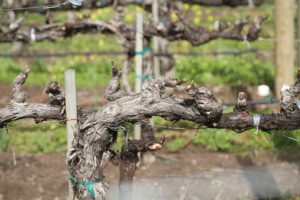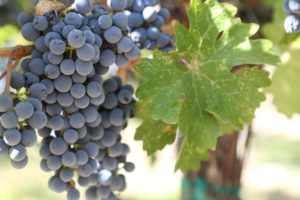 Labry Wines. Standing slightly elevated looking over a sea of vines, one quickly has a sense of this place – and its viticulture history. Merely 4.2 acres, this tiny part of the extended and coveted vineyard patchwork in southern Rutherford finds its pedigree not only in its prime terroir but also through its iconic neighbors. Robert Mondavi and the northern edge of Oakville is located slightly to the south of the property, Staglin Vineyards to the west and Swanson Vineyards and Inglenook within an easy view, both short distances to the north. The nearby Mayacamas mountains are so close it almost seems like one can reach out and touch them from the property. The soils here are deep and composed of a material brought down from the mountains by a wider alluvial fan and include old volcanic rocks and ash.
It is estimated the vineyard dates back decades; more recent records show the vines were replanted entirely to clone 7 of Cabernet Sauvignon in 1996 by David Abreu. Today the vines are managed by Pete Richmond and Silverado Farming Company.
Proprietors Ed and Kim Labry initially began looking for hillside more remote locations in the Napa Valley – but as Ed says, "we were blessed with a daughter" and so they decided to look for property on the valley floor closer to town. Ed had previously been president of the Memphis debit company Concord EFS Inc. – eventually acquired by First Data – and after the acquisition became Vice Chairman of the company and for one year, CEO. And today he is the President and CEO of Memphis based LB Technology Inc (a fleet services software provider).
Ed has known Garen and Shari Staglin for many years – and it was the Staglin's who helped them locate this particular property. This site is located on Bella Oaks Lane just west of Highway 29. Their wine portfolio is based on each of their preferences – Ed enjoys Cabernet Sauvignon, Kim, Pinot Noir – and they mutually decided to produce a Sauvignon Blanc.
The Labry's purchased this property in 2016. Previously grapes from the site had gone to Constellation Brands – and more recently to Rombauer Vineyards. After Ed and Kim purchased the site, they were able to buy back some barrels of wine from Rombauer and finish the winemaking at a nearby winery; 2016 was the first commercial release under the Labry label.
Winemaker
Keith Emerson is originally from Boston and was planning to attend culinary school to become a chef when he came across an article mentioning the possibility of going to school to learn wine making. This sparked his interest, so he moved to California, attended UC Davis and ultimately graduated with a degree in Fermentation Science with an emphasis on Enology and Viticulture.
After graduating, Keith came to Napa and worked his first harvest at Cakebread. From there he worked at Gundlach Bundschu winery (the oldest continuously operating family-owned winery in the state of California) in neighboring Sonoma County (Keith is currently their Executive winemaker). And later a wine maker friend referred him to a position at Vineyard 29 in St. Helena. Today Keith is the Director of Wine making at Vineyard 29 where he also crafts the Labry wines.
Select Wines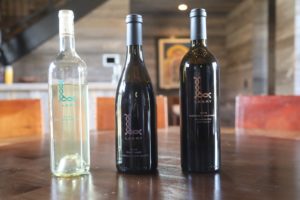 Through Keith's connections their first Sauvignon Blanc from 2017 was sourced from a vineyard in Calistoga. Moving forward for subsequent vintages, the source of the grapes for this wine are from the Ashe Vineyards in Oakville (the first time we discovered wines from that vineyard was at a Taste of Oakville event at Robert Mondavi Winery – where these were among the few Oakville grown white wines represented at that particular tasting). The 2018 Labry Sauvignon Blanc sees extended oak aging, up to 22 months – the wine is aged sur lie and stirred at certain intervals for the first 3 months – and then left to age before being racked to tank and then bottled.
Medium golden in color this wine shows a beautiful diversity of aromatics including initially floral notes, jasmine, honeysuckle, citrus blossom and hints of pineapple. Letting the wine evolve further – while still cold in the glass, reveals more tropical notes including banana, mango and papaya along with cantaloupe. Noticeable is the texture – no sharpness whatsoever the wine glides across the palate smoothly. Notes of mandarin, mineralities with just a hint of vanilla on the finish. A generous offering, certainly respective of a warmer site, yet still balanced and complemented by a brightness of acidity.
The 2019 Labry Russian River Pinot Noir is from the Martin Ray Vineyard (a historic site that Keith works closely with). Medium ruby in color offers some floral notes on the bouquet including dried rose petal, violets, raspberry, and hints of red licorice. And as the wine breathes further, the aromatics show more sweetness of fruit including a dessert spice influence. Offers a lovely tension across the palate with a very pleasing texture. Flavors of red cherry and hints of tea leaf are complemented by silky smooth and rounded tannins with some subtle lingering earth notes. The tannins are nicely integrated into the finish – this wine is superbly balanced. Aged 11 months in 40% new, 60% once used Burgundy French oak barrels.
The 2018 Labry Estate Cabernet Sauvignon is medium to dark ruby in color with appealing aromatics including tobacco leaf, hint of smoke, black olive, and darker fruits including plum and black cherry. One can also smell the varietal characteristics on the bouquet with dried herbs, very subtle hints of green pepper and sage. Nice aromatic character – certainly can be picked out of a lineup against more fruit forward Napa cabs. Balanced across the palate with a pleasing integration of acidity and tannins on the finish. Lingers with somewhat dusty, almost chalky tannins and a brightness of red fruits. Was aged 22 months before being bottled unfined and unfiltered.
And through a Lake County producer, Labry bottles and brands their own olive oil. Production is currently around several hundred cases of wine a year with plans to grow this slightly. The wines are not distributed and are sold entirely through their mailing list. For more details, visit: www.labrywine.com