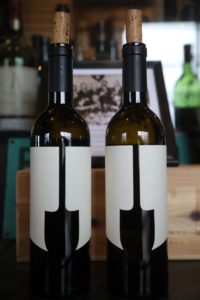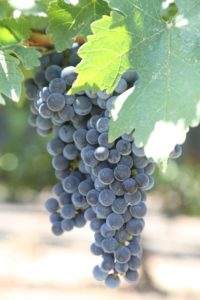 La Pelle Wines was founded in 2016 by three partners all connected through the wine industry. Maayan Koschitzky (originally from Israel) is former winemaker at Screaming Eagle and leads the Atelier Melka winemaking team, Miguel Luna (originally from Mexico) is a long-time viticulturist in the valley and Pete Richmond (local to Northern California who was the Napa Valley Grower of the Year in 2019) runs Napa based Silverado Farming Co, a highly regarded vineyard management company.
The name of the brand is tribute to both the vineyard and the cellar – with respect to a tool that is used in both arenas. Miguel worked as an intern in Bordeaux where he spent much of the harvest helping shovel out tanks. And according to Maayan, Miguel would always joke around about returning to California to start his own brand, simply called the shovel. In actuality this 'vision' came true, albeit with a much more elegant sounding French name.
Maayan's background was initially as a Mechanical Engineer in Israel – but in his mid 20s in 2004 he switched careers and began to work in wineries. In 2010 he and his wife decided to move to the USA, and he applied for winemaking positions in the Napa Valley. He was accepted by one small premium producer in the valley but then was accepted for an intern position at Screaming Eagle to work with new winemaker at the time, Nick Gislason. He had never heard of Screaming Eagle, so he mentioned the name to his older brother – who then looked up their pedigree online and quickly realized this was a job too good to turn down. With the intent to only stay a year or two and work a single harvest before returning to Israel, Maayan and his wife moved to the Napa Valley.
His first harvest at Screaming Eagle was in 2011 – the same year the new winery was completed; he recalls the tanks had arrived just in time for harvest that year. The amount of time he spent at the winery that harvest was remarkable – often working 20+ hours days over 5 months. As Maayan admits, working at Screaming Eagle as his first job in the Napa Valley was a shortcut of sorts. Instead of returning to Israel, Maayan and his wife decided to stay in the Napa Valley.
Eventually he was introduced to Cameron Vawter who at the time was the winemaker at Dana Estate. Cameron offered him a job at Dana Estate but then also said he should meet Philippe Melka. Maayan remembers having lunch with Philippe, but Philippe did not have a position for him at the time. Later Philippe called Maayan and offered him a position to join his consulting wine team (Atelier Melka for a year in 2014). That position led to Maayan becoming the Director of Winemaking for Atelier Melka and eventually a partner in the business. Maayan also consults for several international projects including in Australia, Chile and Israel.
From the beginning the three partners decided to invest in securing fruit from premium vineyard sources and only using grapes from vineyards they farm themselves with a focus on creating terroir driven wines. Source vineyard sites are the Lambert Vineyard in Coombsville, the Red Hen Vineyard in Oak Knoll and two vineyards in St. Helena. The importance of site in winemaking cannot be underestimated; sometimes it can be difficult to understand the truism of this until one actually visits vineyard sites (throughout the year) and notices different exposures, soils, temperatures and elevations among numerous other characters (all contributing factors to a sense of place and resulting wines).
Select Wines
There are not many vineyard sites with older Sauvignon Blanc vines in the Napa Valley – the oldest that we are aware of are vines in the I Block at To Kalon Vineyard at Robert Mondavi Winery – dating back to the the 1940s. And this is because of the more challenging economics of growing this variety in the Napa Valley versus red varieties, older less economically viable vineyard layouts and various issues with diseases, often inherent to older vines. So, when we come across a wine made from an older white variety vineyard block in the valley, we certainly take notice.
Maayan works with a rare block of dry-farmed Sauvignon Blanc dating from 1981 located in St. Helena. Over the years he has learned that less is more in the cellar when making this wine – or as he phrases it, "stripped of the noise". The wine is fermented in barrel, receives minimal sulphur and is not racked during its time aging. It spends 18 to 19 months on the gross lees with no set battonage schedule – rather the lees are stirred based on texture, taste and aromatics. The wine is racked to tank before bottling and then spends additional time in bottle before release. The inspiration for this wine comes from the Sauvignon Blanc that winemaker Didier Dagueneau used to produce in the Loire Valley (tragically he died in 2008 in a plane crash).
The 2018 La Pelle Sauvignon Blanc is medium yellow in color; the bouquet offers generous aromatics including a sweet honeysuckle, citrus blossom and a hint of vanilla. This wine has a nice cadence across the palate between flavor, texture and acidity. The California influence is certainly there but is balanced nicely by its liveliness and freshness. Shows flavors of mandarin along with lingering notes of green apple and lime on the finish. Mouthwatering. And this a wine that certainly has the capacity to age for a few more years. Very nicely done.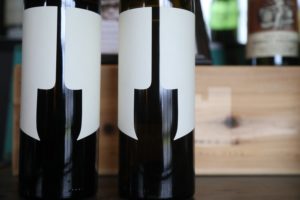 2018 in the Napa Valley was a fairly moderate growing season and Maayan recalls they were able to make their harvest decision on their own terms rather than external factors (i.e., inclement weather, fires). The 2018 La Pelle Napa Valley Cabernet Sauvignon (96% Cabernet Sauvignon and 4% Petit Verdot) is noticeably dark – deep ruby in color with aromas of dried cigar leaf (more so than tobacco smoke), cherry and cassis. There are both some savory notes on the bouquet and the palate – with flavors of plum, dried herbs and some darker spices – especially more towards the finish. The texture is an appealing attribute of this wine – the tannins are moderately structured with some noticeable grip – yet are also rounded and integrate nicely into the finish. The wine was aged for 18 months in French oak barrels of which 50% were new. It was in bottle for 6 months before being released. A very good quality to price point ratio.
The Reserve Cabernet Sauvignon is a barrel selection which varies each year – weighted towards specific sites which stand out for any reason each year. The 2018 La Pelle Reserve Cabernet Sauvignon shows dark purple in the glass with generous aromatics focused more on the fruit then barrel influence. Blackberry, boysenberry, mocha and a creme de cassis. Offers a noticeable density and concentration on the palate with flavors of darker fruit including plum and blackberry. Long lasting slightly dusty tannins anchor the mouthwatering finish. This wine showcases plenty of "Napa Valley' power – yet simultaneously straddles the line of restraint. Age worthy, for sure.
This wine was a blend of fruit from three vineyards, Alluvium in St. Helena (organically grown and dry-farmed vines dating back to 1982), Red Hen in the Oak Knoll District (consistently one of the darkest colored wines that Maayan works with for La Pelle) and Ceniza (meaning ash in Italian) located in Coombsville. This vintage of the reserve was weighted towards fruit from the Ceniza Vineyard. The wine was aged in 80% new French oak and spent 22 months aging (the final blend was created about 7 months before bottling) and the wine spent another 8 months in bottle before it was released.
And La Pelle produces several single vineyard wines (the label shows a vertical image of a soil pit from each vineyard) and an outlier wine in their portfolio – a Chardonnay from Bien Nacido Vineyards in the Santa Maria Valley on California's Central Coast – this wine is made from vines that date back to 1973. And is harvested much earlier than typical California Chardonnays.
—
When deciding upon a label for the brand, Maayan borrowed from the logo of Silverado Farming Co – and envisioned a farmer standing with a shovel. He presented the idea to their graphic designer Mark Wiegard, Creative Director of Guage Branding (responsible for the elegant logo for Tusk Estates) and asked Mark to stylize it. Mark returned with simply a cut out of a shovel in the label. Sometimes simpler is just more elegant. This is a label one immediately notices from across the room. And the bottles are not pretty from a visual perspective – all the corks used in their wines are certified TCA free.
Total production for all the wines each year is around 2,000 cases. The wines are primarily sold direct to consumer via their mailing list and with the exception of the Reserve Cabernet Sauvignon (sold as 3-bottle packs), their wines are sold in 6-bottle packs. For more information and to join their mailing list, visit: www.lapellewines.com