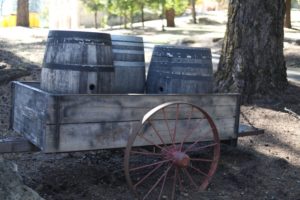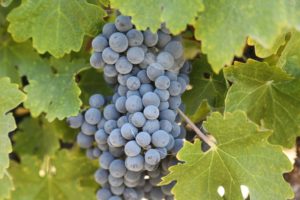 La Jota Vineyard Co is an old ghost winery built in 1898 from a white ash rock quarried from the property. This is one of the more historical parts of Napa Valley; the first Euro-American permanent settler in Napa Valley was George C Yount (namesake for Yountville) who moved to the valley in 1836. In 1843, Mr. Yount was given a roughly square shaped 4,454-acre Mexican land grant called Rancho La Jota (including what is now present-day Almacerro. Mr. Yount intended to build a sawmill here making use of the heavily forested landscape (there is still plenty of forest surrounding the patchwork of vineyards).
German born (1837), Frederick Hess originally sailed to New York with his parents in 1854 (his father tragically died on route) and then after a year in the big apple, sailed to San Francisco with his mother; for a time, he earned money by selling newspapers on the streets. He worked for the San Francisco Demokrat newspaper until he soon purchased it in 1856 at only 18 years of age. He was also the founder of the Alameda Encinal newspaper. Sometime in the late 1880s he purchased 327 acres of Rancho La Jota. An article in the September 26, 1895, issue of the Napa Journal mentioned Hess already had a ranch; this is one of the earliest mentions we have found to date of his property.
Another article from October 1, 1897, issue of the St. Helena Star indicates that Mr. Hess had recently discovered a natural spring on his property with up to 1,000 gallons of water flowing daily. The same article referenced he had already made 5,000 gallons of wine this year from his Howell Mountain vineyard and was in the process of clearing another 26 acres of land to plant to vines in the spring of 1898. The property was also planted to apple trees, plums, walnuts and to rare Tibetan pistachio trees. Hess built a stone winery in 1898, quarrying rocks from the property and named the cellar, La Jota; his property was referred to as the Hess Ranch and his home as Pine Crest. A wine produced from his Howell Mountain vineyards was awarded a bronze medal for its entry in the 1900 Paris Exposition.
Frederick's son William studied viticulture in college and worked with vineyards in both Napa and Sonoma counties. He was the manager of the Viticulture Commissions' exhibit in the World's Fair in Chicago in 1893. The property was still in possession of the Hess family in the 1950s; Frederick's grandson William T Hess developed plans to sub divide his grandfather's original property into 5-to-20-acre parcels as part of a private gated community.
After prohibition the winery was not used for winemaking until Bill Smith & his wife Joan (whose family operated W.H. Smith Winery) purchased the winery and property. Bill moved to Bakersfield California from Illinois when he was 2 years of age. Later in life he became involved in oil and gas exploration – taking a job at Buttes Gas and Oil (based in Oakland), he soon moved to the San Francisco Bay Area. He then founded Montara Petroleum with several partners – looking for additional land investments while exploring Napa Valley he located the old stone La Jota Winery high in the hills of Howell Mountain.
Bill & Joan purchased the old stone winery and property (40 acres) in 1974 and oversaw the planting by hand (with help from his family), 2 acres of vines. His first commercial vintage from this property under the La Jota Winery label was in 1982. Bill credits, one of his neighbors, prominent winemaker Randy Dunn as being an initial early influence during his formative winemaking years. In the early 1990s Bill let winemaker Helen Turley borrow some production space within La Jota Winery (the sister of Turley Winery owner Larry Turley). The roots of W.H. Smith and their Pinot Noir began here. Bill was the winemaker for La Jota until he sold the winery to Markham in 2001 which was then purchased by Jackson Family Wines; they are the current owner.
After the sale of La Jota Winery, Bill remained on Howell Mountain where he built the W.H. Smith Winery (a tiny winery with a cave and crush pad nestled against the side of a hill – and is where we first met with Bill many years ago). The one vineyard under their ownership at the time, Piedra Vineyard was also on Howell Mountain. Bill and Joan sold Piedra Vineyard to Frank Scherkenbach in 2016; Frank now operates Almacerro Estate on the site of Piedra Vineyard.
La Jota winery was completely renovated in 2003 under Markham's ownership and today is one of the nicer of the old stone hillside ghost wineries in Napa Valley. A cave is located under the hill directly behind the winery. For a couple years, winemaker Jason Court, proprietor of Evidence Wines (who worked with La Jota winemaker Chris Carpenter), lived in the upstairs part of the winery.
This is an area known for intensely flavored and structured Cabernet Sauvignon and perhaps somewhat surprising is they grow Merlot (one of the prime sites in the valley for this varietal). They focus on these two varieties. Most of the fruit is sourced from three vineyards under their ownership, all of which are in very close proximity to the winery. 28 acres across the three properties are planted to vines. The elevation is typically over 1500 feet which is above the fog that often blankets all or parts of the valley floor during certain times of the year.
Due to the slightly cooler climate, hang time is long, with grapes usually harvested well after the valley floor fruit. The very rocky soil is volcanic in nature and has great drainage. Howell mountain is known for its reddish volcanic soil. La Jota also makes a Cabernet Franc.
Select Wines

An extremely unusual planting for Howell Mountain is Chardonnay; this AVA is primarily known for its mountain grown red wines. The 2020 La Jota Vineyard Co. W.S. Keyes Chardonnay (Howell Mountain) is deep gold in color; the bouquet is highly appealing and offers a diversity of aromatics including of white peach, nectarine, honeysuckle, jasmine and a hint of apricot and warm butter. The bouquet becomes a bit more sweetly fruited as it has time to open; it also shows some citrus scents including lemon and lime. The palate is mineral driven and features crisp acidity and flavors of mandarin and apple. A very subtle hint of vanilla lingers on the finish. This rare Napa Valley mountain grown Chardonnay is highly worth seeking out.
The 2013 La Jota Vineyard Co W.S. Keys Vineyard Merlot is 76% Merlot with the balance being Cabernet Sauvignon. Dark ruby red in the glass. Shows plenty of black fruit aromatics including black licorice complemented with an herbal note – perhaps green tea leaf. Shows a bit of dustiness as it opens. This is a very aromatic wine. The mid palate offers a softness of texture complemented with flavors of blackberry; the dustiness from the bouquet continues onto the palate. Noticeable, big but still balanced tannins persist on a finish which persists for quite some time.
The 2012 La Jota Vineyard Co. Howell Mountain Merlot initially shows sweet dessert spice aromatics including notes of browned sugar and burnt toffee. Given time, beautiful fruit aromatics start showing including plum along with lesser aromas of toasted cedar plank. A tartness of fruit lingers along with tannins on the finish. The vines that produce the grapes for this wine are over 40 years old.
The 2008 La Jota Vineyard Co. Cabernet Sauvignon is a beautiful wine. Shows blackberry, chocolate, an earthy quality and as it breathes a floral note is revealed (rose petals). There is a balance that probably has been helped by time in the bottle between a richness of flavor and power of structure. This bottling offers a lingering sweetness of fruit, long lasting tannins and very good acidity. It is available at a reasonable price to quality ratio.
All wines we initially tried from our first ever tasting were from 2002, which was their current vintage at the time of this our initial review and were somewhat older than most wineries' current vintages. In particular, we really enjoyed the 2002 La Jota Howell Mountain Cabernet Franc which was blended with Cabernet Sauvignon. In our opinion, this is how a Cabernet Franc based wine should taste with plenty of fruit mid palate and noticeable structure on the finish. The nose is complex with hints of cranberries and vanilla followed by a generous amount of fruit on the palate along with a 'kiss' of oak and subtle notes of cedar.
We also tried a special bottling, the La Jota Vineyard 2002 21st Anniversary Release Cabernet Sauvignon. The grapes for this wine were harvested from only their most premium vineyard selections; this bottling is very representative of Howell Mountain terroir, earthy yet at the same time showing a refined elegance. The chocolate notes that one often finds in Howell Mountain based Cabernet Sauvignon wines are hinted at on the palate. What really drives this wine, however, is its' superior balance.
Jackson Family Wines
The remarkable success story of Jackson Family Wines began with Jess Jackson; San Francisco raised, he founded a law firm in the city in the 1950s focusing on real estate and land rights issues. Later, with his first wife Jane in 1974, he bought an old 80-acre pear and walnut orchard near Lakeport, Lake County. They converted this to Chardonnay and began selling the grapes to local wineries. Eventually the market for grapes softened and Jackson had more grapes than he could sell.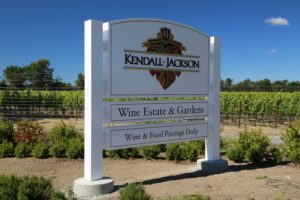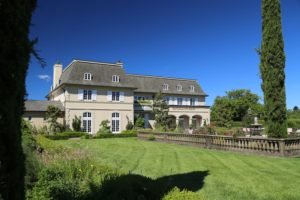 He decided to make Chardonnay – the fermentation on one of the lots ended up not fully completing leaving the resulting wine with a little bit of residual sugar. With the help of Napa Valley vintner, Ric Forman they created the first Chardonnay from a blend of multiple lots from various vineyard sources. The 1982 vintage was the first wine from Jackson Family Wines – called Vintner's Reserve Chardonnay. Priced reasonably, not to cheap and not too expensive, this was a premium made fruit-forward Chardonnay, soon made in large amounts with a flavor profile that appealed to many people.
With the popularity of the Chardonnay, Jackson began expanding to other parts of California and eventually outside of the state including international properties. The Kendall-Jackson Winery and tasting room is located in tiny Fulton, just north of Santa Rosa in Sonoma County. The company headquarters is located in Santa Rosa. Kendall was the maiden name of Jackson's first wife.
In 2003 Jess became involved with professional horse racing including purchasing horses (some went on to stand-out careers) and establishing Stonestreet Farm (Stonestreet is Jackson's middle name); this horse farm and racing stables is based just outside of the small town of Versailles in Kentucky. This is prime 'horse' country' with numerous thoroughbred horse farms in the region. Stonestreet is also the name of their winery in Alexander Valley (not far from Field Stone Winery). And it should be no surprise that the horse stables are named after grape varieties.
In 2009 Jess was inducted into the Vintners Hall of Fame. He died in 2011; today his wife Barbara Banke oversees the growing company and its operations. For reference, in addition to La Jota Vineyard Co, their Napa Valley owned wineries or brands are the following: Cardinale, Freemark Abbey, Galerie, Lokoya, Mt. Brave and the Spire Collection.
Stonestreet Farms, Kentucky

The La Jota W.S. Keyes Merlot can be tasted by making a reservation at Cardinale Winery (in Oakville) or other La Jota wines can be enjoyed by making a reservation at the Spire Collection located north of Calistoga.
For more information, to purchase wine or to schedule tasting, visit: www.lajotavineyardco.com