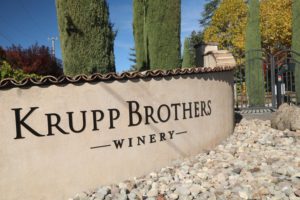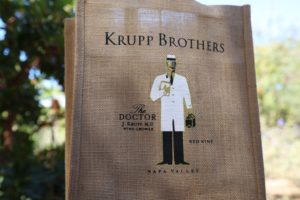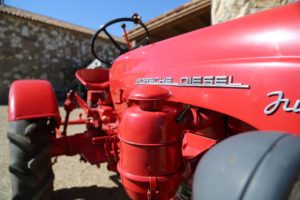 Krupp Brothers Winery was founded as a partnership between Dr. Jan Krupp and his brother Bart as well as ownership coming from a Gordon Getty trust as well as other investors. The brothers (with Jan being the face of the business) are known for developing a sizable property (Stagecoach Vineyards) located nearly at the end of Soda Canyon Road in Atlas Peak. At it's 'peak' the property featured some 600,000 vines planted on over 1100 acres. Krupp Brothers sold this entire property in early 2017 to Gallo Family Winery.
When we first visited, Jan told us that he loves growing things; after growing up New Jersey and and then graduating from Yale University he left for California for medical school and was exposed to California's long growing seasons; as a result he never left the "golden state". A professor at Stanford also introduced him to wine – and he would often make trips up to the Napa Valley from the San Francisco Bay Area. Wanting to take his passion for wine to the next level, he moved to Napa in 1991 (commuting to his medical practice until he stopping practicing in 1998), and then purchased 40 acres in 1994 on Atlas Peak. An ad in the San Francisco Chronicle for 750 acres caught his attention – the property being nearby to his existing 40 acres. Other vintners had previously looked at the property but were not interested because of what they presumed to be a lack of water on the site not to mention the extremely rocky terrain.
Jan hired a world renowned geologist who identified several potential water sources – but when they drilled they found nothing. A friend turned him on to a water witcher, (not Marc Mondavi) but Jonathan Newman. He identified an underground river on the site. Jan had the previous wells extended deeper and sure enough they reached the water source, providing them with plenty of water to develop the site.
That was just one hurdle cleared – 28 individual property owners surrounded Jan's landlocked site. Jan had to negotiate with his neighbors ultimately resulting in being allowed to build a road onto the site. And then there was the gargantuan task of planting this challenging site to grapes.
During our first visit to the property, we jumped in Jan's Land Rover and he drove us through hundreds of acres of grapes on dirt roads with grapes in all directions as far as one could see see. He originally had the land cleared for planting in the early 90's.
Jan told us about rocks the size of his own vehicle which were moved. This was a major undertaking and Jan estimates over 2 billion tons of rock were moved to make way for the vineyards. There were vineyards planted in the area in the late 1800's but those owners did not have the equipment to move the large rocks and they just planted around them. After present-day workers blasted the huge rocks with dynamite, it would then take weeks or longer to further clear the sites. And finding a use for all the blasted rock, they built a number of roads on site.
In the early years of the Stagecoach Vineyard development, it's brand and location were off the radar of most Napa wine consumers. And selling grapes to area wineries was a very tough sell. Jan told us he had to call nearly 40 producers/wineries before one actually decided to take a chance on his grapes. This certainly changed as Krupp Brothers increased their production, other vintners purchased their grapes, their vines matured and the word got out that these grapes were producing world-class wines. At its peak over 90 wineries were purchasing grapes from the property to use in their own wines.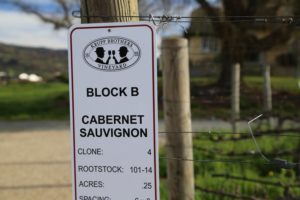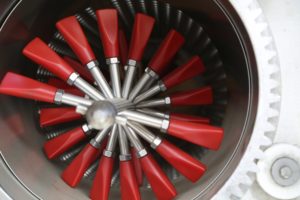 Jan's son Josh was their winemaker at the time and convinced his father to branch out into other wines besides the core varieties of Cabernet and Merlot. As a result, Krupp Brothers now makes a well-rounded selection of wine including several nice white wines (a Chardonnay, a White Blend and a rosé – usually of Syrah. Their total production at the time of this update is around 2,500 cases but they have plans to grow this over time.
Select Wines
After the vineyard tour we sat down with Jan and tasted through several of his wines. We started our tasting with several whites including the Marsanne, a delicious structured floral wine with a slightly viscous mouth feel and flavors of peach. For a white wine, this has a very long finish. Not every Napa winery makes a Marsanne and it was a treat to taste it. We also had the privilege of sampling their Black Bart's Bride before it was released. Again this is a delicious white composed of Marsanne, Viognier and a lesser amount of Chardonnay.
The 2014 The Doctor is a very unique red blend of 35% Tempranillo, 26% Cabernet Franc and 24% Cabernet Sauvignon (the blend percentages vary from year to year). Shows plenty of fruit on the bouquet including some herbal notes, a hint of spice and dark chocolate. On the palate there is appealing juicy fruit flavors with good acidity – mostly red fruits including plum, cherry and raspberry. The finish lingers for quite some time but is not out of balance.
The 2014 Synchrony is a red blend of 65% Cabernet Sauvignon and 18% Cabernet Franc. This wine is a barrel selection and the variety percentages vary from year to year. The barrels chosen for the final blend represent what the winemaker feels are the best barrels of the vintage. Shows dark reddish/purple in the glass and floral on the bouquet with notes of violets – as it opens it reveals ripe fruit aromas including red and black cherry and blackberry. A hint of spice also shows. Very flavorful and very balanced in its youth. Shows a fine tonal structure on the finish with fairly polished tannins.
Enjoy Syrah? One of Krupp Brothers Winery's most limited wines and often highly coveted by collectors is their Black Bart Syrah. In doing some research on their Atlas Peak Property Jan discovered that the stagecoach robber Charles Earl Bowles (otherwise known as Black Bart) robbed several Wells Fargo Stagecoaches near his property. Black Bart would never rob passengers directly – only Wells Fargo's. He was a prolific and a polite holdup man – robbing some 28 Wells Fargo stagecoaches in a span of 8 years. And after two of his robberies, he left a piece of paper on scene written with a poem. And in addition to being named after a stagecoach robber, this wine is an homage to Jan's brother, Bart.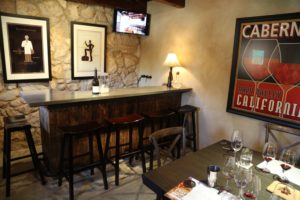 And the M5 is their most premium wine – made from the same block of grapes each year. The clone for this came from noted vintner, Hermann J. Wiemer who originally acquired cuttings from Château Latour in Bordeaux, France. The 2014 vintage needs some time to open in the glass – shows blackberry notes and is somewhat briary on the bouquet with hints of tea leaf and dark chocolate. This is a quintessential big mountain Napa Cabernet Sauvignon that steak lovers will look forward to. Surprising soft on the entry but definitely shows some muscle down the stretch.
One year they forgot to pick a row of these coveted grapes and made a port-style wine.
Visiting Napa Valley and interested in tasting the wines? Krupp Brothers Winery maintains a tasting room in the Oxbow District – just east of downtown Napa (in the old Mason Cellars tasting room). Address: 714 First St, Napa. Offers table and bar seating in a contemporary setting.
In May of 2017, Krupp Brothers announced the purchase of Kitchak Cellars (after the sale of their Stagecoach Vineyards to Gallo Family). The sale included the entire property and the Kitchak Cellars brand and remaining inventory – although note that Kitchak Cellars Wines are no longer being made.
The winery is located on Hardman Lane which bisects a number of vineyards but Krupp Brothers Winery is the only physical winery on this road. Nearby neighbors include a vineyard owned by Stagecoach, William Hill Winery and Razi Winery. The property is in the Napa Valley Appellation (no sub AVA, but if this ever were to become a sub appellation, it might be called The Silverado Bench.
This estate property was home to a dairy farm in the 1950's; one of the additions at that time was the construction of Lake Cynthia. This small pond a positive affect on vineyards – it provides a moderating influence during the coldest winter months (no fans are needed on site) while nearby vineyards have to use fans for frost control. It also offers additional reflection of sunlight on the nearby wines. The property has a Tuscan feel to it with the stone winery and barrel room and Italian looking home.
One of Napa's smallest caves is drilled through part of a tiny hillside leading to a hospitality room. Weather permitting, an ideal spot for enjoying the Krupp Estate wines is outside over looking the small lake surrounded by vineyards. Serious wine enthusiasts can request an appointment and visit on site – allow about 90 minutes for a tour and tasting.
For more information and or to join their wine club, visit: www.kruppbrothers.com or their old but still very educational blog here: http://kruppbrothers.wordpress.com
Winery

Tasting Room, Napa

Old Atlas Peak Estate Property

Stagecoach Vineyards (no longer owned by Dr. Krupp)

Curious to see how a vineyard prepares rocky soils for eventual planting – watch these "rock" videos!