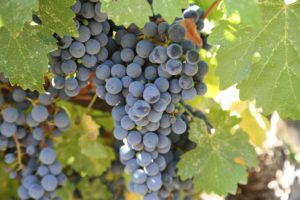 KrisTodd Vineyards was founded by Kristine and Tod Ratfield. For many years Tod has run a successful law practice in Walnut Creek (San Francisco Bay Area) focusing on business, real estate and entertainment law. It was through his law practice that he met Kris. Before they began KrisTodd Vineyards, they would often visit the Napa Valley and over time began to gravitate towards wines being produced from Howell Mountain. As Kristine says, it was their mutual love of these wines and the beauty of Howell Mountain that attracted them to this part of the Napa Valley. And as they discovered after moving to Howell Mountain, it is a very tight knit community, especially among the vintners – with neighbors often offering advice or help as needed.
One of their early tastings was at what was Ladera Winery for Tod's 50th birthday. During these trips to the valley they met the Mike and Terry Lamborn (Lamborn Family Vineyards). Before their own vineyard was even planted and producing they decided to make wine. With the help of Mike Lamborn they picked some Cabernet Sauvignon from his vineyard (also located on Howell Mountain) and used this to create a 100% varietal Cabernet Sauvignon for the first vintage of KrisTodd in 2009.
In 2011 the Ratfields purchased 4.5 acres high on the slopes of Howell Mountain – a site that had never been planted to grapes. In 2013 they planted three acres to several clones of Cabernet Sauvignon and later a small planting of Cabernet Franc. Vineyard Manager Jason Ray, of Napa Select Vineyard Services oversees the site – quite possibly the smallest site he manages among his 1,000+ vineyard acre portfolio.
The site is about 1,800 feet in elevation and is extremely rocky. A Caterpillar D8 was brought in to rip the vineyard – but even this sizable piece of equipment struggled to break up parts of the rocky volcanic cap. Ultimately there was so much rock in places they had to abandon a small portion of their intended vineyard site and simply plant around this area. Rocks the size of cars were discovered. Today their vineyard ranges in soil depth from merely 18 inches to several feet.
For their winemaker Massimo Monticelli, wine is life; he has spent nearly his entire life in and around the wine industry and enjoys both making wine and drinking wine. His father was also a winemaker and later an executive for Gallo Winery. Massimo is spirited, enthusiastic and extremely passionate about the hands on part of wine making. Once on the fast track to be a doctor, his family roots called out and he changed career paths eventually earning his masters in winemaking from UC Davis. Along with making his own wine and the wines for KrisTodd, he also consults for a number of other small producers. He has access to exceptional Napa Valley vineyard sources; he uses a soccer analogy in regards to his winemaking, "the goalie is out of the cage and its his job to tap it in." He doesn't take credit for the wines – rather deflects praise on his vineyard sources.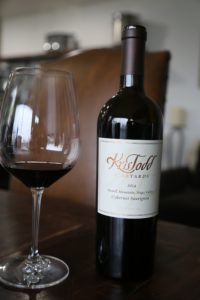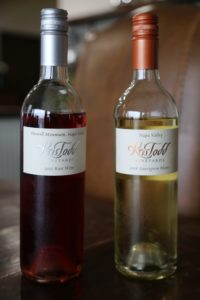 The 2016 KrisTodd Sauvignon Blanc offers an appealing bouquet that is driven by ripe fruit (this is not a green or grassy style of this varietal). Shows aromas of pineapple, red apple and various citrus notes. Balanced throughout but intensely flavored with lively tropical flavors. A pleasing supple texture. Shows a long satisfying finish with a hint of sweetness (around 1% residual sugar).
Kristine's favorite wine is Cabernet Sauvignon – and one day while sitting by their pool she casually mentioned to Tod, "what if we made a rosé from Cabernet Sauvignon, something a bit more robust that we can enjoy in the summer next to the pool"? Ultimately they created a rosé from their estate Cabernet Sauvignon (focusing on using grapes from vines growing towards the end of their rows) and since their first wine, this has become one of their most popular wines and subsequently production has increased.
Select Wines
The 2017 KrisTodd Rosé is an intriguing and unusual rosé – this vintage was a blend of 98% estate Cabernet Sauvignon and 2% Refosco (from a tiny front yard vineyard in the southern part of the valley). Refosco is an Italian variety that typically produces darker colored and often tannic wines. It is rarely grown in the Napa Valley – the only other producer in Napa we know of growing this is Steve Matthiasson.
The Cabernet Sauvignon for the rosé was left on the skins for 3 days; this wine is dark red – darker then most rosés. Immediately shows layered fruit aromatics including cranberry, apple, strawberry and raspberry. Extremely flavorful it reveals some surprising weight across the palate without being heavy – perhaps tempered by the bright acidity. A pleasing suppleness across the palate is certainly an attractive part of this wine. Lingers with plenty of fruit and perhaps an unusual flavor for a rosé – a hint of tobacco leaf which isn't immediately noticeable.
The 2014 KrisTodd Cabernet Sauvignon (100% varietal) is dark ruby color in the glass; the bouquet presents a wide diversity of elegant aromatics. This wine is fun to let sit in the glass and revisit over time. Shows aromas of ripe plum, licorice, Asian spices, cigar, a hint of dry dust and a darker spice component. As the wine continues to breathes subtle sweet aromas show including notes of mocha. Noticeable on the palate is the mouth watering acidity especially towards the finish. Juicy with flavors of blackberry and plum. Very long finish with a firm grip of tannins (but not course in texture) which linger for some time.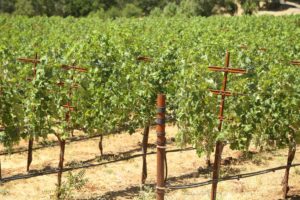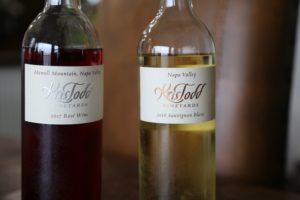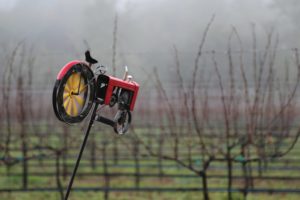 The 2009 KrisTodd 100% varietal Cabernet Sauvignon was produced from grapes sourced from Lamborn Vineyards. This wine is all about the fruit both on the bouquet and on the palate – with less influence from oak aging then perhaps the 2014 vintage (and of course this wine was produced from a different vineyard). Shows mostly darker fruit aromas along with black licorice and cassis. Richly flavored and layered still shows plenty of tannins. This wine has aged well and obviously has plenty more life ahead of it.
—
The wines are primarily sold direct via their website and wine club and also are available for tasting at Vintner's Collective, a multi winery tasting room focusing on premium mostly Napa brands located in downtown Napa. Total production is only about 500 cases a year. KrisTodd is a member of the Howell Mountain Vintners Association and participates in select tasting events throughout the year including arguably the finest tasting organized by the association, the annual Taste of Howell Mountain always hosted at Charles Krug Winery in June.
For more information or to join their wine club, visit: www.kristoddvineyards.com