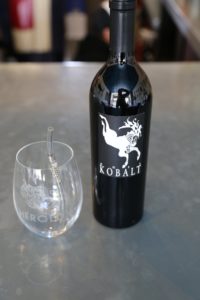 Kobalt Wines is run by Kevin Kerriker and his friend Mark Herold is the wine maker. Their first vintage started in Mark's garage alongside Merus in 2001. The impetus for starting Kobalt was Kevin's desire to make his own wine coupled with a small vineyard in Coombsville that needed a home for its fruit.
Kevin comes from a farming background in Southern California and as he says, "I moved north". He first tried wine while working in Yosemite National Park and incidentally it was a Napa wine, a 1970 Beaulieu Vineyards. He later visited Napa and eventually was enticed to move to the valley for not only the wine industry but the dedication to agriculture and preservation of both agriculture and native land.
He quickly immersed himself in the wine industry – moving north and running one of the oldest wine shops in San Francisco. He also worked a harvest at Napa's Grgich Hills. He later met Napa winemaker Mark Herold and was Mark's cellar master for a number of the Merus vintages.
Mark Herold was studying bio chemistry and aquaculture at UC Davis and learning how to as he puts it, "to raise fish" when a professor convinced him to make a few barrels of wine. His initial professional foray in the wine industry was at Joseph Phelps where he studied phenolic profiles of grapes from all over Napa but kept coming back to grapes from the Coombsville region. This is a somewhat cooler growing region located just east of the town of Napa (but with its own number of unique micro-climates). Mark has been working with fruit from this region since the mid 1990's and has identified some of this areas top vineyard sources.
Kobalt's primary wine is their Cabernet Sauvignon. Their fruit is sourced almost exclusively from premium vineyards in Coombsville. While not owning any vineyards, Kobalt only works with properties in which they can have full control of the vineyard management. Their attention to detail in the vineyards is great.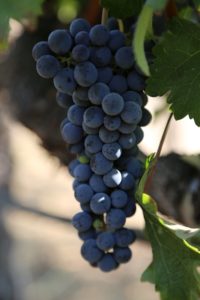 The 2007 Cabernet Sauvignon is blended slightly with Cabernet Franc and Malbec. All varieties and fruit from various vineyard sources are vinified separately until the final blends are created. This is a very dark inky colored wine in the glass – somewhat black – testament to the Coombsville fruit. As the wine breathes more complexities show including baking spices, mocha, dark chocolate and hints of cinnamon. The mouth feel is rounded, lush and juicy. This wine is beautifully textured and layered. There is a unique dustiness or earthiness to the bouquet interwoven with dark fruit flavors that makes for an extremely long finish. This wine shows excellent natural acidity – they don't need to do acid adjustments. The tannins are certainly there but do not dominate.
In addition Kobalt makes a delightful vintage port wine (true vintage style and not your typical California port). We've sampled most of the ports coming out of Napa County and in our opinion this is one of the finest. With that said, typically only several barrels are made and it is only made during years where the quality meets their exacting expectations. The fruit is entirely sourced from Coombsville. The first vintage dates from 2005.
Viognier grapes that were triple distilled from one of Northern California's finest distilleries are used for fortifying this wine. Viognier grapes are blended into red wines at times to bring a certain floral component and its no different with port. The 2007 we sampled from barrel opens beautifully into rich spicy enticing black cherry liqueur aromas followed by a well-layered palate (mostly black fruit); this is a port that is really hard to stop drinking!
The name Kobalt comes from a challenge Kevin made one night over a game of Scrabble. After months of trying to come up with a name for the wine he challenged his friends to come up with a name in exchange for a free case of wine each year for life. One person grabbed the thick dictionary and happened to open to the K's where Kobalt caught their attention.
Kobalt is actually a term that refers to an underground spirit associated with mining. The label is very cool and certainly stands out well; it is somewhat goat like, an artists representation of this type of spirit.
After making Kobalt for a number of years in Mark's "garagiste winery" – the winemaking was moved to the state of the art custom crush winery Juice Box located in a south Napa industrial park (now operated by The Wine Foundry). Mark's makes Kobalt here as well as his other wines including his own label, Herold Wines. Kobalt will see serious wine enthusiasts on an appointment only basis. You can find their wines in a plethora of locations within the Napa Valley – at most of the wine shops from Napa to Calistoga including Backroom Wines and V Wine Cellars.
NOT clear if still producing wine. Possibly 2015 last vintage? Possibly wines now only going to mailing list subscribers? This review has been identified as needing an update. Or if no longer producing, this review will be archived.