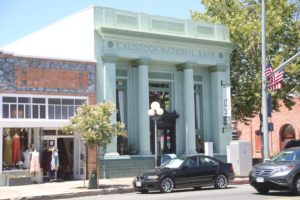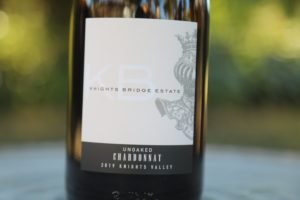 Knights Bridge Winery was founded by photographer and journalist Tim Carl. Tim brought on three individuals who became his business partners; James and Essel Bailey (brothers) and Tom Costin. James is from the Midwest – grew upon a family farm, later graduated from Harvard with a degree in American Colonial History. His career has been remarkably diverse from being an investment adviser, entrepreneur to helping fund the first major domestic geothermal energy company, California Energy. He was also one of the co-founders of Cambridge Associates, a prominent Boston founded and based investment consulting company (with a number of domestic and international offices).
Essel (Jim's brother) became a lawyer for 20 years, graduating from the University of Michigan. His career has been equally as diverse as his brothers helping manage a variety of companies ranging from auto parts to care for the elderly.
Tom grew up in rural New Hampshire – also a graduate from Harvard (a degree in Public Administration) he spent a career working in in the shoe business – most notably as the CEO of Soletech and as the managing director of Michelin Footwear.
They purchased their Knights Valley Vineyard in 2006 and also released their first estate wines from that year. A year later they began sourcing fruit from two of Napa's most highly regarded and recognized vineyards, Dr. Crane and To Kalon; the last vintage of these wines was in 2013. Today their focus is entirely on Sonoma County grown fruit with the majority from their 100 acre estate in Knights Valley.
Their estate vineyard is located on the western side of Knights Valley (the neighboring valley just north of the Napa Valley), encompassing both valley floor and hillside land. The property ranges in elevation from 300 to 900 feet and approximately half the acreage is planted to a variety of grapes including Chardonnay, Sauvignon Blanc, Sémillon, Merlot, Petit Verdot, Cabernet Franc and Cabernet Sauvignon. Their "neighbor" is the well-regarded Peter Michael Winery on the other side of the valley and can be seen from Knights Bridge. We have ridden our bicycle up the road the leads past their driveway many times – the hillside landscape in this part of Knights Valley is quite varied with many different exposures and soil types.
The name of their winery ties into their location; Knights from Knights Valley and 'bridge' paying homage to a bridge on their property but perhaps more importantly referring the fact they bridge both Sonoma and Napa County. They made their wines at a custom crush facility just north of the city of Napa for many years. However, at the end of 2021 construction was completed on both a cave, a winery and a hospitality space at their property in Knights Valley.
NOTE: we will visit Knights Bridge Winery sometime in 2022 now that it is fully open and will update our notes and photographs on this review accordingly.
Knights Valley became a Sonoma County appellation in 1983 and is one of the smallest in all of California (only approximately 2,000 acres are planted to vine). Today it is one of eighteen sub appellations within Sonoma County – for reference, Napa Valley has sixteen sub appellations. A number of premium Napa wineries have or currently source fruit from here including Chateau Montelena, Beaulieu Vineyards and Beringer. Besides grapes, land to the north of St. Helena (not far from Knights Valley) used to be home to the Great Western Mine – a mine rich in cinnabar (rock ore from which mercury was extracted) and then used for processing and extracting gold from the mines in the Sierra Nevada foothills. And a locals favorite since 1936, Smith's Mt. St. Helena Trout Farm & Hatchery is not far from Huge Bear's property.
And historical well-known figures have also visited Knights Valley over the years including Robert Lewis Stevenson, who wrote his book, Silverado Squatters from a cabin at the quicksilver mines, high on the slopes of Mt. St. Helena overlooking Knights Valley. Famous painter, whose paintings now sell for millions, Thomas Hill also painted Knights Valley.
KB by Knights Bridge Tasting Room, Calistoga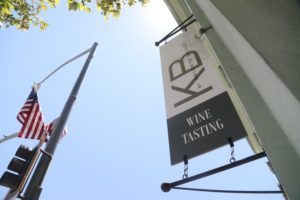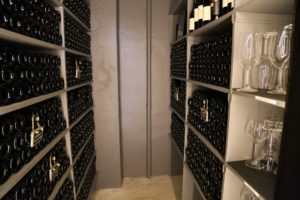 In 2015 the partners purchased the old National Bank Building in downtown Calistoga and initially opened up part of the first floor for tastings of Huge Bear Wines (now a discontinued brand). This tasting room opened on Valentines Day, 2015. This building was built in 1909 – it was very well protected with only one entrance and exit into the entire building (perhaps part of the reason it was never robbed).
With the addition of this tasting room at the time, they completed what was probably a Napa Valley record at the time – three tasting rooms lined up in a row (although one of their neighboring tasting rooms has since closed). This corner location is historic – the tasting room is housed in the old Calistoga National Bank building (the bank itself was organized in 1909), housed a pharmacy for some time and more recently it was home for 17 years to Bella Tootsie, a boutique shoe store run by Celeste Navone (Navone Family Wines).
Walking into this room is like walking back in time; the old safe (built by The Hermann Safe Co in San Francisco) is now creatively used to store a variety of Knights Bridge wines.
Tastings are generally of their current releases focusing on the KB by Knights Bridge brand. Collectors can also request tastings specifically for a rare vertical of their To Kalon vintages (with some older To Kalon vintages still available for tastings and purchase bottled under Knights Bridget). Knights Bridge tends to age their wines longer then many wineries. As a result, their reds can see up to three years in barrel plus up to another 18 months in bottle before they are released. Another label under the same ownership is Pont de Chevalier (meaning Knights Bridge in French).
Downtown Calistoga is not large; KB by Knights Bridge is within easy walking distance of other tasting rooms, boutique shops and plenty of restaurants. Street-side parking on Lincoln Ave (the main street) is the closest although there is some limited parking curbside on neighboring streets.
Select Wines
Knights Bridge produces three labels – wines bottled under Knights Bridge, Knights Bridge Pont de Chevalier and KB by Knights Bridge.
Knights Bridge
The 2013 Knights Bridge Chardonnay, West Block went through full malolactic fermentation – 12 months aging in oak, sur lie (60% new French Oak, the remainder used). Shows a pleasing bouquet including aromas of toasted hazelnut, vanilla and citrus blossom. Rounded, supple and creamy this wine delivers plenty of flavor – tending to be more tropical and spice oriented – notes of orange marmalade, crème brûlée and a touch of oak spice round out the finish. This Chardonnay has some noticeable weight.
The 2009 Knights Bridge To Kalon Vineyard Cabernet Sauvignon is highly aromatic – a pretty sweetness of fruit shows, it is somewhat floral, creme de cassis, a dry dust with a green tea leaf nuance at times. An intriguing bouquet. A big wine on the palate – presumably more balanced because of some bottle age. Rich, layered fruit flavors including ripe blackberry, cherry and black currant. Great acidity. Coarse tannins persist for some time on a very long finish. We tasted this wine some 8 years after harvest – it is very clear this wine still has plenty of life ahead of it. Fruit, acidity, structure – power, this wine has it all.
We tried this wine again in 2021 – it continues to evolve and show the complexities and life that this particular vineyard is known for. Has changed somewhat since our first tasting with initially savory notes on the bouquet, earthy, mushroom and truffle oil. But this persists only in the beginning; the bouquet quickly evolves to show plenty of fruit. This wine is more balanced now than before and the tannins have been tamed with the extra few years – the acid still shows well.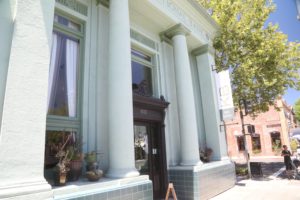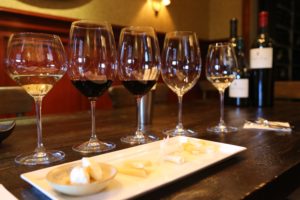 The 2010 Knights Bridge Dr. Crane Cabernet Sauvignon. If one is to categorize wines generically by sex, the To Kalon would be masculine and the Dr. Crane the feminine equivalent. Age has been kind to this wine. The bouquet is rich in depth continuously changing over time to reveal additional nuances. Initially shows darker fruit aromas and opens to more floral notes. Aromas of blackberry and red licorice show. A sweetness of fruit initially shows on the palate and one also notices how supple the palate is. There are flavors of blackberry and plum along with lingering notes of mocha. The tannins feel wonderful (showing more on the front of the palate then on the finish); they are rounded, smooth and fine-grained. This wine drinks very well with some 7 years of age at the time of our tasting.
Knights Bridge Pont de Chevalier
The 2015 Knights Bridge Estate Pont de Chevalier Sauvignon Blanc was put through full malolactic fermentation – 15% was aged in barrel, the remainder in stainless steel tanks. The wine was in bottle for a year before release. The bouquet might lead one to believe the palate is more of a New Zealand style wine of this variety with aromas of cut grass and lime. One might think there is even a little Sémillon blended in (based on the weight of the palate) but in reality this wine is 100% varietal. Shows pleasing rich flavors, good acidity (but not overly so) and is creamier then most Sauvignon Blancs we have tried. There is a hint of spice on the finish.
KB by Knights Bridge
The 2019 KB by Knights Bridge Unoaked Chardonnay is medium gold in color; very floral on the aromas including forward notes of honeysuckle, jasmine, citrus blossom and a vanilla sweetness. The wine offers a lovely texture with a noticeable creaminess. Flavors of mandarin, melon, pear and notes of butter, which are more noticeable on the finish. Lingers with a brightness of acid, a persistent and long lasting richness of fruit and accompanying dessert spices (certainly not from any oak as this wine does not see any oak during fermentation or its aging). Drinks very nicely by itself.
Huge Bear Wines

Wines bottled under the brand, Huge Bear have since been discontinued and are no longer produced. We keep our notes here for historical purposes only. The owners discovered an article from the mid 1800's in The Weekly Calistogan (local newspaper) that chronicled the adventures of a Grizzly Bear that would come down from the nearby mountains searching for food – often raiding several homes of inhabitants who lived in the area. This bear was never caught. A 'huge' bear greets visitors to the entrance of the tasting room.
Huge Bear was named in tribute to this particular Grizzly Bear as well as an honor to California's Bear Flag. Incidentally Thomas Knight (namesake for Knight's Valley) was helping raise the Bear Flag in support of an Independent California during these times.
The label/logo on their bottles of wine also has historical ties – it is an adapted illustration from the children's book, The Biggest Bear by Lynd Ward – one of the earlier winners of the prestigious Caldecott Medal (in 1953). Ward was a prolific illustrator (over 200 books). Huge Bear added their own twist to the illustration – including the addition of the basket and the bunches of grapes. And one of the better known quote from this book, "better a bear in the orchard than an orchard in the bear"!
Distribution is currently limited to mostly parts of the East Coast including Boston and New York. For more information and to join their mailing list, please visit: www.knightsbridgewinery.com