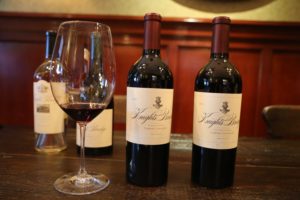 Knights Bridge Winery was founded by photographer and journalist Tim Carl. Tim brought on three individuals who became his business partners; James and Essel Bailey (brothers) and Tom Costin. James was one of the co-founders of Cambridge Associates, a prominent Boston founded and based investment consulting company (with a number of domestic and international offices). They purchased their Knights Valley Vineyard in 2006 and also released their first estate wines from that year. A year later they began sourcing fruit from two of Napa's most highly regarded and recognized vineyards, Dr. Crane and To Kalon. Both of these premium vineyard designate wines are still produced.
Their estate vineyard is located in the eastern hills of Knights Valley (the neighboring valley just north of the Napa Valley). Their 100 acre site ranges in elevation from 300 to 900 feet and approximately half the acreage is planted to a variety of grapes including Sauvignon Blanc, Chardonnay, Petit Verdot, Cabernet Franc and Cabernet Sauvignon. Their "neighbor" is the well-regarded Peter Michael Winery. We have ridden our bicycle up the road the leads past their driveway many times – the hillside landscape in this part of Knights Valley is quite varied with many different exposures and soil types.
The name of their winery ties into their location; Knights from Knights Valley and 'bridge' paying homage to a bridge on their property but perhaps more importantly referring the fact they bridge both Sonoma and Napa County. They currently make their wines at a custom crush facility just north of the city of Napa. Eventually they plan on building a cave and bring their production operations to the estate. They also have a presence in the Napa Valley – where guests can taste their wines (in Calistoga).
In 2015 the partners purchased the old National Bank Building in downtown Calistoga and initially opened up part of the first floor for tastings of Huge Bear Wines (a completely separate brand). This building was built in 1909 – it was very well protected with only one entrance and exit into the entire building (perhaps part of the reason it was never robbed). In 2017 Knights Bridge began conducting tastings (by appointment only) in the old bank vault room upstairs.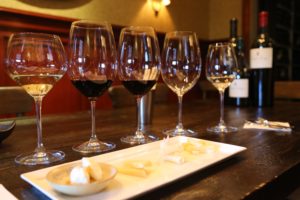 Walking into this room is like walking back in time; the old safe (built by The Hermann Safe Co in San Francisco) is now creatively used to store a variety of Knights Bridge wines.
Tastings are generally of their current releases of both their Knights Valley Estate produced wines and one or two of their Napa wines. Collectors can also request tastings specifically for a rare vertical of their To Kalon vintages (with some older To Kalon vintages represented). They tend to age their wines longer then many wineries – their reds can see up to three years in barrel plus up to another 18 months in bottle before they are released. A second label is their Pont de Chevalier (meaning Knights Bridge in French).
The 2015 Knights Bridge Estate Pont de Chevalier Sauvignon Blanc was put through full malolactic fermentation – 15% was aged in barrel, the remainder in stainless steel tanks. The wine is in bottle for a year before release. The bouquet might lead you to believe the palate is more of a New Zealand style wine of this variety with aromas of cut grass and lime. One might think there is even a little Sémillon blended in (based on the weight of the palate) but in reality this wine is 100% varietal. Shows pleasing rich flavors, good acidity (but not overly so) and is creamier then most Sauvignon Blancs we have tried. There is a hint of spice on the finish.
The 2013 Knights Bridge Chardonnay, West Block went through full malolactic fermentation – 12 months aging in oak, sur lie (60% new French Oak, the remainder used). Shows a pleasing bouquet including aromas of toasted hazelnut, vanilla and citrus blossom. Rounded, supple and creamy this wine delivers plenty of flavor – tending to be more tropical and spice oriented – notes of orange marmalade, crème brûlée and a touch of oak spice round out the finish. This Chardonnay has some noticeable weight.
The 2009 To Kalon is highly aromatic – a pretty sweetness of fruit shows, it is somewhat floral, creme de cassis, a dry dust with a green tea leaf nuance at times. An intriguing bouquet. A big wine on the palate – presumably more balanced because of some bottle age. Rich, layered fruit flavors including ripe blackberry, cherry and black currant. Great acidity. Coarse tannins persist for some time on a very long finish. We tasted this wine some 8 years after harvest – it is very clear this wine still has plenty of life ahead of it. Fruit, acidity, structure – power, this wine has it all.
The 2010 Dr. Crane Cabernet Sauvignon. If one is to categorize wines generically by sex, the To Kalon would be masculine and the Dr. Crane the feminine equivalent. Age has been kind to this wine. The bouquet is rich in depth continuously changing over time to reveal additional nuances. Initially shows darker fruit aromas and opens to more floral notes. Aromas of blackberry and red licorice show. A sweetness of fruit initially shows on the palate and one also notices how supple the palate is. There are flavors of blackberry and plum along with lingering notes of mocha. The tannins feel wonderful (showing more on the front of the palate then on the finish); they are rounded, smooth and fine-grained. This wine drinks very well with some 7 years of age at the time of our tasting.
Distribution is currently limited to mostly parts of the East Coast including Boston and New York. For more information and to join their mailing list, please visit: www.knightsbridgewinery.com