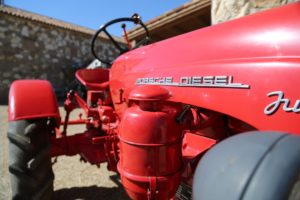 Kitchak Cellars – Interest in wine began in the early 1980's for proprietor Peter Kitchak when a friend invited him to a premium wine tasting where most of the wines were priced above $40/bottle (which at that time was extremely expensive). He had never tasted such wine before – (all French producers) and was immediately hooked. Within weeks he started building out his own wine cellar and the owner of what was the largest wine shop in Minneapolis at the time told him about a young wine writer (that no one had heard of), named Robert Parker Jr. who had just given top scores and ratings to the 82′ vintage.
Peter went out and purchased a number of cases of French First Growths and other premium wine from this vintage. As it were, the 1982 vintage was generally hailed as one of the great Bordeaux vintages of the 20th century. And certainly prices then were not what they have become today for First Growths, regardless of the vintage.
The Kitchak's first became serious about living in Napa in 2004 when they started looking for property as a second home, a place to enjoy the unique lifestyle that the Napa Valley offers. They had no intent of owning vineyards or building a winery. But as the allure of the valley has affected so many others who are now in the wine industry, Peter enrolled in the UC Davis wine-making extension course (certificate program) and "went back to school" for three years.
His first commercial release was small and was made in 2005 at Crushpad when they were located in San Francisco (a custom crush facility specializing in thousands of boutique labels). He continued making the wine there until his winery was completed and permitted in 2010. Hardman Lane cuts through many vineyards but Kitchak Winery is the only winery on this road. Nearby neighbors include a vineyard owned by Stagecoach, William Hill and Razi Winery.
Peter has been involved in a number of businesses for much of his life but readily admits that the wine business is the most time consuming and demanding. He takes an entirely hands on approach to all aspects of wine making. He does not hire out a vineyard manager – but rather employees several workers and oversees the vineyard management. He designed the winery, the small lot tanks (variable sizes) and is the primary winemaker.
When Peter jumps into a new business his philosophy is to do it right and be exemplary in that respective field. In this regards, he feels strongly about taking a very hands on approach to wine-making. Often wine-making involves decisions that need to be made quickly and he wants to be comfortable that he has the knowledge and ability to make those decisions without the need of calling someone or even hiring other winemakers. As he says, "the pleasure, joy and satisfaction of making my wine from scratch would not be there if I hired a winemaker".
Their estate property was home to a dairy farm in the 1950's and one of the additions at that time was the construction of Lake Cynthia. Water has an affect on vineyards – it can provide a moderating influence during the cold of the winter months (no fans are needed on site) while nearby vineyards have to use these for frost control – and it adds additional reflection of sunlight to the nearby wines.
Extended maceration plays a critical component in the making of their red wines. Peter keeps a close eye on the latest research of tannin development and the role maceration plays in wine-making and development of wines. He believes in the benefits of both seed and skin tannin management – while skin tannins are generally released quickly during warm fermentation – seed tannins slowly and steadily come out over time which (one recent study showed – in contrast to traditional beliefs) in turn can soften and smooth the wine.
Peter has long enjoyed classical music and its not uncommon for this genre of music to be serenading the aging barrels of wine in the winery. It is not so different than the Gregorian Chant that Artesa Winery plays over their wine barrels 24/7. Nearly every wine is named after a musical term which in some way describes the character of that particular wine. Their total annual production is only around 1000 cases.
The 2010 Scherzo is a very unique wine. It is a rose of Cabernet but is not made in the traditional French Saignee method where juice is bled off from the grapes. Rather the grapes are kept on the skins for several days, then pressed and fermented and aged in neutral oak. This wine was aged sur lie for 6 months. It is a bright shade of pink in the glass, bordering on purple – it is fresh and fruity on the bouquet with aromas of strawberry and cranberry. The mouth feel is clean with good acidity and a lively finish.
The Vivace is a very unique to Napa blend with its inspiration coming from Languedoc in France, despite the fact that this particular blend would be illegal to make there. Peter was visiting a winery in Languedoc and enjoyed one of the best white wines he had tasted to date. Upon inquiring about the varietal characteristics he was taken into the vineyard and shown a small block of Chardonnay among Rousanne and Marsanne. This winery had actually experimented with all three varietals and found that a small amount of Chardonnay really added complexity to the mid palate. Peter now makes this unique to Napa blend. This is a wine that tends to age well based on its good acidity, fruit and barrel aging. The 2006 vintage reveals a plethora of pleasing tropical and citrus aromas on the bouquet with a palate that is soft, smooth and satiny. It shows baking spices, (nutmeg, cinnamon), honey and balanced fruit.
The 2008 Napa Valley Cabernet Franc is 100% varietal; this wine has a bouquet true to the varietal. Its smoky, shows black pepper, a hint of bell pepper, a pleasing floral note and mushrooms and damp almost forest floor like aromas. This is a bouquet that certainly stands out and stands on its own; it is very aromatic. Peter has also used this wine to make a reduction sauce for red meat; it also pairs very well with wild game.
The Tokalon Vineyard in the Oakville appellation is one of the coveted, historical and most well-known single vineyards in the Napa Valley. As a result the fruit is fairly sought after; relatively few producers source fruit from the vineyard. When starting Kitchak Cellars, Peter wanted to produce a wine from a vineyard with good name recognition. The 2007 Concerto has an appealing bouquet, floral in nature with both red and dark fruit aromas. The palate shows expressive and elegant fruit flavors – mostly dark fruit, blackberry and cherry. This wine has mouth watering acidity, balance and a fairly long finish.
The 2007 Adagio is a proprietary red blend (Merlot based) with fruit from both their estate and sourced from other vineyards. This wine is dark in the glass. The bouquet is vibrant with layers of aroma. The palate shows ripe black fruit, mainly blackberry and black cherry and dusty tannins that start mid palate and slowly develop onto the finish. With good acidity and a pleasing flavor profile, this wine will pair well with a variety of foods.
Visits are for serious wine enthusiasts and are always held with either Peter or his consulting winemaker. Often small producers only make one or two wines. However Kitchak Cellars makes a variety of small lot wines and they are one of the few producers of this size in Napa to have their own wine club. They have no retail or wholesale distribution whatsoever. All wine is sold either through their mailing list, wine club or from personal visits. Peter has personally met nearly all of his customers.
Tastings are for those who are looking for a private visit with the owner and or winemaker, a unique estate, a personalized experience, tour and tasting and a diversity of wines – some of which are uncommon to Napa.
NOTE: this winery has been purchased by Krupp Brothers in early to mid 2017 – Krupp Brothers is now tasting their wines here, continuing to also taste the Kitchak Cellars wines here. The Krupp Brothers wines will now be made here on site. The sale included the entire property and the Kitchak Cellars brand and remaining inventory. We will keep a close eye on this property and will update once we have more details on the transition in ownership.
Kitchak Cellars Winemaking, UC Davis Extension