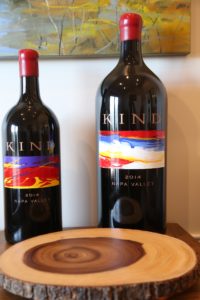 Kind Cellars – For David Yorgensen, the art and science of wine making is intensely personal. While never formally trained in winemaking he has dedicated his life to a passionate perseverance of fine tuning his craft. He grew up in New England, earned a degree in Fisheries & Wildlife and then ultimately became interested in wine. Finally deciding upon a career change, he moved to the Napa Valley in 2004 to become a winemaker.
While not owning any vineyards himself, he works very closely with small family-owned vineyards – establishing close grower and vintner relationships.
In the winery his attention to detail is great. He believes in a minimalist approach to wine making – preferring to avoid contact with the wine as little as possible. He keeps barrel samples and racking to a minimum. He believes in showcasing a vineyards fruit – producing wines with all-natural acidity and bottling the wine unfined and unfiltered. He likes texture and mouth feel in his wines – and looks for character, a uniqueness that expresses the terroir of a certain vineyard. It wasn't long after moving to the valley that he released his first wine – in 2005.
David is not afraid of using oak either on his white or red wines. As he says, "there is not something as too much oak, rather the challenge is in finding fruit that will hold up to the oak". He has been fortunate to work with a number of very small premium French coopers, one of which produces less than 7000 barrels a year.
Select Wines
The 2009 Kind Cellars Chardonnay was the first wine Kind Cellars released of this variety. The bouquet reveals pomelo, along with tropical overtones, honeysuckle, baking spices and toasted oak. The mouth feel is rounded and strikes a good balance between weight and acidity. Vanilla bean/banana and baking spices linger for some time on this long finish.
This wine is a good example of what David describes of lees "as being an incredible tool in wine making". Besides being a natural fining agent, careful lees management certainly can add complexity and weight to a wine. He often equates wine with music – some wines are like a jazz trio with music that is light and lively with clear and definable notes. However, he relates this wine more to a symphony experience where the notes are blended together, the sum of the parts creating something powerful.
His flagship wine is a proprietary red, a Cabernet Sauvignon based wine (blended with a bit of Cabernet Franc). David doesn't necessarily strive for a "sameness" or consistency in his wines each year – although he tends to source fruit from the same vineyards each year. Rather he is more focused on showcasing the varietal characteristics and or the vintage variation from year to year. The 2007 Kind Cellars Proprietary Red shows both floral and dark fruit notes on the bouquet. The rich aromas are meaty, savory and seductive; black fruit dominates. The palate shows dark fruit including blackberry, and black cherry. The finish is big and expressive lingering with fruit for some time.
The 2008 Kind Cellars Proprietary Red is just as inky dark and concentrated in color in the glass as the 2007 vintage, but aromatically shows brighter lively notes of fruit – somewhat floral in nature – black fig, sweet ripe red fruit aromas complemented with lesser notes of toasted vanilla. This is a balanced wine, yet in a big way. The fruit holds up to the alcohol and there is certainly some weight, especially on the finish.
Some wines can hold up better in the bottle after being opened than others; this is one of them. This wine did not drop off even after several days; it continued to develop additional nuances and complexities (including a softening of the tannins) as it was exposed to some air. The bouquet changes too – it becomes more integrated and elegant – notes of cherry liqueur develop. The ability to hold up remarkably well after a few days is certainly a characteristic of the quality of fruit and extraction. But, perhaps in part, this additional "life" can also be contributed to David's strict control on keeping his wine away from additional oxygen during its aging.
The 2009 Kind Cellars Cabernet Franc is his first standalone release of this variety. Historically David has used Cabernet franc for blending and his vineyard source produced so little that he never had more for a standalone wine. This is a lush mouth filling demonstration of what this variety can do. David does not like pyrazines (greenness) in his wines and this wine has none of that. The bouquet presents a cigar box, smokiness, dark fruit, lavender and a pleasing earthiness. This is a mouth filling wine – with blackberry, blueberry and dusty chocolate the lingers deliciously on the finish.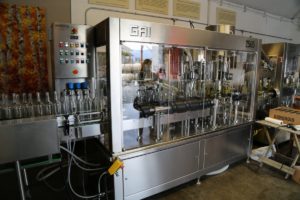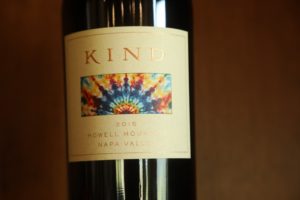 Two additional exciting wines for Kind Cellars (which were only produced for a short time) were a rare Howell Mountain Sauvignon Blanc from the Henry Brothers Ranch, a 17-acre vineyard located at about 1900 feet (and conveniently located close to where David lives) and an intense Syrah from the highest block in a vineyard over 2500 feet on the uppermost slopes of Mt. Veeder. This is from Lampyridae Vineyard, the second highest vineyard in the county and the highest vineyard in Napa that rises above the immediate valley floor. We had the privilege to try this rare wine – it is dark, inky, meaty and rich – a wine that will beg to have some age upon release. Only 120 cases were produced.
—
When David started researching names for his wine label, he discovered that the name "kind" was remarkably never trademarked. "Kind" reflects his philosophy on life – both positivity and negativity will come back to you. As he says, "life is too short to focus on the negative". In Hawaiian, the pidgin phrase, "da kine" is also a word that references "high quality" or premium products.
David has no retail presence whatsoever – it is rare to find a Napa producer who maintains a wine club for such a small production. His annual production is around 500 cases – but he does make a wider variety of wines than most small producers of this size. These are small lot, hand crafted wines – each production is usually no more than 120 cases. His wine is only sold direct in allocations of either 12 or 24 bottles per year. David enjoys the personal relationships that come around wine – and tries to meet all his customers in person. Serious enthusiasts can contact him directly – visit: www.kindcellars.com
Note: David now makes his wine at a small established winery near Howell Mountain (prior home to several wineries).
One of the most picturesque vineyards in Napa, the Henry Brothers Ranch , now owned by AXA Millésimes, the owners of nearby Outpost Winery.