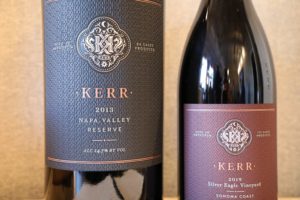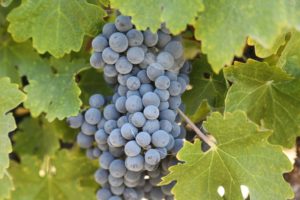 Kerr Cellars was founded by long time LPGA golfer Cristie Kerr (winner of two major championships and 18 titles) with the focus on sourcing fruit from some of Napa and Sonoma's finest vineyards. Cristie is as serious about wine as she is about golf. She has already passed the level 1 curriculum while studying for the Court of Master Sommeliers.
Cristie was born in Miami and began playing golf at age 8. She turned professional in 1996 at age 18 directly out of high school. Her first LPGA victory was in 2002 and in the years following she became one of the top golfers in the world winning a number of LPGA events and other championships. By 2010 she was at the top of the leaderboard in Women's World Golf Rankings.
Founding winemaker of Curvature Wines, Sally Johnson (Cristie and Suzanne Pride's premium label created to fund Breast Cancer research) was a classmate of winemaker Helen Keplinger when both were students at UC Davis. Sally introduced Helen to Cristie and Helen has made every vintage of the Kerr Wines since their inaugural release of 2013. Helen was born and raised in Ohio – and grew up with parents who enjoyed wine, travel and the outdoors. Helen recalls collecting wine bottles (empty ones) when she was a child. But her interest in wine did not come until later. After graduating from Smith College in Massachusetts she was on track to go to medical school. Working for nearly two years with researchers at Massachusetts General Hospital (Harvard Medical School) she found the work intriguing, but it wasn't a passion and considered the work more of a 'job'. Discovering wines through one of the Big Y Wine stores in Western Massachusetts Helen began to explore a variety of wines from different regions around the world.
Needing a break from work she took a year off and moved to Thailand – teaching English to children in a small town well north of Bangkok. Upon returning to the states, she began applying to a number of medical schools – and also applied for positions at several wine labs (although she never heard back from any of those). Her interest in wine was further piqued after reading M'Lady Vine, the memoirs of Baron Philippe Rothschild. Discovering the graduate program in Enology at the University of California Davis – Helen decided to abandon her medical school plans and applied and was accepted at UC Davis.
Helen's first job in Napa Valley was working in the lab at Mumm Cellars. She has since built a remarkable wine making career focusing her efforts on Napa Valley. She was winemaker at Bryant Family Vineyards, Grace Family Vineyards among others and throughout her career has worked with some of the brightest winemaking minds in the valley including Heidi Barrett and David Abreu. She has been featured in numerous publications over the years and has been named "Winemaker of the Year" several times by Food and Wine Magazine. In addition to consulting for clients, she also operates Keplinger Wines in conjunction with her husband DJ Warner.
Select Kerr Wines
The 2019 Kerr Chardonnay Sonoma Coast is a blend of two vineyard sites: UV Vineyard and Lucky Well Vineyard (both planted by the late Ulises Valdez Sr). This wine is medium gold in the glass; the bouquet offers an intriguing diversity of aromatics including honeysuckle, citrus blossom, honeycomb and a more subtle but still present sweet scent including of vanilla. The palate is bright and refreshing, tempered slightly by its light creamy texture. Flavors include pomelo, red apple and lemongrass. This highly flavorful wine drinks very well by itself but is meant to pair with food (unlike more buttery and oaky California Chardonnays). It spent 16 months aging in 30% New French oak and went through full malolactic fermentation.
The 2022 Kerr Cellars Napa Valley Sauvignon Blanc is a blend of 30% Sauvignon Musqué, 55% Sauvignon Blanc and 15% Sémillon. This wine was whole cluster pressed into 100% neutral French oak barrels where it started and completed its primary fermentation. It was also aged in neutral French oak barrels for 7 months sur-lies with battonage occurring once a month. This bottling is light to medium straw in color; it smells fresh and floral. The first aroma that we noted was honeysuckle followed by pineapple. It also shows scents of citrus and dried hay. Bright. Minerally. Flinty. Balanced. The palate is driven by its citrus flavors including lemon and pomelo along with slightly under ripe guava. Lovely acid. Energetic and mouth watering finish. Each previous sip invites another. We tasted this outdoors, in the the Napa Square Courtyard next to the Kerr Cellars tasting room on a pleasant Napa summer evening while enjoy the moment yet simultaneously wishing we were on the beach in Tahoma on Lake Tahoe's westshore.
The 2016 Kerr Cellars Sauvignon Blanc is a "thoughtful wine" according to Helen, referring to the level of detail and attention that went into crafting this beauty. It is an intriguing wine on many levels and certainly is not a traditional Napa Valley Sauvignon Blanc. The wine is a blend of Sauvignon Blanc, Sauvignon Musque, Sauvignon Vert and Sémillon. The vineyard sources are varied and carefully chosen including from several historic sites (Tofanelli Family Vineyard & Nichelini Winery) to Stagecoach Vineyards and a vineyard in the Oak Knoll District. It is clear that this is a wine Helen enjoyed making – it is a wine she refers to as being "playful and serious at the same time, a wine that has both freshness but dimension along with weight and drive". The wine was barrel fermented and aged for texture and freshness (no stirring of the lees). It is a wine that can age as well.
This vintage is straw yellow in the glass – showing a depth of aroma including floral notes (honeysuckle), lime zest, citrus blossom and mineral notes. Silky and rounded across the palate, this wine offers a pleasing textural appeal but without being heavy. Superbly balanced throughout the palate, this wine is simply fun to drink by itself. It shows flavors of red apple and stone fruit framed by excellent acidity but no tartness that this variety is often associated with. Features a lively long finish.
The 2021 Kerr Cellars Sonoma Coast Pinot Noir was sourced from the Valdez managed Silver Eagle Vineyard in neighboring Sonoma County. This wine was made from 3 clones: 45% Calera, 42% Pommard and 13% VR. The grapes were fermented in a stainless steel open-top tank with 45% whole cluster. It spent 10 months aging in 100% French oak of which 33% was new. This wine is medium ruby in color. The nose offers aromas of white pepper, old cedar wood and black licorice. The word savory would be an appropriate adjective to describe the aromatics. This savoriness is also mirrored on the palate with a thread of darker spice running its length. This wine offers flavors of cherry cola, dark raspberry, red licorice and dark mulberry. Lots of fruit. The tannins are lightly grainy and continue to persist more on the front of the palate than the rear on the long finish. While tasting this wine we envisioned pairing it with any of a number of sausages produced by California's central coast based Zio Brand Meats and Sausages – preferably with one of their spicier products and ideally on the 4th of July at a party with friends and family.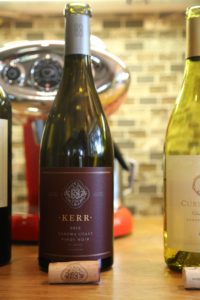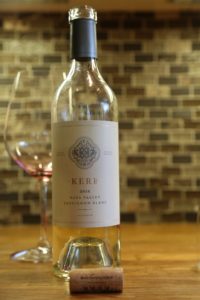 The 2019 Kerr Cellars Beckstoffer Georges III Cabernet Sauvignon (100% varietal) was aged for 22 months in 100% new French oak barrels. This bottling is deep ruby and almost opaque in glass. The bouquet is straight up brooding right out of the bottle, accompanied by meaty, mushroomy, woodsy spices, dried tobacco leaf and dark fruited scents. This wine offers plenty of layers and aromatic depth. The scents of blackberry and boysenberry become more expressive as wine opens in the glass. The palate features a diversity of baking spices including clove, cardamom and nutmeg. It's fruit includes blackberry and dark cherry. Intense flavors. The pixelated, grippy and long-lasting tannins are broadly distributed across the palate framing a dark fruited and savory spice filled finish. Those who love wine and steak will most certainly find themselves being pulled in by this bottling.
The Kerr Cellars 2015 Pinot Noir is sourced from the Sonoma Coast (from cooler sites within this large appellation). Highly aromatic shows notes of dark cherry, orange peel, kumquat and earth driven nuances (Helen mentioned a peat type aroma). The bouquet shows plenty of bright fruit including raspberry along with hints of cedar. Balanced with depth on the palate, the tannins are noticeable but fairly silky in texture. We love the finish on this wine – savoring its length.
The Kerr Cellars 2015 Reserve Red is a blend of both Cabernet Sauvignon and Merlot from two exceptional vineyard sites – the Cabernet Sauvignon (55%) comes from the Beckstoffer owned and managed Missouri Hopper Vineyard in Oakville (one of Beckstoffer's six Heritage Vineyards in the Napa Valley – premium sites with history) and the Merlot (45%) is from the Nine Suns/Houyi Vineyard on Pritchard Hill. Dark ruby in the glass immediately offers darker fruit aromatics – it is somewhat savory, a garrigue quality perhaps from the contribution of the Pritchard Hill terroir and accompanying chaparral – dried herbs, sage and thyme. Shows plenty of fruit aromatics especially as it has time to breath including black fig and black cherry. The bouquet has depth and opulence; so, does the palate. Balanced with polish yet big with power at the same time one of the palate's most appealing characteristics are the feel of the tannins. Seamless and well-integrated on the finish these fine-grained rounded tannins complement the long-lasting flavors of fruit.
All these wines are distinctive with their own personalities. The production of Kerr Cellars is small – usually around 1000 cases. The wines are available through the website and at select restaurants and country clubs and have been served on Emirates Airlines and at notable restaurants such as the French Laundry in Napa Valley and Per Se in New York City. The wines have also been served at the White House. And in a collaboration with Scotland based Loch Lomond Whiskey, Kerr Cellars produced a 2002 limited single malt scotch whiskey which was aged in formerly used 2016 Kerr Cellars Pinot Noir wine barrels. And this vintage was produced in particular to celebrate Kristie's first wine in 2002 in the LPGA tournament. This bottling is was released in 2019 and is sold through several fine online retailers as well as may be available at the Kerr Cellars tasting room.
Curvature Wines
The focus of Curvature is on producing premium wines from both Napa and Sonoma sources – with proceeds from the sales of the wines used to fight breast cancer. This is a collaboration between Cristie and Pride Mountain Vineyards co-owner, Suzanne Pride Bryan. Both Cristie and Suzanne have been affected by cancer. Cristie's mother, aunt and godmother fought this disease. Witnessing their struggles, she decided to fight back; in 2003 she founded Birdies for Breast Cancer to raise money in the fight against the disease. Her efforts with Birdies for Breast Cancer have to date raised over 4 million dollars and her fundraising work helped found the Cristie Kerr Women's Health Center at the Jersey City Medical Center (having helped over 20,000 women with breast cancer). Cristie also oversees the annual Cristie Kerr Foundation's Birdies for Breast Cancer Presents Celebrity Golf Classic.
Suzanne's father Jim, co-founder of Pride Mountain died far too early from bladder cancer – the Prides supported Stanford research that identified the particular gene that caused his cancer (and continue to support cancer research at Stanford through proceeds from the sales of Curvature wines).
Cristie visits Napa Valley 4 to 5 times a year and has earned a unique title, "Chief Tasting Officer". When critical blending decisions need to be made and she is not in the valley, wines are sent overnight for her to taste. Her wines are not quick to market – with the Cabernet Sauvignon often seeing up to 18 months in bottle before even being released.
Select Curvature Wines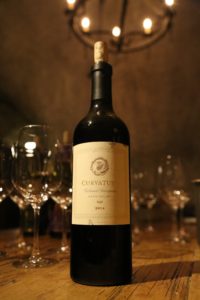 The 2016 Curvature Chardonnay was sourced from the famed Bacigalupi Vineyard in the Russian River region of Sonoma County. Well-known for being one of the sites that supplied the grapes for Chateau Montelena's 1973 Chardonnay which won in the Paris Tasting of 1976 (French judges chose mostly Napa wines over wines from their own country). This wine is golden in the glass; it reveals a diversity of intriguing aromas including tropical nuances (honeysuckle), dessert spices, a tangerine zest and an inviting sweetness of fruit. Rich and rounded this is a very flavorful showing. Finishes with plenty of length – packed with flavor and just a hint of vanilla. This wine was entirely barrel fermented using 50% new oak. 50% of the wine went through secondary fermentation.
The 2019 Curvature Cabernet Sauvignon is a blend of 80% Cabernet Sauvignon, 15% Merlot and 5% Petit Verdot. It was aged 22 months in 100% French oak of which 75% was new. This wine is deep ruby and almost opaque with a light amaranthine rim. This bottling offers plenty of fruit up front including blackberry, boysenberry, plum and a ripe thread most resembling prune juice. There is also a layer of chocolate and Graham cracker. Hedonistic would not be an inappropriate word to describe its aromatic expression. The palate is filled with fruit including of dark plum and blackberry with a companion pipe tobacco sweetness. The tannins are gentle with a creamy texture framing a supple finish. This is clearly a crowd pleaser bottling and is very approachable in its youth.
The 2014 Curvature Cabernet Sauvignon (sourced from Stagecoach Vineyards on Atlas Peak) along with a tiny bit of Merlot from the Oak Knoll District shows a highly appealing bouquet focusing on fruit aromatics rather than barrel influences. It is deeply layered with aromas of blackberry along with a kiss of cedar and dessert spice. Feels nice on the palate showing a bit of dustiness along with flavors of blackberry. Good acidity with a slight chewiness of tannins on the finish. Sally loves the varietal characteristics that the fruit from the Stagecoach Vineyard brings to this wine.
The 2015 Curvature Cabernet Sauvignon shows a smoky elegance on the bouquet complemented by darker fruit, hints of baking spice, dust and blackberry and boysenberry. Very bright aromatics. Juicy on the palate with mouthwatering acidity showing more red fruit then darker fruit on the finish. Flavors of plum and hints of cedar. Somewhat tight tannins (but not gripping) in their youth anchor the long finish. A very food friendly wine.
—
Production of Curvature Wines is small – usually around 1000 cases. The wines are available through the website and at select restaurants and country clubs and have been served on Emirates Airlines and at notable restaurants such as the French Laundry in the Napa Valley and Per Se in New York City.
Tasting Room, Napa
In late 2022 Kerr Cellars moved into an existing tasting room in downtown Napa. This space was previously home to several prior Napa Valley based winery occupants including purCru, J. McClelland and Robert John Vineyards. Every occupant has put their own interior décor touch on the space. The most recent iteration is the most elegant and contemporary. It is located in the small Napa Square Courtyard almost directly across the street from the Andaz Hotel in downtown Napa and across from Oenotri Restaurant.
The space features a tasting bar but is also somewhat setup like a tasting salon. Appointments must be made for private tastings and they do not keep regular hours, but when open they will see walk-in visitors. A side room can be reserved ahead of time for private tastings or small special events. And sometimes they work with Oenotri to help cater small bites for special events. While their is no restroom within the tasting salon, a side door leads to a corridor and a shared bathroom used by some of the tenants of the building.
For more information, to purchase wines from either Kerr Cellars or Curvature, to schedule a tasting and to join their wine club, visit: www.kerrcellars.com.