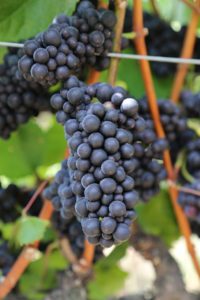 Kent Rasmussen Winery. For many years, Kent Rasmussen owned two wineries; his original winery in Carneros (the sub appellation south west of the city of Napa) and the much larger winery along the Silverado Trail near St. Helena. Kent leased his St. Helena winery to another producer winery for several years, but has since sold this winery and accompanying property. They have no tasting room and are not open to the public.
This winery was founded by Kent Rasmussen with their first commercial release from the 1986 vintage. This is truly a family owned and operated winery (Kent and his wife Celia – an accomplished singer) with Kent making all the wine since their first vintage in 1986. Kent is a former librarian who later decided he wasn't up for the "indoor" life but was already making home wine in the evenings and after work. He and Celia moved up from the San Francisco Bay Area, borrowed $20k and set about planting vineyards and setting up shop in the Napa Valley. Today $20,000 will hardly get you a few tons of the most premium Cabernet Sauvignon grapes in the valley!
Their focus is on his favorite variety, Pinot Noir. They own 15 acres of vineyards in Carneros not far from the San Pablo Bay, all planted to Pinot Noir. The vineyard was planted in 1979 making it one of the earlier Pinot Noir vineyards in this part of Napa. Kent remembers standing in his vineyard and looking out at grazing land in all directions. Today in Carneros one is hard pressed to find any grazing land among the rolling sea of vines. The Carneros region became highly sought after for cooler weather varietals such as Chardonnay and Pinot Noir in the 1980's.
Their "up valley" winery and surrounding property (near St. Helena) was purchased in 1995 and was used for many years as their production facility. However their real "roots" so to speak are in the Carneros where they originally made wine. They currently produces their wines at Ca'Momi Winery – a production facility located slightly south of the city of Napa.
Pinot Noir comprises about 70% of their total production; this is their flagship wine. They currently offer two different labels: Kent Rasmussen wines – all from Napa Valley vineyards and Ramsey, which includes affordable wines mostly from North Coast vineyards (Mendocino and Lake Counties to the north of the Napa Valley). Most of their wines are produced under this label which is about 30,000 cases.
They used to produce a third label called Esoterica. The flagship wine of this label was a Petite Sirah; several other non-mainstream very limited production wines were also produced, often included varietals from Napa and beyond that only the most serious wine lovers will have heard of. For example, Touriga Nacional, Sousao (both Portugese varietals) and Carmenere (originally from Bordeaux, France). Some of their past vintages have included a late harvest Viognier and a rare Napa grown Riesling. The word Esoterica means "secrets known only to an initiated minority": well the secret is out on these wines. Combined with their small productions and uniqueness they often sell out rather quickly.
We tried the 2006 Kent Rasmussen Chardonnay sourced from Rutherford. It should be pointed out that for any fruit sourced, Rasmussen locks up vineyards in long term contracts thus ensuring the consistency of the terroir each year. Due the abundance of Chardonnay in the Napa Valley and the scope of our project we have tasted more than our fair share of this varietal. As a result, it is always refreshing to find a take on this varietal that is slightly different than what we are used to.
This wine was was barrel fermented (both the initial and the malolactic) and aged for about 7 months in American oak (50% new, 50% used). A portion of the wine was fermented very cold to help retain additional fruit flavors. Is this wine "oaked" as you would think it would be, both in aroma and on the palate? Not so at all. Golden colored in the glass, it features a crisp quality on the palate. It is not overly creamy; tropical aromas include honeysuckle on the bouquet – especially as the wine continues to breathe. The palate is refreshing with plenty of fruit including apple and even a touch of stone fruit flavors.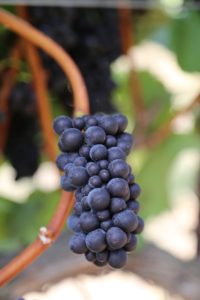 The 2006 Kent Rasmussen Estate Pinot Noir is their flagship wine. It is quite dark for a Pinot Noir and is sourced from some of the oldest Pinot Noir vines in Carneros (their own vineyard). It has a wonderful herbal, somewhat floral bouquet with lots of fruit showing through – primarily raspberry. Balance is the key to this wine as in… it is perfectly balanced! The mouth feel is rich, smooth and rounded, anchored by pretty fruit on the slightly spicy finish. This is an ideal food wine; think of anything tomato based to pair it with.
We have slowly been developing our palate for Pinot Noir which is harder than you think as the focus of this project entirely on Napa Valley produced wines – of which Cabernet Sauvignon dominates. There are certainly fewer Napa Valley based Pinot Noir producers in comparison to the hundreds of Cabernet Sauvignon producers in the valley. However, this is definitely one of the nicer Napa Valley grown and produced Pinot Noir wines we have tried.
If you would like to pick up some wine, one should call ahead to make sure someone is at the winery. By in large the majority of their wine is sold only through distributors and as of the time of this review, they typically do not sell direct to the consumer.
However sometimes one can find their wines in select markets – in about 35 states and locally at Whole Foods in the city of Napa. For more information, visit: www.kentrasmussenwinery.com