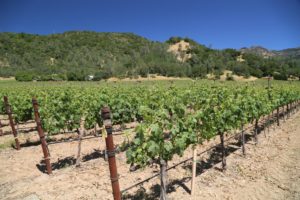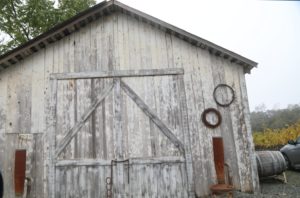 Kenefick Ranch is a family run vineyard and wine producer located near the small town of Calistoga in the northern part of Napa Valley at the base of the nearby lower hills of the Vaca mountain range. While somewhat hidden, this part of the valley is home to several old head-pruned vineyards and notable producers including Eisele and Kelly Fleming. The brand was founded by Dr. Tom Kenefick (died in 2021); he graduated from the University of Minnesota Medical School and then spent his residency at the Mayo Clinic. He moved to San Francisco in 1969. While enjoying a successful start of his career working as a neurosurgeon (later Chief of Neurosurgery), he took his first trip up to Napa Valley in 1970. Falling in love with the region he purchased 250 acres in 1978. At that time, the property was already planted to vines, mostly to head pruned Italian varieties but was not being maintained very well – the owner was still managing the vineyard rows with a horse-drawn plow.
Recognizing the correlation between his own career by improving people's lives through surgery he became focused on the challenge of enhancing the quality of his "new" vineyard. Over time (driving back and forth on the weekends for many years) Tom slowly upgraded and developed his vineyards into a much sought after fruit source and today sells grapes to other premium producers and wineries. Eventually Tom replanted all of the vines on the property – focusing primarily on Bordeaux red varieties but also some unusual for Napa Valley, white Rhone varieties like Grenache Blanc and Marsanne.
For many years, Tom lived on the ranch, literally surrounded by grapevines and did not have to commute in years. Tom enjoyed vineyard work late in life but stepped back from physical activities in his later years. Fortunately, his children have joined the business; his daughter Caitlin helps with marketing, branding and sales events and for some years Chris oversaw their national sales program; Chris is now CEO and proprietor of Kenefick Ranch.
Approximately 125 acres are planted to grapes (all certified Napa Green and Fish Friendly Farming ™) – about 10% of the grapes are not sold and are used for their own wines. In 2002 Kenefick Ranch produced their first commercial vintage under their own label. When we first met with the team years ago, they were only producing several wines but have since expanded their portfolio significantly.
Their winemaking philosophy is to creature a balance between high alcohol fruit forward wines which are complemented by bright acidity; despite the higher alcohol, their wines are always lively and fresh in their youth. A big part of that is tied to their canopy management in the vineyard and careful harvesting decisions, often picking slightly earlier for lower sugar levels but while reaching a phenological ripeness.
Select Wines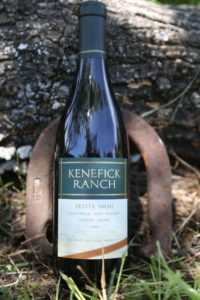 Grenache Blanc originated in Spain and is also commonly found in Rhone white blends. Several other Napa Valley based producers craft wine from this variety, primarily from fruit sourced from Somerston Ranch. The 2019 Kenefick Ranch Grenache Blanc is medium to deep gold in the glass; offers beautiful aromatics of apricot, yellow peach, baked apple, ripe pear, mango, papaya and a subtle vanilla and toffee note deeper in the bouquet. As the wine breathes further the aromas quickly become more citrus-like showing lemon zest and orange blossom. This wine features a slightly rounded mouth feel, rich flavors which are complemented nicely by bright acidity. Across the palate are notes of Golden Delicious apple, passion fruit and pear; lingers with a tangy brightness of acid and citrus notes including tangerine. Sports a mouthwatering finish. We enjoyed this with fresh asparagus cooked simply in olive oil, soy sauce and a a few drops of lemon.
The 2019 Kenefick Ranch Sauvignon Blanc is deep straw in color; everything about this bouquet evokes memories of springtime, sunshine, warming days, cool nights. It is floral with aromas of citrus blossom. It is someone on the back of a lawn mower, gliding across the grass leaving that wonderful smell in their wake, it is rubbing one's fingers across a fresh Kaffir lime. One can certainly smell the varietal characteristics in this wine. Rich, yet nicely balanced, the palate delivers flavors of pomelo, kiwi, gooseberry and tangerine with a lemon/lime finish. Not tart but showcases a bright acidity and liveliness. Nicely done and highly representative of a contemporary Napa Valley style of Sauvignon Blanc balanced between a greener grassier showing of this variety and characteristics resulting from a warmer climate.
The 2017 Kenefick Ranch Cabernet Franc, Caitlin's Select is deep ruby in color; smells comforting like being inside a warm house in front of a fire with friends and family after a large meal with smells from the kitchen of freshly baked desserts. The aromatics are a pleasing mix of both fruit and dessert spices including ripe blackberry, boysenberry, dark licorice, Graham cracker, mocha and espresso. Shows an intensity of flavor; the palate is high octane including notes of plum, blackberry and darker chocolate. Juicy, mouthwatering and savory, this wine also offers flavors of freshly crushed peppercorn, cedar box, dried herbs and a moderate grip of persistent, gravelly in texture, and slightly drying tannins. From the bouquet alone, we would not be able to pick this out as dominated by Cabernet Franc (the blend is 86% Cabernet Franc, 7% Petit Verdot and 7% Merlot). This wine was barrel aged in 100% French oak for 18 months, of which 65% was new and 35% neutral. The technical term for this wine is a crowd pleaser.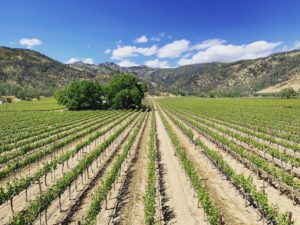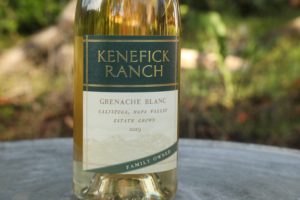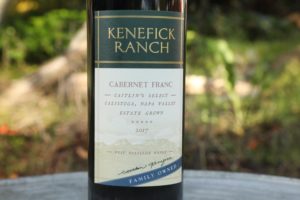 The 2017 Kenefick Ranch Merlot (100% varietal) is deep ruby in the glass; the aromatics are of dark ripe fruit including blackberry and boysenberry, ripe pipe tobacco, licorice, brown chocolate, mocha and espresso. Also, some dessert spice notes of clove, nutmeg and cardamom. Juicy and lively across the palate, offers flavors of blackberry, raspberry and red cherry. The finish with dark, chewy tannins of medium grip accompanied by mouthwatering acidity. This wine was aged for 18 months in French oak and bottled unfiltered and unfined (we noticed tiny tartrate crystals lining one end of the cork).
The 2013 Kenefick Ranch Petite Sirah cannot be seen through in the glass – in other words, this wine is inky dark. The aromatics are savory, meaty, brooding and dark. Give this wine time to breath and the initial rustic nature disappears revealing plenty of aromatic depth including a showy mélange of ripe plum, boysenberry, black licorice and cassis. Also, some darker spices on the fringes of the bouquet – including touches of pepper. A very subtle hint of caramelized sweetness. Great acidity, mouthwatering. Shows an intensity of fruit across the palate without gripping tannins that this variety is often known for. Rather the tannins are gravellier and more rounded in their feel – lingering along with notes of mocha. Seven years post vintage date has certainly been a factor in helping smooth these out. This wine was aged for 18 months in French Burgundian oak of which 10% was new and 90% was neutral. Only 190 cases were made.
The 2004 Kenefick Ranch Cabernet Franc is one of the nicer Cabernet Francs we have tasted from Napa Valley. Sometimes Cabernet Francs are associated with vegetal or bell pepper characteristics. Not so with this wine. Their Cabernet Franc is a reflection of where it is grown and the type of climate that Kenefick's vineyards experience. The nose is complex with various spices and hints of cedar; the smooth tannins do not overwhelm the darker fruit flavors on the palate. It has a very velvety mouth feel.
The 2012 Kenefick Ranch Chris's Cuvée (named after Tom's son) is a Cabernet Sauvignon based blend – aromatically it shows a nice mix of complexity both fruit (blue berry), raspberry and leather notes and violets. There is a sweetness of fruit and oak tannin – the tannins are somewhat gravelly/earthy. The wine does not overwhelm your palate – rather it is refreshing and balanced. Very food friendly.
The 2004 Kenefick Ranch Cabernet Sauvignon is a dark wine with an appealing bouquet including touches of chocolate and some vanilla imparted from the new French oak aging. The tannins are mild, and the fruit flavors include ripe cherry and plum.
Their wines are very reasonably priced and hold up extremely well in competitions in which the other wines are often priced significantly higher. Some of the grapes used to make their Cabernet Sauvignon was also used in a Behrens Family wine (a local winery) which was awarded "wine of the year" in a Sunset Magazine "Western Wine of the Year" competition.
—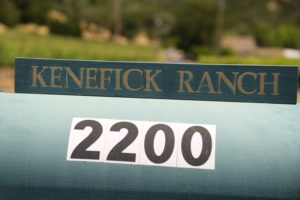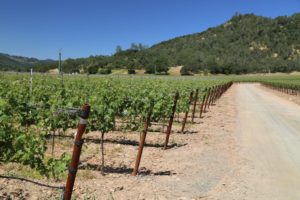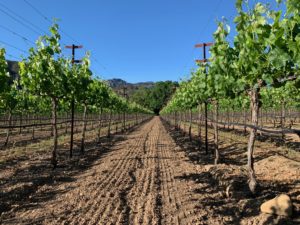 We originally visited with part of the team at their office/house at the vineyard and then later at a shared tasting room called Up Valley Vintners in downtown Calistoga where Kenefick Ranch was one of the wines represented. However, this tasting room closed in late 2016.
For a short while, Kenefick Ranch wines were available for tasting in the tasting room at Fairwinds Estate, located next to the Silverado Trail, just south of Calistoga; the tasting room on the property burned down in the Glass Fire of 2020. As of our latest update to this review, Kenefick Ranch is making their wines at Fairwinds Estate. Visitors to the valley possibly can taste the Kenefick Ranch wines inside the Fairwinds Estate cave (although we need to verify if this is still offered). Appointments are required for private tastings of Kenefick Ranch wines.
Plans are underway to build their own tasting room – hopefully to open by 2025. Once it does open, we will visit and significantly update this review.
Kenefick produces only about 1500 cases annually and has national distribution in select markets. In the valley, one can sometimes find their wines at Cal Wine Mart in Calistoga and at the well-regarded Solage Resort (Solbar) just south of the town of Calistoga. Kenefick Ranch also maintains a mailing list which as of the time of this review is still open to new customers. For more information or to join their wine club, visit: www.kenefickranch.com
NOTE: this review has been identified as needing an update.