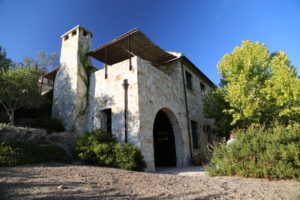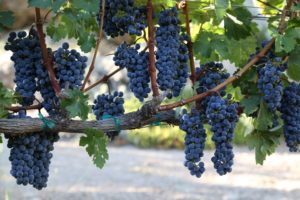 Kelly Fleming Winery is located in the northern part of Napa Valley, nestled in the narrow Simmons Canyon against the steep hillsides of the Vaca mountain range. From this part of the valley, one hardly knows they are in Napa Valley. Rugged hillsides, narrow secluded canyons and forested slopes all form the backdrop for Kelly Fleming's nearly 12 hillside planted acres of Cabernet Sauvignon. Four acres of vines were burned in the Glass Fire of 2020 but have since been replanted. This is prime Cabernet Sauvignon country and nearby neighbors include Eisele Vineyard and Hundred Acre. And in 2021, Four Seasons Resort and Residences Napa Valley, opened in Calistoga, a less than 5-minute drive from Kelly Fleming Winery.
Kelly founded the winery in 2002 after she and her then husband Paul purchased the property in 1998. Paul was the co-founder of Fleming's Prime Steakhouse & Wine Bar; the first Fleming's is still operating in Fashion Island in Newport Beach. He also co-founded P. F. Chang's China Bistro. Kelly was born and raised in Lake Oswego (a suburb of Portland) in Oregon, later attended college in Manhattan (Cooper Union College) to study fine arts and then eventually began a career in restaurant design.
She visited Napa Valley for over 20 years and like many others before her fell in love with the natural beauty and lifestyle of the wine industry. Soon after their purchase the property was planted with various Cabernet Sauvignon clones on an assortment of rootstock. This particular hillside soil is extremely rocky and well drained. As a result, cover crops and the addition of organic layers to the surface are extremely important which help with both erosion control as well as ensuring the soil retains additional moisture. The vineyards are certified CCOF organic.
Because of their very rugged and natural surroundings, the estate often has visits from wildlife including foxes and sometimes a local bear.
As Kelly says, "building a winery and brand come in small steps". She made these steps one at a time. Initially Kelly Fleming wine was made Laird Family Winery in the south part of the valley but with the completion of her 3,500 square foot caves, all wine making operations moved on site in 2010. The 5,000 square foot stone winery building was designed by San Francisco based Taylor Lombardo Architects. Both arms of her cave were drilled through solid rock so the shotcrete covering typically used in wine caves wasn't needed except at the entrance (to protect against dripping water). Natural rock is exposed in the rest of the caves. These were not easy caves to drill; the drilling took nearly 2 years (much longer than expected) because of the intensity of the compressed volcanic ash.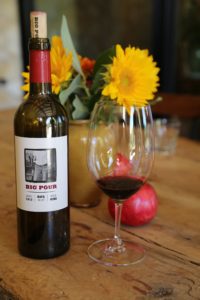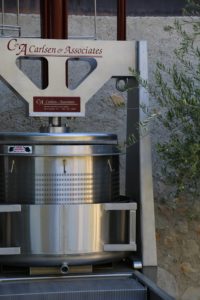 The entire property is 300 acres; the vineyards are only a small portion of the total acreage. And much of the property cannot be planted due to county slope ordinances. Kelly is a firm believer in creating a healthy balance between her vineyards and the natural environment. Beehives have been introduced to the property, a native plant reseeding program is in place and plans call for solar generated power to be added (will replace a small block of vines). Parts of the property are planted to olives, figs and gardens. Small amounts of olive oil are produced each year and sometimes, depending on the activity of black bears, a tiny amount of fig jam is also produced.
It is often breezy in this area from steep canyons that rise dramatically behind the property. One advantage of this over the valley floor is these winds mitigate stagnate air and colder temperatures which can produce frost damage during and after bud break.
Kelly Fleming's first vintage was in 2002 with merely 300 cases released several years later; since then, each vintage has grown slightly but they do have the capacity to increase production. They focus on three wines each vintage, a Sauvignon Blanc (sourced from several premium vineyards in Napa), a rosé of Cabernet Sauvignon made with just a few hours of skin contact, but with excellent texture and richness of flavor, Big Pour, a red blend which varies in varietal percentages each year (and has an intriguing accompanying story in reference to its catchy name), and a 100% varietal Cabernet Sauvignon.
Kelly was the only "face" of the winery for many years; the team is still very small with son Robert and daughter Colleen involved as well as a tiny wine making and hospitality team. Colleen also founded and operated the well-respected Cadet Wine Bar in downtown Napa, tucked in a little alley just off of Franklin Street. Colleen has since sold Cadet. This is a cool place to hang out in the evenings, especially for industry folk and it often hosts special winemaker led tastings. The bar is well stocked with both beer, wine and spirits but perhaps somewhat surprisingly there are no bottles from Kelly Fleming sold here. Cadet is one of the few places in downtown Napa that stays open late. And in late 2023, the current owners of Cadet opened Chispa Bar, also in downtown Napa – a space that serves a variety of Tequila along with seafood and various bar bites. More information coming soon.
Select Wines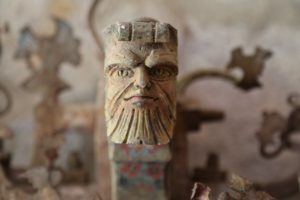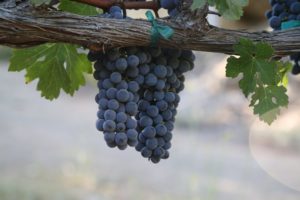 The Big Pour is a newer wine to the portfolio. Kelly earned the nickname "big pour" while visiting Domaine de la Romanée-Conti (one of Burgundy's most storied Pinot Noir producers). Her command of French is not so good and while tasting these special, and expensive wines, the host thought he heard Kelly indicate that she wanted more wine. He then poured more wine in another glass and gave it to her. Someone else in the tasting quick with tongue and wit, simply stated "I want to be next to the Big Pour"!
The 2012 Kelly Fleming Big Pour shows a voluptuous nose that is generous with layers of fruit aromas including ripe blackberry, some intriguing spices, spicy plum, and notes of tea. Good acidity leads a mouthwatering finish. Darker fruit shows, along with notes of mocha and brown chocolate. The tannins feel nice on the palate and are not rough or with any sharp edges. This finish is long lasting. The labels for this wine are highly personalized and change each year. One year Kelly's sister took the photo for the label, and another is of Kelly standing with a rifle and their winery dog.
During one of our earlier visits, we tried the 2004 Kelly Fleming 100% Estate Cabernet Sauvignon. Every vintage, their Cabernet Sauvignon is always 100% varietal. All the Cabernet clones in this wine are picked separately based on individual ripeness and are also fermented and aged separately until the final blending. This wine is inky and dark in color which are normal color characteristics for hillside grapes and their often-higher skin to juice ratio as compared to valley floor grown grapes. As the wine opens up seductive aromas of ripe juicy blackberries are revealed along with exotic earth driven spices. The palate is rich and well layered with an intensity of fruit on the mid palate leading to a well-structured, yet simultaneous elegant finish.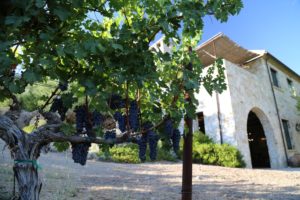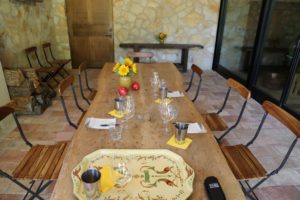 The 2013 Kelly Fleming Estate Cabernet Sauvignon shows a sweetness on the bouquet with a ripeness of fruit, but manages to keep a certain elegance of aroma at the same time. This bouquet is well layered and offers aromas of boysenberry, blackberry and sweet plum notes. The palate is generous with flavor as this vintage certainly was for Napa Valley as a whole, however this wine has excellent acidity to balance and match that intensity of flavor. The mouth feel is supple until the mid-palate with tannins showing up noticeably on the finish.
—
Visits are for serious wine enthusiasts and are always highly personalized. The winery is permitted to see a very limited number of guests each day, so tastings are always private for your own group. Tastings are held either in a semi-enclosed room, or inside their hospitality room; either place is ideal for relaxing while enjoying these some premium wines and at the same time overlooking their vineyards and the rugged natural landscape surrounding this hidden gem.
One can sometimes find their wines locally at ACME Wine shop in St. Helena; they selectively distribute a limited amount of wine to Switzerland and parts of Asia. Total production annually is around 3,000 cases. For more information or to join their mailing list, visit: www.kellyflemingwines.com
Winery/Hospitality

First Fleming's Prime Steakhouse & Wine Bar, Fashion Island Newport Beach