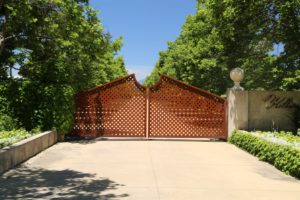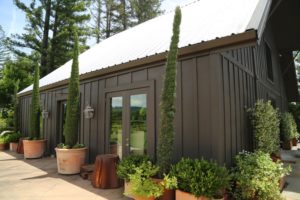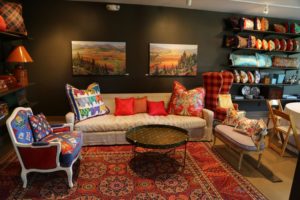 Kelham Vineyards is located on the midpoint of Zinfandel Lane just south of the town of St. Helena; visits are by appointment. This creative and intriguing family has spent years developing what was the old Shadow Brook Winery into a beautiful estate. Shadow Brook was originally founded in 1984 (the first harvest) by restauranteur Emil Hoffman who had originally purchased a house on Zinfandel Lane in 1972. He named the winery Shadow Brook in honor of a small creek that flows near the redwood trees on property.
Rawson and Susanna Kelham purchased the property in 1997. Their first wines were produced from the 1998 vintage, a Cabernet Sauvignon and a Merlot. At the time there were no vineyards planted here; they planted vineyards and unlike many wineries in Napa that outsource vineyard management duties, they have their own vineyard team. The St. Helena estate is planted to just under 11 acres of Cabernet Sauvignon vines. The family has also owned a premium vineyard in Oakville since 1956; today it is over 80 acres and is the source for their premium Cabernet Sauvignon wines. It borders what is arguably Napa valley's most second famous vineyard after To Kalon, Martha's Vineyard.
Their total production is around 4,000 cases – they have a permit to make significantly more wine as well as an existing physical winery that could support a much larger production if they wanted. However, they prefer to focus on producing limited quantities of premium hand-crafted wines and have not grown significantly despite having the vineyards sources to do so. They continue to sell grapes to other area producers.
The family's talents are clearly evident; Susanna has a background with interior design and has created an elegant standalone 'artists' salon with some of her own furnishings on display along with works from other artists including northern California based landscape artist Clark Mitchell. Kelham Vineyards also sells a number of prints by the French artist Gerard Purvis; they are the only distributor of his work in the USA. Gerard is an internationally renowned contemporary artist who is best known for producing original sculptures & prints made from wine bottle foils.
And Susanna maintains an often-updated lifestyle website focusing on the Napa Valley and the finer things in life called: Oh Susanna.
There are very few brothers working together to share wine making duties in Napa Valley; Ron and Hamilton Kelham worked together at Kelham Vineyards for many years until more recently. Both grew up in Napa Valley but neither have degrees in wine making. Ron has a degree in architecture from the University of Boulder and is responsible for designing the art salon, the winery and the landscaping among his shared wine making duties. Hamilton has a degree in hotel and restaurant management from when he studied in Switzerland – among his many contributions to the property is an impressive outdoor kitchen.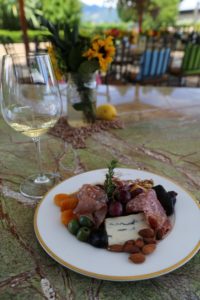 The estate combines a beautiful balance between functionality, hospitality, elegance and nature. Vineyards surround the winery and grounds. Tasting is either indoors or outdoors under a shaded canopy. If you carefully choose where you sit outdoors and face north – you may have nice views of Mt. St. Helena in the distance which rises near the town of Calistoga (Mt. St. Helena is the tallest mountain near the Napa Valley).
Food is an integral part of a visit – every tasting for 1-4 people includes a charcuterie plate with various cheeses and dried fruits. And the various meats and cheeses are an excellent accompaniment to their robust older wines. A four plated lunch can also be arranged and is catered by well-regarded Tre Posti based in St. Helena (think Italy meets Napa Valley). Advance notice of about a week is recommended for the lunch. Of note is that a family member will always serve you when you visit – either Susanna, Ron or Hamilton.
Note several of the restored 'grounded' ski gondolas on site. Hamilton loves to ski and often goes with groups of friends to the slopes. As often the case with work and play, he takes business calls when on the slopes and sometimes even while in the gondolas. His friends started referring to the gondolas as his new office. Hamilton started to think about the idea of turning a gondola into a real office. A gondola is not necessarily a common consumer purchase. He spent 5+ years searching for the right ones before locating several in Whitefish, Montana.
He shipped them back to St. Helena and had them restored. One sits on the wooden deck outside of their tasting salon and has been turned into a mini office. Now when Hamilton wants a feel of the ski slopes in St. Helena, all he has to do is step inside this gondola and take a few phone calls. He is planning on turning one of the other gondolas into a mini sauna.
Select wines/winemaking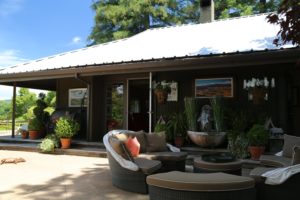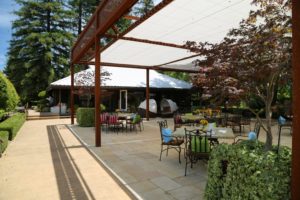 Kelham produces a number of fine wines with a focus on estate grown Cabernet Sauvignon. Unlike a softer, drink now style commonly made of this variety, the Kelham's philosophy has been to make Cabernet's that are extremely complex, bold and very high in tannins; these are wines that are meant to sit for 10 to 15 years before opening. As a result, it is these rarer and older wines that are featured on their tastings with their backbone reds (current releases) often 10 to 15 years old. These "big wines" out of the gate certainly need additional aging time before reaching the consumer and tend to age as well as or better than any Napa Cabernet Sauvignon we've tried in this age window.
The 2008 Kelham Vineyards Sauvignon Blanc reveals a spicy note complemented by pineapple aromas – the aromatics are bright and include honeysuckle and red apple. The wine is a pretty golden color in the glass. On the palate there is an appealing creaminess with some weight on the entry but finishes with a surprising crispness – a good balance of weight, acidity and flavor. A slight orange zest lingers delicately.
The Kelham Vineyards Napa Valley Rosé is a non-vintage wine made from a blend of Cabernet Sauvignon and Chardonnay. The Cabernet Sauvignon was made as a standalone wine and aged in barrel for two years and then blended with the Chardonnay. This color is interesting – a deep orange salmon hue. The bouquet shows aromas of wet cement, muddled strawberries, nectarine and just the tiniest hint of vanilla. There is a nice softness on the palate, creamy with some weight. This rosé is quite refreshing. The finish is rich in flavor, yet clean with notes of raspberry and orange.
The 2012 Kelham Vineyards Pinot Noir was a one-time made wine offered as a result of a trade. Ron and Hamilton maintain a number of vineyard and wine making contacts – they traded out some Cabernet Sauvignon for this eastern Oakville grown Pinot Noir. It is rare when we find a Pinot Noir in the Napa Valley grown north of Carneros (however, you can find them up valley if you know where to selectively look). This is obviously not a Russian River grown Pinot – the initial aromas are spicy raspberry with a pepper component along with notes of blueberry. As the wine breathes, additional baking spice aromatics show. The palate is earthy and features darker denser fruit than we usually find in regional wines from cooler climates of this variety. It is a big Pinot Noir with noticeable tannins and density of fruit on the finish.
The 2004 Kelham Vineyards Oakville Merlot reveals a wonderful diversity of aromas as the wine breathes. This wine has held up well – with notes of dark chocolate, a sage and herb component and a noticeable green olive or olive tapenade quality. On the palate there are flavors of black cherry and black olive. After 12 years, the fruit is still here but the tannins are even still more so. These mouth drying tannins linger for some time.
The 2012 Kelham Vineyards Oakville Cabernet Sauvignon is dark ruby in the glass and completely opaque; ten years after the vintage date at the time of our tasting the bouquet shows plenty of fruit including dark cherry, blackberry and boysenberry jam. There is a noticeable sweetness of the aromatics including notes of black licorice and cassis. As the wine evolves in the glass it offers some additional aromatics including of Graham cracker. This wine smells like a newer release. Shows a mix of berry and cherry fruits across the palate. Finishes juicy and mouthwatering with slightly dusty tannins of medium grip. Also lingers with some darker wood spices and peppercorn. The finish is savory. This was most recent Kelham Vineyards wine we have tried; it had just been released at the time of our tasting).
Upon trying the 2003 Kelham Vineyards Oakville Cabernet Sauvignon, the first question we asked is "are you sure this is a 03′"? Sure, the color has changed to a more brickish red, but the aromas, flavors and structure are indicative of a much younger wine. This wine is certainly a testament to the power of Oakville fruit complemented by their wine making style. The bouquet is fragrant and inviting with notes of cigar smoke, dusty blackberries and an elegant, sweet vanilla note. This is a meaty cab with an inherent juiciness along with flavors of plum, dark cherry and chalky, chewy mouth drying tannins. This wine is perfectly paired with the provided Cambozola cheese (also available at your friendly Sunshine Market in St. Helena).
The 2002 Kelham Vineyards Oakville Cabernet Sauvignon shows a much different nose then its "younger brother". The bouquet offers sweet aromas, blackberry, various baking spices, black licorice and a darker chocolate component. Despite being a year older then the 2003, the fruit seems livelier with great acidity. There is a pleasing mix between red and darker fruit on the palate. This wine is robust with significant tannins anchoring a very long finish. This wine drinks very well now, but still seems young at 14 years since the vintage date!
Kelham makes two port style wines, a white and a red. The White Port (made from Sauvignon Blanc) shows golden color in the glass. On the bouquet there are sweet notes of honey, floral notes, red apple, banana and a kiss of vanilla. This wine sits on the palate like velvet – with a nice balance between a delicate mouth feel and a richness of flavor. A slight coarseness of tannin or oak sits on the finish (we are extremely sensitive to this in dessert wines, but most people will never notice this). This is a delicious lighter style port that doesn't have the over ripeness or viscosity of sometimes similar produced wines.
The Red Port is a 10-year-old tawny style revealing powerful aromas and intense fruit on the palate. This wine is dark red in the glass. There is a sweetness to the bouquet with baking spices including clove and aromas of caramelized sugars. Ripe plum is complemented with a spicy note on the finish (white pepper). Both fruit and alcohol linger for some time.
—
Kelham offers a very unique experience involving a digitally curated wine + bites experience with help from Pixar and Disney. This is on our list to try as soon as possible. The closest similar experience has been Le Petit Chef on one of the Celebrity Cruise ships.
Nearly all of their wine is sold exclusively on premise or via one of their wine clubs (white, red, reserve and custom options). They have no distribution and no online shopping cart for ordering wine. For more information, visit: www.kelhamvineyards.com
Estate property

Oakville Vineyard