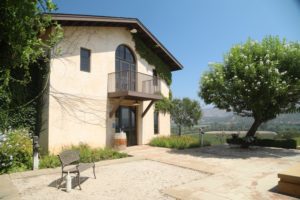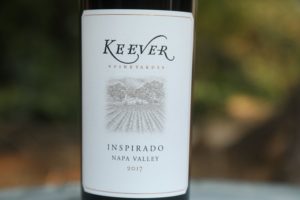 Keever Vineyards are located in foothills of the Mayacamas mountains (about 300 feet above the valley floor) close to the Yountville Veterans home, just south and west of the town of Yountville.
Olga Keever (who we first met with) is married to Bill Keever, a graduate of Napa High School but spent most of his working years abroad including time as CEO of Vodaphone Asia. With retirement age setting in they were looking for something to occupy their time and realistically they were thinking they would sell grapes, not actually oversee a winery. Both Bill and Olga have always enjoyed wine; their passion for wine was certainly helped during their time living in Europe (close to several famous wine regions). Eventually they returned to the world-famous Napa Valley, hired Jim Barbour to plant their vineyards followed by the construction of the winery (completed in 2006).
The entire property is 21 acres of which 6.5 acres are planted to vines – primarily to Cabernet Sauvignon but also a few rows of Malbec and a small block of Clone 1 Sauvignon Blanc on the upper part of their vineyard. The soils are rocky, and the vines are planted on the hillsides. They yield only about 2 tons per acre each year; some of the vines are netted to protect against hungry birds and some rows utilize shade cloth on one side of the vines. It was Jim who highly recommended their winemaker, Celia Welch who has made every Keever vintage since their inaugural vintage in 2002. Celia is a well-regarded long time Napa based winemaker (been making wine in the valley for more than 30 years) – who has consulted for select premium clients over the years including Scarecrow. She also produces her own small label here called Corra.
Born and raised in Medford, Oregon – her introduction to wine came early through her father's passion for wine. He was a home winemaker and collector, and she grew up helping him make wine. Her first introduction to the Napa Valley was in the 1960's during trips with her family. She graduated from UC Davis in 1982 with a degree B.S. degree in Fermentation Science at a time when a number of now prominent women winemakers were enrolled including Pam Starr and Heidi Peterson Barrett and others who work in Napa and beyond.
Continuing her education after graduating, she embarked in extensive travels through a number of wine regions including domestically in the Pacific Northwest, the East Coast and then New Zealand – finally working in the Barossa Valley in Australia. She then moved to the Napa Valley and worked at a number of wineries including Silverado Vineyards in 1987, was assistant winemaker at Robert Pepi Winery (now the home of Cardinale) and began her consulting career in 1992 for Staglin Family Winery.
Her focus of consulting is generally for premium producers who own their own vineyards (rather than labels who source fruit) – often (but not always) from hillside locations in the valley. And her work has been highly recognized throughout the industry – in 2008 she was named Winemaker of the Year by Food and Wine Magazine and has been inducted into the Winemakers Hall of Fame through the organization, Women for Winesense.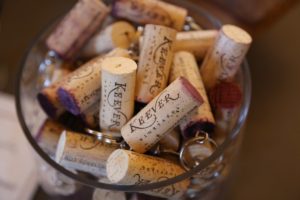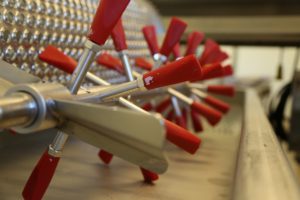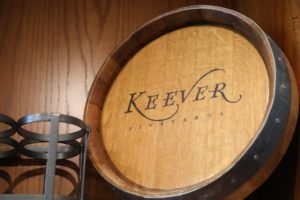 Today Bill and Olga's two children are involved in the day to day operations; Jason handles much of the cellar duties and Ashley helps host visitors among other winery duties.
A visit here is a very personalized tasting experience, often, but not always held with one of the members of the Keever Family – usually Olga or daughter Ashley. Guests to the property will start their visit in their tiny tasting room followed by a quick tour of the actual winery and related equipment; this is interesting because you get to see up close some equipment that you normally will not see on general winery tours – much of it is state of the art machinery. During our last visit a total of 14 tanks are located within the winery – each one can be moved by one person using an industrial sized pallet jack. A great deal of thought went into the design of the actual fermentation room, and it shows. The overall winery operations were designed to be gravity flow (with design input contributed by Celia).
A cave is tunneled into the hillside directly behind the winery and below Bill and Olga's home. Visitors will walk through the interior learning more about their wine production and barrel aging. Several highlights include a small alcove reserved for their Oro bottling, merely two of their best barrels of Cabernet Sauvignon each vintage (complete with LED lights that change color) and a small wine library. Visits culminate back in the tasting room with a sit down of several of their current release wines.
Select Wines
The 2020 Keever Vineyards Sauvignon Blanc is pale yellow in color; the bouquet smells fresh with aromas of recently moved grass, lemon, lemongrass, grapefruit and green apple. As it warms up in the glass, it shows a hint of pineapple and vanilla sweetness. Offers an intensity of flavor across the palate; its superb balance is its hallmark. Rounded and supple from start to finish (almost a saline quality of texture), lingers with a brightness and a freshness of both flavor and acidity including flavors of mandarin and orange. The finish is completed with a lime nuance along with a lemon peel zest but is not tart. After the grapes were harvested, they were pressed, and the juice transferred to both French oak and stainless-steel barrels for fermentation. The wine aged sur lie for about 5 months with weekly battonage.
The Keever Vineyards 2018 Inspirado (meaning inspiration in Spanish) is a blend of 84% Cabernet Sauvignon, 10% Merlot, 3% Cabernet Franc and 3% Petit Verdot. Offers intense fruit forward aromatics of spicy plum and dark cherry complemented by aromas of violets, black licorice, leather, white pepper and chocolate. Mouthwatering, juicy and certainly packed with intensity; the palate sports flavors of dark cherry and blackberry anchored by slightly drying tannins of light to medium grip but very long lasting. Generously flavored but well balanced. This wine is often only sold at the winery due to the limited availability after it ships to their mailing list customers.
2012 was the start of three excellent vintages in a row in the Napa Valley. The 2012 Keever Vineyards Estate Cabernet Sauvignon shows crimson red in the glass with a bouquet that is elegant – revealing floral notes, blackberry and black cherry aromas. As the wine opens, offers secondary aromas of vanilla and mocha. There is a pleasing softness on the palate with darker fruit showing mid palate through to the finish. Also, intriguing is the density of both flavor and mouth feel on the finish. The finish is smooth with a persistence of both barrel and fruit tannins for some time – yet these tannins do not dominate, rather they are well integrated into the wine.
Keever Vineyards also produces a Chardonnay. It should be noted that only specific amounts of wine are released through their website (not their entire production).
—
Because of this wineries' location, on a clear day one will have excellent views of the Napa Valley and the rocky formations (the Palisades) which rise behind the famous Stags Leap District in the distance. Watching traffic roll by slowly in the distance on Highway 29 on some weekend late afternoon one realizes this is most certainly a better place to be, than down on the highway.
Be sure to get directions and the code to ring the winery ahead of time as they are located in a gated neighborhood.
Keever offers several wine club options available as part of their Wine Society. For more information and or to schedule a tasting, visit: www.keevervineyards.com
Exterior

Winery

Cave

Interior/Hospitality