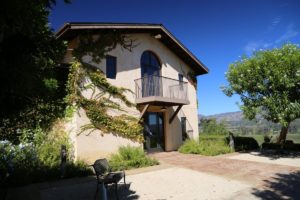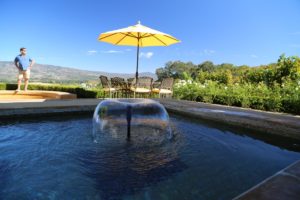 Keever Vineyards are located in foothills of the Mayacamas Mountains (about 300 feet above the valley floor) close to the Yountville Veterans home, just south and west of the town of Yountville.
Olga's husband, Bill Keever is a graduate of Napa High School but spent most of his working years abroad including time as CEO of Vodaphone Asia. With retirement age setting in they were looking for something to occupy their time and realistically they were thinking they would sell grapes, not actually oversee a winery. Both Bill and Olga have always enjoyed wine; their passion for wine was certainly helped during their time living in Europe (close to several famous wine regions). Eventually they returned to the world-famous Napa Valley, hired Jim Barbour to plant their vineyards followed by the construction of the winery (completed in 2006).
Their vineyard layout was designed by well-known vineyard manager, Jim Barbour. And it is Jim who highly recommended their winemaker, Celia Welch who has made every Keever vintage since their inaugural vintage in 2002. Celia is a well-regarded long time Napa based winemaker (been making wine in the valley for more then 30 years) – who has consulted for select premium clients over the years including Scarecrow. She also produces her own small label here called Corra.
Born and raised in Medford, Oregon – her introduction to wine came early through her fathers passion for wine. He was a home winemaker and collector and she grew up helping him make wine. Her first introduction to the Napa Valley was in the 1960's during trips with her family. She graduated from UC Davis in 1982 with a degree B.S. degree in Fermentation Science at a time when a number of now prominent women winemakers were enrolled including Pam Starr and Heidi Peterson Barrett and others who work in Napa and beyond.
Continuing her education after graduating, she embarked in extensive travels through a number of wine regions including domestically in the Pacific Northwest, the East Coast and then New Zealand – finally working in the Barossa Valley in Australia. She then moved to the Napa Valley and worked at a number of wineries including Silverado Vineyards in 1987, was assistant winemaker at Robert Pepi Winery (now the home of Cardinale) and began her consulting career in 1992 for Staglin Family Winery.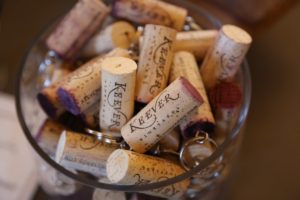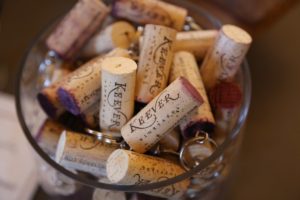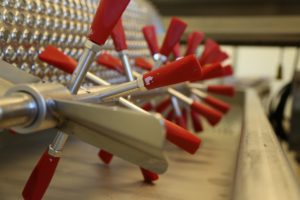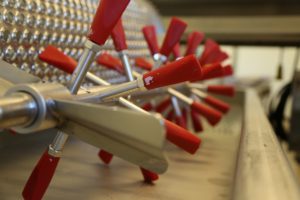 Her focus of consulting is generally for premium producers who own their own vineyards (rather then labels who source fruit) – often (but not always) from hillside locations in the valley. And her work has been highly recognized throughout the industry – in 2008 she was named Winemaker of the Year by Food and Wine Magazine and has been inducted into the Winemakers Hall of Fame through the organization, Women for Winesense.
Today Bill and Olga's two children are involved in the day to day operations; Jason handles much of the cellar duties and Ashley helps host visitors among other winery duties.
A visit here is a very personalized tasting experience always held with one of the members of the Keever Family – usually Olga or daughter Ashley. Guests to the property will start their visit in their tiny tasting room followed by a quick tour of the actual winery and related equipment; this is interesting because you get to see up close some equipment that you normally will not see on general winery tours – much of it is state of the art machinery. A great deal of thought went into the design of the actual fermentation room and it shows. The overall winery operations were designed to be gravity flow.
A cave is tunneled into the hillside directly behind the winery and below Bill and Olga's home. Tours also visit this cave where you will see their small wine library and learn more about barrel aging. Your visit will culminate back in the tasting room with a glass of their current release Cabernet Sauvignon.
Keever produces a premium Cabernet Sauvignon (the Inspirado) which is often only sold at the winery due to the limited availability after it ships to their mailing list customers. This what you expect of a beautiful Napa Cabernet Sauvignon when everything comes together from the vineyards to the wine making. And they also produce a tiny production of their highest end wine, the ORO.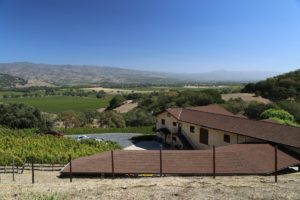 2012 was the start of three excellent vintages in a row in the Napa Valley. The 2012 Estate Cabernet Sauvignon shows crimson red in the glass with a bouquet that is elegant – revealing floral notes, blackberry and black cherry aromas. As the wine opens, secondary aromas of vanilla and mocha show. There is a pleasing softness on the palate with darker fruit showing mid palate through to the finish. Also intriguing is the density of both flavor and mouth feel on the finish. The finish is smooth with a persistence of both barrel and fruit tannins for some time – yet these tannins do not dominate, rather they are well integrated into the wine.
They also produce a Chardonnay and more recently sourced fruit from Pope Valley for their Sauvignon Blanc. Note that only specific amounts of wine are released through their website (not their entire production). Because of this wineries' location, on a clear day you will have excellent views of the Napa Valley and the rocky formations (the Palisades) which rise behind the famous Stags Leap District in the distance. When you watch the traffic roll by slowly in the distance on Highway 29 on some weekend late afternoon you realize this is most certainly where you would rather be. Be sure to get directions and the code to ring the winery ahead of time as they are located in a gated neighborhood.
Keever also offers several wine club options they call the Wine Society. For more information and or to schedule a tasting, visit: www.keevervineyards.com
NOTE: this review has been identified as needing a **major** update.
Exterior

Cave

Interior/Hospitality