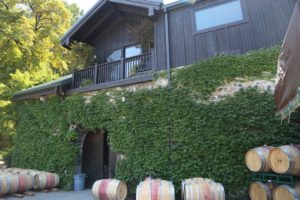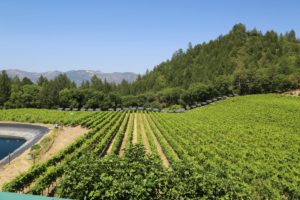 Keenan Winery is located about 2/3 of the way up Spring Mountain Road (before you reach the Napa / Sonoma County line) at about 1,700 feet. This is the quintessential Spring Mountain hillside ghost winery. Originally founded as the Peter Conradi Winery, Peter & his family moved here in 1890, planted grapes a year later and built a simple wooden winery which he later replaced with the stone winery in 1904 that still stands today. This old stone building was built from quarried stone that came from the local hillsides. Like other Spring Mountain properties, the feel here is rural; the winery is surrounded by both vineyards but also with plenty of surrounding forested hillside land.
The winery and tasting room is located about 1/2 mile down a very narrow winding road leading off of the also windy Spring Mountain Road.
Robert Keenan (a World War II veteran, died in 2006) worked as an insurance broker and also invested in commercial real estate (apartments) but had been a wine enthusiast for years including owning a significant collection of Bordeaux wines. When looking to purchase property in Napa Valley he focused on hillside properties; he originally also looked on Howell Mountain but decided on Spring Mountain due to the site having plenty of water and being attracted to its eastern facing exposure.
The winery is still under the same family ownership; Robert's son Michael who helped his father during their first harvest oversees the winery operations along with his wife Jennifer. Michael ran a residential home remodeling business for years; in the late 1990s Robert informed him he was planning on selling Robert Keenan Winery. In what was a pivotal decision at the time, Michael decided to take over Robert Keenan winery from his father. And now, even the 3rd generation has joined their family business; Michael's son Reilly worked for one of their distributors for a time and helps with harvests and sometimes hosts tastings and his sister Madison helps with select tasting events. Long time winemaker Nils Venge consults as needed.
The winery had been abandoned for decades by the time Robert purchased the property in 1974 only the walls of the old stone winery were still standing – he kept these, which are still being used in the cellar. The family owns 180 acres of which approximately 48 are planted to vines. When your first vintage is 1977 in Napa Valley, this puts you among a select list of Napa wineries that are older than 40 years. The first wines they produced that harvest were Cabernet Sauvignon, Merlot and a Chardonnay.
They specialize in estate grown fruit for the following varieties: Chardonnay, Cabernet Sauvignon, and Merlot. More recently they are growing several extremely unique to Napa Valley varieties including two Spanish origin varieties, Mourvedre and Mencia. Most of their wines are approachable with a diversity of flavor. As Robert used to say to his son Michael "the key to life is balance, taking anything to the extreme is usually a mistake". These are good words to live by. You will find Keenan's wines are very well balanced between acidity, texture and flavor.
Select Wines
Surprising for the location (Spring Mountain Distinct) Chardonnay is grown on site. This is not a variety you think of when it comes to up valley Napa hillside-based wineries. However, there are several other Spring Mountain wineries growing this variety and it has its own unique characteristics compared to the more common cool weather Chardonnay sourced from the Carneros district to the south. The vineyard that produces this wine is directly below the winery and the tasting room. It is dry farmed. They make this wine in a similar style each year – barrel fermented, no secondary malolactic fermentation and the wine is stirred on the lees during its aging.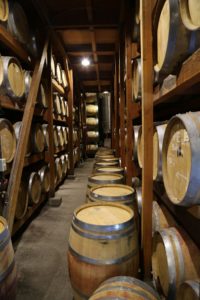 The 2013 Robert Keenan Chardonnay shows notes of lime and citrus blossom on the bouquet. It is very balanced on the palate and is clean and easy drinking. It offers a noticeable weight with some creaminess but without being too heavy. Some Chardonnays on the extreme end of the spectrum are fairly acidic while others on the other end of the spectrum are oaky, buttery and very viscous. This wine is neither of those styles – rather is somewhere in the middle. It is a very balanced wine.
The Mailbox Vineyard Merlot gets its name because the original Merlot Vineyard for this wine was planted next to their mailboxes along Spring Mountain Road (next to their driveway). When they planted a newer block of Merlot closer to the winery, they lost the significance of the original location. Not wanting to change the name on their customers they merely installed a mailbox among the vines of this newer vineyard. One would think it never receives mail, but one group of visitors decided they wanted to write Michael Keenan a thank you note and placed it in the mailbox!
The 2011 Robert Keenan Mailbox Vineyard Reserve Merlot shows a dark, deep and brooding bouquet. On the palate it is almost meaty, showing dark fruit along with notes of white pepper and even a toasted marshmallow component. This wine has good acidity – it is balanced with rich flavor and good structure.
The 2011 Robert Keenan Estate Reserve Cabernet Sauvignon offers an elegant nose with a sweetness and a purity that is all about the fruit. More black fruit shows on the palate than red including black currant and tasty notes of ripe blackberry. There is an appealing richness of fruit across the palate. The finish is lengthy and shows both coarse tannins and fruit.
When Michael approached his father about making a Cabernet Sauvignon / Merlot blend his father did not give his approval. But at that time Michael was already running the winery so he went ahead and made a proprietary dual varietal blend he cleverly called Mernet. The 2011 Robert Keenan Mernet is a blend of exactly half of each variety. This vintage shows plenty of fruit on the bouquet and a slight earthy component. The wine has great acidity causing your salivary glands to work overtime on the finish. Robust tannins, a richness of fruit and good acidity will ensure this is a wine that begs for years of bottle age.
Total production each year runs 12,000 to 14,000 cases. However, several of their wines are made in very tiny quantities (usually a few hundred cases) for wine club members and for onsite visits. One such wine is their Zinfandel. During our recent tasting this was the lowest alcohol wine of the current releases. The 2011 Robert Keenan Zinfandel is 13.5% alcohol. This is a food wine – which one cannot always claim when referring to often overripe California grown wines made from this variety. It is balanced, has nice acidity and shows more red than dark fruit on the palate.
—
The winery completely renovated and modernized their tasting room by early 2015. Conveniently, Jennifer's father, John Walker of Walker & Moody Architects in San Francisco oversaw the redesign with Jennifer's help for the interior design. Tastings can take place at the bar but there are also several comfortable chairs for a more personalized sit down tasting.
Visits sometimes include a walk downstairs to the barrel room. Barrels are stacked up against the original stone walls of the winery – the outer walls were restored in time for the 1977 harvest, their first vintage (and a roof was also added that year). Winemaker Joe Cafaro, who we met with years ago when he was operating his own brand, Cafaro Cellars was their first winemaker. No air conditioning system is needed as the barrel room remains naturally cool based on it being located against the hillside.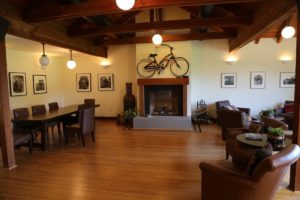 The family owns relics from the original Conradi winery including an original ledger kept by the Conradi family. This book contains a list of purchases and purchase prices (hand-written in pencil, including by family member Carl Conradi) from the early 1900's. Guests who drove here from the Napa side, would have taken the very windy Spring Mountain Road. Before this road really starts to climb it becomes quite narrow to pass through two very large and tall Redwood trees. A photo hangs on the wall in the tasting room from the early 1900's from when this road was dirt – showing an old wagon passing between these two same trees.
The winery sometimes can be popular with small tour groups on the weekends. For a boutique "mountain" winery with a relatively long history and acclaim, their prices are very reasonable – they have a price range from quite affordable (by Napa standards) up to their more limited production collector wines.
A small picnic area is site and can be used by guests with prior reservations. Stand in front of the winery and look down at the vineyard – to the right of the pond, surrounding the edge of the vineyard one will see all their pole mounted solar panels. These provide much of the power for the winery as well as the several homes on site.
And unlike most Napa wineries, Robert Keenan has a library collection going back several decades, some of which can still be purchased. For more information, to purchase wine or to schedule an appointment, visit: www.keenanwinery.com