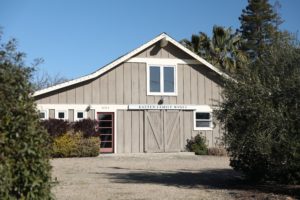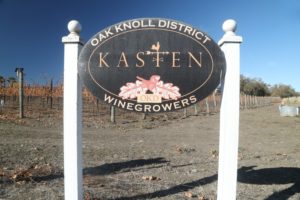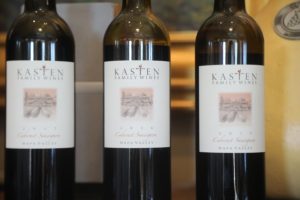 Kasten Wines. Proprietors of Kasten Wines, John and Cyndi Kasten are from Thousand Oaks in Southern California. John has an art degree and also a degree in architecture from Cal Poly San Luis Obispo and has operated Kasten Design, a local architectural firm since 1992. Karen worked in human resources for many years. She traces their introduction to wine back to one of her bosses who introduced her to numerous producers and styles of wines. Both were already familiar with Napa Valley; Karen's uncle lived in Hidden Valley Lake to the north in Lake County and both she and John would pass through Napa on their way to visit him in the late 1970s and early 1980s. In doing so they would often stop and taste wine at some of Napa's historical producers including Charles Krug and Beringer.
After John graduated from Cal Poly, they looked at several places to settle in and ultimately chose Napa Valley and moved to the city of Napa in 1989. They both joined a wine tasting group called Leap of Faith; one of their home wines was called Trinity. And over the years they found success through this label, earning numerous first and best of show awards from home winemaker competitions including the California State Fair, Napa County Fair and the Napa Valley Home Winemakers Classic.
Through this group and their church, they met winemaker Mark Jessup (founder of Jessup Cellars). John designed the original Jessup Cellars winery on Mt. Veeder (now owned by Anthem Vineyards). Both John and Cyndi took winemaking and viticulture classes at Napa Valley College, including several courses from Dr. Steve Krebs who later helped them analyze their soil reports prior to planting vines.
They began to look for property to plant their own vineyard and ultimately located three acres in the Oak Knoll District bordering part of Big Ranch Road. At the time, Mario Andretti was in the early part of his 20-year lease from Laird Family (Laird Family Winery); Steve recalls thinking something like, "if Mario is located across the street, then our location must be pretty good for growing grapes". At the time their property was planted to an old pear orchard.
Their first vines were planted in 2003, with a 50/50 planting of Cabernet Sauvignon and Merlot along with a few rows of Cabernet Franc. Their idea was to harvest all three varieties at the same time, ferment them together and create a red field blend. But in reality, all three varieties ended up ripening at different times not to mention the challenges of needing a minimum tonnage required by their custom crush location at the time. Eventually they decided to replant the Merlot and Cabernet Franc to an earlier ripening clone of Cabernet Sauvignon; today the vineyard is 100% planted to Cabernet Sauvignon and the vines are managed by Doug Hill of Oak Knoll Farming. The first commercial vintage of Kasten Wines was in 2007.
Mark Jessup was their consulting winemaker for a number of years as was Sonoma County (now retired) winemaker Betsy Spann; in 2019 winemaker Leigh Meyering assumed this role. She is also winemaker for several other brands in the valley including Flying Lady Winery and she operates her own wine lab in the northern part of the city of Napa called, myEnologist.
The Kasten property is three acres of which 1.5 are planted to vines. After John and Cyndi purchased the property, they since introduced it to a generous helping of TLC including adding lovely gardens. John designed the handsome 'barn' which serves as his art studio, primarily focusing on landscape and other natural vistas. His studio participates in Open Studios Napa Valley, an annual event held every September in which local art studios are open to the public. And some of his works are on display and for sale at the Art Gallery Napa Valley, located in downtown Napa. Works from approximately 50 local artists are displayed – each artist is a member of the Art Association Napa Valley.
Select Wines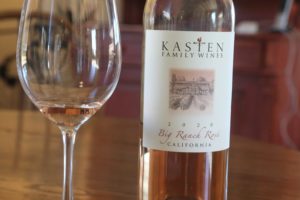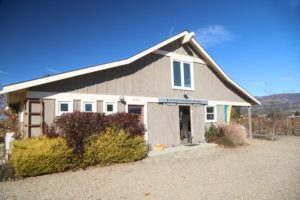 Respecting their particular terroir including being located further south in Napa Valley (closer to the cooling influences of the San Pablo Bay), they strive to produce more restrained wines, both in alcohol, tannin texture and character of the fruit. And their bottlings clearly show this stylistically with bright acid, fruit that tends to be more red fruit driven than dark and seamless tannins, even in their youth.
The 2017 Kasten Wines Cabernet Sauvignon (100% varietal) is dark ruby in the glass; the generous bouquet offers aromas of dried rose petals, cherry, raspberry and a sweeter aromatic fruit thread deeper in the aromatics. It also shows a darker baking spice note. The initial aromatics might lead one to believe this would be a more contemporary Napa Valley Cabernet Sauvignon, but the first sip quickly identifies this as a wine with more restraint and balance. It offers primarily red fruit flavors including plum, cherry complemented by seamless well-integrated lighter styled tannins. Lingers with a perceptible note of dried tobacco leaf. Of the three wines we tasted, this shows the brightest acidity.
The 2016 Kasten Wines Cabernet Sauvignon was blended with 10% Merlot. This wine is dark ruby; the bouquet shows more darker notes including from both fruit and secondary aromatics. It offers aromas of leather, a hint of white pepper and some darker spices. It is slightly savory. The palate offers flavors of red plums, cherry and a note of chocolate. The tannins are more perceptible compared to the 2017 vintage but are very well integrated into the supple finish.
The 2015 Kasten Wines Cabernet Sauvignon was their last 'field blend' expression and includes about 10% Merlot and 5% Cabernet Franc. This wine shows very well seven years post vintage at the time of our tasting. It is dark ruby; the beautiful fruit driven bouquet features red fruits including cherry and currant along with an underlying tobacco spice component and a hint of dark chocolate. Bright, energetic and still plenty youthful, it offers flavors of cranberry, currant and cherry. The light grip of tannins shows a lingering subtle dryness to complete the finish.
In addition to their estate vineyard bottlings, they also source grapes for several other wines. The 2020 Kasten Wines Grenache Rosé Mendocino County is also blended with some Syrah. This wine is pale to medium copper color; the bouquet offers notes of blood orange, a hint of lime, rose petals and a subtle lavender nuance. Immediately noticeable is this wine's texture with its silky creamy mouth feel, almost saline in its approach. It is very flavorful with citrus, raspberry, peach and strawberry. Cyndi recommends pairing this wine with a summer day, pouring on fresh peaches combined with a light dusting of sugar.
The 2021 Kasten Wines Carneros Chardonnay offers a sweetly fruited bouquet including plenty of floral layers (honeysuckle, star jasmine and citrus blossom) along with pineapple and melon. Its texture is rounded with flavors of lemon, salted popcorn, and pear along with a subtle note of bubblegum on the finish. This is a balanced and enjoyable wine. It went through partial malolactic fermentation.
Due to smoke from the 2020 fires, Kasten Wines produced no wine that year. And for the first time in 2022, they made a rosé from their estate Cabernet Sauvignon.
—
Kasten Wines now produces their wines at Silenus Vintners, a custom crush operation serving a number of small brands. Select Kasten wines will be available for tasting in the tasting room (by appointment) beginning sometime in 2023. This small brand is truly a family affair; their daughter Laura designed all their graphics and oversees their social media. And the rooster and accompanying arrows located above the 'T' in Kasten on their label is an image of a weathervane that is mounted on the side of their house.
Total production varies each year but is typically between 300 and 500 cases. The wines are entirely sold direct to consumer. Vineyard visits can be arranged by appointment. For more information, to join their wine club, or to purchase wines, visit: www.kastenwines.com