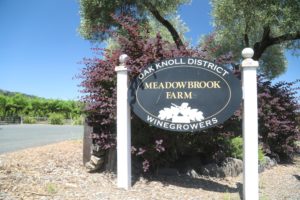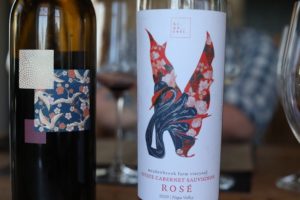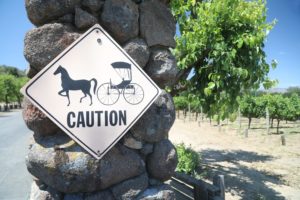 Kanpai Wines is the creative collaboration between founders and owners, Peter Chiang (originally from Taiwan) and his wife Azumi Kubo (originally from Japan) and winemaker Steve Matthiasson. The word 'kanpai' means cheers in Japanese or is literally translated to, empty cup. While attending the Culinary Institute of America (which he later graduated from), Peter joined a trip to see several local producers; a stop at Matthiason Vineyards was part of the tour and is where Peter first met Matthiasson.
Later he and Azumi purchased the historic Meadowbrook Estate in Napa Valley's Oak Knoll District in early 2017. Grapes from this property were being sold to Robert Mondavi for the Mondavi Spotlight wine and were also being used by Opus One in their wine. Peter and Azumi were planning to continue to sell the grapes but then devastating fires in September changed their plans and buyers neglected to purchase their grapes. They decided to hold back some of their grapes for their own wine brand. Remembering his visit with Matthiasson, Peter reached out to him and asked if he would be their winemaker. He agreed; it is important to note that Matthiasson was already very familiar with Meadowbrook Estate having worked with some of the grapes for about 10 years starting in 2002.
Peter refers to himself as a hospitality entrepreneur; he is also President of Wine Salon, The Drops of God, a curated wine club for members interested in small production premium wines. Part of membership to the Wine Salon is not only access to limited production wines but also to select online and in-person events. This membership was inspired by a popular comic styled Japanese series with 439 chapters spanning 44 volumes about wine called Kami no Shizuku or "Drops of God". Kanpai wines are also available for members. Also of related interest is an image of Napa Valley's Etude Winery's 2000 Pinot Noir is shown in one of the chapters with a mention of their winemaker at the time, Tony Soter. An accompanying description mentions his role in consulting for many famous Napa wineries.
Meadowbrook Farm
Meadowbrook Farm is located in the western part of the Oak Knoll District with a section of the property bordered by Dry Creek which is in part responsible for the types of soils found on the property including sand and creek cobble. The entire property is approximately 27 acres of which 20 acres are planted to organically farmed vines separated into three distinctive blocks. Two of the blocks are planted to Cabernet Sauvignon and a smaller block only an acre in size is planted to Cabernet Franc.
The property has had number of owners over the decades including Lenore Stearns (died in 1983), a silent film actress who developed the gardens and built a beautiful sprawling 36-room house in 1928 along with a carriage house and caretakers' cottage. We have seen old newspaper articles back to the 1950s referencing it was already called Meadowbrook at that time. Lenore was also well known as an interior decorator serving a number of Hollywood celebrities including one of Clark Gable's wives (incidentally one of Clarke's honeymoons was partly on Spring Mountain in Napa Valley), Al Jolson, Fred MacMurray (reference MacMurray Ranch & vineyards in neighboring Sonoma County, now owned by Gallo) and film director John Ford, among numerous others. A Napa Register (as it was called back then) article from October 13, 1956, references Stearns as having, "one of the most remarkable private collections of early American and European furniture in the west".
Beginning in 1947 and for more than 30 years she owned and operated a number of businesses in the Red Hen Center along Soscol Avenue, a few miles north of the city of Napa. The barn like buildings were painted red and including the House and Garden Shop, the Red Hen Restaurant and the Red Hen Fashion Shop. An article from March 11, 1959, in the Napa Valley Register refers to the House and Garden Shop containing 26 rooms with a variety of antiques, other home furnishings, glassware and wallpapers. Occasionally Stearns would hold public auctions on the property to liquidate existing stock to make way for new items. The article also mentions that the Red Hen Restaurant was often used by men's clubs for various events and gatherings.
Remarkably the red painted buildings of Red Hen Center were still standing until August 2023. For many years the entire complex (3.54 acres) was abandoned, shuttered and fenced off but as of mid summer 2023 the complex was demolished. The site is owned by the Laird family of the nearby Laird Family Winery. As of our latest update, proposed plans eventually call for a resort to be built on the property to potentially be called Oak Knoll Resort. It will feature 50 rooms, a spa, a 100-seat restaurant and retail space. We will update our notes here once the hotel is built and once we have more information.
Meadowbrook Farm is gorgeous, especially in spring with lush gardens including vegetables and a variety of fruit trees spread out through parts of the property. Previous owners Ronald & Joanne Birtcher moved to the property in 1988. Ronald was part of Birtcher Development, a construction company whose roots date back to 1939 and were in part responsible for building much of Orange County post World War II. And over the decades oversaw construction of a number of international projects. Birtcher and his brother Arthur became co-chairman of Birtcher Enterprises; one of their later milestone contracts was in 1969 – working to develop Southern Pacific Railroad land holdings. It is no surprise then that Ronald had a beautiful small railroad built above one of the garage ports on Meadowbrook farm accessible via a drop-down staircase. The attention to detail is remarkable; several of the train cars carry the Meadowbrook name.
In 1990 Mitsui & Co. Ltd, a Japanese company purchased 50% of Birtcher (the first time a Japanese company had heavily invested in a U.S. based real estate company), although later Birtcher reacquired full interest from Mitsui & Co. Ronald died in 2020 at age 89.
Select Wines
The first first vintage bottled for Kanpai from Meadowbrook Farm was in 2017, a rosé from Cabernet Sauvignon. Part of their Cabernet Sauvignon is grown intentionally to make a rose with a focus on always using grapes from the end vines in each row. The 2021 Kanpai Hi No Tori Rosé of Cabernet Sauvignon is pale to medium copper in color; the bouquet offers light aromatics including raspberry, grapefruit, some flinty mineralities, gooseberry, green apple and a lemon/lime component. Shows a creamy texture which is balanced nicely by a mouthwatering brightness (not tart). We thought of pairing this with a spicy Thai seafood salad with both the texture and the acidity helping to cut through the spiciness. This wine is also bottled as a lightly spritzed version in 250ml cans.
And they chose to name their inaugural release Hinotori which in Japanese means Phoenix, to pay homage to the resilience those showed who were affected by the 2017 fires and to the first responders who were fighting the extensive fires that year. In 2017 fires burned in the southern Mayacamas mountains to within approximately one mile of Meadowbrook Farm. And every year since the first vintage of this wine, a percentage of the proceeds from the sales of this rosé are donated to the California Fireman's Fund which provides support to children who have lost parents fighting fires.
In addition to using grapes from Meadowbrook Farm, Kanpai also sources grapes from select other nearby vineyards in the Oak Knoll District, Coombsville and from neighboring Sonoma County.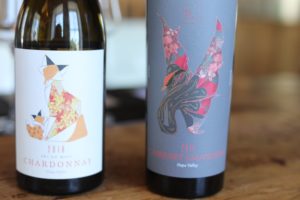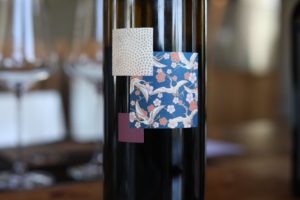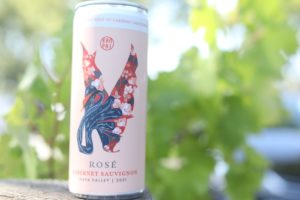 Azumi does not care for sake but loves eating sushi. Subsequently she asked Steve to produce a sushi friendly Chardonnay; presented with this challenge Steve crafted a very food friendly bottling, one that is neither oaky nor buttery. The 2018 Kanpai Chardonnay is from Berry Lane in Coombsville. It is medium gold in color; with a pretty bouquet that needs some time to evolve to fully show its aromatics. Offers a hint of butter along with some citrus nuances including lemon and lime. Immediately noticeable is this wine's verve and lively energy across the palate anchored by a creamy rounded texture. The acidity persists on the finish along with flavors of grapefruit and a lemon nuance. This wine was fermented using indigenous yeast and was barrel aged sur lie in 30% new French oak. It was not fully put through malolactic fermentation.
The 2018 Kanpai Kikari No Hana Red Blend (Kanpai's first red blend) is a blend of 83% Meadowbrook Estate Cabernet Sauvignon, 10% Cabernet Franc and 7% Merlot. Steve references the varieties used in this blend as the following: Cabernet Sauvignon for power and complexity, Cabernet Franc for finesse and Merlot for softness. This wine is dark ruby in color; the bouquet offers higher toned red fruit aromatics including of red cherry and berries along with a note of cigar smoke and some wood spice. This wine is mouthwatering across the with flavors of currant and pomegranate. The tannins are medium bodied and are well integrated.
In Japanese, Hikari means "flower of light"; the label is a series of three squares with the size of each square roughly approximating the amount of each variety in the blend. And the images of cranes on the labels symbolize health and rejuvenation.
The 2017 Kanpai Napa Valley Cabernet Sauvignon is 100% varietal. This wine is dark ruby in color; the bouquet offers aromas of plum and red cherry along with dried rose petals and dried herbs. Aromatics of more restrained fruit is the focus here rather than oak or being fruit forward. This is a pleasurable and easy drinking Cabernet Sauvignon, but with plenty of complexity both on the bouquet and palate. The texture is a pleasing component of this wine, featuring dusty and chalky tannins. It is very balanced. Along with red cherry flavors and a mouthwatering juicy finish, this wine also shows noticeable note of dried tobacco leaf which continues to persist for quite some time.
Talented Vietnamese born artist Hoang Tien Quyet created the colorful and intriguing artwork for some of the labels on the Kanpai wines. His artistic specialty is creating origami.
Tastings, Vintner's Collective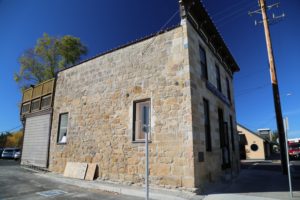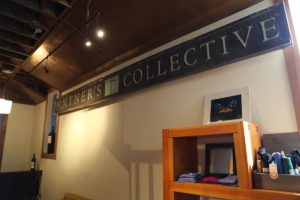 In mid 2022 Kanpai became part of a coveted collection of vintners represented at Vintner's Collective, the city of Napa's oldest collective tasting room. Vintner's Collective showcases wines from a select group of mostly Napa Valley based producers – most of which do not have their own tasting rooms. And it's not easy to have one's wines represented here. Vintner's Collective has an in-depth vetting process to make sure the wines match what their customers are interested in, including varieties, price points and wine styles.
The tasting flights differ everyday which is certainly part of the appeal for visitors. Unless you are acutely tuned into the world of boutique Napa Valley producers, you probably will never have heard of any of the labels that are being poured, and that is not a bad thing. These wines represented are typically from producers who have a maximum production of 1000 cases. A number of tasting flights are offered – geared towards all levels of wine interest and prior knowledge.
Walk-in customers are generally welcome if space allows but appointments can also be requested including for more private tastings hosted upstairs.
—
Total production of the Kanpai wines varies but is usually around 2,000 cases per year. The wines are distributed in fine restaurants, primarily in Las Vegas but also locally with select vintages sometimes available at Backroom Wines, Bay Grape and Fume Bistro in the city of Napa and also at Ad Hoc in Yountville. And the wines are selectively distributed in parts of Taiwan, mainland China and Japan. For more information or to purchase wines, visit: www.kanpai.wine