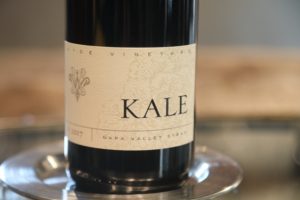 Kale Wines was founded in 2008 by winemaker and owner Kale Anderson and his wife Ranko. Kale was born in San Diego, grew up in Santa Rosa (Sonoma County) and went to UC Davis to study Pre-Med. After some time, he realized medicine wasn't sparking a passion so he eventually he joined several tasting groups on campus and was introduced to a number of Rhone varieties. He was impressed by how a diversity of terroir affected the aroma, flavor, structure and other characteristics of wines – especially with Syrah. He was then hooked by the wine bug after taking an introductory course in Viticulture & Enology.
He informed his father (a surgeon) of his desire to study wine making rather than medicine; his father was immediately supportive of his sons' interest in changing careers. After graduating with a degree in BS in Viticulture and Enology from UC Davis Kale traveled internationally trying various wines in different regions. He returned to California and took an intern position learning how to make sparkling wine at J Winery in Sonoma County.
Other positions including working at Colgin where he was introduced to a number of premium Napa Valley brands who were also making their wine here. He was assistant winemaker and then ultimately winemaker at Cliff Lede followed by a position as Director of Wine making at Pahlmeyer. Since 2016 he focuses on consulting winemaking.
In regard to combining the art and science of wine making, Kale says "I make wine with my senses, and I use science to gauge the risk. Wine always takes on a life of its own; I just help it get to where it wants to go".
All of the wines that are part of the Kale label are entirely focused on Rhone varieties. Kale's wines from Sonoma County were originally distinguished by a white label and the wines from Napa Valley, a black label. That distinction, however, is no longer being used on his wines.
Select Wines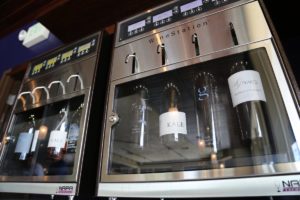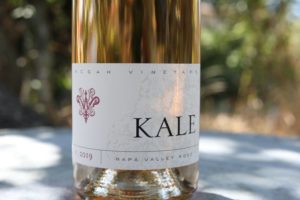 The 2019 Kale McGah Vineyard Rutherford Napa Valley Rosé is 84% Grenache and 16% Mourvèdre (a variety that is also referred to as Mataro in the U.S). This wine is pale copper in color; the aromatics show lychee, watermelon hard candy, melon and subtle hints of a vanilla like sweetness and lemongrass. The texture is creamy and rounded from start to finish, almost saline (without being salty of course) in its textural feel. The palate offers flavors of citrus including grapefruit and a lingering spice and minerality note. The finish continues to persist with a richness of fruit. It is completely dry. This wine was gently whole cluster pressed into a concrete 'egg' where it was fermented and did not go through malolactic fermentation.
We've tasted a number of interesting and intriguing rosés over the past several years from mostly younger winemakers in the valley. The 2013 Kale Rosé Napa Valley is one of them; this vintage was Kale's 13th vintage making a rosé. It is a blend of Grenache and Syrah. It is made in the Provençal style with the majority of the grapes whole cluster pressed and harvested merely three days after véraison occurred in the vineyard. They came into the cellar at 18-degree brix. Interestingly enough because of its' very early harvest date and gentle pressing, the resulting juice was completely white when it went to fermentation (using a concrete egg). The Syrah was bled off using the French saignée method. Aromatically this wine shows fresh aromas of muddled white strawberry and raspberry. The wine initially hits the front of the palate with a sweetness of fruit; there is absolutely no residual sugar in this wine. The wine has good texture and intensity of fruit which shows the breadth of the palate; this is all-natural acidity. It is a very refreshing wine to drink.
The 2017 Kale Syrah Hyde Vineyard Carneros, Napa Valley is 96% Syrah, 3% Grenache and 1% Viognier. This wine is medium to dark ruby in the glass with distinctive aromatics of red cherry, pomegranate, cooked rhubarb, rose stem, sage, other herbal notes and darker baking spices along with some influence of white pepper. The palate features bright red fruits with broadly distributed, slightly dry and long lasting gravely textured tannins. This wine shows mouthwatering acidity. Rather than using tanks or normal sized barrels, it was fermented and aged in 500L puncheons with extended maceration post fermentation. This reason for the larger vessels was twofold; to minimize oak and maximize the fruit while also helping manage tannins.
Kale was attending a Rhone Rangers tasting (the Grand Tasting is held annually in San Francisco and features wine made from Rhone varieties) when he started talking to a gentleman next sitting next to him. This man, Dick Keenan told Kale he grows some fairly obscure varieties in a non-AVA designated part of Sonoma County. He told Kale that he has probably never heard of the region where his vineyards are located.
As it turns out, Kale knows this area very well. Dick grows wine grapes in Rincon Valley, a very much residential part of Santa Rosa in neighboring Sonoma County. Kale lived in Rincon Valley for many years; Dick's vineyard is located just down the street from where Kale used to play baseball in the local Little League Park. And to further make this meeting a fortuitous one, Dick specializes in growing Rhone varieties.
Kale calls this wine the "HomeRun" for obvious reasons! The 2011 Kale Wines Kick Ranch Home Run Cuvee is 70% Syrah and 30% Grenache. It is very dark in the glass. Aromatically this wine is about the fruit showcasing black cherry, blackberry and some underlying aromas of white pepper. The finish lasts for some time featuring a pleasing intensity of fruit.
The 2012 Kale Wines Syrah from Alder Springs is 96% Syrah co-fermented with 4% Viognier. The grapes grow at an elevation of 2,700 feet which is the highest planting in Alder Springs. The grapes were extracted by foot treading or the French term, "pigage". This process is labor intensive; we have met only a few producers in Napa Valley doing this – and always for very small productions. Aromatically the wine shows 'juicy' aromas including blackberry and blueberry with notes of earth/ damp forest floor. The palate is rounded and both tannins and richness of flavor linger for some time.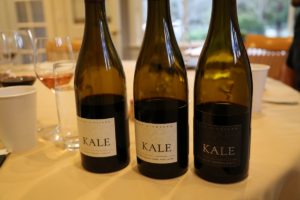 The 2012 Kale Wines Broken Axle is from Stagecoach vineyards located high on Atlas Peak. The amount of rock that 'grows' in this vineyard is astounding. Founder and owner of Stagecoach Jan Krupp removed enormous quantities of rocks over the years; this wine is named in tribute of the huge dump trucks that have been beaten up (some with broken axles) while working on this property.
The wine is dark in the glass. The bouquet immediately shows alluring aromas; it is meaty with notes of leather and toasted oak, and it is dark and brooding. A gravelly component also shows. As the wine breathes hints of baking spices appear. On the palate the wine has richness and depth. The dusty tannins linger for some time. Notes of mocha linger slightly on the finish. This wine also has very good acidity.
The Wine Thief
As of July 2015, Kale Wines began offering their wines The Wine Thief, a tasting room located in downtown Napa that features small production Napa Valley based vintners. This tasting room is located on the corner of 1st and McKinstry Streets directly across from Gott's Roadside Hamburgers and the Oxbow Public Market. Wines are available for tasting by walk-in at the tasting counter, or appointments can also be made to try the current release of their wines in one of the two private rooms on site.
Heron House, Yountville
Kale Wines was a member of the Heron House in Yountville until December 11, 2022, when the Heron House closed permanently. We keep these notes and photographs for historical reference. This retail wine tasting space in SoYo (South Yountville) opened the day after Thanksgiving 2019 and featured a select number of small-brand producers who did not maintain their own tasting rooms. Heron House was created by vintner, Allison Stelzner, and the brands represented here were winemakers or friends or colleagues of Allison.
Heron House was setup to feel like walking into someone's living room – comfortable, cozy and inviting. The retail portion of the space was open during normal business hours and included mostly locally crafted products including select works of art, some of which were seasonal offerings. Sometimes pieces of art from South America, primarily Uruguay were also featured. Two private tasting rooms were available by reservation. Several curated flights were offered, each containing wines from the various producers represented. Allow up to 90 minutes for a visit. Hours are subject to change, but as of our latest update to this review, this space is daily from 10am until 6pm with the last tasting appointment at 5pm. Weather permitting, tastings can also be held outdoors at one of several tables in the courtyard.
Serious wine enthusiasts can taste with Kale at the Grill at Meadowood; tastings are private and are typically built around food involving either at lunch or dinner. Kale is also ICON cork certified (a program offered by Portocork America) meaning all corks used in their wines are certified to be TCA free. For more information, visit: www.kalewines.com