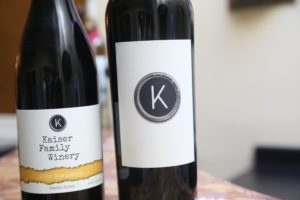 Kaiser Family Winery was founded by Rick and Theresa Kaiser (no relation to any of the Kaiser businesses). Rick grew up in Long Island, New York and met Theresa while both were working at what is now PricewaterhouseCoopers (created in 1998 by a merger between Coopers & Lybrand and Price Waterhouse). Both are practicing CPA's. Rick recalls drinking mostly sweet wines and spirits but never being interested in wines. An opportunity to join a financial planning firm brought the Kaisers to the San Francisco Bay Area in 1990.
While living in Danville, Rick and Theresa would often visit the Livermore wine country and also the Napa Valley. Rick remembers driving up to the Napa Valley with Theresa and their 8-year-old son Dan – slowly visiting as many wineries as possible in the valley over numerous weekend trips back when tastings were $3, and one would often keep the wine glass after finishing a tasting. During one stop at a winery with Dan, they were quickly shown the door because of their son's age. Scrambling to find another winery to visit, they consulted their winery map and found Vincent Arroyo Winery within a very short drive.
Arriving at Vincent Arroyo Winery they were quickly welcomed and soon warmed to Vincent who hosted them for 5 hours, even opening up a vintage of wine from their son's birth year (1985). Their visit turned into a long-lasting relationship with Rick often volunteering at Vincent's winery for many years. In 1998 Rick decided to remove his son's rusting swing set in their yard and plant vines. He planted 36 vines of Cabernet Sauvignon in this mini vineyard – learning as much as he could about viticulture on a small scale.
One day one of his friends asked Rick "when will you make wine?" so they decided to start making home wine in the family garage. They purchased 1/2 ton of grapes, but it was from a vineyard that wasn't well managed with the grower even sulphuring right before they were harvested. This caused complications in the winemaking with non-desired aromas and other faulty characteristics. But it was part of Rick's learning, and it was his first vintage (2002).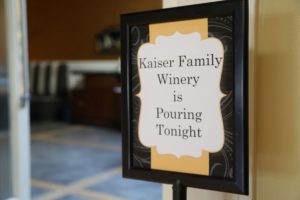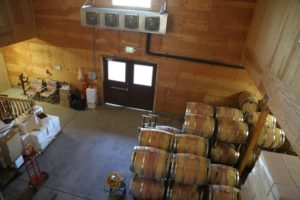 Rick enjoys making wine and also the hands on learning by doing. As he readily admits, "I never make the same mistake twice, but I think I have made all the mistakes I could possibly make to date" (referring to winemaking).
In the early 2000s Rick joined a tax preparation, payroll, booking and advisory firm based in Antioch. Today he is a partner in Temen, Kaiser & Farros L.L.P. In 2004 Rick and Theresa and two other couples purchased a property in Calistoga and soon planted a 'home vineyard' of about an acre to Cabernet Sauvignon, Petite Sirah and Sauvignon Blanc. Vincent Arroyo gave Rick cuttings for the Cabernet Sauvignon and the Petite Sirah and one of their neighbors provided cuttings for the Sauvignon Blanc. The families named the vineyard Buoni Amici (good friends in Italian) referencing both their relationship and the fact that 5 of the 6 individuals are of Italian heritage.
Their first harvest was in 2008, a rough year in parts of Napa Valley due to a severe late frost which caused yields to be far below normal including at their tiny vineyard. Walking through the vineyard in the morning after the heavy frost, all Rick saw was black and deadened leaves and young shoots. Remarkably the vineyard only lost 4 vines, but he only harvested 1/4 of a ton that year. Today normal yields are about 1 ton of Petite Sirah, 1 ton of Cabernet Sauvignon and 1/2 ton of Sauvignon Blanc. Rick made home wine through 2012 – splitting the number of bottles in total among the three couples – drinking what they could and giving away the rest as gifts.
Then 2013 rolled around. Being in the industry and knowing a few winemakers and growers in the valley is what led to the formation of Kaiser Family Winery. One of Vincent Arroyo's neighbors lost a contract for some of his Zinfandel grapes and a small amount of Petite Verdot. The grapes were going to waste so he offered 5.5 tons to Rick and Theresa. Rick elected to make wine from the grapes – a much larger scale then he was used to. The 2013 vintage of Calistoga grown Zinfandel was their first wine commercially produced.
Two years later the other two couples decided to sell their share of the home and vineyard and Rick and Theresa bought them out. By then the family moved to Calistoga full time (although Rick still maintains his office in Antioch). In late 2016 Rick, Theresa their son Dan and his wife Carolina purchased Johnny's Restaurant & Bar in the Mount View Hotel in downtown Calistoga, made some name and menu changes and today operate both Johnny's Restaurant & Bar and Italian Amaro (formerly Jole, Catahoula Restaurant & Veraison Restaurant & Bar – got any guesses as to the next name and culinary theme change?!) – the restaurants anchoring both sides of the lobby on the first floor in the hotel. Dan oversees both restaurants.
Rick is also part owner of an existing vineyard property on Grant Street in Calistoga, formerly owned by Vincent Arroyo Winery. They refer to the property as the Grant Street Ranch.
Select wines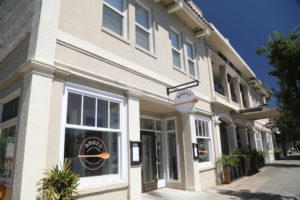 The focus of their tiny production is from their one-acre vineyard. However sometimes Rick is offered other grapes and will produce one-off wines. All their wines are named after accounting terms.
The 2016 Kaiser Family Sauvignon Blanc Opening Entry offers aromas of citrus blossom, melon, an orange peel zest along with subtle tropical nuances. Very clean across the palate the wine shows some light rounded texture, not heavy but complemented with plenty of flavor. This wine went through 100% secondary fermentation and was aged in stainless steel tanks. Shows a bit of crispness on the finish with some tropical notes that linger. Drinks very well by itself.
The 2013 Kaiser Family Zinfandel Reconciliation clocks in at a high-octane alcohol of 17.44 percent but one does not necessarily immediately notice the higher alcohol. Opulent ripe aromas envelop the glass – deeply layered this wine is enjoyable to smell. Aromas of sweet ripe blackberry, black licorice, sweaty saddle leather and hints of darker dessert spices show. Mostly dark fruit on the palate including blackberry and plum with dry medium bodied tannins lingering for some time along with dessert spices.
The 2014 Kaiser Family Compilation Cabernet Sauvignon offers aromas of cherry and blackberry with a hint of tobacco leaf and as the wine opens additional notes of espresso. Medium bodied without heavy tannins shows both red and darker fruits on the palate including plum and red cherry. Showcases a mouthwatering finish with excellent acidity including flavors of currant and other red berry fruits. Dry and long lasting (with some grip) but not course tannins.
The 2015 Kaiser Family Winery Deduction Petite Sirah is a memorable wine both on the bouquet and the palate – dark in color like a moonless night in the forest as this varietal often shows – the wine is equally dark both aromatically and on the palate. Offers ripe aromas of plum and blackberry – all dark fruit showing. Flavors of ripe berries show on the palate including blackberry and boysenberry. Well layered with plenty of depth of flavor – this wine delivers robust, muscular, grippy and chewy tannins – especially noticeable on the super long finish. While the tannins stand out – this wine also features excellent acidity and plenty of fruit to hold up to the structure. This will be an interesting one to keep an eye on every few years. A Texas steak lovers' wine to be sure. Our favorite of the Kaiser Family offerings, especially for its fuel injected performance.
—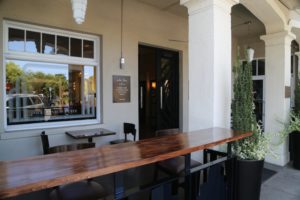 Tastings are by walk-in at the Indie Blue Salon (walk through the lobby of the Mount View Hotel) in Calistoga between the hours of 430 and 630pm daily. Private tastings can also be arranged by appointment at the winery also in Calistoga where the Kaiser Family wines are produced. Total production is only about 250 cases per year with about half of that sold through their restaurants. Distribution is very limited, but the wines can also be found at Calistoga Wine Stop (a retail wine shop) and several places in Antioch. For more information or to order wine, visit: www.kaiserfamilywinery.com