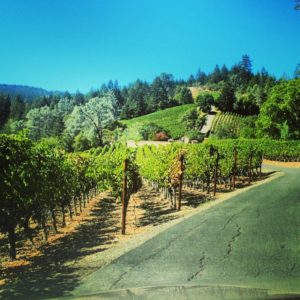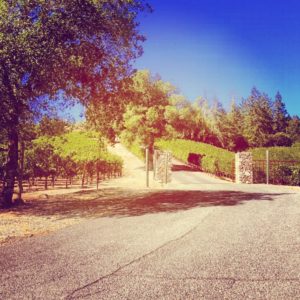 Juslyn Vineyards is owned by Carolyn and Perry Butler – ex-patriots from the United Kingdom. They owned and operated a staffing company for proprietary software – until they sold this business in 1997. As a result of this business they would often travel to Asia for work – stopping in California. Eventually they moved to Walnut Creek in the San Francisco Bay Area in 1982; while living there, they would often make the drive up to Napa for weekend getaways.
The lure of full time living in the Napa Valley became to strong to ignore – they purchased 42 acres in Mayacamas mountains of what is now the Spring Mountain District. Upon moving to the Napa Valley the Butler's met Art Finklestein (the founder of Judd's Hill Winery). He made several home vintages for them. Still several years away from the maturation of their estate vineyard, in 1998 and for several years following, they purchased fruit. 1998 was their first commercial release.
The property has some vineyard history – it used to be owned by Charles Krug Winery and grapevines were originally planted here in the late 1800's. When the Butler's purchased this hillside property the original vineyards had long been abandoned.
They hired well respected vineyard manager Oscar Renteria to plant the vineyard. The vines grow on sloped rocky hillsides mostly facing South East. This is the lower part of the Spring Mountain appellation – based on their unique exposures and rather open rolling hills they have plenty of sunshine hours. Further up Spring Moutain you find redwoods growing near the creekbeds and certainly steeper slopes that are much more forested. Today they have 5.5 acres of mostly Cabernet Sauvignon but also Merlot, Cabernet Franc and a tiny block of Petit Verdot. Long time Napa winemaker, Craig MacLean has made every vintage.
General Manager Stephanie DeMasi came on board in 2003. She answered an ad that Perry and Carolyn had placed for a General Manager. Her prior local wine experience involved working with Cathy Corison (well regarded Corison Winery) and helping launch the Bounty Hunter Wine Shop in Napa. She recalls Perry asking her a simple question, "can you understand my accent" – understanding the accent was not a problem – she was soon hired. Today she is also a partner in the winery.
Juslyn's focus is to try to make the best possible wine from their property each year – creating estate blends rather than straight varietal wines. This means changing the components of the wine each year based on what will produce the best wine from the individual vintages.
Select Wines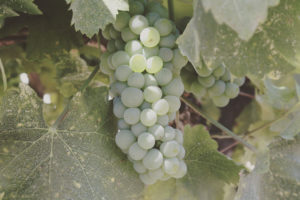 Their Sauvignon Blanc is the only non estate wine – the 2012 vintage was purchased from a vineyard in St. Helena. Intially floral notes show – aromatically pleasing notes of rose petal then fading to citrus blossum. The palate has some weight – is viscous towards the end but with a finish that is crisp and clean. They make so little of this wine that it is reserved for just a handful of restaurants in the town of St. Helena and their wine club list members.
The 2016 Rosé of Cabernet Sauvignon is surprisingly dark red in the glass. The color perhaps is an indicator that this is not a light rosé. Very aromatic with sweet notes of raspberry and watermelon on the bouquet and very subtle hints of mint. Has a very noticeable creaminess on the palate (this wine does see a fair amount of French oak during its aging). A pleasing mouth feel, shows intense flavors that linger for some time on the finish. One doesn't need food to pair with this wine – drinks very well by itself.
The 2009 Cabernet Sauvignon has an elegant bouquet – initially showing dark fruit and some intruiging complexities – still very elegant. Mostly dark cherry with a hint of vanilla. Earthy tannins with some structure are beautifully integrated with the fruit. There is plenty of life on the finish which lasts for some time. Many wines in the 15% alchohol range or slightly above aren't super balanced – this is one of the more balanced wines we have had in the 15% range.
The 2009 Perry's Blend is a wine that has gone through an intriguing evolution – both in varietals and in name. The Butler's met Andy Beckstoffer early on during their visits to Napa. He manages some of the most premium vineyards in Napa. Initially this wine was a blend from some of the top vineyards in the valley including Tokalon, Dr. Crane and Georges III (all managed by Beckstoffer) and some of their Spring Mountain Fruit. They simply called the wine, "Napa Blend".
Robert Parker was taking notes on this wine one day while visiting their property and he mentioned that he thought this name was too generic. The Butler's nodded appropriately and politely but they knew that their label had already been submitted to the TTB for approval. The next they heard from Mr. Parker was a mention of this wine in his Wine Advocate newsletter – he referred to it as "Perry's Blend". People started calling the winery asking for this wine and deciding to honor both Mr. Parker and Perry – the name stuck and they make this wine every year. But today it is entirely made from their Spring Mountain estate fruit.
The 2009 Vintage was aged three years in barrel (both new and neutral oak) and then another 18 months in bottle before release. It shows a neat floral component intermingled with ripe fruit that bursts from the glass. Both red and black fruit show on the palate – raspberry and blackberry. This is a medium bodied wine with great acidity. The structure is there, but it is delicate on the back of the palate.
Their "Rescue" label is a rare wine indeed. It is only made during certain years from wine that doesn't quite fit the profile for the Perry's blend and their estate Cabernet Sauvignon. The 2008 vintage was merely 140 cases. 100% of the proceeds from the sale of this wine directly benefit several charities that the Butler's are involved in. Most notably is the Golden Triangle Asian Elephant Foundation. During a stay at the Four Seasons Tented Camp in Chiang Rai, Thailand they were introduced to the camp's charity project – rescuing elephants from the streets of Bangkok and other cities. Finding themselves in a position where they wished they could support this project, they launched Rescue. This wine is available for purchase on their website. For information about the charities' parent organization is found here: www.friendsofconservation.org
The name "Juslyn" was created by combining the first part of their daughter's name, Justine with the last part of Carolyn's name.
With an annual production running usually between 1200 and 1300 cases, their distribution has to be selective. They are found in certain markets in New Jersey, parts of Western Canada, Chicago and locally at a number of restaurants in the Napa Valley. One can also taste their wines at the upscale winery + art tasting room, Ma(i)sonry in Yountville – either private or semi-private experiences available. For more information visit: www.juslynvineyards.com