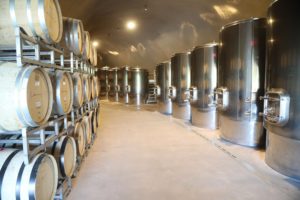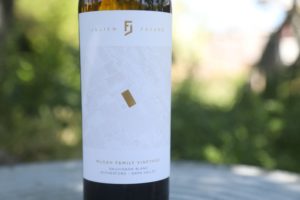 Julien Fayard Wines. Julien was born in Saint-Étienne in France; he has a well-rounded and diverse background in wine making. His father grew grapes, and their family has been involved in the wine business in France for several generations. Julien made his first wine at age 16 and continued his education by working in Provence, the Loire Valley and Bordeaux (Château Lafite-Rothschild and Château Smith Haut Lafitte – incidentally both wineries have strong connections through ownership to the Napa Valley).
Julien first visited California in 2000, returned to France and then in 2003 came back to the Napa Valley for a short while working as a harvest intern at Quintessa. It was at Quintessa where he first met winemaker Philippe Melka. Julien later worked with Melka at Atelier Melka for 8 years and oversaw a number of projects including winery development, vineyard sites and custom crush operations and worked with notables such as Lail, Gemstone and Dalla Valle Vineyards.
Julien released his first wine in the Napa Valley in 2007, a rosé bottled under the brand Azur. Arguably, the Azur rosé set a new standard of quality for California producers of wines of this style. From the beginning the winemaking followed the Methode Provencale process (direct pressing or maceration and bleeding of the juice) along with a number of other steps similar to how this wine is made in Côtes de Provence, France, including no malolactic fermentation. And in addition, what is highly unusual in the Napa Valley, the grapes purchased for this wine were grown specifically for the purpose of making a rosé wine and were always harvested on the earlier side – highlighting the acidity and liveliness of the fruit.
In 2012 a group of partners including Julien purchased a 12-acre site in Coombsville of which 4.5 acres were already planted to vine. Now called Covert Estate, part of the property is a knoll which boasts excellent views overlooking much of Coombsville and to the south including the San Pablo Bay in the distance. This knoll has proved useful in that geographically it provided the footprint for their wine cave. The 12,000 square foot cave was completed in late 2015 in time for that years' harvest and serves as home to a number of small brands that Julien and his team make wine for including several projects that Julien founded and is the winemaker for, i.e., one of Napa's better value Cabernet Sauvignons, Récoltant Wine.
Select Wines
The Julien Fayard wines are highly personal, after all it is his name on the label. He sources fruit from premium vineyards based on both quality of site and relationships he has developed with growers over the years. The first vintage of Julien Fayard was in 2016.
The 2019 Julien Fayard McGah Vineyard Sauvignon Blanc shows medium gold in color with some citrus influence on the bouquet including pomelo, grapefruit and hints of freshly cut grass. On the palate there is a perceived sweetness of both oak and ripeness of fruit. The texture is rounded and slightly creamy but not viscous and is complemented nicely by the wine's acidity. This is a very thoughtfully made wine with layers and complexity. Offers flavors of honeycomb and lemon zest. Lingers with a touch of desert spices on the finish. This wine was fermented in oak barrel and aged sur lies with battonage.
Sauvignon Blanc is usually not associated with aging much past its purchase date, but Julien crafts his Sauvignon Blancs to age some years. The 2016 Julien Fayard McGah Vineyard Sauvignon Blanc is medium yellow in the glass; shows aromas of pineapple, hazelnut, honeycomb, and a vanilla sweetness deeper in the aromatics. This wine also offers some floral notes including citrus and honeysuckle. Rounded but not necessarily creamy, its texture is nicely balanced with the acidity. Showcases a lively finish (no New Zealand high acid tartness here) with lingering flavors of red apple, mandarin and a hint of lime. Very balanced. Has held up nicely nearly 5 years post-harvest date.
Departing from his normal varietal focus, is the Platt Vineyard Pinot Noir; the vineyard site is located in the hills west of Sebastopol (Sonoma Coast) in neighboring Sonoma County. The 2016 Julien Fayard Platt Vineyard Pinot Noir was fermented stemless; it shows a floral element but also a darker note on the bouquet, including clove and cedar. Becomes slightly savory as the wine continues to open. Very bright – its red fruit tones are immediately evident on the palate with both red cherry, cranberry and hints of rhubarb. Finishes supple. Coming from a perspective on making red wines throughout his career Julien was vigilant on how he made this wine, carefully monitoring extraction during the winemaking even down to the diameter of hoses used.
What is a classic Napa Valley Cabernet Sauvignon? This question Julien has posed to himself and to others over the years. And perhaps it is a question one can't quite answer due to a myriad of factors which are constantly evolving. But for Julien wines must show a freshness, a stability over time in the bottle, showcasing Napa Valley fruit – its ripeness and texture, but at the same time influenced by his French persuasion.
The 2018 Julien Fayard Cabernet Sauvignon Classic was crafted with more valley floor fruit than the Reserve. This wine shows an elegance including a floral note on the bouquet (violets), blueberry, blackberry, plum and as the wine opens a note of cedar and baking spices. A hallmark of this wine is its brightness across the palate – a nice interplay of mostly red and darker fruits with great acidity. Lingers with plum and blackberry. The tannins showed a bit tight at the time of our tasting, present and noticeable with a medium grip. Would love to try this in another 10 years.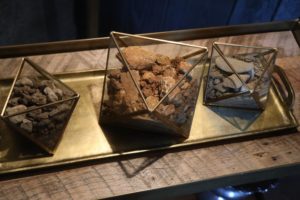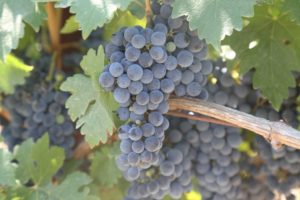 The 2018 Julien Fayard Cabernet Sauvignon Reserve offers enticing aromas of chocolate, dust, mocha and plenty of black fruit. Adding some aromatic intrigue is a hint of shishito pepper as the wine opens further and there is even a thread of red fruit showing deeper into the aromatics. Generous amounts of dark fruit show across the palate with a darker finish and notes of dried tobacco leaf. Dense, with earthy, chalky and somewhat dry tannins the finish is complemented by dark cedar. Lingers for some time with its powerful grip of structure and fruit.
Both the Classic and the Reserve wines have their own style and place; Julien strives for consistency each year while making these two wines. And both wines are offered at a very reasonable price to quality ratio. It is well worth your time to seek out both of these.
The 2016 Julien Fayard Martinez Vineyard Cabernet Sauvignon (clone 4 and clone 7 from a single block within the vineyard) is perched on slopes overlooking the Napa Valley on Pritchard Hill not far from Nine Suns Winery. The hallmark profiles of this vineyard are its soil depth with both clay and red iron rich earth. This wine is noticeably inky dark in color; one of the hallmarks of Julien's wines are great phenolics and extraction. Offers pretty aromatics including blackberry, boysenberry and a subtle oak influence sweetness. The oak nicely complements the aromatics. And as it breathes further, shows aromas of Graham Cracker and clove. This wine is powerfully built and needs some time to open, but when it does, the integration of all of its components show nicely. Lingers with somewhat dense, chewy and chalky tannins which are rounded in feel initially but soon becomes more complex, cedar notes and tobacco leaf along with a lingering brightness of fruit (red berries). Tasted nearly 5 years post vintage date, this wine has loads of life left.
Sleeping Lady Vineyard is located on the valley floor on the west side of Highway 29 a few minutes south of Yountville and is owned in a partnership between the Bettinelli family, long time farmers in the Napa Valley and Brion and Ronda Wise (BRION, B Wise wineries). The vines were originally planted by Larry Bettinelli (Napa Valley Grower of the Year in 2016). The vineyard is named after a feature in the foothills of the Mayacamas mountains to the west of the property that somewhat resembles a sleeping lady. We have been told its easier to see this feature from the air then from the ground.
The entire property is 110 acres with 52 planted to vines; the vineyard is primarily planted to Cabernet Sauvignon (95%) with the remainder to Cabernet Franc. The vines grow in alluvial deposits with gravel located underneath topsoil. A number of premium boutique producers source grapes from this vineyard including Julien who first discovered the site years back when he decided to purchase some of their grapes. One of the prime parts of this vineyard is on its western sides on slightly sloped soils right next to the edge of the Mayacamas mountains.
The 2016 Julien Fayard Sleeping Lady Cabernet Sauvignon is dark ruby in color; offers fresh and lively darker fruit aromatics including notes of black fig, blackberry and a floral note (lavender). On the palate, shows a density of dark fruit and structure. Juicy, layered, and complex with plenty of fruit. This wine is still in the throes of youth – excitable and bursting with energy, it finishes with robust and gripping tannins. Offers plenty of power yet with a simultaneous freshness, both elements of an intriguing wine.
—
The label design is simple yet eye catching. Based in Var, France, Julien's cousin Lionel and his wife Carine operate Fayard Design. They creatively combined both visual elegance with representation of vineyard sites. Each label is different – all with Google maps faded in the background with the source vineyard blocks highlighted in gold.
Just Pink!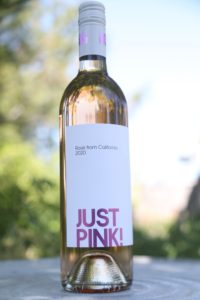 With Julien's background working with rosé – it was only a matter of time before he created another rosé brand. Bottled primarily for distribution, production is around 2,000 cases annually.
The 2020 Just Pink! Rosé from California is pale to medium copper in color; the aromatics are fresh with plenty of fruit including raspberry and wild strawberries. Also, a citrus note, a lime and lemon zesty character which carries onto the palate. A slight creaminess. A liveliness runs from the entry to the finish, even as the wine starts to warm up to room temperature. Made to be enjoyed by itself or perhaps paired with some lighter seafood dishes – we are thinking best paired with some sashimi in the Roppongi Hills of Tokyo, or Thai freshwater prawns with some spicy nam phriks, enjoyed on some rooftop in Bangkok watching the sun set over the skyline and the glistening Chao Phraya River.
Overdelivers for the price; 1% of the total gross profits from sales of this wine are contributed to an organization called 1% For The Planet – funds from businesses who participate in this are distributed to organizations protecting the environment worldwide. Also sold as kegs for serious rosé consumer enthusiasts, and or to restaurants.
And more recently Julien began producing another label called Les Vins Julien, focusing on a diversity of lower price point wines from a diversity of sites ranging from California's central coast to other locations within northern California.
Maison Fayard, Napa
Maison Fayard opened on September 23, 2023. The previous tenant was Engel & Volkers; after they vacated the premises the space was remarkably renovated and completed in about 3 weeks – perhaps some sort of record for shortest amount of time needed to convert an existing space into a tasting room in downtown Napa. The interior remodel was overseen by Cruz Calderon (co-proprietor of Scalon Cellars). Artwork will rotate from time to time; the inaugural artist represented was Laurie Shelton, also proprietor of CAMi Vineyards (known for her paintings of colorful cows).
Maison Fayard is a collection of wines produced by Julien Fayard including wines under his own ownership (Julien Fayard, Purlieu, Just Pink!, Les Vins Julien and Covert Estate). Most of the brands he makes wine for are from Napa Valley but there are several producers whose focus is non Napa Valley wines. This collection is diverse including varieties and price points. The interior is partly a bottle shop and a tasting space with a private room located upstairs for more private tastings. Maison Fayard is located at 1408 2nd Street in downtown Napa.
This part of 2nd Street (between Franklin & School streets, sometimes locally referred to as SoFi – south of First Street) has seen as much of a renaissance as any other part of downtown. One of Fayard's nearby wine neighbors, Gamling & McDuck were one of the very first businesses part of this burst of energy brought to this part of the city. It's a hip and happening place to hang out, especially on the weekends and features a variety of welcoming shops including tasting rooms. And in the spirit of neighbors having fun Jeffries General next door, Benevolent Neglect across the street and Gamling & McDuck carry nerf guns next to their counters for friendly neighborhood fights. Although on the second day they were open, we personally provided Maison Fayard with a nerf gun of their own to defend themselves as needed.
For more information about Maison Fayard and to shop for selected wines, visit: www.maisonfayard.com
The Green Room
In early 2019, Julien opened The Green Room in an industrial park located just south of the city of Napa. This tasting space was formerly occupied by Holman Cellars and with a few updates, is now used for private tastings by appointment. And the winery portion of the space is where the Julien Fayard brand is also produced along with wines for select clients and some of his other own brands.
The idea behind the name is two-fold, Green Room is generally referred to as a room where actors or others about to go on live television or other performances, take time to relax and calm the nerves and it is also a surfing slang, referring to barreling a wave or getting time inside the hollow of a wave as it curls over before cresting. Appropriately named, the room is a calm space, intimate in size, it sits just outside the winery but close enough so that visitors can watch the action through the adjoining windows. And the name ties into one of Julien's other passions, surfing – one cannot miss seeing the variety of surf boards that line the ceiling of the winery.
Each wine only has a production of maximum of around 300 cases. The wines have limited distribution in Arizona, California, Illinois, Florida and Texas. For more information or to join the mailing list, visit: www.fayardwines.com
Château Sainte Marguerite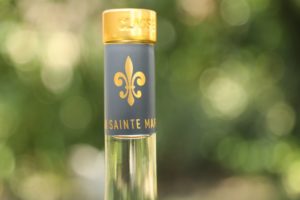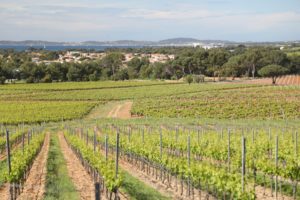 Château Sainte Marguerite, located in southern France in the tiny community of La Londe-les Maures on the French Riviera was founded in 1929 by Andre Chevillon. Julien's uncle, Jean Pierre Fayard and his wife Brigitte purchased the chateau in 1977 after Jean Pierre's family sold their packaging business (including greenhouse services). While not having a formally educated background in viticulture, Jean Pierre's grandfather managed a vineyard near Montpellier.
The previous owner André Chevillon was a classical piano teacher and performer who didn't have any heirs after he passed except for his wife. After his death she took over the property and in 1975 gifted the land to the Fondation de France; it was for sale for several years before Jean Pierre's purchase. He recalls that the value of the property even dropped in half by the time of his purchase. How things have changed since then – vineyard land is now at a premium and continues to increase in price in Provence where there are only 40,000 hectares available for growing vines.
Jean Pierre and Brigitte's children have been actively involved in the operations.
NOTE: in late 2022, the sale of the majority of Chateau Sainte Marguerite was made to Paris based, Pernod Ricard, also the parent company of G.H. Mumm and Mumm Napa Valley. The Fayard's children retained a minority stake in the company. Since the transition in ownership, the wines of Château Sainte Marguerite have been introduced to the U.S. market and production has increased.
Pernod was founded in 1805 and Ricard in 1932; both companies merged in 1975. Pernod Ricard global headquarters is located in central Paris within a several minute walk from the Place de 'Europe train station in a massive building known as The Island. The main foyer contains an impressive display of many of the alcohol brands under their ownership. The company maintains sales forces in more than 70 countries and distributes nearly 250 brands in over 160 countries.
For guests, the Pernod Ricard Contemporary Art Foundation is worth visiting. Admission to this 300 square meter exhibition space is free to the public and features rotating art exhibitions focusing on works of French artists. To date it has featured more than 1,000 artists and more than 150 exhibitions; the foundation does not maintain a permanent collection. The space also contains a 112-seat auditorium. And Cafe Mirette named in honor of Paul Ricard's wife, is located at the entrance to the art space. On warm days around lunchtime the outdoor courtyard seating will be completely filled with patrons.
At the time of our visit, Chateau Sainte Marguerite owns five individual properties in four municipalities including La-Londe-les-Maures, Hyères, Pierrefeu and La Crau. Since Pernod Ricard took over ownership, they started purchasing grapes for their Symphonie bottling. In addition to the primary estate which houses the winery, two other sites are under ownership which are used for select winemaking and two properties are vineyard only sites. Approximately 153 hectares are planted to vines. The soils vary from each site and include shist, volcanic (some parts of their vineyards are red iron rich with plenty of rocks), limestone, clay and quartz. And some sites have multiple soil and rock types.
Two noteworthy holdings are Château Hermitage Saint-Martin (with records showing vines originally planted on site dating back to the 12th century; the property had ties to local monks as recently as World War II. This property, with its very red and rocky soils, sits at the base of chaparral and forested mountains near the village of Cuers. And Château La Jeannette, a gorgeous vineyard oasis at the foot of the Massif des Maures. The soils are reddish, fairly uniform with schist and quartz and some volcanic origins. This property is well fenced in to keep out the wild boars.
Since 1955, Château Sainte Marguerite is one of only 18 prestigious Cru Classé estates in Provence. And from 2003 the estate has been entirely farmed organically – certified organic by the ECOCERT organization.
After two+ years of construction, overseen by architect Pascal Flayols, in 2020 a modern cellar, a sizable tank room, hospitality space and staff offices opened, replacing the previous cellar on site. Visits are either by walk-in or by appointment. The chateau property is beautiful – a long driveway passes through vines and winds its way up to the winery where one has excellent views overlooking the vineyards.
Visitors to the winery may also want to spend some time enjoying the nearby gorgeous French Riviera including a 50-to-90-minute drive down to St. Tropez (depending on which route taken and amount of traffic).
Château Sainte Marguerite

Château-Hermitage-Saint-Martin

Château La Jeanette

Select Wines
The Château Sainte Marguerite Icon Cuvee is primarily a blend of Grenache and Cinsault with a bit of Vermentino added for freshness and complexity. Light copper in color. The bouquet is lively and vibrant with aromas of sweet honeysuckle and strawberry. The aromas of strawberry continue onto the palate; features a rounded texture with a simultaneous brightness of acidity. Very balanced. Flavors of green apple and kiwi, but the wine is not tart. Mouthwatering finish.
The Château Sainte Marguerite Fantastique is a tank selection every year including three varieties; Cinsault, Grenache and Vermentino (a variety also referred to as Rolle and is widely planted in Provence). Every December the winemaking team assigns each tank a number from 1 to 3+ indicating quality – only tanks containing wines rated 3+ are used in this white varietal blend. The Château Sainte Marguerite 2020 Fantastique is pale yellow in color; shows a variety of citrus aromatics including lemon, lime and more pronounced notes of grapefruit. As the wine opens further, hints of lychee are revealed. An immediate up-front richness shows on the palate, complemented by a rounded texture. Very well layered.
The 2020 Château Sainte Marguerite iKon White (Vermentino) is from the Saint Martin property. Their Vermentino is fermented and aged in barrel, a combination of two cooperages, Boutes and Ermitage. The barrels sit on top of rubber roller wheels which are physically turned during aging (battonage, rather than physically stirring the lees). This wine offers a wide variety of aromatics including peach, nectarine and apricot. Given time, the bouquet opens up to citrus blossom and a honeysuckle sweetness, found deeper in the aromatics. Very balanced with layered fruits including honeydew melon, golden delicious apple and a hint of apricot. A rounded but not viscous mouth feel; there is plenty of acidity in this beauty.
The 2020 Château Sainte Marguerite Symphonie White is a barrel selection of their best Vermentino. Pale to medium gold in color; offers a sweetness of aroma including honeysuckle, peach and nectarine. Vanilla notes. Floral. An elegant bouquet. Shows a pleasing texture across the palate – a bit rounded and creamy. Flavors of citrus and red apple. Bright, lively finish. This wine is bottled twice every year, once around March and then later in May.
The 2019 Château Sainte Marguerite Symphonie (Syrah + Grenache) blend is medium ruby in color with meaty, juicy aromatics and is a little bit savory with some darker spices including white pepper. Shows flavors of plum on the palate and lingers with a mouthwatering acidity. Bright, this wine makes one salivate. A fresh showing. The tannins are still taught, but finer grained in their texture. Slightly savory on the finish, it lingers with hints of cedar and pepper.
The 2018 Château Sainte Marguerite iKon Red is a Syrah and Grenache blend. Shows darker ruby in color – the bouquet takes meatiness to another level. In its youth the Syrah dominates, but according to Jean Pierre, over time the influence of the Grenache should become more pronounced. A full-on plethora of aromatic complexity. Sweaty saddle leather, dark spices, hints of pepper. Savory. This is a rich showing, especially on the palate and is almost bloody, juicy – even rusting iron-like. Think of an old railroad spike rusting in the sun. Savory on the finish with notes of pepper but is not peppery. The tannins are medium bodied and are well integrated. A pronounced tone of fruit and acid show from start to finish. An age-worthy showing. This is an extremely memorable wine for both its character and complexity and is well worth seeking out.
All wines have been registered as vegan friendly through the Vegan Society (look for the little green sunflower logo on each bottle). Total production each year is around 1 million bottles of which 60+ percent is of rosé wines. For more information, visit: www.chateausaintemarguerite.com