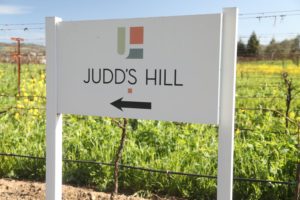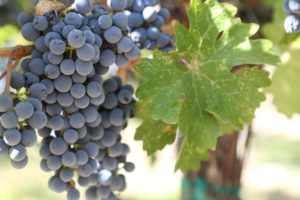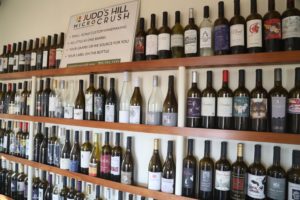 Judds Hill Winery is owned and operated by the Finkelstein family. The story begins with Art Finklestein, a successful architect and carpenter in Los Angeles. He began making home wine in the early 1970s and entered bottles in both the LA and Orange County Fairs – earning high praise from judges along with various awards.
His first trip to Napa Valley was in 1971; both he and his wife Bunnie were hooked by the landscape and lifestyle. In 1979, along with Art's brother Alan Steen (passed away in 2020) & his wife Charlene (one of Napa Valley's most fascinating couples) purchased a vineyard along Highway 29 just south of St. Helena. Art designed what would become Whitehall Lane Winery – releasing his first wine in 1980. Eventually as the winery grew to over 30,000 cases a year, the couples sold the winery (in 1988). And if you are wondering why the brothers have different last names, it is because Alan legally changed his name from Finklestein when he was a teenager.
And then Art and Bunnie purchased what became the original home for Judd's Hill Winery – 14 acres in the hills above Conn Valley and Lake Hennessy (currently home of Aonair Winery). The winery name combines both an homage to their original hillside location and the name of their son, Judd.
Art passed away in 2010; today Judd and his wife Holly oversee the winery operations. Judd's Hill is located on the southern part of Silverado Trail merely a few minutes north of the city of Napa. Visitors pull onto their small driveway, almost immediately crossing a very narrow bridge; the gravel road winds through the vineyards before reaching the winery and tasting room.
The winery is in a very picturesque location, among rolling vineyard hills surrounded by rows of grapes. Typically, your host will provide a short production tour which involves seeing the "guts" of their operations (the cellar room). An ideal time to visit is during the harvest months when the winery is a hive of activity.
MicroCrush
What sets this winery apart from other wineries are their MicroCrush services. This tiny wine making program specializes in making small batch wines (minimum quantity is 1 barrel – about 24 cases – 288 bottles). It is ideal for those looking to make vanity brands, special occasion wines or even those who make small lot wines for sale. Other custom crush facilities in the valley typically have much higher quantity limits – wineries such as Napa Wine Co and Laird Family Estate among others. Clients communicate their preferred varieties and other related preferences – Judd's Hill will then secure the grapes, do all of the wine making, aging, blending, bottling and can also provide labeling services.
Clients can be quite involved in the wine and decision-making process down to processing fruit, de-stemming, barrel selection, blending and more. This is probably the most affordable hands off or hands on way (depending on how much involvement you want to have) to produce your own small label using Napa sourced fruit. Over the years they have produced wines for numerous clients; the impressive lineup of empty bottles along the shelf in their tasting room is a testament to the popularity of their services.
Hospitality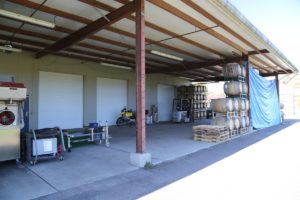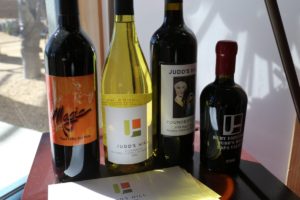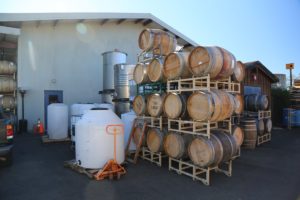 The sit down tasting room is small and elegantly furnished with windows overlooking parts of the vineyard. An outdoor patio wraps around part of their hospitality room with plenty of tables. Visitors are hosted simultaneously – during busy days, several hosts will be serving the tables. A typical tasting will include 5 or 6 wines. Their grapes are sourced from both their estate vineyard and other areas in the Napa Valley and outside of the county. A number of years ago they were still sourcing fruit from their old property at the original Judd's Hill Winery.
One of their more popular offerings, the Wine & Food Seminar is hosted by a professional wine educator. Built to give guests confidence to pair wines with food this 90-minute educational tasting seminar will also provide the necessary skills needed to identify how various ingredients used in the kitchen will change the flavor and texture of wine. This seminar is held daily and seats up to 12 people (reservations required).
Old timers (and insiders) to Judd's Hill might remember asking for a taste of wine from the bottle they used to keep hidden in the "tiki" statue next to the tasting table.
The first vintage of Judd's Hill was a 1989 Cabernet Sauvignon. Their total production is about 3000 cases; for a winery of this size, they produce a huge diversity of wines (26 different wines at the time of our latest visit) – often from varieties not usually offered by Napa based wineries (Grenache, Charbono & a GSM blend) and some of these wines are only available for purchase at the winery or on their website (they have no distribution).
The Judd's Hill wines tend to focus on the variety rather than influences from the oak. These are wines that are lively, bright and show good acidity. Their reds especially are built in a style to be age worthy – but because of how they manage their tannins, are certainly approachable in their youth.
Select Wines
The 2013 Judd's Hill Founder's Art Reserve Cabernet Sauvignon is medium to darker ruby in color; shows aromas of red cherry, strawberry, sweet raspberry, licorice and some savory nuances. According to one of the Judd's Hill long time wine educators, this wine was balanced right out of the gate – and after tasting it 7 years post vintage date, obviously it still retains its balance. The palate offers flavors of higher-toned red fruits including red cherry and currant with an obvious brightness on the finish. The feel of the earthy tannins is pleasing – there is some grip but on the lighter side.
This Cabernet Sauvignon was made with fruit from several sub-appellations in the valley including Rutherford, Oakville, Pope Valley, and the Oro Puro vineyard (a site next to Judd's Hill Winery, that perhaps is most well known in extremely niche circles as formerly producing a late harvest Sauvignon Blanc/Semillon blend under the Oro Puro Vineyards label.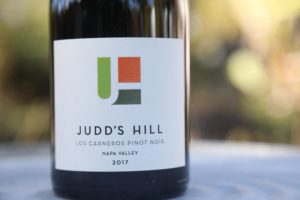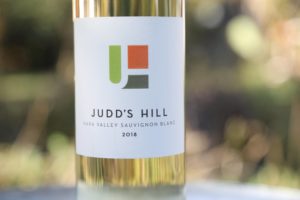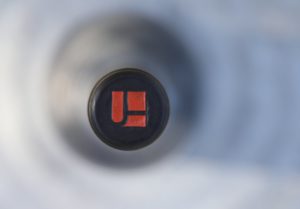 The 2015 Judd's Hill Reserve Syrah is dark ruby in color; it offers a savory nose with one of its most pronounced aromatics reminding us of pulling off red and green peppercorns from trees while hiking in Southern California – the smell of the brittle outside covering of the peppercorns. There are other aromatic layers here including dried rose petal and dried tobacco leaf. Shows both red and darker fruits on the palate – with great acidity and a finish that is spicy and dark with a firm grip of tannins.
The 2018 Judds's Hill Napa Valley Sauvignon Blanc (sourced from the Rawls vineyard in Calistoga) is deep straw color; straight away offers a bright lemon/lime aromatic along with Gravenstein apple, cut grass, dried straw and a steely minerality note. As the bouquet opens reveals citrus blossom – reminds us of walking through a citrus orchard in the Spring #itsbetterinBakersfield #highway178baby. Richly flavored on the palate with flavors that primarily show citrus notes along with some kiwi and kumquat. Bright with a slight rounded texture. Lingers with a zesty tartness of green apple, lime and a hint of tart pineapple.
The 2017 Judd's Hill Los Carneros Pinot Noir, Napa Valley was sourced from the Reinke Vineyard on the Napa Valley side of the Carneros District. This wine is pale to medium ruby in color; offers a mix of both fruit and dessert spices along with notes of chocolate brownie, cedar, rhubarb, wild herbs and ripe cherry. Somewhat savory on the bouquet. Balanced but also linear across the palate – shows flavors of red cherry and strawberry. The finish is slightly juicy and mouthwatering – lingers with red fruit flavors including raspberry and notes of cedar.
One of our favorite Judd's Hill wines has been the 2003 Petite Sirah. This is a big wine nearly as robust as some of the Cabernet Sauvignons based wines we recently have been drinking. It has an appealing bouquet full of earthy and forest floor type aromas. Despite being a well-structured wine, it displays the classic Judd's Hill tannin profile; it is drinkable young (unlike other young wines of this variety we have tried over the years). Features a very long finish.
Judd's Shows
Creativity is the spice of life and Judd has been sprinkled with this more liberally than most people. After high school he studied television production and worked on two small films in the late 1990s including Welcome to Hollywood and Orgazmo. Check out his highly eclectic Enormous Wine Show by visiting: www.juddsenormouswineshow.com. This series was created by Judd and Rudy McClain – the director/writer/producer of the feature film Merlove who we originally randomly met years ago at Aaron Pott's Châteauneuf-du-Pott on Mt. Veeder. And Judd makes an appearance in Rudy's wine film, Merlove.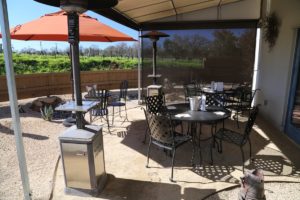 This show features a wide range of wine-related content – from humorous scenarios and on-air interviews to updates on wines and winery activities. As Judd says, "we wanted to share our lively, frenetic lives at the winery with the world out there. We also wanted to get creative and make people laugh and have a good time, so we're pushing the boundaries of blogging and video content online." Sometimes it's best not to take wine too seriously!
And Judd is as entertaining behind the mike as he is in front of the camera; he also hosts Judd's Napa Valley Show interviewing interesting guests on the local AM station, KVON 1440 The Vine.
Judd is a man of many talents, not only is he a magician, but he plays the ukulele for old-time Hawaiian music in his Maikai Gents band and started a ukulele club in the Napa Valley, The Wine Country Flea Jumpers. He also started the Friends of Ardent Mixology, a local club with members who appreciate the art of making cocktails and of course, drinking them to. And he is the founder of Friends of Ardent Mixology (FOAM) in 2004 – a group dedicated to cocktail enthusiasts.
The Fink Night Club
Not yet materialized but proposed, is The Fink Night Club – Judd's expression of his own interests and personality to be housed in what used to be Silo's Jazz Club next to the Napa River and Angele Restaurant, and just down from Napa River Inn. Bar designer Danny Gallardo has been tapped to create the interior décor. Stay posted for more details, photographs and notes based on a personal visit once this space opens, hopefully later in 2023 or 2024.
—
Visitors to the winery should ask to see the Library Wine list, unlike many wineries in the area one can actually purchase wines up to 10 or 11 years old. For more information, to sign up for their mailing list, join the wine club or make an appointment, visit: www.juddshill.com