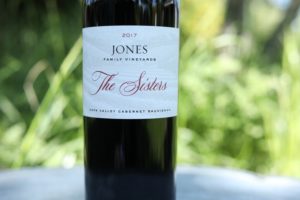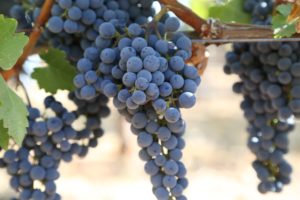 Jones Family Vineyards was founded by Rick and Sally Jones (Sally died in 2005), avid wine enthusiasts who developed a passion for drinking wine while Rick (originally from Chicago) was in graduate school at Stanford University. Rick is no relation to the other Rick Jones, the owner of Napa Valley Winery Exchange in San Francisco, formerly owned by the Leonardini family of White Hall Lane Winery. Taking advantage of being in the San Francisco Bay Area, he and Sally would make weekend trips up to Napa Valley in the early 1970s exploring a wine scene with far fewer wineries then today. After graduating he took a job with McKinsey and Co., and they offered him a position in Paris. While living there for three years they explored some of the French wine regions. And at McKinsey and Co., he worked on projects for Safeway and eventually became Executive Vice President at Safeway in the 1980s.
Rick & Sally moved to Napa Valley in 1991 and in 1993 purchased a premium vineyard offered for sale by vintners Bart and Daphne Araujo (founders of Araujo Estate, now Eisele Vineyard). For several years Jones Family sold their grapes to Stags' Leap Winery (when it was owned by Carl Doumani), and each year produced a small amount of noncommercial wine. By this time, they knew their vineyard was quite capable of producing excellent Cabernet Sauvignon – both from tasting their own wine as well the wine from the wineries who were purchasing their fruit.
The first Jones Family wine was produced in 1996; their focus is on estate grown hillside Cabernet Sauvignon. Their vineyards and winemaking have always been overseen by some of most sought-after experts in Napa Valley; Heidi Peterson crafted their wines from 1996 until 2007. David Abreu planted and managed their vineyard; today their vineyard is overseen by Jim Barbour Thomas Brown makes the wines. Both have sterling reputations in the valley in their respective fields. As any winemaker will tell you, a large percentage of winemaking is done in the vineyards, and it is up to the individuals managing the vineyards and the winemaker to bring forward the uniqueness of each vineyard site.
Thomas Brown is one of the busiest wine makers in Napa Valley. Several producers have showed us lists of all the Napa brands that he consults for and or provides direct winemaking services; this is an extensive list. He is from South Carolina and developed an interest in wine while attending the University of Virginia where his major was not wine related (he studied English and Economics).
He moved to Napa Valley in 1996 and took a job at All Seasons Bistro in Calistoga (known for their California cuisine, wine selection and long time in business – but unfortunately permanently closed in 2020). While there, Thomas met winemaker Ehren Jordan who was working for Larry Turley at the time of Turley Wine Cellars. Thomas took a job with Ehren in the cellar at Turley in 1997 – spent several years there before beginning his own career and starting to consult for various clients (some of which were clients that Ehren was already working with).
And within only 10 years of making wine in Napa Valley Thomas received two 100-point scores from Robert Parker; regardless of what your perception is of scores, creating several wines within a short period of time that receive 100 points from Parker was a watershed moment in Thomas's consulting career.
Today Thomas is highly sought after for his winemaking services, experience and access to premium area vineyards. And while he was once the student, over the years he has become the teacher. We have met with a number of winemakers who worked under Thomas – and consider him one of their mentors. These are winemakers who have gone on to establish their own brands or consult for other Napa based brands.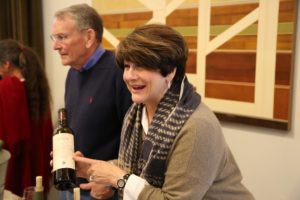 Jones Family owns three distinctive estate vineyards about 5 miles north of St Helena on the eastern side of the valley. Their vineyards are among the southernmost vineyards in the Calistoga appellation. The elevation of the site ranges from 600 to 900 feet; the original 7 acres of vines (entirely Cabernet Sauvignon) were planted in the early 1990s. Later vineyard architect and manager David Abreu oversaw the planting of another 3 acres of Cabernet Sauvignon – fruit from this vineyard is used in blending as well as in their second label, The Sisters.
Like many parts of hillside Napa, their site is extremely rocky (volcanic in nature) with the vines growing in well drained soils (the roots must work their way deep to find water). While not dry farmed (farming this way in the hills is often not an option), the vines are watered as little as possible. And despite only having 10 acres to vine, the topography varies dramatically from almost flat to a 35% slope.
And their vineyards are certified Napa Green (a certification program by Napa County Department of Public Works and the California Green Business Program overseeing water conservation and reduced energy and waste within Napa County based producers – a separate certification is given for both physical wineries and vineyards).
Today Rick is still involved with his wife Elaine, however his two daughters Stephanie and Heather now run their sales, marketing and general operations. Even their husbands are wine enthusiasts and Rick told us have been known to help out from time to time on marketing related activities. It is truly a family run affair and hopefully the 3rd generation when of age, will be consumed by the "Napa allure" that is hard to resist when one grows up in a winemaking family in Napa Valley.
And over the years Rick has been an integral part of the community, serving several roles with the Napa Valley Vintners including as president of that organization and he also has been involved in a variety of philanthropic efforts including with OLE Health.
Select Wines
Jones Family produces a true second wine, appropriately named with the family in mind, called The Sisters. While from the exact same vineyard as their estate Cabernet Sauvignon the wine style is decidedly different. This is more California in style using the same fruit as used in their Cabernet Sauvignon but depending on the year, is blended from specific blocks within the vineyard as well as with additional amounts of Cabernet Franc.
The 2017 Jones Family Vineyards The Sisters is deep ruby in color, fairly opaque with dark garnet colors at the edge of the rim. The bouquet shows darker fruit aromas including of blackberry and boysenberry. Deeper into the aromatics are notes of mocha, espresso and old cedar; this reminds me of the smell of my grandmother's velvet lined cedar-wood jewelry box which I somehow inherited and still open from time to time to enjoy its scents. Juicy across the palate, this wine offers flavors of blackberry, darker dessert spices and white pepper. Lingers with chewy, but not overly robust tannins and persistent flavors of darker fruits. From personal experience, our recommended pairing with this wine is the Ducati pizza at Tra Vigne in St. Helena.
The 2008 Jones Family Three Sisters is 100% varietal Cabernet Sauvignon and shows explosive fruit on the bouquet with aromas of blackberry and black currant dominating. And as the wine opens a pleasing earth component creeps into the bouquet. This is a very aromatic wine. The entry is surprisingly soft on the palate; the core of fruit is red rather than dark and the finish lingers with well-integrated dusty tannins as well as hints of mocha.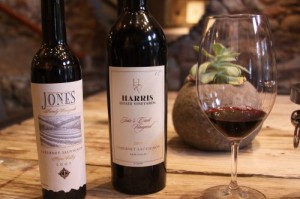 The 2007 Jones Family Estate Cabernet Sauvignon is 100% varietal; it is dark ruby in the glass with a complex bouquet that reveals a nice depth of aromas as it opens. This is an elegant nose which shows some earth notes, chocolate, hints of baking spice and subtle fruit aromas including blackberry. The bouquet is refined and attractive. The mouth feel is rounded especially on the fore and mid palate, but one can quickly tell this wine has power, especially towards the finish. Rich flavors and a robust structure linger for some time. This is a wine that certainly can be enjoyed now but will develop additional nuances and smoothness over time.
—
Jones Family does not produce a lot of wine; each of the wines released is typically only around several hundred cases. As a result, the majority of their wine is distributed through their mailing list although they have limited distribution in about twelve states. One can also find their wine locally at several premium restaurants including the French Laundry in Yountville, Cellar Collections (a wine shop in the city of Napa) and select restaurants in New York and London.
Jones Family partnered in a private tasting room in St. Helena for a short (which we visited) but closed a number of years ago. Today a very limited number of tastings are arranged by appointment and as of our last update are held at Tamber Bey Vineyards just north of Calistoga (where their wine is made).
Jones Family is a member of the Calistoga Winegrowers Association and participates in several of their annual tasting events showcasing the wines of the appellation to consumers. For more information or to join their mailing list, visit: www.joneswine.com
The start of this video is in Japanese, but proprietor Rick Jones provides a good synopsis of their history and production: