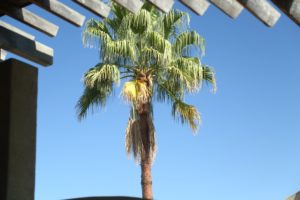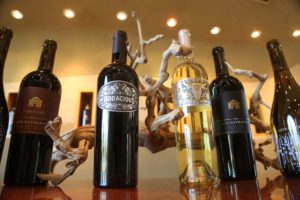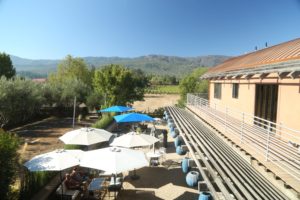 Jon Nathaniel. The winery for Jon Nathaniel wines was completed in 2019, a tiny production facility owned and overseen by long time grape growers and former owners of the Flora Springs Winery property, the Komes family. This is a joint project between father (John) and son (Nat) Komes. The physical winery is located on John's property at the end of West Zinfandel Lane (nearby neighbors include DANA Estates and Flora Springs Winery). In fact, one can easily see the Jon Nathanial from the tiny parking lot at DANA Estates. The winery is tiny, built purposely that way to craft and house their small lot production wines.
The name of the winery was chosen in tribute to Otto Komes (John's son and Nat's brother) who tragically died far too young of cancer in 2010. The name was taken from the first initials of their three names, John, Otto and Nathaniel.
2020 was a year of change for the Komes family. In the early part of this year, they sold Flora Springs winery and estate (280 acres) to Daniel and Florence Cathiard of France. Not included in the sale were the Flora Springs brand or The Room, the tasting space on Highway 29 or other vineyard property owned by the family. The Cathiards are also owners of Bordeaux's Chateau Smith-Haut-Lafitte and several other winery properties including Château Le Thil, Château Cantelys, Château Beauregard and Château Bastor-Lamontagne. Both Daniel and Florence are champion downhill skiers and were on the French Olympic ski team. Both have had other careers outside of the wine industry including in advertising and supermarket stores. And they also own several hotels and spas and a ski chalet.
And in 2020 in conjunction with the sale of the winery property, the third generation of the Komes family took over the leadership Flora Springs. This includes Nat and several of his cousins and their families and Sean Garvey, son of co-founders Pat and Julie Garvey.
Wilfred's Lounge, downtown Napa
A month or so later after the sale of the estate was announced, the Komes family purchased the 3,500 square foot former Burger Fi space on the Napa River, in downtown Napa on 1st Street. The plan was originally to turn this space into a tasting room (not that downtown Napa needs another one of those) and call it Lavender Hill Restaurant (in honor of their Carneros Vineyard). However, it was later decided to turn the space into Wilford's Lounge, a tiki bar with a Hawaiian theme with both indoor and outdoor seating to also showcase Jon Nathaniel wines and possibly other brands under the family ownership including, Trilogy and Soliloquy.
Wilfred is named after the family matriarch Flora's brother Wilfred Cabral. Both Wilfred and Flora grew up in Honolulu, Hawaii and in the 1960s Wilfred owned a bar in Honolulu at 1814 South King Street called Lauhala Room and also the next door space he called Lauhala Launderette. In early 1959 he purchased this existing bar from a Joseph Perry with the then address listed as 1806 South King Street. We have come across old newspaper articles indicating this bar had been in existence since at least the late 1940s. And it later moved to 1283 South King Street and was in business until at least the 1970s. As of our latest visit to the original site of Lauhala Room, an American Savings Bank and several adjoining very old homes are still located here. Several bars are located across the street in the same block.
Nat found inspiration for the tiki bar from his friend Michael Cobb who runs the High Roller Tiki Bar in Solvang, California. Both men met years ago when Michael was working as a chef, sommelier, and restaurant manager at Disneyland. Eventually he managed wines for a number of spaces in various Disneyland properties and it was through working with various wine brands that he first met Nat. Michael also started the popular California Food & Wine Festival, held every spring at Disney's California Adventure.
Michael opened his tiki lounge in 2017 – it is a cozy space with a tiki bar downstairs and an intimate lounge upstairs dedicated to his own wine brand, Sort This Out Cellars. Several tables are located outside the lounge. Besides serving his own wines, he also serves select wines from Flora Springs and a variety of other drinks including a number of tropical tiki themed concoctions along with presumably the crowd favorite, the descriptively titled, "This Drink Will Get You Lei'd". And Michael helped consult and create the initial décor for Wilford's Lounge.
Significant effort and thought went into the interior design of Wilfred's Lounge and more than a year was spent developing the space both inside and outside. Artist Billy Crud created a number of hand carved items inside including a prominent wooden mural. The interior features both upstairs and downstairs lounge space including the outdoor 'Captain's deck' on the roof, complete with a steering wheel where if one is in the mood, they can grab a margarita in one hand, the captain's wheel in the other and call out to the Napa River below. Flora's original trunk which she brought when she made the move from Hawaii to San Francisco in 1929 is also on display.
Wilfred's Lounge opened on November 12, 2021. In addition to plenty of drinks they serve food including outdoor and indoor seating, both on the first floor. One can also order from the Tiki Bar. We recommend the Tuna Poke. Visit: www.wilfredslounge.com
Wilford's Lounge, Napa

High Roller Tiki Lounge, Solvang

The Room
The Jon Nathaniel wines are available for tasting at the Flora Springs, The Room space along Highway 29. This tasting room certainly stands out for its riveting curvilinear architecture somewhat resembling a cave entrance – and its often seasonally themed exterior decorations. Located only 5 minutes by car from their estate property to the west (Jon Nathaniel) – visitors to the space do not need appointments.
This is one of the few wineries up valley (not in one of the towns) that operates a tasting room in part of a shopping center. This is certainly one of the most unique architecturally designed tasting rooms in the valley. It's not easily missed, and it simply goes by the mysterious name, "The Room". Tell people are you going to "The Room" and they will wonder what you are talking about. From the outside it almost looks like what was to be the proposed "mini–Hall Winery" with its undulating roof (which was to have been designed by architect Frank Geary but never materialized).
Auspiciously this tasting room opened on 8/8/8 which is a fairly lucky day in some cultures. The tasting room shares part of the parking lot next to Gary's wine shop and Press Restaurant. Tastings are at the curved wooden bar inside, out outside in their shaded patio, or upstairs (recommended for the great views to the west overlooking vineyards).
Select Wines
The 2016 Jon Nathanial Honest Bucker is a very unique blend of 50% Sauvignon Blanc (from the vines next to the driveway that leads to Silver Oak in Oakville), 25% Chardonnay and 25% Malvasia Bianca (an extremely rare variety seldom used by Napa Valley wineries). Medium golden in the glass the aromatics are decidedly tropical and floral with notes of honeycomb, pineapple, apricot and a sweet floral nuance (honeysuckle). A very pretty bouquet. An initial mineral note shows on the palate with a sweetness of fruit from start to finish. Shows a rounded soft texture but complemented nicely with bright fruit and good acidity. Flavors of red apple and some desert spices, especially towards the finish. Drinks very well by itself – this is a wine that is easy to keep drinking.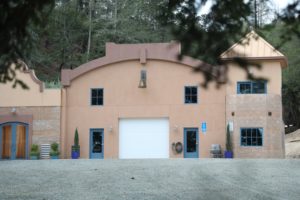 The 2018 Jon Nathaniel Lavender Hill Pinot Noir (is 100% varietal) from the 10-acre family-owned Lavender Hill Vineyard on the Napa side of the Carneros district. Is deep pink in color – showing bright aromatics of raspberry, and red cherry cola along with a cardamom spice note and mocha, more in the background. A hint of dust as the wine breathes. A very elegant bouquet. Superbly balanced – a soft and supple texture allows this wine to glide effortlessly across the palate. Nice brightness of acidity with flavors of red cherry and raspberry. Lingers with acidity, fruit and hints of dessert spices including clove.
The 2017 Jon Nathaniel Bodacious is a proprietary red blend of Malbec, Petite Verdot and Syrah. Medium ruby in color offers an intriguing bouquet with aromas of blackberry, violets, dark chocolate and cedar box. Its rich bouquet quickly fills up the glass with its aromas. The bouquet shows riper but not quite crossing the threshold into 'jamminess'. Offers flavors of plum and darker berry fruits – but with a brightness of acidity. The tannins are slightly chalky and grainy in their texture. Well integrated. It features a a pleasing mouth feel. The technical wine speak term that can be used to describe this wine is: "a crowd pleaser!".
The 2018 Jon Nathaniel Fabulist is 84% Cabernet Sauvignon, 10% Petite Verdot, 3% Malbec and 3% Cabernet Franc. This wine was cold soaked for several days, and post fermentation spent 18 months in 100% French oak, of which 40% was new. Initially shows a note of dust and dried tobacco leaf – this persists as the bouquet opens but over time more fruit is revealed. Aromas of sweet berries, dessert spices and cedar show. Flawless across the palate in that there are no harsh edges – the finish persists for quite some time without any interruption of tannins. Darker fruit and spice notes show on the finish – a little savory.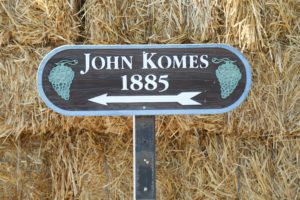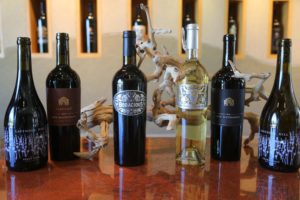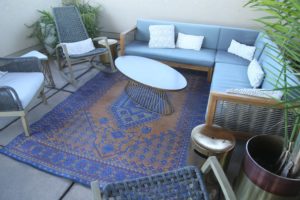 The 2015 Jon Nathaniel Windfall Vineyard is 100% Cabernet Sauvignon from property the family owns in Rutherford (only about 2 acres of Cabernet Sauvignon grow in this vineyard). All organically farmed. Fermented in both French oak barrels and stainless-steel tanks. Aged for 21 months in French oak. Deep ruby in color with aromas of blackberry, plum, cedar, and cholate brownie. Not over ripe. Offers structure, acidity and depth of fruit. Lingers with dark, grainy and somewhat chewy tannins – features a firm long-lasting grip. This is a robust offering – a cab lovers cab, if you will. Shows power and plenty of presence both on the bouquet and the palate.
—
While the Flora Springs production is much larger, Jon Nathaniel has remained small – typically less than 1000 cases are produced each vintage. We will also visit the physical winery for Jon Nathanial (located directly across from and south of DANA Estate in St. Helena) at some point by 2024. For more information and or to join their allocation list or to schedule an appointment, visit: www.jonnathanielwines.com