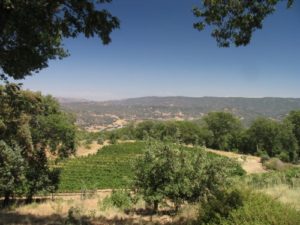 Jocelyn Lonen Wines was originally located almost at the end of the very windy Atlas Peak Road however their property has since been sold and is now under ownership of a premium brand called Au Sommet. The owners of Jocelyn Lonen Wines originally founded their label in the mid 90's in the Santa Cruz Mountains and purchased their original Napa estate in 1997.
Brandi Jocelyn is the daughter of the owners and she has jumped into the business full throttle (with considerable passion) over the past few years. This is a family owned winery and your tasting will typically be with her or other family.
They focus on three wines, Chardonnay, several excellent Cabernet Sauvignons and a Founder's Blend which is their highest quality wine and is a blend of Cabernet Franc, Cabernet Sauvigon and Malbec and is made in memory of Brandi's father who founded the winery. The 2004 vintage is very dark in color with intense concentrated fruit and spice flavors ending with a very long finish. This wine is big, but very well balanced.
A late Harvest Zinfandel was produced in 2006 – all their wines are produced in very small quantities.
Tastings are by prior appointment only.
NOTE: This review has been identified as needing a major update.
Wine with Tony