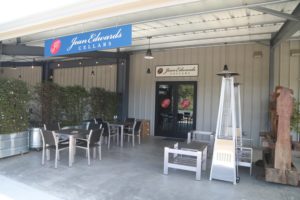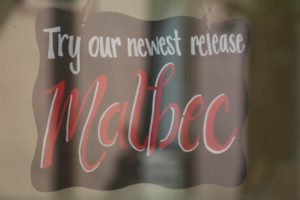 Jean Edwards Cellars was founded by husband and wife Karen & John Troisi with their first vintage in 2004. The wine namesake comes from combining both of their middle names – Karen's is Jean and John's is Edwards. From New Jersey, both worked at Unilever (multinational consumer goods company headquartered in Europe) for many years until retiring in 2012. Each has enjoyed wine for many years – both recall their first trip to Napa was built around a road trip. Having followed the New York Giants for many years, each year, they make a point to attend at least one away game. In 1984 they traveled to San Diego and then drove up the coast ultimately ending in Napa.
That first trip turned into numerous visits to the valley; the inception for their wine began with a simple conversation tied into a tradition held every time they would visit the valley. They would always stop at Oakville Grocery – purchase sandwiches and then drive partway down Oakville Cross Road, find some shade and eat before visiting another winery. During one visit in the mid 1980s, while parked in the shade near Silver Oak Cellars they began to discuss the possibility of owning their own wine brand someday.
Fast forward nearly 20 years and this dream became a reality with the release of their first wine, a 2004 Cabernet Sauvignon. Based on years of being consumers and numerous visits to area wineries, they already knew what features they wanted to implement for their own wine brand (varieties, styles etc.).
Kian Tavakoli has been their winemaker since the first vintage. The wine was made at Crushpad in San Francisco for a number of years (Jean Edwards was actually one of Crushpad's first 4 clients); now the wine is made locally at a winery next to the city of Napa.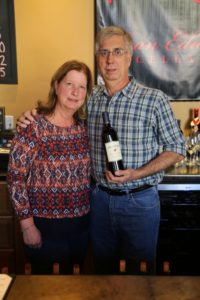 Fortunately both Karen and John's tastes in wine are similar. Their wine making philosophy is to produce wines they both enjoy drinking – not to chase scores or highly stylized wines. By training, John is a Food Scientist and certainly understands the integration of food with wine. All their wines are very food friendly.
There are a number of individuals in the Napa wine industry that both Karen and John consider role models – even if these individuals are not directly aware of their influence on both Karen & John. During one of their trips to the valley they met Randy Mason (of Mason Cellars) who was the General Manager at the time at Napa Wine Co. Unannounced they introduced themselves and Randy spent most of the afternoon showing them around and tasting them on wines.
They consider Suzie and Paul Frank (founder of of Gemstone Winery) additional mentors – especially when it comes to hospitality. Karen recalled ordering wine and Susie and Paul hand delivering it to their hotel room in Napa. They also met Carl Doumani at a tasting once – and in part modeled the style of their own Petite Sirah after some of the Petite Sirah's he was making at the time (while at Quixote Winery).
Select Wines
2014 was their first vintage of Sauvignon Blanc. The 2015 Jean Edwards Sauvignon Blanc is from the organically farmed Dalla Gasperina Vineyard which straddles the Rutherford / St. Helena appellation border with the 5% remainder of Sémillon sourced from Pope Valley. The wine was fermented in stainless steel tanks and then aged in neutral oak for 8 months. Citrus aromas show on the bouquet. The wine feels nice on the palate – with a pleasing softness and roundness. It has good viscosity. Karen and John recommend this wine to be paired with shellfish.
The 2012 Jean Edwards Petite Sirah was the first Petite Sirah they have made – each year they continue to produce subsequent vintages of this variety. Both Karen and John have been on Vincent Arroyo's mailing list for years – every time they visited him, Karen would always ask Vince if he would sell them some Petite Sirah and Vinces's answer was always the same, something like "it's too much of hassle to sell fruit, we use all the grapes ourselves". But ultimately, Karen's persistence paid off; in 2012 he offered them a ton of grapes.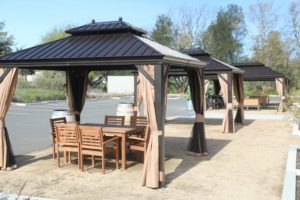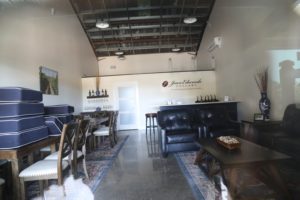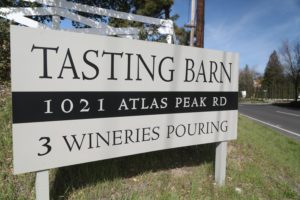 The 2012 Jean Edwards Petite Sirah shows a sweet perfume driven nose – somewhat floral with notes of dried rose petal and a sweetness of fruit. This is a variety that can certainly be out of balance – especially when young. This wine is not like that. On the palate there are notes of berries and spice with very well managed dusty, slightly grainy tannins anchoring a pleasing finish. Karen and John say this wine pairs well with chocolate cake!
They have worked with Stagecoach Vineyard (located high on the slopes of Atlas Peak) from the very beginning, it was this vineyard that supplied them the grapes for their first vintage in 2004 and incidentally is the wine that Wine Spectator Magazine named as "one of twenty new Cabernet producers to watch…" in their annual Cabernet issue.
The 2012 Jean Edwards Stagecoach Cabernet Sauvignon saw 100% oak during its aging of which approximately 65% was new. This vintage was blended with 4% Malbec and 1% Petite Verdot. On the bouquet this wine shows a diversity of aromas including a combination of cigar smoke, leather and blackberry nuances and as it opens notes of various dessert spices show. Aromatically the fruit is generous. The entry is fairly soft with a rounded overall mouthfeel. The dusty tannins are fairly well integrated and linger for some time with additional subtle notes of both chocolate and toasted oak.
The 2012 Rutherford Cabernet Sauvignon was aged in 100% oak with 75% in new French barrels. The bouquet is unique and certainly stands out; it is somewhat meaty with aromas of bacon fat, coffee, brown chocolate and various baking spices. On the palate this is a robust wine yet is well balanced between fruit, acidity and structure. A sweetness of oak lingers slightly on the finish.
And Jean Edwards also produces a limited number of bottles for Gary's Wine in St. Helena, branded as Go Figure Cabernet Sauvignon with various lot numbers.
—
Tasting Room Evolution
In early 2016 Jean Edwards moved into the Wines on First Tasting room (a small tasting room featuring wines from a few select producers) located just off of First Street across from the Andaz Hotel. Karen says her initial correspondence with the tasting room was 'old school' a printed letter sent in the mail. Old school still works – timing was right for the tasting room to bring on another producer. While still living in New Jersey, they also have a residence in the city of Napa – and when in town, their "commute" to this tasting room was only a 10-minute walk. Note: they moved out of this tasting room in late 2017.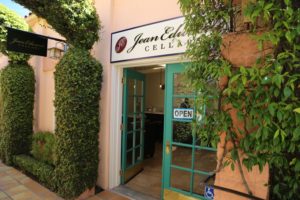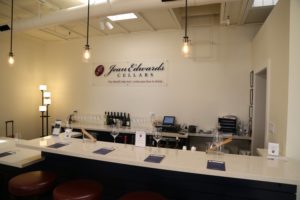 In February 2018 Jean Edwards moved from their downtown Napa location to the Sonoma Plaza – opening a small tasting room in the space that prior Napa based Falcor Winery previously occupied. This is in Vine Alley a cute collection of small tasting rooms and shops located a short walk from the actual plaza. Tasting can be either sit down at the wine bar or if you prefer, on one of their sofas. Note: they moved out of this tasting room in 2020.
And in 2021, Jean Edwards moved into their current space – a small tasting room in a part of the city of Napa called Vichy Springs, or what we call the Silverado Wine & Arts District, home to several wineries, tasting rooms and art galleries). The primary building on site houses several winery tasting room neighbors and is estimated to date from the 1950s. It has seen many uses over the years including as a machine shop, storage for an art gallery, possible use when whisky was being distilled nearby and for yoga.
And because this is within the city limits of Napa, the tasting room is not confined to the same regulations as if they were in the county. However, while in the city limits, this is certainly not an urban tasting room (about a 10-minute drive to downtown). One primary perk of being within the confines of the city include being open to the public by walk-in.
Guests who stay at the nearby Silverado Country Club can walk to the tasting room (about 15-minutes) or have the resort arrange a golf-cart ride.
—
If one meets Karen and John, one will quickly realize their love for dogs. Note the tiny profile of a dog's head on the back of all their bottles. This is in tribute to "Trouble" their first Labrador Retriever. And they produce Cooper's Cuvee, a wine in tribute to their Black Labrador Retriever, Cooper.
Their distribution is mostly east coast centric with select placement in New Jersey (where they self-distribute), Pennsylvania, Virginia, New York and Washington DC. Locally they have cut back distribution because of their tasting room but they are still found at La Toque and the Napa Valley Wine and Cigar. Total annual production is usually around 600 cases (they have grown slowly over the years). Most of their wines are only produced in quantities of 50 to 100 cases. They maintain a mailing list and also a wine club. They are members of the Napa Valley Vintners and the Rutherford Dust Society. To join the mailing list or wine club and for more information visit: www.jeanedwardscellars.com
Atlas Peak Road Tasting Room

more photographs coming soon
Old Sonoma Tasting Room:

Original Napa Tasting Room