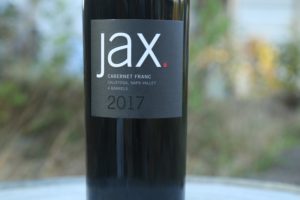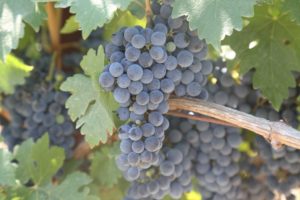 JAX Vineyards, formerly known as Jackson Ridge has been producing wine since 1996. The name JAX is an abbreviated version of the family surname – shorter and a bit catchier. Our visit with this winery incidentally was a milestone for us, as it was the 400th Napa Valley based winery/producer we visited for the Napa Wine Project (IE, this website). Yes, we do keep track of these rare milestones that end in 00!
JAX owns 14-acres in the far northern reaches of the Napa Valley at the base of Mt. St. Helena (one of the most northerly vineyards along Highway 128) – a pig farm is easily visible at the intersection of Highway 128 and the gravel road that leads to their vineyards. Nearby vineyard neighbor is Perliss Estate.
This property and its now 11-acres of vines was purchased by David Jackson in 1990 as place to retire and farm vineyards. Initially some fruit was sold to nearby Chateau Montelena for use in their own wine. Some of the original grapes on site are quite old – dating back to 1968 (mostly since replanted). The family also owns a small piece of land across the highway from their main property – and have plans to plant 1-2 acres of grapes here.
This vineyard is entirely dry farmed and the tonnage per acre for almost valley floor fruit is extremely low at around 1.9 tons. The flavors are more concentrated with the thicker skins as these vines have to survive without water through the long dry hot northern valley summers. Today this winery is run by a brother sister team, Kimberly & Trent Jackson with partner Dan Parrott. All are extremely energetic and passionate about the business. Once Kimberly returned from college – she began marketing their small production wines to area restaurants – today they still have strong distribution in restaurants.
Wines/Winemaking
The family produces wines under two labels; Y3 focuses on lighter more approachable wines – made in a style that showcases the variety rather than wine making styles. Y3 is a dedication to Trent and Kimberly's grandparents whose cattle brand was Yarrayne3 or more succinctly, Y3 (from their cattle ranch near Brisbane Australia – still under Jackson family ownership although during our several trips to Brisbane the past few years, we have not yet been able to find its exact location). In addition, Y3 signifies three farming generations within the Jackson family. And the Y3 paper label is hip and appealing with what is certainly a challenging aspect for their printer – dots cut out of the paper.
The JAX wines focuses on red wines from their estate including a Cabernet Sauvignon and a Cabernet Franc (along with several other non-estate produced wines). They currently make just under 10,000 cases annually.
For a number of years two winemakers produced their wines; currently Kirk Venge, who along with select other Napa winemakers could be known as the "King of Cab" (son of famed Napa winemaker, Nils Venge) runs their wine making program. Wines under the Y3 label are all sourced from area vineyards and their JAX Cabernet Sauvignon is from their own small estate vineyard.
Y3 Wines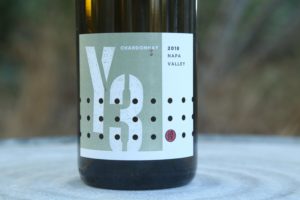 The 2018 Y3 Napa Valley Chardonnay is medium to deep golden in color. Shows plenty of aromatics including orange marmalade and honeycomb; there is also a sweetness to the aromatics including brown sugar, vanilla, a hint of creme Brulé (this probably will be become more noticeable as the wine ages over the next few years) and as a wine breathes notes of banana. Supple across the palate with a gentle rounded texture, yet also with a juiciness – offers a variety of dessert spices complemented by ripe apple, pear and popcorn butter. Lingers with noticeable darker spices and decent acidity. This wine was fermented in concrete tanks.
The 2013 Y3 Chardonnay was fermented in concrete and immediately after fermentation was transferred into nearly neutral oak barrels for aging. The wine shows some nice tropical nuances on the bouquet including honeysuckle. The palate is balanced between a creamy round feel and crispness. This wine is easy to drink; more of a balanced style showcasing the variety rather than oak or malolactic fermentation.
The 2019 Y3 Napa Valley Sauvignon Blanc is medium yellow color. Total tropical in the glass with aromas of ripe honeysuckle, Golden Delicious apple, yellow pineapple, and honeycomb along with some engaging citrus influences including orange blossom and grapefruit. Also cut grass and fresh pine branch. Lingers with a brightness and lively acidity. Refreshing yet well-endowed with an intensity of flavor across the palate including mandarin orange, apricot. A very nicely done offering with a nice price point to.
The 2013 Y3 Taureau Red Blend (named after a prized family bull on their ranch) is a very good value. This vintage is a proprietary blend of Merlot, Cabernet Sauvignon, Syrah and Zinfandel. Each variety is treated separately with its own aging regiment until the final blend is made. The wine is dark purple in the glass with pinkish tinges on the rim. On the bouquet notes of blueberry, blackberry and hints of mocha show. The palate is juicy with well-integrated tannins and drinks quite smoothly as a very young wine.
The 2017 Y3 Taureau is a blend of 50% Merlot, 30% Cabernet Sauvignon and 20% Syrah; it is deep ruby in the glass with purplish tinges. Offers a ripe and showy bouquet including cherry, dark licorice with an espresso/cedar box union of aromatics. Also notes of ripe and spicy Santa Rosa plum, dark chocolate and a floral note as the wine opens further. A mouth filling and savory showing with flavors of plum and blackberry. Lingers with notes of dust, tobacco leaf, darker spices and a persistent juiciness. The tannins are well managed – nicely integrated with a fairly light grip.
Jax Wines
The 2017 Jax Cabernet Franc is dark purple in the glass with aromas of brown chocolate, espresso and old cedar. Let this wine open further to showcase the fruit aromatics – when it does, it reveals a simultaneous darkness and elegance of fruit. Ripe blackberry, ripe black cherry. Dessert. Pretty. This is a riper and bolder showing of this variety – big but balanced, with tighter finer grained tannins anchoring the finish along with plenty of oak influence. Less than 100 cases of this wine were made.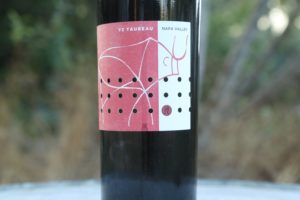 The 2017 Jax Cabernet Sauvignon (100% varietal) is deep purple in color – meaty on the bouquet and savory with bacon fat along with darker fruit aromatics including blackberry and a variety of dessert spices including a mocha/vanilla influence, especially as the wine breathes. Blackberry, dried herbs and earthy tannins on the palate; chewy, firm and still very lively in their youth they persist along with hints of dried tobacco leaf on the long finish. A very good price to quality ratio.
The 2013 JAX Cabernet Sauvignon is 100% varietal. Of all the wines we tried, this is the darkest in the glass. The bouquet shows a sweetness of fruit – perhaps similar to a cherry liqueur – mocha and notes of blackberry. This wine has good acidity on the palate – with broad shouldered tannins anchoring a long finish.
San Francisco Tasting Room
If you cannot make it to the Napa Valley, consider a stop at their tasting room in the South of Market neighborhood (SOMA), San Francisco at 326 Brannan Street. The Jackson Family has been associated with this neighborhood since 1950. Trent and Kimberly's grandfather ran a print shop in the building next to the tasting room for many years (they still own this building and rent it out) and now own this tasting room (a former auto-body shop). Many of their clients are employees from the numerous (mostly high tech) businesses located nearby. They are also only several blocks from AT&T Park – a visit here makes a nice pre or post-game stop (depending on the game time).
They have imported a Napa Valley feel here with a real olive tree, two appropriately 50 years old grapevines from their Calistoga estate – and a fire-pit for those invariably cold San Francisco evenings. Current releases from their rosé through to the heavier Cabernet Sauvignon are paired with local artisan cheeses. They are open from Tuesday through Friday from 4 to 8pm and by prior appointment (local businesses often reserve the tasting room for small events).
—
Over the years JAX has received some excellent publicity courtesy of Hollywood – their wine appeared in a Will Ferrell produced movie called "The Goods" as well as in a popular HBO show. Top restaurants in select markets also feature their wine. For more information, or to join one of their wine club memberships, visit: www.jaxvineyards.com