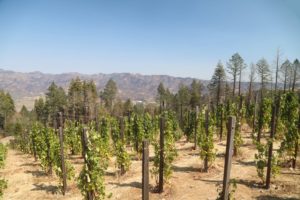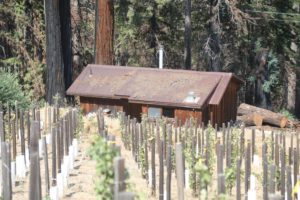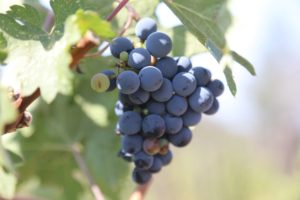 Jasud Estate. There have been a select few times over the past 16+ years in Napa Valley that we have been truly inspired by both a site and a person. The combination of the two is actually quite rare. We understand very well this obsession with trying to better oneself and one's wines, this creativity, and the emotional internal seesaw that constantly wavers back and forth as a result, but yet we also try to seek a balance in everything that we do. But it's the depth that we seek in others and in everything relating to wine that is the most personally gratifying… when we actually find it. And we did find it when we visited this impactful site and met with its charismatic owner, Ketan Mody.
What is probably Napa Valley's largest dry farmed, hillside, head-trained vineyard of Cabernet Sauvignon is located on the upper reaches of Diamond Mountain appellation. Ketan purchased the 60-acre property in 2008; today it is planted to 15 acres almost entirely to Cabernet Sauvignon on St. George rootstock, with tight spacing, primarily 4 feet by 4 feet. The majority of the vineyard is north facing and is a field selection of several clones of Cabernet Sauvignon from some of the finest vineyard sites in the valley including Diamond Creek, To Kalon, Spottswoode, Bachus and Martha's Vineyard.
Two blocks totaling 3.5 acres feature extremely tight spacing (3 feet by 3 feet) and are Cabernet Sauvignon planted on their own roots. A tiny portion of the vineyard is planted to Grenache from cuttings Ketan secured from Chateau Rayas in Châteauneuf-du-Pape. The property ranges in elevation from approximately 1650 to 2000 feet and features several microclimates with temperatures varying a few degrees Fahrenheit between the back and front blocks. Their immediate vineyard neighbor is one of the lower vineyard blocks of Constant Diamond Mountain.
This is an extremely challenging site to develop a vineyard and several difficult years including 2020 and 2021 created additional problems. The Glass Fire started in the Vaca mountains almost directly across as the crow flies from Diamond Mountain. This fire crossed the valley floor and burned through both Spring Mountain and Diamond Mountain districts. Jasud Estate lost 40% of their entire young vineyard, (approximately 27,000 vines) due to the combination of their youth and severe heat damage from the fire which literally encircled the property. And little rainfall in the winter of 2020/2021 certainly caused additional stress to the young vines.
Once the rootstock is well established the vines are field grafted to Cabernet Sauvignon. These young vines are remarkably watered by hand for the first three years and then dry farmed after. Fruit from the site reaches phenolic maturity earlier than many watered vineyards. In 2019 they harvested at 24.5 brix and 3.2 pH.
Nothing comes easy on this site and it's taken significant work from others in addition to Ketan including Leaf Hayes, Francisco and Yoel. It took nearly 5 years to gain the necessary permits to plant the vineyard including producing an EIR study and timber harvesting. This property is extremely rocky; the Jasud Estate team spent nearly 18 months clearing rocks from the first 18 inches of soil alone. The rockpiles at the edges of the vineyard are testament to just how much work was involved. And because of the incredibly rocky composition, every hole for each vine had to be hydraulic drilled, mounted on an excavator prior to planting rootstock.
The soils are volcanic including basalt. One notices the dramatic differences in soil types within a fairly short distance. For contrast, a neighboring vineyard across a ravine on the southern part of their property is completely white, representative of tufa, a volcanic ash that is chalky and when dry, extremely powdery like.
And during the development of the site, Ketan started an excavation company which he named, I Dig You.
So, who is the man overseeing this remarkable project?
This vineyard is a highly personal pursuit for Ketan, both physically and emotionally. His interest in winemaking is in both time and place. As he eloquently states, "there is nothing more beautiful than a site having a voice… to me this is the closest thing to magic". It is also about learning more about himself by constantly striving to be better in all that he does, finding his own inner balance and the dissolution of ego.
Ketan's mother is from Mississippi and his father from Ahmedabad in India's Gujarat state. He grew up in Florida, spent time on the east coast and also in India. What led him to wine was an interest in nigiri, sashimi and oysters – at its purest form, like wine, the final product is presented without a lot of manipulation. And oysters – their resulting characteristics are highly representative of their place of origin.
Later in life, Ketan connected with his father over a shared interest in wine. He worked a harvest in New Zealand. He decided to gain experience working in Napa Valley without any intention of staying very long. He sent out 30 resumes and received one interested reply back; that was from Harlan Estate. He counts very few Napa Valley based winemakers as mentors including Harlan winemaker Cory Empting, Harlan Emeritus winemaker, Bob Levy and Philip Togni.
Honoring his Indian heritage he chose the name Beta – a word that one refers to having love and affection for their children. And Jasud honors his grandmother Jasud on his father's side of the family. She became paralyzed after bags of rice that were incorrectly stacked fell on her and spent 40+ years bedridden.
Select Wines
Beta
Beta focuses on Cabernet Sauvignon; Ketan was not planning on producing a Chardonnay. But he changed his mind after a conversation with Graeme and Alex MacDonald of Oakville based MACDONALD who reminded him that Napa Valley and Sonoma are also known for Chardonnay.
The 2018 Beta Chardonnay Chuy Vineyard, Moon Mountain District is deep gold in color; offers a diversity of aromatics including pineapple, mandarin, margarine, baked pear, glazed apple, crème Brule, brown sugar and vanilla bean. As the wine evolves in the glass shows more citrus characteristics including aromas of lemon meringue. The well-layered aromatics show a pleasing mix between fruit and dessert spices. This wine is richly flavored and well textured featuring a satin-like creamy feel which glides across the palate. Shows flavors of Golden Delicious apple, cantaloupe, almond, vanilla and notes of butter. This is an affluent showing of this variety, yet it is very well balanced. The finish is complemented by a persistent zing of acidity.
Noting that Cabernet Sauvignon is an inherently low nutrient variety, other than sulphur, Ketan does not manipulate the wines in the cellar. He adds no no acid, nutrients or water. The wines are aged in larger neutral oak barrels including 500-to-600-liter oak casks. The wines are not racked during their aging – the only time they are racked is right before bottling. And the wines are not quick to release. Ketan release the wines only when he feels they are ready; take his 2011 for example, it was released in 2018.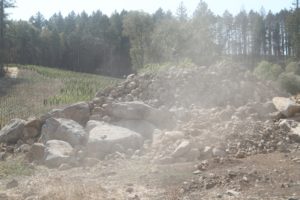 The 2012 Beta Cabernet Sauvignon Montecillo Vineyard, Moon Mountain District Sonoma County is dark ruby in color; offers an initial bouquet that we rarely enjoy from Napa Valley grown Cabernet Sauvignon. Shows aromas of dried cigar paper, dried herbs and mint. Give this wine like all of the Beta wines time to evolve and they will do so, sometimes significantly. The aromatics on this wine eventually show freshly picked, ripe blackberries – perhaps covered in dust like a briar patch growing near a dirt road. Also offers aromas of boysenberry, dark cherry, dried rose petals and dark chocolate. A distinctive thread of acidity runs the length of the palate which keeps this wine bright and fresh, even 11 years post vintage date at the time of our tasting. Its balance is also a defining characteristic with well unified tannins, yet still showing a youthful grip and feel. While this wine tastes like it has peaked already, we are sure it isn't even close to doing so.
This particular vineyard is not far from the iconic Louis Martini owned Monte Rosso Vineyard and its own-rooted Cabernet Sauvignon vines date from 1969 (certainly among some of the oldest Cabernet Sauvignon in Sonoma County). The vines are head-trained and dry-farmed.
The 2014 Beta Cabernet Sauvignon Montecillo Vineyard, Moon Mountain District Sonoma County is medium ruby in the glass. This wine certainly has plenty of aromatics including of boiled rhubarb, rose stems, grilled shishito peppers and sweaty leather – similar to the aromas from a recently used well-worn baseball glove. This wine is exceptionally lively, bright and fresh with noticeable higher toned red fruits across the palate including red currant, cherry and cranberry. The tannins are finely dispersed and feathery in their textural feel. Plenty of acidity lingers. This is certainly not a style of contemporary Cabernet Sauvignon that one associates with its next-door neighbor, Napa Valley.
The 2016 Beta Cabernet Sauvignon Montecillo Vineyard, Moon Mountain District Sonoma County is dark ruby; offers a pretty floral note on the bouquet including dried rose petals and of violets. The aromatics also offer plenty of fruit including blackberry, plum, raspberry. Deeper into the aromatics as the wine evolves in the glass, shows some herbal notes along with dust and a hint of tobacco smoke. Mouthwatering across the palate, this wine offers flavors of cranberry and red currant. The texture of the tannins and how they feel on the palate is an important attribute of this wine. Chalky, with all the edges 'sanded away' the grip is light to medium. Finishes with a slight tartness; the acidity is front and center on this wine. Certainly, plenty of life ahead of it.
Jasud
Tasting notes coming by late 2023.
Both the Beta and the Jasaud Estate wines are nearly all sold direct to consumer via a mailing list. For signup for this list, visit: www.beta-wines.com