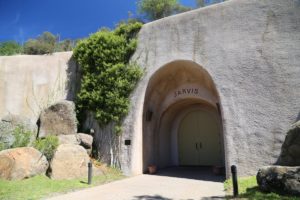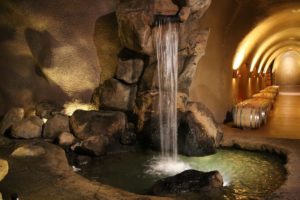 Jarvis Estate Winery is located on Highway 121 on the way towards Lake Berryessa – despite a somewhat isolated feel to the properties' location, Jarvis is located only about a 15 minute drive from downtown Napa. The estate is over 1,320 acres of which only 37 are planted to vine.
The winery was founded by William and Leticia Jarvis. William met Leticia in Mexico where he was studying Spanish – she is from Puebla Mexico. William was born in 1925 and grew up in Oklahoma and has led a fascinating life. He was an officer in the Navy stationed in China slightly after World War II. After returning stateside he attended both UC Berkeley and later earned his MBA at Stanford University. After graduating, he worked for Hewlett Packard and in 1960 co-founded Wiltron, an extremely successful electronics company that was based in the Silicon Valley. William was president of Wiltron for 25 years before stepping away in 1985 – Jarvis Drive in Morgan Hill, site of the company's later operations was named after William. Wiltron was purchased by Anritsu in 1991.
Much later in life William wrote a fascinating book about his family history – available for sale in hard cover at the winery. Both he and Leticia have lived and traveled extensively throughout Europe and have an appreciation for fine wine. The first wines made on the property were made by William prior to the cave being built.
Water sources are critical in this part of the valley; two small ponds on site are appropriately named Lake Leticia and Lake William. Parts of the property burned during the terrible Atlas Peak fires in October 2017 – fortunately most of their product was safely stored in the cave during the fires – although they did lose a number of case goods that was being stored near one of the entrances to the cave near where the fire burned. And the old barn where William made several vintages of wine prior to the cave being built – was completely destroyed.
In what is possibly the most diverse vineyard in all of the Napa Valley – the Experimental Vineyard contains some 55 varieties of grapes – both table grapes and wine grapes. Traditional varieties that Napa has become known for are grown here including Cabernet Sauvignon and Chardonnay, but this vineyard also contains obscure varieties that one will never see planted commercially in the Napa Valley such as Perlette, Pedro Ximenez and Muscat Hamburg, to but name a few.
Much of their vineyard is planted to Cabernet Sauvignon but they also grow Chardonnay, Merlot, Cabernet Franc, Petite Verdot, any a tiny block of Tempranillo (a Spanish grape variety). Unusual is the spacing in their vineyards – rather than the tight spacing that is the norm in contemporary Napa Valley vineyard layout – Jarvis uses a very wide 7′ x 11 spacing in their shallow and nutrient deficient soils. And one of their vineyard blocks was created from tailing piles mined during the excavation of their cave.
Tour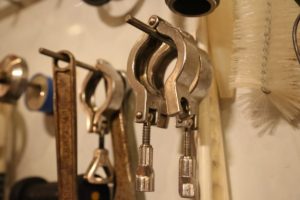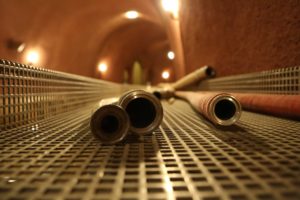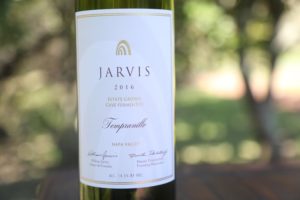 It is recommended to make a reservation well in advance of your visit especially during the summer months. Visitors with appointments will pull off of Highway 121 and should use the call button at the gate to request entry. Once on the property, the drive meanders past some of their vineyards – ultimately reaching the winery entrance about 1/2 from the gate. Nothing on the property's exterior would lead one to believe such a visually stunning cave exists under this hillside – only two simple doors are located at the entrance to the cave. The entire tour and tasting takes place within the caves.
The highlight of a visit to Jarvis is the tour and tasting within the 45,000 square foot cave system. All wine making facilities are located within the cave itself including their offices. Because of this, it is not an intrusive winery on the surrounding landscape. Coupled with a huge solar array installed in 2008 Jarvis is a fairly "green", electrically self-sustaining winery. This winery feels like a complete underground city. We propose one office be on hydraulics in which it would raise above ground for the beautiful views and then lower back into the cave at closing time!
This cave is arguably one of the top 5 most interesting winery caves in all of the Napa Valley. Its drilling was overseen by modern day cave driller Alf Burtelson. A natural spring within the cave system was discovered while drilling the cave. They were advised rather to plug it up and take the risk of it leaking out somewhere else in the cave – to incorporate the water as a feature of the cave. And this extra water actually helps maintain a higher humidity content – and helps limit the evaporation of their wines in barrel.
A beautiful waterfall flows into a 'river channel' in the floor of one of the tunnels – and this runs for some distance through the cave. The entrance to the tasting grotto is certainly one of the more unique presentations in the Napa Valley. One must walk on large stones over the small creek. The Crystal room contains large geodes of amethyst and other crystals – all imported from Brazil and other countries. Another cavern can comfortably hold up to 500 people, and yes, they hold some of the most memorable hi-so events in the valley.
Other highlights of the tour include a small room where the reserve wines and large format bottles are all hand dipped in wax. The wax comes in small colored blocks; these blocks are then put into a pot and heated so that the wax melts – the already corked bottles are then lowered into the wax. Unlike other wax coated bottles, they score the top of the wax so that is can easily be removed with a knife prior to opening.
One cave tunnel contains barrels with lighting casting arched shadows on the wall. Look at this room closely; it is the depiction of the shadows on the cave walls that were the inspiration for the Jarvis logo.
Tastings are held on a large stone covered table which seats no more than 10 people in a very well lighted smaller side cave room (accessed by walking across a short stone bridge over the creek). Tastings and tours are limited to under 10 people.
Select Wines

Their focus is on red wine (all are unfiltered) but they do produce several premium chardonnays. The 2013 Finch Hollow Chardonnay (a tiny vineyard block seen from the highway before approaching their gated driveway) has to be netted every year due to the birds in the nearby trees that feast on the grapes). This wine was barrel aged in new French oak and aged surlie. It shows nice notes of caramel, citrus blossom and a pleasing lemon zest on the bouquet. As the bouquet opens nuances of yellow pineapple show and as the wine continues to open these aromas become more caramel like. This wine is supple and rounded on the palate with a rich finish showing both fruit and toasted oak.
The 2017 Jarvis Finch Hollow Chardonnay is golden yellow with rich aromatics including popcorn, citrus, and a lemon zest. As this wine breathes it reveals additional aromas including notes of almond and crème brûlée. Intensely flavored across the palate with mineral nuances – the entry is rounded and soft but not necessarily creamy. Complemented nicely by a lively acidity with a long finish showing notes of citrus. Recommended serving temperature is 68 degrees Fahrenheit and Jarvis suggest pairing this wine with a variety of seafood including oysters and scallops.
While the Finch Hollow Chardonnay is selected from the upper half of the wine barrels – Jarvis also makes a second reserve Chardonnay, the Finch Hollow Unfiltered Chardonnay – created from selecting the wine from the lower half of the same barrels.
The 2011 Jarvis Cabernet Franc was produced in a challenging year for the Napa Valley that saw late rains into June and early rains coming in September. Not all the valley was affected in the same way – parts of the valley produced better wines during this year than others. Cabernet Franc can sometimes produce green aromas and even taste a bit green on the palate. This wine is not green but does show an easily recognizable hint of toasted pepper – as the wine opens more like a Serrano pepper. It is nice to discover a wine that has some character on the bouquet such as this one. Earthy aromas also show with notes of mushroom and some spice. On the plate, this is a very well-balanced wine, showing good acidity and framed by tempered and integrated fine grained tannins.
The Lake William Blend is generally a steak wine showing good fruit up front in the nose and a softness in the mouth that seemed to carry over into the several vintages we tried including the 2009.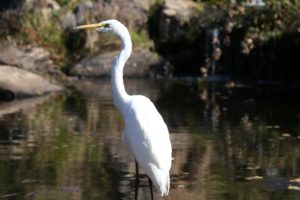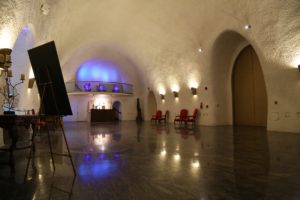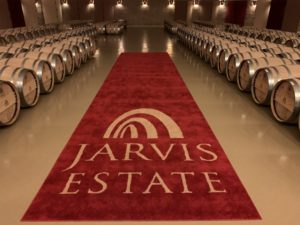 Of note is the Cabernet Sauvignon Reserve which is only made from the best juice and only during certain premium vintage years. The 2006 Jarvis Cabernet Sauvignon Reserve was 9 years old at the time of our most recent visit. It is starting to show a brick red color in the glass from its aging. A certain spice shows on the nose continuing as the wine opens – cloves and perhaps a touch of cardamon, with nice fruit notes of black fig and black licorice. Hints of mocha show on the finish anchored by lingering fruit and still fairly robust but certainly softened tannins.
Science Project is a wine created by William and Leticia's son Will. While in 8th grade at Harker Boarding School in San Jose, California Will decided to make wine for his eighth-grade science project. He used a tiny two-gallon barrel to age the wine in his dorm room. Ten years later when William and Leticia were cleaning out the original winery where William Sr. made initial wines, they found Will Jr.'s tiny barrel of wine. The family sampled some and were pleasantly surprised at the quality. They decided to bottle a wine commercially in honor of Will's own wine – the first vintage of what is called the Will Jarvis' Science Project was from the 2007 vintage – it is now made every year; a Cabernet Franc dominated wine and is always aged in half sized barrels.
And in 2021 Jarvis released their first ever and only sparkling wine produced from the property, the Sparkling Leticia. It was made from grapes from their Finch Hollow Vineyard and aged in the Jarvis cave for 10 years before it was deemed ready. After Bill and Leticia married, they studied French literature in France. During their time in France, they purchased a chateau near Reims in Champagne; it was then that they fell in love with wines from this region.
Jarvis has produced a variety of large format bottles and even crafted a Melchior bottling for one client (18 liters, or standard 750ml bottles).
Well-known consulting winemaker Dimitri Tchelistcheff (died at age 87 in Hawaii 2017) was the founding winemaker at Jarvis in 1988. He was the son of well-known winemaker André Tchelistcheff. Dimitri enjoyed a long career in the business, first starting at Beaulieu Vineyard in 1944 as a lab assistant for his father. He went on to be a part of Gallo's wine making team and eventually took a series of wine consulting positions. He spent his later years living in Hawaii.
Associate Vintner Program
Jarvis offers a unique opportunity to make your own wine using grapes from their own vineyards. A small section of their cave is dedicated to vintners who participate in this program. Choose from either 1/2 or full barrels – one can be as hands on as one likes with the goal of creating a customized wine. Choose the varieties and once these grapes have been fermented, the Jarvis winemaker will offer guidance throughout the aging process including feedback on blending and when to rack the wine. Associate vintners can be as hands on or as hands off as they like throughout the winemaking.
The wine is ultimately bottled with a custom label – while not bottled to sell commercially, the wine can be enjoyed with family and friends and or be used for gifts.
Jarvis Conservatory
The Jarvis family also founded the Jarvis Conservatory, based in Napa (a few blocks from downtown – see photos below). This was the old Lisbon Winery, built between 1882 and 1884 by founder Joseph Mateus, born in Lisbon, Portugal. He arrived in Napa in 1869. Besides being a winemaker, he was a skilled stone mason and craftsman and actively helped with the construction of the winery using rocks quarried in the hills just east of the city of Napa.
Mateus changed his last name to Mathews after he arrived in the U.S. Lisbon Winery featured what was at the time the largest sherry oven in the state of California with production up to 55,000 gallons. The winery had a production capacity of 300,000 gallons. Mathews' wife died at age 32 and Mathews at age 43. Unfortunately, he only ran his operations until 1893, the year he died.
Exterior

Interior

The winery was closed during Prohibition but later opened again and was in operation until 1976. It is the last surviving locally quarried stone winery in Napa city limits. In 1979 it was listed on the National Register of Historic Places. In 1983 a proposal to open the building as the Joseph Matthews Winery & Deli was presented to the Napa City Planning Commission, but these plans never materialized.
The old building was significantly renovated after William and Leticia purchased the property and opened in 1995. It is an excellent resource for the city of Napa for arts, music and opera performances. The conservatory features several annual workshops including Spanish opera, Baroque dance and a puppet festival. Art films are presented in high definition usually on the weekends often at 4pm and 7pm.
The theatre is small and features both downstairs and balcony seating. There is no bad seat in the house. Our ideal performance is becoming mesmerized by watching operatic 'songbirds' perform a variety of arias both in English and in foreign languages while accompanied by the soothing sounds of their music director playing the piano. Following live performances there will often be a reception in the main hall with drinks and hors d'oeuvres.
And the Jarvis Conservatory Annex building across the street houses a costume shop and provides storage for costumes.
—
Jarvis wines are sold through visits to the winery or through their inner circle membership allocation club. For more information or to make an appointment, visit: www.jarviswines.com
Grounds

Vineyards

Finch Hollow Vineyard

Winery