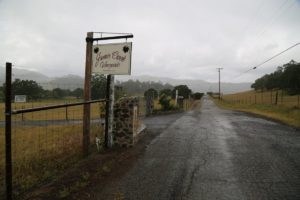 James Creek Vineyards is a small family run boutique winery with vineyards in eastern Napa County in Pope Valley. This part of Napa is as far from the often crowded Highway 29 on the valley floor as you can get in Napa County. "Out here" – there are still more meadows than vineyards – seemingly more pasture animals than people and plenty of fresh air.
This winery is run by Scott Brown; his family has a long history in the Napa area. Scott planted his first vines on site in 1972 (after his family purchased this land in 1969) which at that time were among the first vineyards planted in this area post prohibition. At the time the thinking was that this area was both too hot and too cold to produce premium quality grapes. Amazing what 30+ years can do to that perception! While there is still plenty of natural land in Pope Valley, today there are hundreds of acres of vineyards in this valley and more and more continue to be planted.
Driving down the cracked and rutted narrow road of the same name as this vineyard – one soon spots a small collection of vines – surrounded by grassland and oak trees.
This part of Napa County has a unique growing climate compared to most of the valley floor in that they are above the fog line and during the summer they may have extreme temperature fluctuations up to 40 degrees between the day and night. Zinfandel thrives in these type of conditions and Scott manages his own 6 acre vineyard in part planted to Zinfandel and Cabernet Sauvignon as well as nearly 100 acres for other nearby vineyards. Throughout the years he has sold grapes to other Napa wineries including the Hess Collection.
James Creek's total production is merely 750 to 800 cases with each bottle receiving its own number on the Western styled label. The production is divided between a 100% varietal Cabernet Sauvignon and a Zinfandel.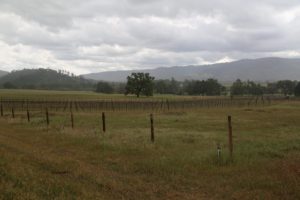 All wines are made at a nearby winery and most everything is done by hand during the winemaking process. The grapes are hand sorted so only the highest quality fruit is used. Hand punch downs are done 3x a day during fermentation and the skins are left with the juice (maceration) for extended periods to help soften the tannins.
After tasting with and reviewing more than 900 commercial Napa wine producers we can say that while their selection is limited, these two wines are among the top ten quality to price values in the Napa Valley.
There are not many wineries in Napa where you can find such hand crafted Napa red wines for under $30/bottle. We tried 2005 vintages. As soon as the Zinfandel was opened we smelled it from across the table; it has appealing exotic aromatics showcasing both fruit and spices. The palate is very smooth with flavors of black berries, it is not at all jammy, has no residual sugar and the finish is full of fruit with a touch of vanilla that lingers on the palate.
The Cabernet Sauvignon is a soft smooth wine with a very pleasant nose. The longer you let this wine open up the greater the flavors. It is full of black cherries, spices including cloves, some vanilla and has a super velvety finish. This is a great everyday Cabernet and pairs well with steak and incidentally this wine is very popular in Oklahoma and Texas. Visit: www.jamescreekvineyards.com
NOTE: this review has been identified as needing a major update.