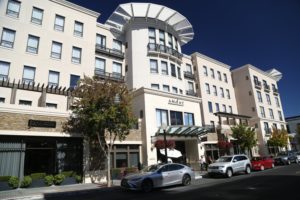 JaM Cellars is a remarkable success story rooted in the Napa Valley – founded by vintner and vineyard manager (among his many jobs) John Anthony. John calls the story of JaM Cellars "rare, random and unexpected" and still has a hard time wrapping his head around how fast demand for his wines have grown. The story is an interesting one and worth sharing as told to us by John.
With the slowdown of the economy in 2008 John immediately noticed the demand for his John Anthony wines becoming "less insatiable" as he puts it, especially for his premium wines. He then started spending more time in the market with his distributors trying to increase brand awareness for his wines. Some of this time was in restaurants where he quickly realized the owners were less interested in buying wine at the time and were struggling just to stay in business.
He went on a promotional trip with the Napa Valley Vintners and one of the restaurateur's indicated wines were selling OK in the $15 to $20 price point. Returning to Napa he decided to bulk out some of his Chardonnay that was already made but was unsuccessful in selling this. He then contacted one of the bulk distributors and requested mostly blind samples of over 60 different wines. He and his winemaker at the time, Rob Lloyd sat down and tasted through them all and realized most of these bulk wines were very well made and would have already sold if it were better economic times.
He and Rob decided to start a separate wine project and bottle the Chardonnay they were trying to bulk out. John sent Rob a number of potential names for the winery. Rob took one look at the list of John's fancy sounding names and said "lets simplify this, why don't we just call it Jam, using the first initials of John Anthony and his wife Michelle.
They bottled a 2009 Napa Cabernet Sauvignon for $20 but then realized the brand awareness of Napa was so strong consumers did not take a Napa Cabernet Sauvignon at this price point seriously. They would have to start thinking about sourcing fruit outside of the Napa Valley to maintain this price point. Also in 2009, John had a vineyard client who was desperately trying to sell his Chardonnay. John tried to help him in this regard and contacted a number of premium wineries in the valley but all were "swimming in Chardonnay" and he wasn't able to sell any of this fruit.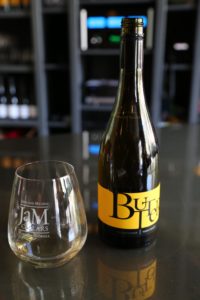 John approached the vineyard owner and gave him two options – let the fruit hang on the vine and rot and eat the cost of the vintage or use it for bulk wine. The vintner chose the latter of the two options and the seeds of JaM Cellars were starting to take place – albeit on a small scale compared to their current production. Incidentally they made this Chardonnay at what was Folio Winery in Napa's Carneros region – in the late 1970's this winery was under different ownership and was called Carneros Creek. John remembers his parents, Tony and Jo Ann Truchard (long time grape growers in Carneros) sold their first grapes to this winery in 1977.
Rather than barrel ferment or use other small batch fermentation vessels, John realized they needed something much larger and more efficient to start producing larger quantities of wine. John made this wine himself with guidance from Rob as necessary.
In 2010 John attended the Pebble Beach Food and Wine event (annual gathering to celebrate premium wines and cuisine). While here Scott Lewis, owner of V Wine Cellars in Yountville tried some of the Chardonnay and made a simple suggestion. "Why don't you just call it Butter". They took his advice – but subsequent customer feedback about this first vintage was that it was not buttery enough. John realized they needed to change the wine making style – but do it with a limited budget.
He suggested Rob call up Demptos (a cooper in Napa) and ask if they could provide toasted wood chips – oak adjustments. As luck would have it – very few vintners were buying wood chips from Demptos in these years, and they even offered these to John at a healthy discount. They used these for their second vintage (still the same vineyard source), replaced Napa on the label with California and made this wine more "buttery".
By the time 2011 came John realized they needed a larger and more affordable source for grapes. They went to Mendocino County for this – and purchased some 100 tons of Chardonnay (equivalent to approximately 8,000 cases). Up until then, John had been used to making small production wines for his boutique John Anthony label. He saw the large fermentation tank and his first comment was "who is going to drink all this wine"?!
John needed some cash to pay for this large purchase – luck intervened. He attended a photo shoot with a fellow vintner for a magazine published by a wine distributor. There he met the CEO of the distribution company and went to dinner with him after the photo shoot. John introduced him to his Chardonnay – he was impressed, and his wife was even more so. After a few rounds of whiskey, he asked John how he could help his new wine brand. John went for it and told him "You could write me a check for the entire amount that I just spent on purchasing 100 tons of grapes." To John's great surprise he agreed, and a handshake agreement was made. This allowed JaM Cellars to financially take the next step in production size.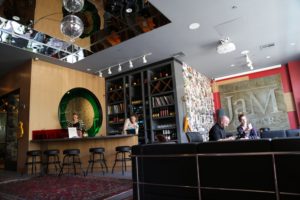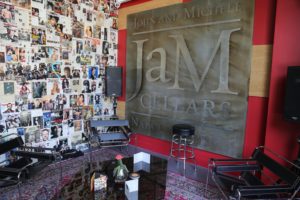 From the 1,000 cases in 2009 to 8,000 in 2011 they have now grown to over 450,000 cases as of their 2015 vintage and in later years have bottled and released Butter in cans. Their distribution is entirely the domestic market – with great exposure in a variety of restaurants and supermarkets. John says their wine tends to strongly appeal to women buyers. Their vineyard sources have since expanded and now include not only Mendocino County, but also Santa Barbara and Clarksburg (Sacramento River Delta region).
Running a wine business with this case production inherently involves a number of other factors that are not in play for a typical Napa producer making 500-1000 cases per year. Take yeast for instance – the yeast suppliers John worked with for years supply small packets of yeast for small batch fermentations. Growing at such a rapid rate over the first few years in business has its own set of challenges. How do you determine how much wine to make to supply the demand – will you have enough or will there be periods when you can't meet demand. How is demand going to change? Maintaining reputable yet affordable fruit sources is always critical.
There are certain decisions John won't make in order to protect the core identity and style of this wine. An example would be to drop the alcohol level and save a significant amount of money because the decreased alcohol would taxed at a lower rate.
In May 2016 JaM Cellars opened a tasting room in downtown Napa. This is not the first tasting room John Anthony has opened – his John Anthony Wines anchors one side of the Andaz Hotel and now JaM Cellars the other side. Like the John Anthony tasting room the JaM Cellars tasting room stays open late some nights and becomes less like a tasting room but more like a lounge and a neat place to hang out with friends after all other tasting rooms and wineries have long since closed.
Local architect Richard Vonsaal was hired to create the interior design of the JaM Cellars tasting room with some basic words of advice from John, "make it cool". Richard has certainly done this from the disco ball in the ceiling to the Rolling Stones "cover wall" to even a separate room which doubles as a recording studio. There is plenty of seating inside including at the bar, lounge style couches and tables.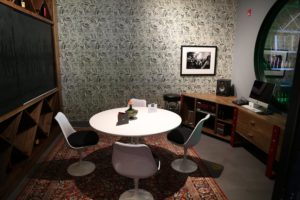 JaM Cellars has partnered with their restaurant neighbor, Tarla to provide small bites appropriately called JaMBITES (prepared next door to order and brought to your table). Free Wifi is also offered.
Along with JaM Cellars, Smith Devereaux wines (formerly JW Thomas wines) are available for tastings here – JW Thomas is named after the first initial in the founder's names, John Anthony and Ian White and also pays honor to the Napa restaurant 'The Thomas' where they were when they decided to create this label. Smith Devereaux is named after Steve Smith (the 3rd partner and Ian's middle name). These wines are created in partnership with various often well-known musicians (such as Mat Kearney).
Select Wines
John calls his Napa Valley grown and produced limited production JaM wines his Collector's Edition wines. These include a Napa Valley JaM Cabernet Sauvignon and a Butter Chardonnay. 2014 and 2015 are the first vintages released of these Napa wines under the JaM label. Several flights of wines can be purchased or individually by the glass or bottle.
The 2015 JaM Butter Napa Valley Chardonnay while named butter initially shows notes of toast on the bouquet then opens up to more fruit including yellow pineapple with hazelnut and a sweet vanilla nuance. The mouth feel is soft and rounded with a rich finish showing notes of red apple and a tinge of astringency on the finish.
The 2014 JaM Napa Valley Cabernet Sauvignon shows sweet aromatics with mocha, cassis and blueberry. The tannins are well integrated lingering along with a tart crispness of bright red fruit including currant and raspberry. It is a balanced wine that drinks very well young.
—
Special mention should be made about the JaM Cellars party bus. John was inspired by David Long of David Arthur Vineyards who has toured the country in his own rock-n-roll type 'party bus' well decorated with his own branding. John used the same concept to create the "Butter Bus" a prominently decorated 'party' bus that used to be owned by country music crooner Alan Jackson. Today it rolls into events promoting the JaM Cellar wines – it's a "yacht on wheels" and billboard for the brand.
For more information about JaM Cellars and their Napa tasting room, visit: www.jamcellars.com