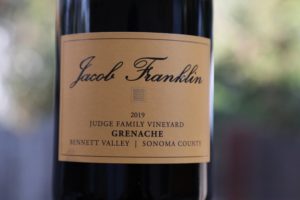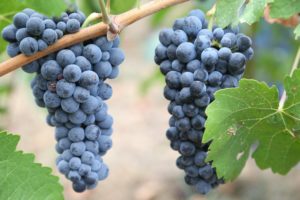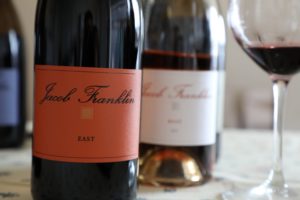 Jacob Franklin Wines. The roots of Jacob Franklin date back to a bottling called Jake's Cuvee, produced by Elyse Winery. In 1998 eight-year-old Jake Coursen decided he liked having his name on the label (Elyse Winery was named after his sister Elyse) and asked his father winemaker Ray Coursen if he could have his own wine brand. Ray agreed and produced the first wine bottled under Jacob Franklin in 1998. The Coursen family sold Elyse in 2018 but not the Jacob Franklin wine brand. Jake decided to continue producing wines under his own namesake and took over the winemaking from his father starting in 2018.
Jake was raised in Napa Valley. After he graduated from Chico State University with a degree in Agriculture Business he returned to Napa Valley and worked as he says, "his freshman" year in the wine business. His first wine job was in 2013 for Hunnicutt Winery, working in the cellar and learning more about winemaking from some of the best in the business including winemaker Jason Driscoll (who he considers a mentor and was extremely helpful in sharing winemaking knowledge), Tom Garret (Detert Family Winery), Julien Fayard (Covert Estate), David DeSante (DeSante Wines), Kirk Venge (Venge Vineyards) and other winemakers.
He then spent some time as a Viticultural/Lab intern at Cakebread cellars before returning to Hunnicutt as their Production Assistant. And he was Cellar master at Elyse prior to their sale. All this wine related work helped prepare him for when he took over the production at Jacob Franklin.
Jake has put his own winemaking imprint on the style of the Jacob Franklin wines since he took over the winemaking operations, but he continues to source grapes from premium vineyard sites embracing both terroir and varietal characteristics. The Jacob Franklin wines focus on the purity of fruit; one word we wrote down in our descriptions more than any other word was 'freshness'. These wines are lively and bright with an inner core built around verve; oak is typically used more as a vessel and a light contributor during the wines' aging rather than being a dominant characteristic.
Select Wines
The first vineyard that Jake began working with when he took over the production of Jacob Franklin wines was the Judge Family Vineyard in Bennett Valley (near Santa Rosa in neighboring Sonoma County). This site is located at an elevation of about 500 feet and receives plenty of cooling fog influence in the morning, clearing to sunshine in the afternoon during the growing season. The 2018 Jacob Franklin vintage from this vineyard was fermented 100% whole cluster in no new oak; this vintage needed time in the bottle for its personality to be tamed. In 2019 he fermented without whole clusters which helped create a wine more approachable in its youth. He used a yeast more common for Pinot Noir to help accentuate the aromatics. The wine was aged for 10 months in neutral oak barrels. The 2019 Jacob Franklin Grenache (100% varietal) is medium ruby in color; the bouquet offers aromas of dried rose petals, dried herbs, the smell of slate rock in dirt in the foothills of the Sierra Nevada mountains on a warm afternoon, some darker spices and red berries. The palate offers a crunchiness of texture and flavor including red cherries and cranberries. The slightly drying tannins are earthy/dusty, well textured (but not in a coarse sort of way) and persist for quite some time. This is a very food friendly bottling.
The roots of Elyse began with the Morisoli Vineyard in Rutherford. Ray produced a 1986 vintage for family enjoyment; the first bottling commercially under Elyse was in 1987. The Morisoli Vineyard has been a significant part of the Coursen's family winemaking heritage in Napa Valley – Ray even lived on the Morisoli Vineyard for a number of years. Jacob Franklin continues to source grapes from this vineyard, primarily for their Zinfandel but also sometimes for a Cabernet Sauvignon. They source from the oldest block of Zinfandel on the property with the original vines dating from the early 1900s. Jake remembers not knowing much about vineyards in his youth but recalling that this old block in the Morisoli Vineyard felt different. While Zinfandel is the primary variety growing in this block there are at least 11 other wine grape varieties interplanted.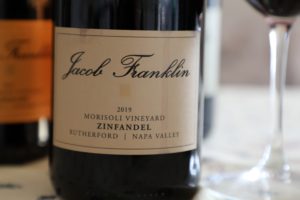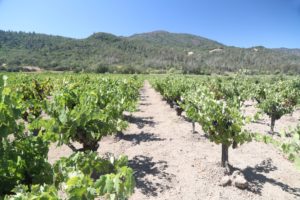 Over the years, when Ray notices that a couple of the Muscat grapes are ripe in the old block, the Morisoli Zinfandel will also be ready to pick soon after. The wine was aged for 10 months in 25% new American oak (the remainder of the barrels were neutral). The 2019 Jacob Franklin Morisoli Vineyard is medium to dark ruby in color; the bouquet offers bramble, dark raspberry, strawberry, violets and a subtle note of vanilla. It is an easy drinking food friendly Zinfandel but with plenty of character and depth. This wine lingers somewhat savory with a darker spice filled finish including of dried tobacco leaf and crushed peppercorn paralleled by bright red fruits. The chalky and fine-grained tannins are well integrated into the finish. This wine is light to medium bodied showcasing bright acidity. The 2019 Jacob Franklin Morisoli Vineyard Zinfandel is noteworthy for what it lacks; i.e. its not a high alcohol showing, it is not jammy or over ripe, nor sweet. And it is not a one-dimensional wine. It is a very balanced bottling.
Elyse Winery worked with Naggiar Vineyard in the past, sourcing fruit for their popular C'est Si Bon red blend. This vineyard is located at about 1,300 feet in elevation in the Sierra Nevada foothills with the grapes growing in red, iron rich soils. Jacob Franklin also sources several grape varieties from this vineyard including Barbera and Sangiovese. The 2019 Naggiar Vineyard Barbera is 75% Barbera and 25% Sangiovese (both varieties were co-fermented) and aged in neutral oak barrels for 17 months. In 2021 this wine was partially aged in some new American oak barrels and the blend incorporated slightly more Sangiovese. The 2019 bottling is highly aromatic including showing sweetly fruited notes, red licorice and violets. The palate features an immediately noticeable mouthwatering freshness of acidity with flavors of red plum, red cherry and a long-lasting brightness and tartness of primarily red berry fruits. It also lingers with an herbaceousness and light gravelly in texture, tannins. We immediately thought of pairing this with fish containing higher amounts of oil including salmon or swordfish.
In 2021, Jacob Franklin also produced a rosé from the Naggiar Vineyard Barbera; these grapes were picked three weeks before he harvested for the Barbera and were pressed quickly leaving a salmon/copper color to the wine. This richly flavored rosé is accompanied by high acid but with a simultaneous texture to help keep it in balance. It offers flavors of lemon, lime, grapefruit, mineralities and green apple. The persistent finish shows a fruit and acid-filled intensity. This is not a light-weight rosé.
The Jacob Franklin East and West wines were created in response to customers wanting more diversity in their wine club shipments. The geographic designation refers to the grapes' direction in reference to Napa Valley. The 2021 Jacob Franklin East Red Wine California is light to medium ruby color; the aromatics are pretty and immediately engaging with notes of dark raspberry, a brambly note and some darker spices. The spices are echoed on the palate with spicy plum, darker spice notes including of peppercorn. One would not be incorrect in calling this wine savory. The finish lingers dark along with slightly drying tannins and dried herbs.
The 2021 Jacob Franklin West is a blend of both Morisoli Vineyard Zinfandel and the Judge Family Vineyard Grenache. This wine is medium ruby in color; the nose is brambly and briary accompanied by additional aromas of plum and cherry. The palate features mouthwatering acidity, freshness and bright red berry fruits. The finish lingers with a tartness and gravelly and long-lasting tannins. We immediately thought of pairing this wine with some sort of port dish.
The 2016 Jacob Franklin #6 Mon Chou was sourced from Camusi Vineyard located just west of Elyse Winery. When the owner of Camusi Vineyard approached the Coursens about planting grapevines, they advised him on which varieties to plant. He planted 6 varieties including Cabernet Sauvignon, Cabernet Franc, Merlot, Malbec, Petit Verdot and a small section of Carmenere. The #6 on this label refers to these 6 varieties and Mon Chou is a term of endearment in French literally translating to, "my cabbage". The Cabernet Sauvignon and Cabernet Franc were co-fermented separately from the other four varieties which were also co-fermented together. This wine spent 24 months aging in oak barrels of which 50% was in new French oak. This wine is deep ruby in color; the aromatics initially offer a sweetly fruited note along with a scent of balsamic reduction. This wine opens further revealing additional darker fruits. It offers loads of dark fruit on the palate including plum, blackberry, mulberry and cherry. It also offers a dark liqueur note and some baking spices. The texture is lovely featuring dusty integrated tannins and a lingering note of dried tobacco leaf. This wine drinks very well at this point in time (tasted 6 years post vintage).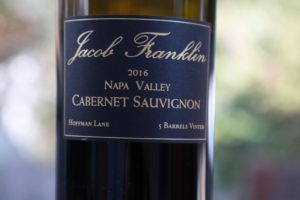 The Holbrook Mitchell Vineyard is located to the west of Elyse Winery in the lower hills of the Mayacamas mountains. This property has been continuously farmed since 1878. The 2015 Jacob Franklin Cabernet Franc Holbrook Mitchell Vineyard is blended with a tiny percentage of Merlot and Cabernet Franc. It is medium to deep ruby in color; the bouquet offers tobacco spice, mocha, chocolate, a a variety of other baking spice along with ripe fruit driven aromatics. The palate is very balanced and lingers with long lasting, chewy and gravelly textured tannins along with a wood spice. One can feel the density of the tannins but without any accompanying grippy or sharp edges.
The last Jacob Franklin wines made by Ray were in 2017 as when the family sold the winery in 2018 their 2018 vintages were still in barrel including their estate Cabernet Sauvignon. The 2016 Jacob Franklin Napa Valley Cabernet Sauvignon Hoffman Lane was from the 1-acre Elyse Vineyard located next to the winery. This wine is 94% Cabernet Sauvignon, 4% Cabernet Franc and 2% Merlot. It is dark ruby in color; one could pick this wine out of a lineup of other Napa Valley Cabernet Sauvignon wines due to its wintergreen aromatics, notes of eucalyptus, sweet tobacco spices and menthol. One side of the vineyard is lined with eucalyptus trees and its influence is present in the bouquet but not in a negative way. Let this wine open before fully consuming it; the aromatics continue to open wonderfully, exposing its inner core of fruit including blackberry and dark plum. This wine is showing extremely well at this age (we tasted 6 years post vintage date). The palate offers a lingering juiciness and plenty of both red and darker fruit flavors. Its texture is a hallmark characteristic featuring dusty and chalk-like grained tannins which roll across the palate with a supple and rounded feel. Lingers with a hint of dried tobacco leaf. This is a very balanced bottling and a crowd pleaser; one doesn't notice its 15% alcohol.
The 2017 Jacob Franklin Leeds & Pesch Vineyard Petite Sirah is located in Rutherford near the Ink House Inn. This is 95% Petite Sirah and 6% Zinfandel and was the last vintage bottled under Jacob Franklin. It is dark ruby in color, inky and nearly opaque as one comes to expect from wines from this variety. The nose initially shows some damp earth and mushroom notes, but these aromatics quickly make way for its beautiful core of fruit including of blackberry and boysenberry along with some darker chocolate. This wine offers plenty of depth and character but without any structural heaviness. The finish is bright, savory and lingers with darker baking spices and notes of plum. The tannins are well integrated. This bottling is well worth seeking out before its gone.
—
Total production varies and has ranged from 200 to about 800 cases each year. Some of their bottlings are found in several retail outlets within Napa Valley including Backroom Wines in the city of Napa. And the wine has limited distribution in several states including Oklahoma. For more information or to signup for one of their membership offerings, visit: https://jacobfranklinwines.com