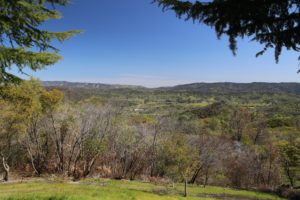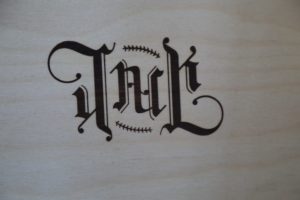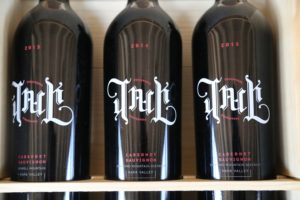 JACK Wines was founded by two partners, former major league baseball teammates Chris Iannetta and Vernon Wells. Despite both of their careers overlapping for a very short time while playing for the Los Angeles Angels they became friends through a mutual interest in wine and rehabbing together from injuries suffered during the 2011/2012 baseball season. For three months of the season both were on the disabled list.
They would often visit fine dining restaurants with teammates. When it came to choosing the wines for the meal, their teammates would often defer to Chris or Vernon to make the choices. During one such meal they both talked about their passion for wines, interest in Napa Valley and pondered starting their own wine label.
Chris was born in Providence, Rhode Island and has played for several teams throughout his career (as a catcher) including the Colorado Rockies, Los Angeles, Seattle Mariners and Arizona Diamondbacks. Vernon was born in Shreveport Louisiana but raised in Arlington, Texas and played (as a center fielder) for the Toronto Blue Jays, the Los Angeles Angels for a short stint (where he met Chris) and the New York Yankees before retiring in 2013.
On one of their visits to Napa Valley they were introduced to wine maker Grant Long. Hearing of their interest in producing wines he offered to be their winemaker and has been so since their inaugural vintage of 2012. Grant made his first wine at age 16, has lived in Napa Valley most of his life, owns several wineries and provides consulting wine making services to several premium brands.
Grant does not cut corners when it comes to wine making. He judiciously chooses oak that accompanies the wine; his philosophy is to use oak as an integrating tool rather than a dominating one. And as a tool which does not impart harsh wood tannins. His wines finish smooth (even when they are young) without the coarseness or roughness of jagged tannins. And Jack's partners use Grant's long time vineyard contacts in the valley to help with securing vineyard sources as needed.
The wine is named from taking the first initial of each of their children's names – Jayce, Ashlyn, Christian and Kylie. Ashlyn and Kylie are Chris's children. Today there are four partners involved including Steve Distler (also owner of Arnyca Cellars and formerly a co-owner of Carpe Diem Wine Bar in Napa). Steve is the only one to live in Napa Valley.
The partners purchased a beautiful piece of property high on the slopes of Atlas Peak as an investment; today they source some of the grapes from their property for the JACK Wines. These vineyards boast arguably one of Napa Valley's best views to the east from this appellation. On a clear winter or spring day one can easily see the snowcapped Sierra Nevada mountains far in the distance (about a 3.5-hour drive from the property). At night the lights of Sacramento can be seen in the Central Valley, beyond the coastal foothills and looking further to the south, one has excellent views of another part of the Central Valley, near Vacaville, with numerous wind machines on the furthest hills sometimes seen in the distance.
The property is 30 acres at over 2,000 feet and usually experiences some snow each winter. Twelve acres of Merlot are planted on site on a wide variety of slopes with various exposures. Some of the fruit is sold and some is kept for the Proprietary Red wine they produce each year. And despite the terrible damage the Atlas Peak fire caused on much of this area in October 2017, their vines were spared from the fire. Remarkably the home on site was not damaged either – despite burning right to its edge and destroying other homes nearby.
Select Wines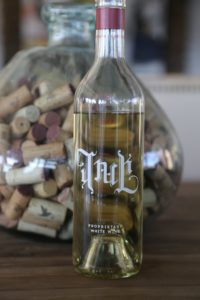 Looking for a Sauvignon Blanc with weight and richness? This wine delivers in that regards. A grassy citrus focused wine of this variety? No, that is not its style. The 2016 JACK Sauvignon Blanc is golden in the glass with a nice mix of tropical aromas including honeysuckle and pineapple along with various dessert spices including caramel and a hint of brown sugar. The wine was fermented sur lie for six months in neutral French oak barrels. This bottling shows some weight along with flavors of melon and a hint of citrus. It lingers softly for quite some time.
The 2015 JACK Proprietary Red Wine is a blend of 50% Atlas Peak Estate vineyard fruit with 50% Cabernet Sauvignon from Diamond Mountain. It features an aromatic party on the bouquet, showing rich and layered fruit aromas including blackberry and raspberry with lesser pronounced aromas of dark chocolate along with nuances of cedar box and hints of dessert spices. It immediately invites a sip and showcases mouth filling flavors of blackberry and plum. The finish is long with pronounced tannins.
The 2015 JACK Diamond Mountain Cabernet Sauvignon is blended with 6% Cabernet Franc. One can almost smell the soils in the bouquet of this wine as it initially breathes. As it opens, more fruit shows including spicy plum and dark cherry. It is ripe, but not overly so. Shows bright aromatics with hints of floral notes; the bouquet is focused mostly on the fruit rather than any secondary characteristics. There is a richness on the palate showing flavors of blackberry, chocolate and a kiss of vanilla which lingers on a big finish (both structure and flavor). While Grant doesn't play baseball, he has certainly hit a home run with this wine.
And in a nod to their careers, when the wines are turned on their sides, they are easily identifiable from the red baseball stitching that is printed on the end of every bottle's capsule.
Two Old Dogs
This companion label (originally called the EII label) was a second label started by Herb and Jennifer Lamb and was created as a tribute to both Herb and two of their vineyard dogs (all now deceased). Herb and Jennifer operated produced wines bottled under Herb Lamb Vineyards from 1997 through 2016. Jennifer continues to own the property and sells the grapes.
The original labels featured a likeness of Herb smoking one of his cigars with one of his old dogs lounging next to him. This label has since transitioned into a more contemporary visual. JACK Wines acquired this label from Jennifer. As of our latest update to this review, three wines are produced under Two Old Dogs: a three-varietal California rosé, a Napa Valley Cabernet Sauvignon and a Sauvignon Blanc, sourced primarily from Yountville. Yountville is one of the valley's "sweet" spots for growing Sauvignon Blanc.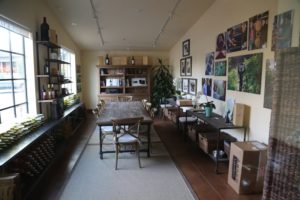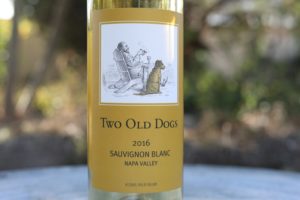 The 2016 Two Old Dogs Sauvignon Blanc was sourced from the Mello Vineyard in Yountville. This bottling is medium golden in the glass; the bouquet offers aromas of young pine shoot tips, lemongrass, lemon, melon, haystack, pineapple, bruised apple and ripe pear. The palate is fruity, crisp and delivers plenty of flavor. It shows notes of tangerine, melon, pineapple, Golden Delicious apple, lanolin, yellow peach and dried stone fruits including apricot. The finish is richly flavored and anchored by a zesty acidity. We tried this wine 6 years post vintage and it was showing quite well, not surprising considering its vineyard site and the fact this wine was built on great fruit and accompanying acidity.
The 2013 Two Old Dogs Sauvignon Blanc strikes a nice balance between two prominent styles of Sauvignon Blanc: ripe & creamy (often associated with California) and the more tart and tangy (often associated with New Zealand wines from this variety). This vintage has a lively nose that aromatically shows an inviting collection of tropical notes including yellow pineapple, some floral nuances including honeysuckle and the sweet smell of orange blossom as well as a hint of apricot. The palate is pleasing both in texture and flavor and is rounded and soft. It shows mineralities with an underlying flint like-note towards the finish. Some citrus notes show on the palate. The finish is zesty, clean, lively and very refreshing. For summer Sauvignon Blanc lovers, this wine is an easy choice and light on the wallet to.
The 2011 Two Old Dogs Cabernet Sauvignon initially shows dark fruit aromatics, but as it opens, it shows more red fruit aromas including red currant, red cherry and earth notes with an underlying dusty and dried grass component. The nose is pretty. The palate shows a variety of fruit including raspberry and cherry with lingering bright and higher-toned fruits on the finish. This bottling lingers by a pleasing afterglow of coffee, and darker chocolate. It shows decent acidity. The wine is approachable young especially considering this vintage in Napa was a bit challenging (cool and rainy until late Spring and a harvest that was somewhat delayed by rain). There is a nice balance between tannins and fruit. And the alcohol is under 14% – somewhat rare for Napa Valley produced red wines these days.
—
After acquiring Two Old Dogs, JACK also took over the space on Fulton Lane in St. Helena from the Lambs; this is located in the same building as ACME Wine Shop. Tastings for JACK and Two Old Dogs are by appointment only and are hosted inside their cozy tasting room. Parking is along Fulton Lane or nearby Railroad Avenue.
Total production of JACK is about 100 cases of each wine, with usually 300-500 cases released annually. The wines are sold direct to consumer via their allocation list. For more information and to sign up for this list, visit: www.jackwinery.com