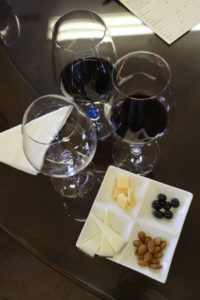 J Gregory Wines was founded in 2005 by vintner Mark Jessup. Mark was born and raised in the Napa Valley and is a 3rd generation to the Napa area. He was attracted to vineyards from an early age. When his family lived in St. Helena, he remembers exploring vineyards, watching the vineyard workers work on the vines and being attracted to the smells of being out in a vineyard as well the sweet smells of fermentation during harvest.
He later enrolled at Napa Valley College and took wine and viticulture classes. His first wine job in the Napa Valley was working in the cellar at Inglenook vineyards in 1978. From there he worked the 1979 harvest at Robert Mondavi Winery (the winery was only 12 years old at the point) and Mark did not leave Mondavi until 1994. He credits his work and contacts at Robert Mondavi as influencing his career. As a young winemaker he recalls being influenced by other winemakers he met at Mondavi including Charles Thomas, Mike Farmer (now running Euclid Wines), Mike Mueller (McKenzie Mueller) and Richard Arnold.
Mark was on the original wine making team at Opus One – when the wine was made in the city of Napa prior to the winery being built. He remembers there were only a team of four people working on those wines at that time.
Mark began Jessup Cellars on his own in 1996 and was winemaker there until 2008 when he decided to leave and focus on J Gregory Cellars. Jessup was so successful and had grown rapidly that it was no longer a tiny winery and required a much greater time commitment. As Mark says, it was time to "slow his soul down". The vision for J Gregory Cellars is to remain small – under 3,000 cases with most of the production sold direct to consumers either through visits or the wine club.
Mark's father said something like this during his final days to Mark, "when you look back on your life no one ever says they wished they worked more". To this Mark has created a lifestyle around the J Gregory Wines – keeping production small enough so he and his wife Kandice can easily manage the business, spend time doing winemaker dinners in the select states their wines are represented in and have enough time left over to be able to travel.
Wines/Winemaking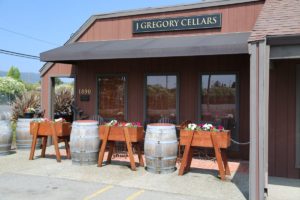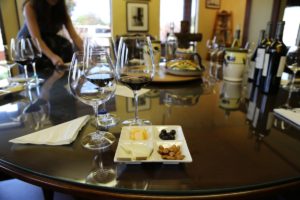 Mark's philosophy of wine making is rooted in Napa's past and in old world traditions. He picks the fruit when it is ripe but not over ripe – he wants a good balance of pH and acidity when the grapes come into the winery. Balanced fruit in the vineyard equates to balanced wines. He wants elegant wines with pleasing mouth feels (that can be enjoyed young but will age well) instead of being dominated by alcohol and tannins.
Rather than owning vineyards Marks looks for premium vineyards and enters long term leases (they have a 40-year lease on one of their source vineyards). Mark works closely with several long-time farming families and has direct input and makes decisions on how the vines for his wines are managed.
In the winery, Mark takes a hands-off approach – preferring to ferment with yeast already present on the fruit when it comes into the winery. He tries to manipulate the wines as little as possible. While at Mondavi Mark worked with a Master Cooper and ultimately made barrel purchasing decisions for the winery. As a result of his experience with barrels, barrel selection and when to use and or not use certain types of barrels are a critical part of his wine making.
Only 100 cases were produced of the 2013 J Gregory Chardonnay. This wine was sourced from Mark's friend and longtime Napa farmer Buck Bartolucci. The vineyard is on the Napa side of the Carneros District. Mark ferments half of this wine in stainless steel tanks and the other half in new French Oak barrels. He allows the wine in barrel to undergo full malolactic fermentation whereas the wine in stainless sees none.
On the nose the wine shows notes of stone fruit and pear – the palate is beautifully balanced between weight, flavor of fruit and acidity. It has weight and a slight viscosity but also retains a crispness. Notes of citrus – orange, mandarin and a nice tartness lingers on the finish for some time.
The 2012 J Gregory Cabernet Sauvignon is from a small vineyard in Coombsville. The complex bouquet is immediately apparent – with layers of aromas including a darker fruit liqueur, dark chocolate, dried rose petals and blueberry. The palate is well balanced with nice acidity – anchored by dusty fine-grained tannins. This wine is easy to drink.
The 2012 Extol Cabernet Sauvignon (Bordeaux Blend) is about the earth in which it grows – the bouquet shows a pleasing dustiness, like dry rocks in the shade on a hot summers day – perhaps a rock pile on the slopes of Eastern Oakville. But in reality, this vineyard is from Wooden Valley – east of the city of Napa. This earthiness lingers for some time and as the wine opens the bouquet reveals darker fruit especially dusty blackberry. The palate shows darker fruits – it is mouthwatering with good acidity. The tannins are well integrated on the long finish.
While their production is already small several wines from the 2011 vintage became even smaller when the earthquake south of Napa hit in August 2014 including the 2012 J Gregory Petit Sirah. This wine is from a vineyard east of Lake Berryessa in Yolo County. The wine is noticeably dark in the glass as it often is for this varietal. Aromatically it shows darker fruits – black currant, blackberry and a slight mushroom nuance in the background. It has a pretty nose that becomes prettier as it opens. As with all of the wines we tasted – this wine has excellent acidity. Notes of chocolate and raspberry are woven between surprisingly well integrated tannins.
—
Their logo is a series of four fingerprints placed together. The number four represents Mark's four boys – his third son, Jonny Gregory Jessup was born with a disability and is the namesake for the wine. The third fingerprint is highlighted to honor Jonny. In addition, Mark points out that the look of the fingerprints roughly mirrors the look of a topographic map – perhaps similar in shape to a hillside vineyard.
In 2014 J Gregory Wines opened a tasting room (by appointment only) in a two-story set of offices appropriately called the Cooperage Square Business Center. This location is ideal as it is right next to Highway 29 on the north bound side. Tastings are private and often with Mark or Kandice. For those looking for a food and wine pairing – they have partnered with the chef at nearby Fume Bistro & Bar to prepare 3 and 4 course lunches on site with the J Gregory Wines. For more in depth lunches – Mark and Kandice work with Meadowood and guests can meet with either of them at lunch (paired with the J Gregory Wines).
And typically, every year, Mark and Kandice host a river cruise somewhere in Europe featuring select J Gregory wines.
For more information, to schedule an appointment for a tasting and to join their wine club visit: www.jgregorywines.com