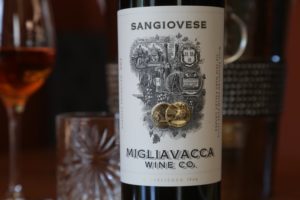 Every so often on my relentless pursuit of visiting, tasting with and promoting all Napa Valley based wineries and producers – I discover brands that combine intriguing history, cool owners and excellent wines.
Earlier this year I met up with owner Katie Migliavacca and her winemaker and business partner Vincent Traverso in the Migliavacca Mansion in downtown Napa (the home her great great grandfather Giacamo used to live in). And we connected over mutual shared interests – history, wines (her family began making wines in the Napa Valley way back in 1866), a love of the Napa Valley of course, and travel. And several months after our meeting, I decided to help promote and build exposure for their wines. This is a brand I really want to see succeed.
The wines are a bit non Napa-esque – in part, paying homage to the variety of wines Katie's great great grandfather used to produce. The focus is currently on three wines – a Syrah/Petite Sirah Rosé from Contra Costa County, a Vermentino from Lodi and a Sangiovese from the Antinori Vineyard high on the slopes of Atlas Peak in the Napa Valley.
Migliavacca's philosophy has been to produce premium and affordable wines that are accessible to a wide range of budgets. And the focus so far has been on Italian varietals, honoring her family's heritage. And all of these wines are very food friendly.
From Katie & Vincent:
"It has been a privilege to be able to bring this brand back to life, the experience thus far humbling. 2020 has had its obvious challenges for all, and the recent fires in northern California have left many with a great sense of loss and a future unknown. Reflecting back on the inspiration to resurrect the brand, it was more than the opportunity to tell the family's story and share the history; it was in the spirit of honoring a place, a time, the people – celebrating what was, and carrying it into the present and future. Vintages come and go, we lose people, belongings, places, but the ability to carry on and celebrate the legacy remains.
We're also reflecting on how much we have to be grateful for and feeling the immense fortune of having a fabric of people lifting us up every day. Certain life events have an interesting way of marking and dividing time, there is life as it was "before" and life as it is "after". We're inspired by the resiliency and tenacity of those around us, and by the generosity and strength of community coming together in times of great adversity and crisis."
For the spring:
One special offer is available for Spring:
The "Triptych" (three-pack) is back and now available for purchase. The Triptych includes all three of their flagship varietals and the first 150 sold are at the special price of $150, in honor of their inaugural release in November, 2019.