Ink Grade Estate is named in homage to Theron H. Ink, a prominent Napa Valley landowner from the 1800s and is rooted in a vineyard partially in the Howell Mountain appellation, which was originally owned by Ink. Proprietor Gaylon Lawrence acquired the Ink Grade property in 2018 as part of purchasing Heitz Cellars. The Heitz family purchased the site in 1989. The property is approximately 800 acres with 220 acres planted to vines including Cabernet Sauvignon, Merlot, Zinfandel, Syrah, Petite Sirah, Viognier and Sauvignon Blanc. And there are two additional rare for Napa Valley varieties, especially on Howell Mountain: Carignan and Mourvèdre. The site ranges from about 700 feet to 2,400 feet in elevation. The vines are certified organic and are farmed biodynamically. This is the largest Demeter certified Biodynamic Ranch in Napa Valley.
Winemaker Matt Taylor beautifully sums up his interaction with this vineyard in the following prose.
It takes time to learn the language of the land. To listen to what a place has to say about what it is, and what it will give. Here on Howell Mountain, there is a wild purity and a raw tension that awakens each one of our senses. At Ink Grade, our intent is to preserve this tension. To capture the untamed nature of the site, and the structure and the terrain. Producing wines both pure and complex, elegant, and robust, bold and profound. To do so requires patience and presence. Listening and attention. There is an art to listening. This is our art. This is Ink Grade.
Theron Ink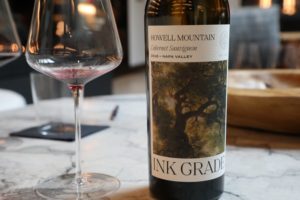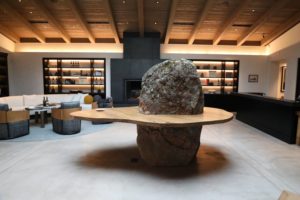 Theron H. Ink was born in New York in 1831, was a schoolteacher for several years before migrating across the country on horse and wagon in 1852. He worked gold mines at Coloma Bar before settling in Napa Valley in 1853, working on Boon Fly's Farm on Carneros Creek in what is now the Carneros District of southern Napa Valley. From being a schoolteacher to a prominent landowner in northern California happened fairly quickly. His land holdings were significant; at the height of ownership, he owned approximately 10,000 acres in Napa Valley (primarily in Pope Valley), Lake County and Marin County and raised a diversity of livestock. He also served in public office and was elected to the Board of Supervisors in the Yount District for three terms.
He owned vineyards in Rutherford and St. Helena and eventually built a winery in 1886 which had a capacity of 150,000 gallons. He also owned a sizable livery stable in St. Helena. Ink Grade Road on Howell Mountain (and Old Ink Grade Road) are both named for Theron Ink, in homage to the road he used to use to travel between his property in Pope Valley and properties on the main floor of Napa Valley. Records show that the first wine produced from the property was sold in St. Helena in 1875.
Ink's name is still associated with the house he built in 1885 for a cost of $10,000. The Ink House and property south of St. Helena are listed on the National Register of Historic Places. Today it is the Ink House Inn and is owned by vintners Jean-Charles Boisset and his wife Gina Gallo. The uppermost cupola was removed in the 1940s but has since been added back to the house. The original well on site was built by Chinese laborers.
An article about Inkwell House from the Napa Register, dated September 14, 1963, indicates, "Perhaps someday Napa Valley's Inkwell House will be the attraction it deserves to be, in the way the early American homes of New England are, as restored by the Colonial Dames". Those wishful thinking words came true some 50+ years after this article was published. After several years of carefully restoring the home with the help of Howard Backen at Backen, Gillam & Kroeger Architects along with the beautiful interior design work of Sarahliz Lawson Design, the Ink House opened in January of 2018. Sarahliz's work has been featured in a variety of publications including Luxe Magazine, Conde Nest Traveler and Travel and Leisure; this was her first project with Backen, Gillam & Kroeger Architects.
Ink died in 1893 in what was the Crystal Springs Health Resort on Howell Mountain and is buried in at Cypress Hill Memorial Park in Petaluma in neighboring Sonoma County. His wife Harriett P. "Jane" Goodrich outlived her husband by nearly 40 years and died in 1932.
The Pavilion by Ink Grade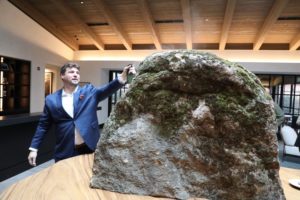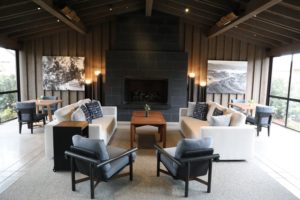 This space used to house Ernie's St. Helena, a wine shop part of a greater chain of wine shops at one point reaching 80 stores throughout California. Ernie's was founded by Ernie and Virginia Van Asperen, the founders of Round Hill and what is now Rutherford Ranch Winery. They eventually sold this shop in 1983 to Alden Yates, part of the same family that owns vineyard land and Yates Family Winery on Mt. Veeder. The shop continued under Yates family ownership until 2011 when it was sold; for many years this was the site of St. Helena Wine Merchants wine shop. Visitors today will recognize nothing from that old building.
In March of 2014, Vine Cliff opened a tasting room inside the space (they own this property) and operated it until ultimately closing the space in late 2020. Prior to opening, Vine Cliff hired prominent 'wine country' architect Howard Backen of Backen, Gillam & Kroeger Architects to oversee a redesign of the space. The tasting room is contemporary and surprisingly spacious. It features a wine-bar, two private indoor tasting rooms, several indoor seating/lounge areas (with heated lamps) as well as two outdoor tasting areas.
The Pavilion opened on February 23, 2023. Part of the focus of The Pavilion is to introduce as much of the character and feel of the Ink Grade Estate property to visitors. SENSES by Ink Grade is hosted in a special sensory room; the experience begins with 360-degree, 90-second time lapse inspirational video projection of the vineyard portrayed on all four walls. A wine educator leads the tasting through the current release Ink Grade wines while selectively showcasing video and still photography of the Ink Grade property.
The beautiful Le Noyau, a sizable rock that catches one's eye immediately when entering the tasting salon is from the Ink Grade Vineyard and was hand selected by Julie Gilles, Ink Grade's Brand Manager. Le Noyau translates from French to English as, the core. Those who were working on removing it from the vineyard did not realize that at least half of the rock was still buried. Once it was excavated, it was driven to a studio in Santa Rosa in neighboring Sonoma County where the bottom of the rock was cut off to create a flat base; it was also then cut in half. It is covered with a variety of multi-colored lichen and surrounded by Costa Rican Parota wood. It is situated under a large skylight and the team 'waters' the rock on a regular basis to keep the lichen alive. We were told they go through several cups of water a day which they mist onto the rock.
Select Wines
The Ink Grade wines are crafted to showcase richness without heaviness, and texture without coarseness; these are wines that are fresh both on the bouquet and the palate. Each wine is labeled with an image from a painting created by various well-known artists. And some of these original pieces are displayed in the tasting room. While Heitz Cellars had been producing wines from the Ink Grade estate including blending into their Cabernet Sauvignon and also creating a port-style wine (our first introduction to this vineyard many years ago), 2017 was the first vintage bottled as Ink Grade.
Sauvignon Blanc grows on the lowest part of the Ink Grade Estate. The 2020 Ink Grade Howell Mountain Napa Valley Sauvignon Blanc offers distinctive aromatics including a blend of lemongrass, cut grass, citrus blossom and honeysuckle. This wine is fermented primarily in concrete vessels and goes through full malolactic fermentation. The palate is creamy and rounded with almost a saline like texture; this wine offers flavors of lemon and lime, grapefruit and a hint of apricot. It finishes with a rich burst of fruit accompanied by a balanced acidity. Give this wine time in the glass – especially for the bouquet as the aromatics will continue to evolve and show additional nuances. Our wine host during our visit, Maxwell Trego told us his ideal location for enjoying this wine would be surrounded by redwoods growing on part of the Ink Grade estate. The image on this bottle is of colorful nasturtiums, from a painting by Ellen Fisher dated 1865.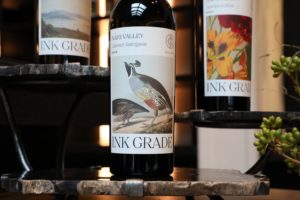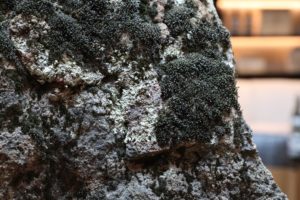 The 2018 Ink Grade Andesol is a blend of 89% Zinfandel and 11% Cabernet Sauvignon. This blend changes depending on the vintage. This particular bottling is a savory showing of Zinfandel rather than a more common California style of wine which is too ripe, fruity and jammy. The bouquet offers a dark element including of tobacco spice and white pepper along with red fruit tones (currant) and some floral notes including rose petals. The palate is superbly balanced between fruit, acidity and a seamless structure. It is very flavorful offering notes of spicy plum skin, crushed peppercorn and dried herbs. The finish is dark, dusty and earthy with the light to moderately gripping tannins outliving the fruit. The label for this wine is a small section of a Thomas Hill painting of Yosemite dating from 1844.
The 2019 Ink Grade Napa Valley Howell Mountain Cabernet Sauvignon is a blend of 88% Cabernet Sauvignon and 12% Merlot. This wine is noticeably dark ruby in color; the elegant bouquet offers scents of plum skin, black raspberry, cigar spices and blue berries along with a hint of leather. We also noticed a rose stem like character, a scent that was first mentioned to us when describing one of the Opus One wines by winemaker Michael Silacci. Its texture still shows as youthful at the time of our tasting and lingers with a dry finish with a tartness of red fruit and tightly woven tannins. One may not have heard of crowberries, a small low to the ground bush berry that grows in Iceland, but the finish has a bit of tart/tangy note reminiscent of the character of these berries. The image for this wine label is of a California Quail male from one of James Audubon's watercolor paintings.
The 2018 Ink Grade Howell Mountain Cabernet Sauvignon is 100% varietal; the grapes for this wine were harvested over a span of 35 days from grapes growing on the highest elevation block on the property. This wine in particular needs time for the bouquet to express its core aromatics; as it evolves it offers notes of cherry, blackberry, plum, old cedar box, dried herbs and sage. The tannins are long lasting, gravelly and frame a dry and dusty finish. Of all the wines we tried, this will arguably be the most age worthy. This wine is only sold as a three pack, housed in an elegant and gorgeous box created by Golden West Packaging Group. And its design and visual layout won a packaging award at the LUXE PACK trade show in 2023 in Los Angeles. It was aged 8 months in an oak tank and then 24 more months in French oak barrels (of which 85% were new). The image on the label is of a stately oak tree.
The 2019 Ink Grade Howell Mountain Merlot is from the highest block on their property, around 2,200 feet. These are among Napa Valley's highest growing Merlot vines. This bottling is dark ruby in color; the bouquet offers an herbal hint, subtle dark pepper, tobacco spice and plum. This is an energetic and youthful wine bursting with brightness, depth and structure. The focus of its flavor profile is more red fruited than dark. It lingers juicy and mouthwatering with lively acidity and gravelly, dusty and persistent tannins. One would not be incorrect in describing its finish as savory with notes of cedar, crushed pepper and dried tobacco leaf.
—
The wines are currently being made at Burgess Cellars on the southern part of Silverado Trail (the former Luna Vineyards property). The plan is to move production to the original Burgess Cellars property in Deer Park. This property burned in 2020 and eventually a new winery and hospitality space will be built.
Total production at the time of our latest update to this review is around 5,000 cases per year with plans to increase production to around 15,000 cases per year. While the wines are available for tasting by appointment at The Pavilion by Ink Grade, select bottlings are available by walk-in tastings at the Brendel Wines tasting room in downtown Napa.
For more information, to schedule a tasting or to join their allocation membership (with two releases annually and 9 bottles shipped per release), visit: www.inkgrade.com