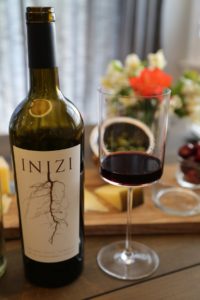 Inizi Wines was founded by two couples, A.J. and Jen Filipelli and John and Kirsti Harley in 2012. We initially became aware of their brand when we spotted an unusual varietal on the wine list at Solage in Calistoga made by Inizi – a rosé of Charbono.
A.J. is originally from Novato, California and attended Fresno State where he majored in Viticulture. While there he met his roommate from Visalia, John who majored in Oenology. After graduating both moved north, AJ to St. Helena and John to Sonoma County. AJ took a job working with vineyards with Jack Neal and Sons (based in St. Helena); today he manages approximately 2,500 acres of vines spread out between Napa and Sonoma for Vino Farms – one of the state's largest vineyard management companies.
Jen is from Houston and worked in a wine bar for several years before deciding to further her education by working a harvest. Ultimately she never worked a harvest but quickly became part of the local wine industry. She packed everything into a U-Haul van and drove west – taking what would be a temporary job at Dean & Deluca before helping launch Hunnicutt Winery. Today she works for Fisher Vineyards (vineyards in Napa and Sonoma with the winery in Sonoma County).
Jen recalls meeting A.J. during her first week in Napa – at a Taco truck of all places – parked at Revana Winery. Both couples were married within a year of starting Inizi. AJ and John remained friends and talked about making their own wines someday. When a local winery stopped buying fruit from an acre vineyard of Charbono (that AJ was managing) he called up John and informed him he had secured their first fruit source.
Conveniently John was making wine for Brack Mountain Wine Company in Sebastopol; the first vintage of Inizi was made here as well as subsequent vintages.
The name Inizi is a tribute to the Italian heritage of all four individuals; it means 'beginnings' in Italian. Not only does this reflect their own beginnings in the wine industry but ties into the fact that a bottle of wine begins in the vineyard.
Their label is very creative and connects to their philosophy that the crucial components of making wine start in the vineyard. Most Napa labels that we have seen, present a grapevine in the packaging that focuses on the above ground portion of the vine. Not so with Inizi – their label shows the root structure. This was designed by one of Jen's college roommates who now has her own design firm.
There is not a lot of Charbono planted in California; the majority of which grows in the Calistoga AVA. They purchase their grapes from the Heitz Family – the vineyard is located on the West side of Highway 29 just north of Castello di Amorosa Winery and south of the town of Calistoga. The Heitz Family has been associated with the Napa Valley for well over 100 years and is a name synonymous with this particular varietal selling to several producers with one part of the family making their own wine under the Shypoke label (Peter Heitz).
We have only come across three Charbono rosés in the valley, Shypoke, Summers and now Inizi.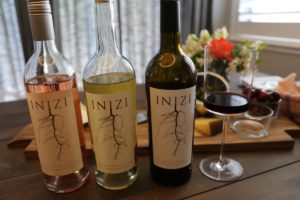 This wine was produced by bleeding off the juice after four hours of skin contact straight into neutral French Oak barrels where it was then fermented to dryness. The wine was then stirred once a week until the desired mouth feel was reached. The 2014 vintage shows subtle notes of watermelon and as the wine breathes aromas of wild strawberry are revealed. There is an initial sweet note on the palate – from fruit not residual sugar. The palate is light, clean and crisp with good acidity and a note of cran apple tartness on the finish. The wine has very good acidity.
The grapes for the 2013 Charbono were hand sorted, then de-stemmed and fermented in an open-top fermenter with approximately 30% of the fruit left as whole cluster. The wine is inky dark in the glass – with dark purple notes showing around the rim. The bouquet is floral in nature with notes of dried rose petal, violets, hints of cedar – and deep darker fruit notes. As the wine breaths notes of blueberry show and a hint of a dark liqueur. This is a well balanced wine for being so youthful; the tannins are well integrated – slightly dusty and linger for some time. Both the Charbono rosé and their primary wine from this varietal are just above 13% alcohol.
The varietal Tocai Friulano is very rare in Napa – but perhaps slightly less rare in Sonoma County. Inizi sources the fruit for this wine from the Dry Creek Valley in neighboring Sonoma County from a vineyard with original vines dating back to the 1930's (these old head trained vines are still producing). This vineyard is actually also a field blend of Zinfandel, Grenache and Petite Sirah. Inizi labels all the Tocai Friulano vines and selectively picks only from these vine by vine during harvest. The 2014 shows a pretty nose – with citrus blossom notes and lemon lime aromas and nuances of wet rock. It is a balanced wine – clean and packed with plenty of flavor to complement the nice acidity – mouth watering on the finish that keeps you salivating afterwards. It exhibits a lively finish.
A future wine to be released will be called the High Jump Red – a blend of a Napa Cabernet from a backyard vineyard AJ helped to plant on Zinfandel Lane south of St. Helena and several Italian varietals from Sonoma County.
The wines we tried are all very well balanced and have good acidity. All are produced in extremely tiny quantities (under 100 cases up to approximately 300 cases for the Charbono). And the wines are priced quite reasonably.
The business model of the partners to date has been to reach out and sell the wines to select area restaurants. They have wine on the wine lists at Solage in Calistoga, Ciccio in Yountville and their Sonoma County produced wines are available at select restaurants in Santa Rosa and Healdsburg.
No one representing a Napa winery has ever told us one of their only markets is Utah but such is the case with Inizi. Kirsti is originally from Salt Lake City and knows a broker in Salt Lake City. The wine is also selectively distributed in Houston based on Jen's connections.
They have already received some very good publicity for their wine including taking a gold medal for their 2012 Charbono and overall sweepstakes for best label out of 6,500 entries at the San Francisco Chronicle Wine Competition.
They also sell wines direct via their website. For more information and to join their mailing list, visit: www.iniziwines.com